My New Podcast "Crime Time with Steve Albrecht"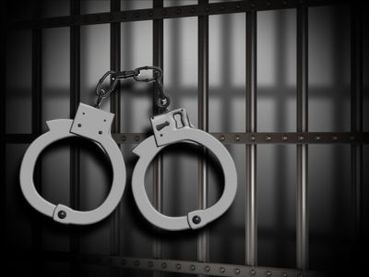 Listen to my new weekly podcast, "Crime Time with Steve Albrecht," on SoundCloud.com. I talk about why criminals commit their crimes and about where and when they do their work. With my guests, we talk about the smart ones, the dangerous ones, and even the stupid ones. And most importantly, I talk about what you can do to keep yourself and your family safe from crime and violence. This show exists to make you feel more empowered, more secure, and more educated about crime, crooks, and the criminal justice system. Thanks for listening and telling your family, friends, and colleagues about the show. Here's a link to last week's episode.
---
---
The Care and Feeding of Your Workshop Trainer (Part 2)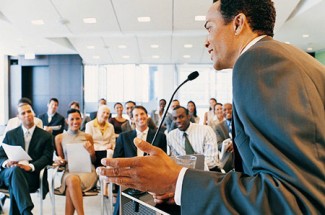 Last month, I talked about bad things that can make a good training program go down the drain. Let's look at some ways to take care of your trainers, facilitators, or keynote speakers, especially before or during conferences, management strategy retreats, and other important gatherings. Their success is your success; when they look good, you look better for choosing them.
Make Sure Your A/V Guy is Fully Squared Away
I was supposed to do a workplace violence prevention speech in front of a number of senior San Diego political leaders at a large theater-style space. For the session, I would stand on a stage which was positioned at the bottom of about 50 aisles of seats. There was a huge screen behind me (like I was in the movie "Citizen Kane") and my slides would come from the projection booth at the top of the room. I got there an hour early for an 0800 start and by 0745, the A/V guy was nowhere to be found. He soon called in hung over and since he was the ONLY guy in the building with keys to the projection office, I did my session without slides or videos, for two hours. The entire time I thought about committing workplace violence on the A/V guy, which is both unprofessional and a good example of justifiable homicide.
The A/V people live in their own world. Some certainly realize the stress of standing in front of total strangers and talking and some do not. For the first group, they want to help the speaker do a great job and are careful that all of the technical matters related to the projector, room lighting, house sound, and video playbacks work smoothly. The second group gets irritated with the presenter if he or she makes special requests, wants to re-verify everything works, or acts anxious about any pending electronic failings. Too bad. The audience only looks at five things during any training presentation: the speaker, the screen, their handouts, their colleagues, or their phones. Make sure you have the right A/V person for the job and you'll get a better presentation because the speaker knows his or her delivery won't get interrupted by technical snags.
Try to Guess If Your Presenter is an Introvert or an Extrovert
This can be a tough one to assess but it's important. If your presenter is an extrovert, he or she will gladly accept your invitation to come out for drinks or dinner the night before with your whole conference planning committee. If not, he or she will try to sneak through the hotel lobby or past the hotel bar without being spotted (ahem,
I've
never done such a thing). Extroverts heavily populate the training business; they like to be looked at and they love the social aspects of the conference experience. Introverts love doing their work on the training platform; they just need downtime before the session to prepare themselves for what they're going to say. Don't be offended if your (introvert) presenter politely declines your offer to go to the luau in the main ballroom the night before. It's not personal; it's about preserving energy levels.
Create and Verify the Logistical Plan
Things change when it comes to schedules, meeting rooms, and hotels. Keep your presenter informed of any last-minute switches to avoid unpleasant surprises. I was set to do a full-day program at an international conference in San Diego, my home city. It was supposed to start at 0900. At about 1030, the conference organizer called me in a frantic state, asking why I wasn't there. I told her the session was the next day. She told me they had changed it to today and didn't I get the e-mail? She couldn't find my cell number and had been sending me one anxious e-mail after another, wondering why I was missing my session. I never got the original e-mail that changed the training date. I did the session the next day, but there were a lot of hard feelings because some people who had signed up earlier had to miss it and the organizers were upset that I didn't get the date change. A follow-up phone call to me after sending the date change e-mail would've helped all concerned.
We've all been to meetings and conferences where the locations, meeting rooms, topics, and presenters have changed. As long as you keep your speakers in the loop, they'll be understanding and flexible.
---
---
Ask Dr. Steve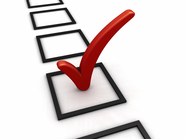 Dear Dr. Steve,
What's the value to doing a survey of of our employees?Doesn't that just open up a can of worms if we ask employees how they feel about working for us?
It could. Doing an Employee Quality-of-Worklife Survey (EQWLS) can certainly give you a lot of information about how your employees feel about a variety of topics, including job satisfaction, promotability, morale, supervisory styles, and the impact of management decisions. Asking the questions is not hard; interpreting the results is hard. Some senior people looking at EQWLS data overestimate the severity of some issues and underestimate it for others. Three people who don't like the new benefits plan out of 300 is not an issue. But 200 complaints about the same issue is an issue.
Some company leaders are fearful of the results of an EQWLS because they believe it somehow "puts them on notice" to make changes. The question that an EQWLS answers is simple: "Is it better to know or not know?"
Not every thing discovered in the employee survey has to be addressed right away. We can certainly make rapid changes to problems employees name foremost; start the process of making changes for less pressing employee concerns; and consider other solutions as time goes by.
For a free sample of the 50-question Employee Quality-of-Worklife that I offer my clients (skillfully designed by my father, Dr. Karl Albrecht), click the link below. We can provide your organization with hard-copy versions to score or your employees can take the survey online. We can provide fully customized reports for a reasonable fee.