SPR Meetings and Education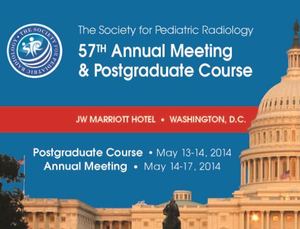 Save the Dates! - May 13-17, 2014
- SPR Goes to Washington, DC
The Pediatric Radiologist Consultant: Bridging Patient Care and Innovation to Improve Child Health
Registration is open. Visit the
SPR website, "Events"
for the details
.
Things to Think About:
SPR President, Dr. Richard Barth has arranged for members to make Capitol Hill visits on Monday, May 12 with the following three focuses:

Advocacy on Appropriate Reimbursement Reform

Advocacy on Research

Advocacy on Appropriate Utilization
This is new territory for all of us so we are grateful for the expertise and leadership offered by the ACR Office for Government Affairs. Interested in participating in the preparations and the visits?
Contact us!
Not able to attend the Postgraduate Course?  The Course will be live-streamed on Wednesday, May 14, 2014 from 7:50 am –12:00 pm ET.  Register online soon, as space will be limited to the first 100 participants.   Registration Fees: $75 for North America Residents; Complimentary for those that reside outside of North America. (CME credits will not be available for online participants)

2nd Annual SPR Fun Run - Attention Interested runners! Register for the Fun Run when you register for the meeting this year.
---
ACR-SPR Pediatric Cardiac MR course-3/7-9

Use the discount code 'EDCRSPR1000' for $1,000 off the registration price. Call 1-800-373-2204 to register. Restrictions apply. 
---
Upcoming Meetings of Interest
37th Postgraduate Course and 51st Annual meeting of the ESPR

June 2-6, 2014 -

Amsterdam, The Netherlands -

Grand Hotel Krasnapolsky, Damsquare (city center of Amsterdam).

Registration is open. For more information, visit the website:

www.espr2014.org

.




​12th SPR Hands-on Cardiac MR Course
10th SPR Advanced Symposium on Pediatric Cardiovascular Imaging
SPR - Advances in Pediatric Neuroradiology Course

October 24-26, 2014 - Loews Miami Beach Hotel, Mami Beach, Florida




SPR - Advances in Fetal and Neonatal Imaging Course

January 23-25, 2015 - Wyndham Orlando Resort Bonnet Creek - Orlando, Florid

a​


SPR 2015 Annual Meeting & Postgraduate Course

April 27-May 1, 2015 Hyatt Regency Hotel - Bellevue, Washington
​
---
​SPR Research and Education Foundation News 
​Grant applications due March 15- visit the

SPR REF page

for grant program details and online applications.



Hooshang Taybi Memorial Auction and Art Show - Artists, crafters, donors of every stripe! Its that time. Will you donate your work or a purchased item to our annual fundraiser to benefit the SPR REF? If you are in, let us know.

2nd Annual SPR Fun Run to Benefit the REF - Get ready! We'll be running Washington. Sorry, running in Washington! More details to come.
---
Committee News
Nominations for Nominating Committee Members due March 31, 2014.
This is how it works: join the conversation by nominating your candidate (or yourself) to stand for election to the Nominating Committee. This processs is how SPR members pick the people who pick the people. 

The Members of the SPR Nominating Committee are both nominated and voted on by the Society's Active Members. Each year, the responsibility of the Nominating Committee is to develop the slate of officers to be voted on by the Members.
To nominate an SPR member to serve on the Nominating Committee (the committee that identifies the next leaders of the Society), Active members are asked to submit this online Nomination form and arrange for a second Active Member to submit a letter/email of support sent to jboylan@acr.org. Self-nomination is both permitted and encouraged.
---
Volunteer for a 2014-15 Committee
Interested in getting involved? In the coming weeks, the leadership will begin review of the upcoming committee vacancies to match with members who would like to join in. If you are interested, kindly complete our online form.
---
Website Update

IMPORTANT: Your log in credentials for the website are not currently editable and are:

Username: email address (on record with SPR)
Case-sensitive Password: spr2014

This is different than the instructions provided to you when we launched in January and we apologize for the confusion this mis-information caused.

Other Website updates:
Committee Pages - Many of the Clinical Committee Chairs have submitted sub-specialty specific resources to share. Find them under the "Specialties" link.
Resources for Parents - Web editor, Dr. Ben Taragin, has organized pages dedicated to parents under the "Education" link.
Talking to Kids - Also under "Education" you'll also find PowerPoint presentations to use when you speak to audiences of kids. Thanks to Meir Scheinfeld, MD, PhD and Laura Avery, MD for supplying these resources for our use.
Calendar - We added a Calendar under "Events"! Wondering when something is scheduled? Check the Calendar.
ACR - Pediatric Imaging Research Committee page (ACR-PIR) - This committee, co-Chaired by Drs. Heike Daldrup-Link and Stephan Voss, exists under the auspices of the ACR Commission on Pediatric Imaging. When ACR and SPR leaders conferred, they agreed that the audience for this committee's important agenda is the SPR membership. So, space was made on the new SPR site. Visit the developing ACR-PIR page under the "Research" link.

---
WFPI Update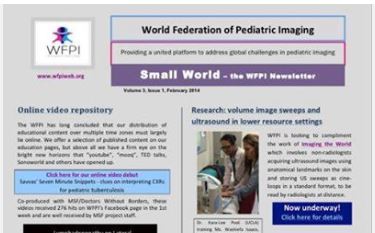 The World Federation has so much news to share, it has its own Newsletter. Read and pass along.

Highlights include:
Online video repository
WFPI and WHO pneumonia vaccine trials

---
The Society for Pediatric Radiology is dedicated to fostering excellence in pediatric health care through imaging and image-guided care.

The Society for Pediatric Radiology | 1891 Preston White Drive |
Reston, VA 20191 | Tel 703-648-0680| Fax 703-880-0013 | www.pedrad.org