A Streetcar Named Desire

by
Tennessee Williams
directed by Karen Wakeham
9th – 24th September, 2016
Wednesdays to Saturdays at 8pm

Matinees: Sundays 11, 18. & Saturday 24 Sept. at 2pm, Groups of 10+ $22 per tkt. Groups 50+ - $10 per tkt. Preview & First Wednesday Night Specials
Adults: $27 Concession Card Holders & Members $24
For further information, our website: htc.org.au or call the Box Office on 9457 4117
Widely considered one of the greatest American plays.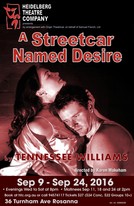 A powerful play, widely considered to be Tennessee Williams's masterpiece,
A Streetcar Named Desire
is set in the steamy New Orleans Summer of 1949.
Its well-known plot deals with the visit of Blanche Dubois, fragile, disgraced and penniless, to the small and simple apartment of the Kowalskis: Stanley and Blanche's sister, Stella. Stella, though she loves both sister and husband, is unable to stem an escalating conflict between them, a conflict that culminates in tragic loss for all three.
A strong acting ensemble includes familiar faces Aimée Sanderson, Warren Logan, Ben Watts, Don Nicholson, Sam Howard, Laurie Jezard and Steph Gonelli. We warmly welcome Claire Benne, Katie Hall and Paul Mamone.
Production team is led by Karen Wakeham (Director) and Bruce Akers, who has created a set design based on one he made for his own HTC production of 'Streetcar' in 1995. Owen Evans is taking responsibility for set realisation, with his team: Neville Wilkie, Doug Mc Naughton, Paddy Moriarty, Des Harris, Ian Mc Cabe, Norm Munks, Steph Gonelli and Dave Belton. Marie Mackrell and Mal Cother are doing the set décor.
Dave also took the publicity still shot of Aimée Sanderson and Warren Logan used for Chris McLean's very striking poster.
Costumes are by Wendy Drowley, and David Cheshire, whose haunting 'Glass Menagerie Suite' was written for HTC's production in 2014, is composing new music for us. It will be played live in the theatre by saxophonist, Tim Overton.
We are also fortunate to have Mel Belcher heading the crew as Stage Manager, with Bobbie Parish as rehearsal prompt and Pedro Ramos, our dialogue coach.
This beautiful and haunting play, which an admiring Arthur Miller described as 'language flowing from the soul', is one of the pinnacles of American dramatic art. Come and see it.
REHEARSAL PHOTOS
A Streetcar Named Desire
Photographer: David Belton


On right, from left:
Claire Benne (Blanche), Don Nicholson (Steve), Aimée Sanderson (Stella), Warren Logan (Stanley), Paul Mamone, (Pablo).
On left, from left:
Aimée Sanderson, (Stella), Warren Logan, (Stanley), Claire Benne, (Blanche), Paul Mamone, (Pablo).
Link to my website
---
SEASON EXTENDED FOR ONE MAN, TWO GUVNORS!!!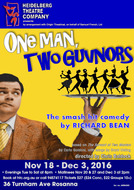 Not surprisingly, with a combination of a great play and Chris Baldock directing the show, this time we've got in early and added
two
extra performances to the season of
One Man, Two Guvnors
.
Your Box Office Belles saw this as an easier situation to manage than seating audience members on the stage as we did for that other blockbuster,
Twelve Angry Men
that Chris directed early this year.)
Although, rumour has it that Chris may not yet have ruled that option out as well! The show is already in rehearsal and the band have been holding practice sessions in the Green Room at the Theatre on a Saturday afternoon.
The
two extra performances
we've included are on
Tuesday 22nd & 29th November at 8pm
. You can book now for these and any performances in the run on our website at htc.org.au or call the Box Office on 9457 4117.
Lots of groups are booking in, so if you and your friends and colleagues are looking for an unforgettable night out to end the year, join us at HTC for
One Man, Two Guvnors.
Link to my website
---
GOD OF CARNAGE

Unfortunately no Review was available to include in this edition of Prompts.

---
A further Update regarding the Planning Application P1260/2015 44 Turnham Avenue Rosanna
In the June edition of Prompts we provided the details of the Objection Submission that HTC lodged with the Banyule Council regarding the Application for a Supermarket Development to be constructed in Turnham Avenue Rosanna.
The Heidelberg Theatre Company was able to present its objection, along with 14 other objectors, at the Council meeting that was held on Monday 27 June 2016. Despite the fact that all of the speakers were opposed to the Planning Application and even after the Council recognised that the was a community petition with over 1,000 signatures protesting against the proposed Supermarket development, the Banyule Council voted 4 to 3 in favour of the Planning Application. The negative reaction from the 200 people in the gallery confirmed that this was a very unpopular decision with the community.
This now means that if the development progresses as proposed, the on-grade parking at 44 Turnham Avenue will be lost, the street scape and mature trees in Turnham will be destroyed and the community zone between the library and the Theatre will be blocked by a Supermarket.
Add on top this the inevitable disruption that will be generated by the level crossing removal project, which is due to commence next year, we are about to see the substantial change and loss of community amenity, which in the long term is an outcome that is not in the best interest of the Rosanna community.
The Theatre has been contacted by a community group called, Residents Against Woolworths Rosanna, which has lodged an appeal at VCAT to challenge the Banyule Council decision. Appeals to VCAT are both time consuming and costly with expert witnesses and legal representation. The Committee received a request to assist this community group and we have agreed to support the Planning Appeal with a financial contribution.
If any HTC member would also like to lend their support we encourage you to visit their web site for further details;
www.change.org/p/stop-woolworths-building-in-rosanna
or their Facebook group;
www.facebook.com/groups/1806576192919245/
John Gilbert, President, Heidelberg Theatre Company
---