WELCOME TO THE HEIDELBERG THEATRE COMPANY!


November, 2017
No. 5, 65th Year
PLAY 1: CROSSING DELANCEY
Feb 16 to March 3
by Susan Sandler, directed by Llaaneath Poor
PLAY 2: THE HOUSE OF BERNARDA ALBA
Apr 27 to May 12
by Federico Garcia Lorca directed by Joan Moriarty
PLAY 3: PRIVATE LIVES
July 6 to July 21
by Noël Coward, directed by Karen Wakeham
PLAY 4: BLUE STOCKINGS
September 7 to September 22
by Jessica Swale, directed by Natasha Boyd
PLAY 5: INHERITANCE
November 16 to December 1
by Hannie Rayson, directed by Tim Scott.
HTC YOUTH – ALICE IN WONDERLAND
December 2018
adapted by Ryan Purdey & Erich Fordham
All patrons of the Company are invited to become active members. Your participation will be greatly welcomed. Try something new or bring your well-practiced talents to our theatre.
For further information, consult the 2018 Playbill which also contains information on subscriptions, renewals, vouchers and memberships. You can download the Playbill from our website www.htc.org.au.
---
PLAYBILLS: AN UPDATE
Subscribers to our 2018 season, please note that seats for the season of plays will be allocated in order of receipt. Subscription forms will be processed beginning on December 1st, 2017. We would appreciate the return of your subscription form before Monday, the 8th of January, 2018. If you prefer, you may book subscriptions through our Box Office on 9457 4117. (from 8th Jan. 2018, non-subscriber bookings will be available to all patrons via our website, htc.org.au or through the Box Office 9457 4117)
The Playbill includes details of the plays for the 2018 Season. It sets out Subscription options; including generous discounts to Subscribers and Members, as well as Group Bookings, Gift Subscriptions and Gift Vouchers.
Patrons, please also note: the Company has discontinued the bulk mail-out of season Playbills. Patrons who chose pay a fee to have Prompts posted to them in 2017 will receive a copy of the 2018 Playbill in the mail with their next issue of Prompts.
Playbills can be collected from the foyer of the Theatre during the season of "Blood Brothers" and the HTC Youth production, "The Adventures of King Arthur", from branches of the Banyule Library and the Banyule Service Centres, and can be downloaded from the HTC website, htc.org.au.
Please call the Box Office on 9457 4117 if you require additional copies, and they will be mailed to you.
Thank you to all who supported The Company in 2017; onstage, backstage, front of house, and as subscribers, members & audiences. The Company looks forward to welcoming you back in 2018.
---
COMING EVENTS AT HTC:
NOVEMBER
- Saturday 4th @ 10.00am
Blood Brothers Working Bee, with lunch
- Saturday 11th @ 10.00am
Blood Brothers Working Bee, with lunch
- Friday 17th @ 8.00pm
Blood Brothers Opening Night
- Sunday 19th @ 7.30pm
Crossing Delancey Auditions
- Monday 20th @ 7.30pm
Crossing Delancey Auditions
DECEMBER
- Friday 1st
Bookings Open for the 2018 Subscriber Season
- Saturday 2nd @ 8.00pm
Blood Brothers Closing Night
- Friday 8th @ 7:00pm
The Adventures Of King Arthur Opening Night
- Sunday 10th @ 3.00pm
Annual General Meeting & End-Of-Year Party
- Saturday 16th @ 7:00pm
The Adventures Of King Arthur Closing Night
---
UPCOMING - BLOOD BROTHERS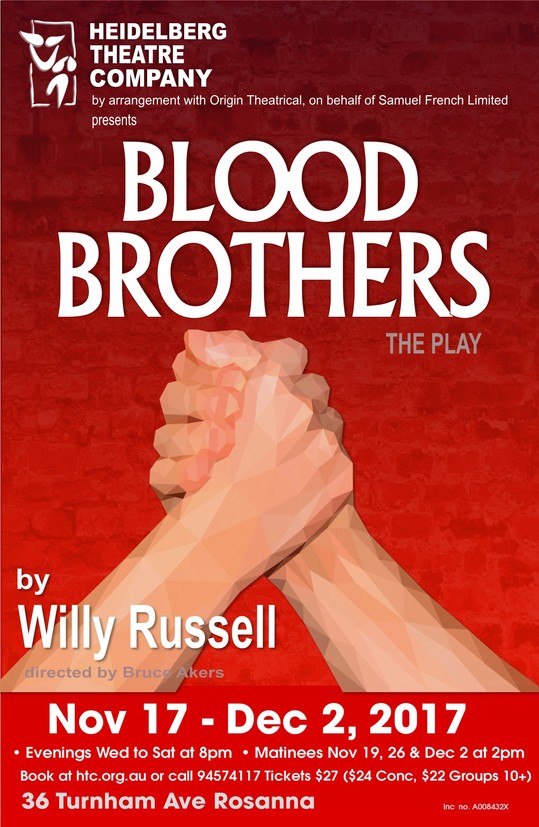 By Willy Russell
Directed by Bruce Akers
For the fifth show this year, Heidelberg Theatre is delighted to present the wonderful experience of "Blood Brothers" to our audiences. "Blood Brothers" has achieved international fame as a musical but before this happened, Willy Russell wrote the narrative as a play and it is this earlier version we are presenting to audiences.
First presented in 1981, it very successfully toured regional UK and it was quickly followed up by a musical version premiering at the Liverpool Playhouse in January 1983. This subsequently transferred to the Lyric Theatre London and revived on the West End in 1988 at the Albery Theatre. It played there for three years before transferring to the Phoenix Theatre in 1991. The revival ran for more than 24 years in the West End and 10,000 performances, becoming the third longest-running musical show in West End history. It closed in August 2012 and has developed a cult following around the world.
The story is simple. It is essentially a folk story; fast-moving and entertaining, funny yet ultimately tragic. It tells the tale of fraternal twin brothers who are born into a large working-class family and what happens when their mother - unable to support her family - decides to have one of the brothers adopted into a well-off family. The boys grow up on opposite sides of the social track without realising their fraternal bond.
Rehearsals are now well underway with the director, Bruce Akers, thrilled to be working with some of the most talented actors in Melbourne, most whom have graced the Heidelberg stage on numerous occasions. Cat Jardine ("One Man, Two Guvnors", "Amadeus", "One Flew Over the Cuckoo Nest" amongst others) plays the luckless Mrs Johnstone- the mother to the twins. Her nemesis, Mrs Lyons, is being played by Venetia Macken, who recently appeared as Lady Catherine de Bourgh in HTC's 2017 production of "Pride and Prejudice". Also from that production we have again secured the services of Aimee Sanderson, so captivating as Elizabeth Bennet, who now shows another side of her talents playing Linda, the girl caught in the middle of the two boys. "Blood Brothers" employs the role of a Narrator to comment, inform, arbitrate and fill out various smaller parts. We have Xavier Ryan ("All My Sons" and "Twelve Angry Men", amongst others at HTC) playing this role and we are very happy to see him back at HTC. Two new members to the Company are Michael Whitmore and Grace Cairnduff playing the part of Chorus and also filling in with smaller roles as well. We welcome them both. Another newcomer is Wayne Gleeson, who joins us for the pivotal part of Mickey Johnstone, the twin left behind in the handover. We extend a very warm welcome to Wayne and trust that he will enjoy reprising a part he played many years ago in high school. The other twin, Edward, is being played by a regular at HTC- Liam Gillespie. Liam was the extraordinary Alan Dangle - the "actor" - in last years' smash hit "One Man, Two Guvnors" and followed it up with a very different performance as the son in "All My Sons" earlier this year.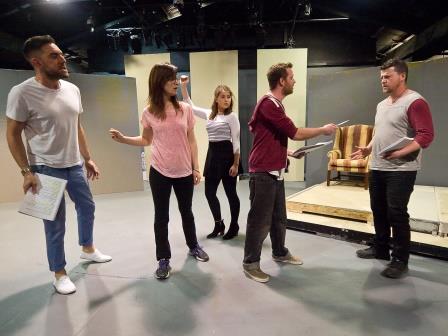 From left: Wayne Gleeson, Aimee Sanderson, Grace Cairnduff,
Michael Whitmore
and Xavier Ryan busy at rehearsal
Production Coordinator Melanie Belcher heads a very capable team including Emma Hunt as Stage Manager, Michael Rowe as Lighting Design, Wendy Drowley again heading the Wardrobe team and Rob Wanless masterminding the Sound Design. The indispensable team of set builders is once again headed by Owen Evans and Doug McNaughton. Bobbie Parish is once again helping out as Rehearsal Prompt. The overall Set design has been devised by the director, Bruce Akers, but is being brought to life by the multi-talented Marie Mackrell, who takes an idea, improves on it and turns it into something special.
We look forward to seeing all HTC patrons at this show. This very moving play is the perfect end to the marvellous 2017 Season at the Heidelberg Theatre.
***
17th November- 2nd December, 2017
Weeknights and Saturdays at 8:00pm, Sundays 19th and 26th November at 2:00pm and Saturday 2nd December at 2:00pm.
Groups of 10+, $22 per ticket.
Preview & First Wednesday Night Specials- Groups 50+ at $10 per ticket
Adults: $27; Concession Card Holders & Members $24
For more information check our Website: htc.org.au or call the Box Office on 9457 4117
---
REVIEW ROUNDUP - THE CLUB
Stage Whispers Review
David Williamson's 1977 play is, by this, a bit of an old warhorse that is constantly revived. And why not? It's funny and its subject is a sport – or what that sport means to the characters – that is an obsession for millions of Australians. In Melbourne, the trams and trains on a Friday or Saturday night are packed with fans ('supporters') in their club regalia heading for the MCG or the Etihad Stadium. 'Who d'you follow?' is a question to which you better have an answer. The play is also prescient about the future of the game. In 1977, the forces that would turn a once parochial game into a huge televised commodity were already in the mix: trading players for huge sums, the sentimental and hypocritical use of increasingly empty 'tradition' and the power and influence of wealthy sponsors. All that is nascent in The Club – Williamson is, in his way, a conservative moralist and his not-so-sub subtext here is a mourning for the decay of the old traditions. What survives and is the saving grace of the sordid, ruthless machinations depicted is the grit and skill of the players, and the thrill of the game.
If you've not seen The Club on stage, you may have seen the movie, adapted by Williamson and directed by Bruce Beresford, with Graham Kennedy as hapless club president Ted. This production, by the Heidelberg Theatre Company and directed by Gavin Williams, has a clarity to it that lays out the contending forces in reveal after reveal. Owen Evans' set is detailed and functional, and the characters make good use of the billiard table upstage. As a sign of the 'old fashioned' nature of the play, it runs in its entirety on one set! That's something (and the discipline of it) we don't see that often nowadays.
A modernising innovative touch is to change Gerry, the club administrator, to Gerri (Jennifer Mettner), a casting decision that works beautifully and believably: a woman feigning disinterest and mere pragmatism is both bold and chilling. Ms Mettner plays her Gerri in a laid-back, unforced way that is an effective set-up for the malicious smile that creeps into the bland but brisk manner when her mask comes off.
Andrew Rance as Danny, the player captain, actually looks like a star footballer and brings energy and force onto the stage. Geoff, the young player for whom the club paid $80,000 in 1977 dollars, gets just the right touch of charisma combined with doped-out cynicism from Abhi Peresher. His telling of his bizarre family troubles, as an explanation for why he's off his game, is a highlight of the evening. He tells these troubles to old Jock (Bob Tyers), committee member and schemer, who holds the record for the most games played. For me, Mr Tyers is the performance of this show: a comic figure, yes, but so believable - sentimental and nasty as the sentimental usually are.
Andy Fry as Laurie, the coach who's yet to win a pennant, could be more forceful, more definite – after all, he's the guy who orders twenty press-ups when a player misbehaves. (Somehow the white polo neck jumper doesn't help either.) Club President and meat pie mogul, businessman Ted as played here by Darren Gregor, however, pushes his character so far, it's almost as if he's wandered in from some other show. The intention is, I suppose, that the character knows perfectly well that he's only club president because of his money and that everyone knows he's never played a game and so he tries to be forceful. But 'forceful' isn't volume. We should see the pathos underneath. The contrast between, say, Mr Tyer's subtlety and Mr Gregor's excessive performance is marked.
As to the play itself, as a play, we might say that here Mr Williamson was still starting out. There's very little story (what a contrast to this year's Credentials) and the dialogue sometimes goes around in circles, making each point two or three times. But the laughs are still there as is the sharp delineation of how Aussie rules began to transform from a game into a business – the show business in which the players are the cast and the supporters cling to club loyalty and buy the merchandise.
Review by Michael Brindley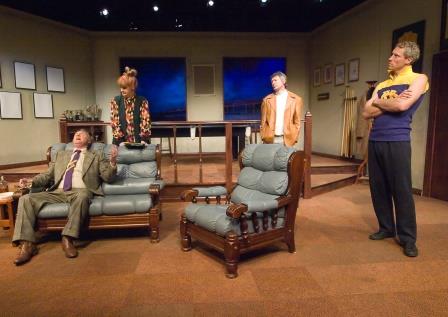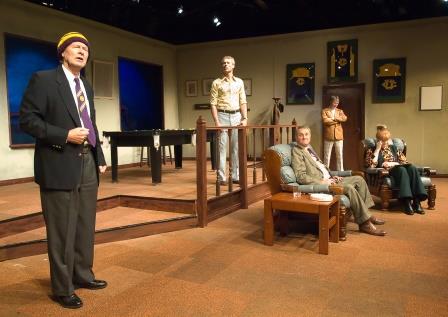 Melbourne Observer Review
Set in the 1970s in the Boardroom of an Australian Rules football club, Williamson's satirical play perceptively captures the back-stabbing and power politics at a time when the Australian Rules game was becoming more professional. Things are changing, with the club having paid $90,000 for young Tasmanian recruit Geoff Hayward (Abbi Parasher) who is not playing well. We learn of Geoff's disillusionment with the game as being 'much too competitive' but unless his attitude changes, the club's poor results will mean the end for dedicated coach Laurie (Andy Fry). Laurie is popular with his players, and team captain Danny (Andrew Rance) says the players will strike in protest if their coach has to resign. Administrator Gerri (Jennifer Mettner) appears at first to be the peach-keeper, but soon makes it obvious she has her own agenda to achieve a premiership for the club. Club President Ted's (Darren Gregor) alleged assault on a woman sees him pressured to resign, while past president, footballer and coach Jock's (Bob Tyers) has principles and beliefs from a bygone era that add to the entertaining mix.
Director Gavin William's cast bring the colourful characters alive beautifully realistically conveying the social issues present in Williamson's play that remain relevant 40 years later.
Set design by Owen Evans with the view of a grandstand through the window, creates atmosphere as do Wendy Drowley's era authentic 1970s costumes. It's a nice touch to see a female play the traditionally male role of administrator Gerry, and all cast members do great work in delivering their roles. Special mention should be made of Bob Tyers's (Jock) down-to-earth spirited performance and Andy Fry's convincing portrayal of coach Laurie.
Heidelberg Theatre Company has a fine reputation for presenting quality productions and the Australian classic play presented at the right time in Melbourne's footy season is no exception.
Review by Cheryl Threadgold.
---
AUDITION NOTICE: CROSSING DELANCEY
CROSSING DELANCEY by Susan Sandler
Director: Llaaneath Poor
AUDITION DATES:
• Sunday 19 November 2017 from 7:30pm
• Monday 20 November 2017 from 7:30pm
SEASON DATES: February 16 - March 3, 2018 Weeknights and Saturdays at 8:00pm; Sunday matinees at 2:00pm Note: The final Saturday, March 3 has two performances: at 2:00 pm and at 8:00 pm
PLAY SUMMARY: Thirty-something Izzy Grossman lives alone on the West Side of Manhattan, has a job at a prestigious independent bookstore, plenty of friends, and a handsome local author to dream about. None of this matters to her 'Bubbie', a strong-minded, fiercely loving, traditional Jewish grandmother, who worries about her living alone. She decides to take matters into her own hands and along with her friend the matchmaker, set out to find a "good catch" for Izzy. Crossing Delancey is a charming and heartfelt story exploring the bonds of family and tradition; the culture clash of old East Side and new West Side; and the romantic benefits of a new hat.
CHARACTER DETAILS (Please note that ages are indicative only)
• Bubbie (60-70s): a feisty, sharp-witted woman who immigrated to the United States as a young girl and has lived ever since in the shrinking community of New York City known as the lower east side.
• Isabelle (30-40s): "Izzy" Grossman, her granddaughter, a bookish dreamer.
• Hannah (50-70s): a professional matchmaker, a wheeler-dealer, and friend of Bubbie's.
• Tyler (30-40s): a well-known writer of fiction, handsome, exceedingly charming and self-involved.
• Sam (30-40s): a pickleman and a poet, an inhabitant of the lower east side, gentle, intuitive, appealing, and very wise for his years.
Accents - American (New York/Jewish) accents required.
DETAILS:
Accents: American (New York/Jewish) accents required.
Location: 36 Turnham Ave, Rosanna, 3084.
Scripts will be available at the theatre 30 minutes prior to each audition.
Auditions by appointment: For audition appointment, or for other queries, contact Llaaneath Poor at queen_styxia_89@hotmail.com.
Auditionees, please bring a recent headshot.
OTHER INFO
Performance dates/times: 8.00 pm on Feb 16, 17, 21, 22, 23, 24, 28 & Mar 1, 2, 3. 2.00 pm on Feb 18, 25 & Mar 3. Day of last performance Mar 3 has two shows, at 2.00 pm and 8.00 pm
Note: Due to level-crossing-removal works at Rosanna Station, parking outside the theatre is limited. Off-street parking behind Rosanna Library can be accessed via Douglas Street.
---
It is with sadness that the Committee reports the passing of Don Vidgen. Don was a Life Member of the Heidelberg Theatre Company and was a driving force in the days when the Company was known as the Heidelberg Repertory. His involvement started in 1960 when he acted in his first play and continued into the late 1980s when he was very involved in the purchase and renovation of the bus depot in Turnham Avenue which become the theatre we occupy today. Don held many roles during his time with HTC, including Director, Actor, Set designer, set builder and very importantly as Secretary and then as Treasurer for many years. Don was honoured with a Life Membership in 1989 in recognition of his outstanding contribution to HTC.
It is also with great sadness that the Committee of HTC reports of the recent passing of Carol Vidgen, just two weeks after the passing of her husband Don. Carol was also very supportive of the Theatre in our early days. In 1974 Carol undertook the huge task of Ticket Secretary, a role that she held for 3 years, and back in the 70s bookings were taken via the phone at their home. There are also great memories of many wonderful and happy Christmas parties at the Vidgen home.
Don and Carol will be remembered as vital, energetic HTC members who helped establish the foundations of our young theatre company and enabled it to grown into the successful enterprise we are today.
The Committee and members of the Heidelberg Theatre Company offer our sincere condolences to the Vidgen family.






Is your group or committee planning it's Fund Raising Calendar

Generous concessions for groups of 10 or more.

Please call the Box Office on 9457 4117.
Stay Tuned for further information on 2018's Working Bees.




undefined




undefined


Heidelberg Theatre Company Inc. web bookings: www. htc.org.au
36 Turnham Avenue, Rosanna, Vic, 3084 (Melway Ref. 32 A1) General Enquiries: 9455 3039
Box Office: 03 94574117 email: htc@htc.org.au
Hurstbridge line – Rosanna Station website: www.htc.org.au Inc.
No. A008432X ABN: 70 112 958 020 P.O. Box 141, Rosanna, 3084