November, 2017
No. 6, 65th Year
PLAY 1: CROSSING DELANCEY
February 16 to March 3
by Susan Sandler, directed by Llaaneath Poor
PLAY 2: THE HOUSE OF BERNARDA ALBA
April 27 to May 12
by Federico Garcia Lorca directed by Joan Moriarty
PLAY 3: PRIVATE LIVES
July 6 to July 21
by Noël Coward, directed by Karen Wakeham
PLAY 4: BLUE STOCKINGS
September 7 to September 22
by Jessica Swale, directed by Natasha Boyd
PLAY 5: INHERITANCE
November 16 to December 1
by Hannie Rayson, directed by Tim Scott.
HTC YOUTH – ALICE IN WONDERLAND
December 2018
adapted by Ryan Purdey & Erich Fordham
All patrons of the Company are invited to become active members. Your participation will be greatly welcomed. Try something new or bring your well-practiced talents to our theatre.
For further information, consult the 2018 Playbill which also contains information on subscriptions, renewals, vouchers and memberships. You can download the Playbill from our website www.htc.org.au.
---
ATTENTION: Theatre Parking 2018
As a result of the major works being undertaken at Rosanna by the Level Crossing Removal Authority, parking adjacent to the Theatre has been restricted.
The railway car parks off Turnham Avenue and Beetham Parade will be closed for most of 2018.
The car park in front of the old Council office in Turnham Avenue is no longer a public car park.
The best parking can be found at t
he car park off Douglas Street, behind the Rosanna Library – the bays noted as restricted permit parking for the Level Crossing Authority are available to HTC patrons attending a performance.
There is also street parking on Turnham Avenue and Beetham Parade, and there ar
e temporary car parking bays that have been established on Ellesmere Parade – the north side of lower Plenty Road.
We recommend that you allow extra time to find a car parking space and plan to arrive at the Theatre no later than 7.45 pm for an evening performance and by 1.45 pm for a matinee performance.
There will be a complementary glass of sherry ready for you at the Theatre, upon your arrival.
---
All HTC Subscribers, Members & Friends
of the Company are cordially invited to the:
ANNUAL GENERAL MEETING
on
SUNDAY 10th DECEMBER
commencing at 3pm
Includes the presentation of the Bill Cherrey Award
for Service to the Company
& Presentations by the
Directors of the 2018 Season as well as a review of the 2017 Season and the presentation of two Performance Awards
followed by -
OUR CHRISTMAS PARTY
YOU ARE ALL INVITED!
Subscribers, actors, backstage, front of house, new and old members & patrons.
A GREAT CHANCE FOR HTC FRIENDS TO GET TOGETHER!
Thank you to all who supported The Company in 2017; onstage, backstage, front of house, as subscribers, members or as audiences. The Company looks forward to welcoming you back in 2018.
---
COMING EVENTS AT HTC:
DECEMBER
- Friday 1st
Bookings Open for the 2018 Subscriber Season
- Saturday 2nd @ 8.00pm
Blood Brothers Closing Night
- Friday 8th @ 7:00pm
The Adventures Of King Arthur Opening Night
- Sunday 10th @ 3.00pm
Annual General Meeting & End-Of-Year Party
- Saturday 16th @ 7:00pm
The Adventures Of King Arthur Closing Night
---
UPCOMING PLAY - THE ADVENTURES OF KING ARTHUR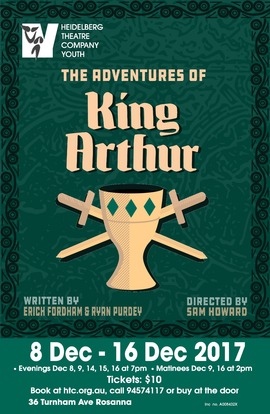 This year, HTC Youth is bringing audiences young and old a fresh, zany reimagining of the legends of King Arthur and his knights of the Round Table. The stories of Arthur's heroic exploits have stretched throughout the ages in books, films, music and stageplays, and HTC Youth is very proud and excited to bring an entirely original, exciting interpretation to the stage this Christmas. The story begins
as many do; the quest for the Holy Grail. But what starts as a noble venture quickly descends into madness and hilarity as Arthur and his companions are sidetracked, hindered and heckled by forces ranging from the diabolical sorceress Morgan le Fay and the treacherous Mordred to offstage dragons, inconvenient stage managers and obnoxious peasants.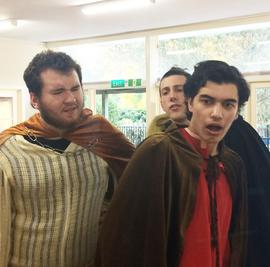 Bedivere (Joshua Fernandez), Mordred (Robbie Nicholson)
and Kay (Carl Michelangeli) react to the next
obstacle in their perilous quest
The show has been written by HTC Youth regulars Erich Fordham and Ryan Purdey, who previously brought to the company new adaptations of "The Wind In The Willows", "Treasure Island" and "The Wizard Of Oz". It is directed by Sam Howard, a frequent Youth collaborator and well-known actor on the HTC stage. The cast and crew assembled for this high-speed farce combines several returning faces with brand new ones, tying into HTC Youth's commitment to showcasing and involving young talent from all around the area.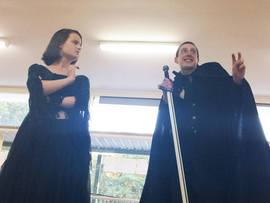 Morgan le Fay (Evie Acott) and Mordred (Robbie Nicholson)
hatch an evil scheme
The Adventures of King Arthur runs from the 8th to the 16th of December, performing on Thursday, Friday and Saturday nights with two Saturday matinee sessions. Tickets can be bought at htc.org.au, 94574117, or at the door on the night. The show is suitable for all ages, and the HTC Youth group looks forward to seeing you there.
---
BLOOD BROTHERS - REVIEW
From The Melbourne Observer
Heidelberg Theatre Company's "Blood Brothers", directed by Bruce Akers, impressively recreates Willy Russell's heartbreaking story about twins separated at birth, with compassion and understanding. Superstition, religious conviction, guilt. regret and possession are themes that run through this emotionally complicated and challenging story, which is ultimately about motherhood. "
Blood Brothers", revived as a long-running hit musical on the West End, begins in 1950s Liverpool and vividly depicts the class distinction between Liverpool's wealthy and the battling Merseyside scousers. When these worlds collide and a secret adoption pact is made, the consequences are devastating for all.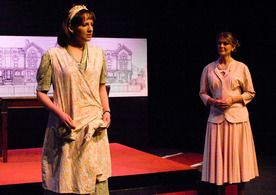 Akers' cast is formidable, each actor evoking a unique and distinct character. Cat Jardine as Mrs Johnston, the fertile mother of seven, including Mickey (Wayne Gleeson) and Eddie (Liam Gillespie), mastered every nuance of character - and there were many. Her performance is convincing and moving, portraying a deep understanding of the conflict and guilt within.
Mrs Lyons as played by Venetia Macken is the neurotic adoptive mother of Eddie, and an unsympathetic character. Unfortunately, her descent into madness, driven by her desperate desire to keep Eddie and Mickey separate and her secret safe, isn't
given
the space it deserves. As the twins, Gleeson and Gillespie portray the differences in their characters with assured ease. In particular, Gleeson's energetic seven-year-old Mickey, and later awkward teenager are spot on, while the desperate and angry adult Mickey shows of the talented range of Gleeson's ability. Aimee Sanderson as Linda is delightful and Xavier Ryan is commanding and menacing in his multiple roles. Overall the accents. particularly Jardine and Gleeson (he is from Liverpool!) were good.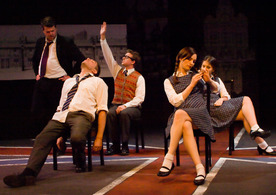 Some elements of the play were a little underwhelming, including Akers' set - I once heard it said, if you can't make it bold or distinctive, at least make it big. But that should not deter you from seeing this well-performed tale that is at times funny, but ultimately tragic.
---
HEIDELBERG THEATRE COMPANY:
NOTICE OF THE ANNUAL GENERAL MEETING
Notice is hereby given that the ANNUAL GENERAL MEETING of the Heidelberg Theatre Company Inc. will be held at the Theatre, 36 Turnham Avenue, Rosanna on SUNDAY 10th DECEMBER, 2017 at 3pm
BUSINESS
1.
Opening of the meeting by the President
3.
Minutes of the Annual General Meeting, 2016
4.
Business arising from the Minutes
7.
2017 Play Season Report and two Performance Awards will be presented by the HTC Reviewers
8.
Election of Six Committee Members
ELECTION OF COMMITTEE MEMBERS
Nominations are invited for six positions on the Committee of the HEIDELBERG THEATRE COMPANY
The retiring committee members who are eligible for re-election are:-
June Cherrey, Karen Wakeham and Jenni Purdey.
The nomination form below must be signed by the Proposer, Seconder and Nominee
and returned to the Secretary by FRIDAY 1st December, 2017.
The Secretary
Heidelberg Theatre Company
P.O. Box 141
Rosanna, 3084
I wish to nominate
BLOCK LETTERS: …………………..…….... SIGNED: ……….………….…….
for the Heidelberg Theatre Company Committee.
PROPOSER: BLOCK LETTERS: …………………. SIGNED: …………………….
SECONDER: BLOCK LETTERS: …………..... SIGNED: ……….……………..
Date ……………………………..
---