No. 6. December, 2014
62nd Year

---
HTC'S 2015 SEASON OF PLAYS

If we hold a mailing address for you, you will have already received a copy of the HTC 2015 Playbill.

The Playbill includes details of the plays for the 2015 Season and features Subscription options (Flexibook subscriptions are no longer offered), including generous discounts to Subscribers and Members, as well as Group Bookings, Gift Subscriptions and Gift Vouchers.
As well you can collect Playbills at the Theatre during the run of True Minds and Wind In the Willows, or download a copy, or the Subscription Form, from our website, or call the Box Office on 9457 4117, leave your name & address and we will mail you a copy.

Please help us spread the word, tell your friends about our 2015 Season of Plays.

We'd love to see you at our AGM & the Christmas Party, come along on Sunday 14th December and join the festivities.

SUBSCRIBERS PLEASE NOTE
SEATS WILL BE ALLOCATED
IN ORDER OF RECEIPT
we would appreciate the return
of your subscription form
before Monday, 12th JANUARY, 2015.
Please Note: Subscriptions can't be purchased on line.

Please complete the Order Form in the Playbill and mail it to us.

Thank you to all who supported The Company in 2014; onstage, backstage, front of house, as subscribers, members or as audiences.

The Company looks forward to welcoming you back in 2015.
---
WIND IN THE WILLOWS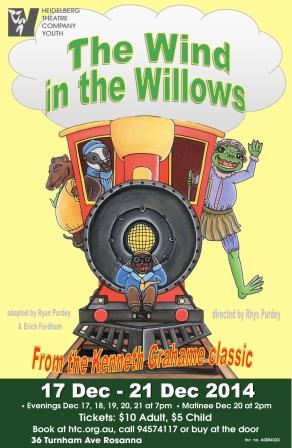 presented by
HTC YOUTH
by Kenneth Grahame

adapted by Ryan Purdey & Erich Fordham

directed by Rhys Purdey
Young Mole dreams of an adventure, and finds himself right in the middle of one when his home is seized by weasels!
With his friends Ratty and Badger, Mole seeks help from the wildly eccentric Mr Toad of Toad Hall, but the amphibian's obsessions with cars ultimately put the unlikely group of friends through a wild ride of planes, trains, automobiles, fisticuffs and prison escapes before ultimately proving there is no place like home.
A must see theatre play for all ages!7pm on Wed 17th – Sun 21st December
& 2pm on Sat 20th December
Tickets: $10 Adults $5 Children
Bookings: Online at: www.htc.org.au.
Box Office – 9457 4117
or at the door.

Audience: Families including children from 7 yrs
(running time: approx 80 minutes)
Venue: The Heidelberg Theatre Company 36 Turnham Ave, Rosanna
---
All HTC Subscribers, Members & Friends of the Company
are cordially invited to the
ANNUAL GENERAL MEETING on
SUNDAY 14th DECEMBER commencing at 3pm
Includes the presentation of the
Bill Cherrey Award for Service to the Company, Presentations by the Directors of the 2015 Season
& a Review of the 2014 Season &
presentation of two Performance Awards
by Anne Holt & Jill Scott.
followed by -
OUR CHRISTMAS PARTY
YOU ARE ALL INVITED:
subscribers, actors, backstage, front of house,
new and old members and patrons.
A GREAT CHANCE FOR HTC FRIENDS
TO GET TOGETHER
---
HEIDELBERG THEATRE COMPANY
NOTICE OF THE ANNUAL GENERAL MEETING
Notice is hereby given that the ANNUAL GENERAL MEETING of the
Heidelberg Theatre Company Inc. will be held
at the Theatre, 36 Turnham Avenue, Rosanna.
on SUNDAY 14th DECEMBER, 2014 at 3pm

BUSINESS
1. Opening of the meeting by the President
2. Apologies
3. Minutes of the Annual General Meeting, 2013
4. Business arising from the Minutes
5. President's Report
6. Treasurer's Report
7. 2014 Play Season Report and two Performance Awards will be presented by the
HTC Reviewers, Anne Holt and Jill Scott.
8. Election of Six Committee Members
9. General Business
ELECTION OF COMMITTEE MEMBERS
Nominations are invited for six positions on the Committee of the
HEIDELBERG THEATRE COMPANY
The retiring committee members who are eligible for re-election are:-
June Cherrey, Karen Wakeham, Linda Coutts & Jenni Purdey.

The nomination form below must be signed by the Proposer, Seconder and Nominee and returned to the Secretary by FRIDAY 5th December, 2014.

- - - - - - - - - - - - - - - - - - - - - - - - - - - - - - - - - - - - - - - - - - - - - - - - - - - - - - - - - - - -
The Secretary
Heidelberg Theatre Company
P.O. Box 141
Rosanna, 3084
I wish to nominate
BLOCK LETTERS - Name: …………………..…….... SIGNED: ……….………….…….……
for the Heidelberg Theatre Company Committee.
PROPOSER: BLOCK LETTERS: ……………………. SIGNED: ……………….………….
SECONDER: BLOCK LETTERS: …………………..... SIGNED: ……….…………….……
Date ……………………………..
---