WELCOME TO THE HEIDELBERG THEATRE COMPANY!


April, 2016
No. 2, 64th Year
HTC'S 2016 REMAINING SEASON
Please Note: Opening Nights now Fridays
Extra performance:
Saturday matinee in the third week
PLAY 2:
TWELVE ANGRY MEN
-
Apr 29th - May 14th
By Reginald Rose
Directed by Chris Baldock
PLAY 3:
GOD OF CARNAGE
- Jul
1st - 16th
by Yasmina Reza
Directed by
Terese Maurici-Ryan
PLAY 4: A STREETCAR NAMED DESIRE
-
Sep
9th - 24th
Directed by
Karen Wakeham
PLAY 5:
ONE MAN, TWO GUVNORS
Nov 18th - Dec 3rd
By Richard Bean
Directed by Chris Baldock
Youth Theatre: TBA.
All patrons of the Company are invited to become active members. Your participation will be greatly welcomed. Try something new or bring your well-practiced talents to our theatre.
For further information, consult the 2016 Playbill which also contains information on subscriptions, renewals, vouchers and memberships. You can download the Playbill from our website www.htc.org.au.
---
COMING EVENTS AT HTC
APRIL
Saturday 16th 10.00am Working Bee: 12 Angry Men
Sunday 17th 7.30pm AUDITION: GOD OF CARNAGE
Monday 18th 7.30pm AUDITION: GOD OF CARNAGE
Saturday 23rd 10.00am Working Bee: 12 Angry Men
---
UPCOMING PLAY - TWELVE ANGRY MEN
by Reginald Rose
Directed by Chris Baldock
Season: Friday April 29th to Saturday May 14th
Evenings at 8pm, Matinees at 2pm – Sunday 1st & 8th May and Saturday 14th May.
Bookings: online at htc.org.au or Box Office: 9457 4117
Subscriptions: This is your last chance to purchase a Subscription to the Heidelberg Theatre Company's 2016 Season. A 4 Play Subscription costs Adults – $96 or Concession $88 (includes Senior cardholders), a great saving and convenience. Just call the Box Office on 9457 4117 and we will arrange your Subscription. Subscriptions can't be purchased online.
Twelve Angry Men is a gripping study of a jury in lock-up in stifling summer heat to consider their verdict on a young coloured man accused of murder. The white, mostly middle-class, jurors favour a vote of guilty in this 'open-and-shut' case – all but one, who thinks a reasonable doubt exists. So begins a penetrating examination of how men struggle to deliver justice in a world where prejudice, racism and privilege hold such strong sway, often below the surface.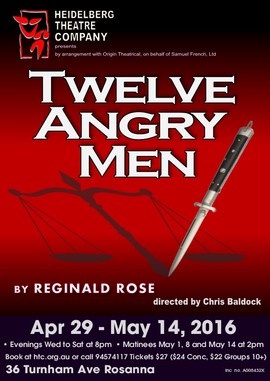 First written in 1954, this powerful drama continues to enthral and excite audiences. Its themes are just as pertinent in our world today.


After exhaustive and popular auditions that extended to 4 sessions, rehearsals for our next production, the brilliant Twelve Angry Men, are in full flight with a talented cast and production team.
Well known director, Chris Baldock (The Grapes of Wrath, Cloudstreet, One Flew Over The Cuckoo's Nest) has taken over directing duties for the first of two productions this year (the other being One Man, Two Guv'nors at year's end) after the original director had to unfortunately withdraw. He has assembled an incredible and white-hot cast to bring this classic to life.
HTC welcomes back Trevor Hanna (Juror #3), Xavier Ryan (Juror #6), John Cheshire (Juror #9) and Darren Gregor (Juror #10) with David Small as the voice of the judge.
Joining them on our stage for the first time is Benjamin Watts (Juror #1), Lee Cook (Juror #2), Chris Palframan (Juror #4), Thomas Caine (Juror #5), Dylan Cole (Juror #7), Soren Jensen (Juror #8), Robert Lloyd (Juror #11), Jonathan Best (Juror # 12) and Joshua Fernandez (Court Guard).
Production Coordinator is the ever-reliable and organised Joan Moriarty. She has assembled a crack team that includes Melanie Belcher as Stage Manager (or the "revolve queen" as she has been affectionately dubbed); Maureen McInerney is in charge of the 1950s -era clothing; Deryk Hartwick returns to weave his magic with the lighting; Bronwyn Parker is eagerly assembling the necessary props; Bruce Parr is recreating his wonderful sound from Chris' 2006 Malvern Theatre production; Bobbie Parish is keeping the boys in line as rehearsal prompt; Stephanie Gonelli and Mohan Lakshmipathy are Chris' wonderful assistants; the talents of Marie Mackrell will guide the set painting and decor; and Owen Evans and his ever-trusty gang are creating the unique set from the director's design.
Gallery Viewing
In an innovative first for HTC, 22 lucky audience members will be invited to sit onstage in the "gallery" to watch the show prior to each performance. They will be mere feet away from the action and it will be an exciting, immersive experience for them. It will also create a unique in-the-round set-up, the likes of which Heidelberg Theatre Company has never seen before.
So make sure to put your hand up for "jury duty" before the show commences to be one of the chosen few. You won't want to miss this experience! Tickets are selling like hot cakes with the first Sunday matinee already sold out!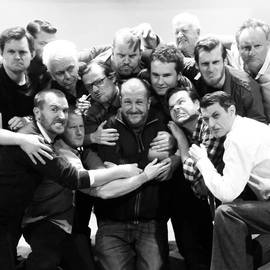 ---
MOONLIGHT AND MAGNOLIAS - Melbourne Observer Review
Legendary producer David O. Selznick's spacious Hollywood studio lot office with striking yellow walls, is the set for Heidelberg Theatre Company's Moonlight and Magnolias, playing in Rosanna until March 5.
Designed by George Tranter, the scene is set for a total re-write of the Gone with the Wind screenplay, with Selznick desperately paying writer Ben Hecht $16,000 to complete this task in five days.
Ron Hutchinson's comedy, based on historical events, also tells of Selznick pulling director Victor Fleming off the unfinished film The Wizard of Oz to work on this project.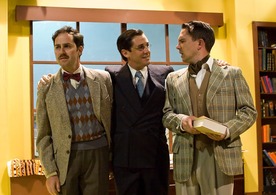 When discovering Hecht has only read one page of Margaret Mitchell's novel, Selznick and Fleming frantically begin re-enacting scenes from the 1,000 page blockbuster to hasten the writing process (with some good comedic moments).
The men survive the five days eating peanuts and bananas for 'brain food', aided by Selznick's loyal assistant Miss Poppenghul. Phone calls are fielded from the likes of Selznick's father-in-law, Louis B. Mayer.
Bruce Akers' masterly direction ensures a seamlessly staged, fast-paced production, which effectively transports the audience into the characters' stressful, creative chaos.
The wonderful cast includes Tim Constantine as highly strung producer David O. Selznick, Jeremy Just as tough-guy director Victor Fleming, James Antonas as perplexed, yet talented writer Ben Hecht, and Pauline Constantine as Miss Poppenghul.
Polished performances from the cast mean confident and competent delivery of Hutchinson's funny dialogue. Also contrasting serious moments, such as Fleming's burst blood vessel in his eye and discussing issues of race and religion.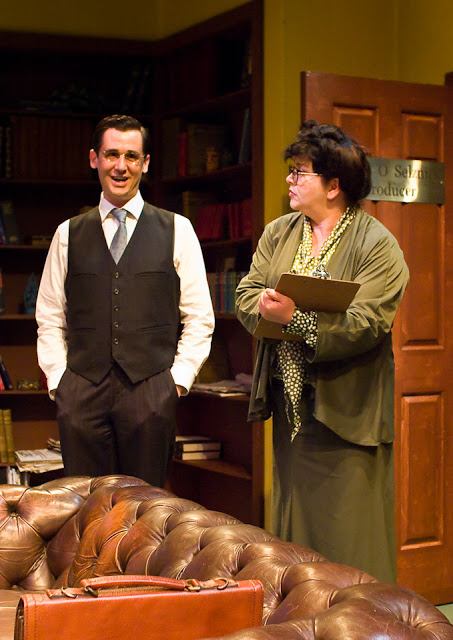 The chain of creative and administrative input is also interesting to hear. For example, when the writer finishes, his work is then taken over by the director. But he can't continue unless the producer provides money, and so on …
Particular mention must be made of Michael Rowe's atmospheric lighting design.
Moonlight and Magnolias is enjoyable, quality theatre in the suburbs. Free parking, program and a delightfully comfortable theatre.
By Cheryl Threadgold
Melbourne Observer Feb 24, 2016 (p.29)
www.melbourneobserver.com.au
---
AUDITION UPDATE:
A STREETCAR NAMED DESIRE
Directed by Karen Wakeham
All audition times have been filled for this show. Another great response from our Thespians! Thanks to all for their interest and enthusiasm.
---
AUDITION NOTICE:
GOD OF CARNAGE
Directed by
Terese Maurici-Ryan
Dates: Sunday April 17th 7.30pm,
Monday April 18th, 7.30pm.
Season July 1st to 16th.
AUDITION REQUIREMENTS
Basic American accents required, not Southern.
Auditionees are advised to arrive ten minutes prior to booking time to collect audition piece. Auditionees will get time to prepare with scene partners at the auditions.
Please note there will be 2-3 rehearsals each week. Auditions by appointment only. Contact the director via email: terese_m@hotmail.com
CHARACTERS
Veronica Novak – Female 35-45 – married to Michael, mother to Henry who got his teeth knocked out by Alan and Annette's son , upper-middle class urbanite, art historian, bright, controlling, anal, judgemental with false sense of civility, wants to instill shame on others
Michael Novak – Male 40-55 – married to Veronica, self-made wholesaler, upper- middle class urbanite, has blue collar sensibility, occasionally uncouth in nature being a bit tough and blunt, tries to control temper but loses it.
Annette Raleigh – Female 30-45 – married to Alan, her son hit Henry, financial advisor, upper – middle class urbanite, lacks confidence, loses control, has panic attacks and can be physically destructive, has raised a violent son.
Alan Raleigh – Male 40-55 – upper middle class urbanite, typical corporate attorney, smart but can be openly rude, uncaring and distracted, who thinks women are limited.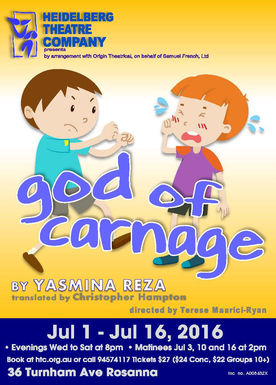 ---



undefined




Is your group or committee planning it's Fund Raising Calendar

Generous concessions for groups of 10 or more.

Please call the Box Office on 9457 4117.



for

Twelve Angry Men




Saturdays




16th and 23rd of




April



from 10.00am



lunch is provided



So come along, it's fun and also a great experience
Working Bees not your style?
Work backstage or front of house!
Like to know more? – call the Theatre on 9455 3039




undefined




undefined


Heidelberg Theatre Company Inc. web bookings: www. htc.org.au
36 Turnham Avenue, Rosanna, Vic, 3084 (Melway Ref. 32 A1) General Enquiries: 9455 3039
Box Office: 03 94574117 email: htc@htc.org.au
Hurstbridge line – Rosanna Station website: www.htc.org.au Inc.
No. A008432X ABN: 70 112 958 020 P.O. Box 141, Rosanna, 3084