A Thankyou
Here we are, with our second edition of online Prompts. And I want to take this opportunity to acknowledge the help and support that I have received from Williamstown Little Theatre and Frank Page, Editor of their Newsletter, Cues and News, in particular.
Frank has been wonderful.

Over the last few months I have repeatedly turned to him with requests for advice and guidance, "How can I do ........ please Frank?"

WLT introduced the monthly online version of Cues & News in March, 2011 with Frank at the helm. A huge commitment and a great production, congratulations Frank. Editor
---
THE DIXIE SWIM CLUB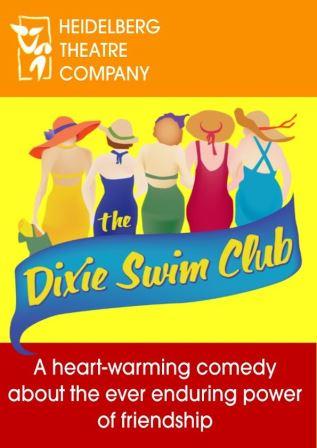 by
Jessie Jones, Nicholas Hope & Jamie Wooten
directed by
Gayle Poor
This heart-warming comedy speaks of the ever enduring power of friendship
.
Season: 1st to 17th MayEvenings at 8pm. Matinees: Sundays 4th & 11th May
at 2pm Ticket Prices:

Adults: $25 Concession Card Holders & Members $22
(Senior's Cards not included)
Groups of 10+ - $20 per ticket
Preview Night & First Night Specials - Groups 50+ - $10 per ticket
(
Subscribers requiring to alter their chosen night or reserve their booking are asked to call
BEFORE Wednesday 16th April, 2014.)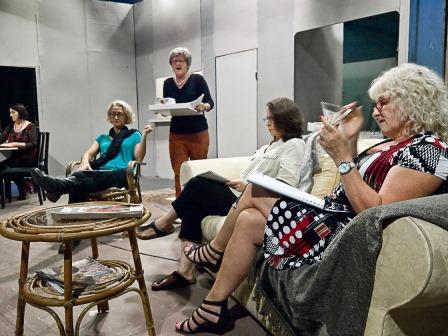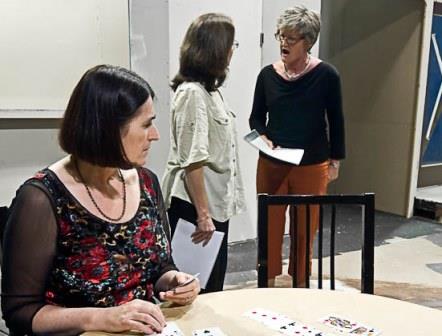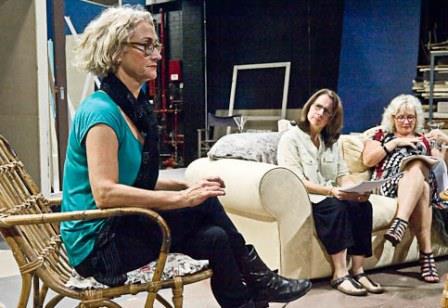 above: The cast of The Dixie Swim Club in rehearsal (photographer: David Belton)

The Dixie Swim Club was written by Jones Hope Wooten in 2007 and is a light-hearted examination of the friendship of five Southern women over the course of several decades. Having bonded as members of a college swim team, they reconnect every August at a beachfront house in North Carolina's Outer Banks, free from husbands, kids and jobs, where they spend their days and nights sharing hopes, concerns, apprehensions, doubts, disappointments and regrets.

In many ways a companion piece to Steel Magnolias, this all-female production celebrates the best of women's relationships and the best aspects of Southern culture, with disarmingly self-deprecating humor.
The play is set in the living room of a beachfront cottage and focuses on four weekends, spanning a period of thirty-three years.
As their lives unfold and the years pass, these women increasingly rely on one another, through advice and raucous repartee, to get through the challenges that life flings at them.
The Company is delighted to welcome Gayle Poor back as director of the show. Gayle has directed twice before for HTC;
This Old Man Came Rolling Home
in 2003 and in 2006,
Emma Celebrazione
. As well Gayle was an Adjudicator for a number of years for the In House Awards. Gayle is keenly sought as a Director amongst the non-professional companies in Melbourne and her most recent directorial role was with Eltham Little Theatre where last year she directed a very successful season of
Calendar Girls
.
Gayle has assembled a fantastic cast with some familiar faces; Jo Warr, Genevieve Ryan and Dianne Mileo and actors new to the Heidelberg stage are Christine Muscat and Annabel Mounsey.
The Production Team for the show includes two Assistant Directors; Janine Kerwood and Llaaneath Poor. Maureen McInerney is Production Co-ordinator and Melanie Belcher is Stage Manager. George Trantor has designed the set and Set Décor is in the artistic hands of Marie Mackrell. Wendy Drowley is in charge of Costumes. Wendy is very excited about the opportunity to dress this show, with the action set over so many years, that makes for soooooo many costume changes, which means a feast for the eyes for our audience and huge job for Wendy and her team as they strip the wardrobe bare (not a hope) for the show. Emma Fox has designed the Lighting, with Rob Wanless creating the Sound Design.
Our wonderful set-building team, Paddy, Neville, Mal, Doug, Des, Norm, Noel and Ian and lead by Owen, are working hard to realise the set design.
Gayle reports that there are; "lots of laughs at rehearsal as we play with the roles of the five quite diverse friends in
The Dixie Swim Club
." And we are sure that you, the audience, will also delight in the humour and situations that are explored in this popular comedy. Please book early, it is definitely shaping up to be a sell-out!
---
AUDITION NOTICE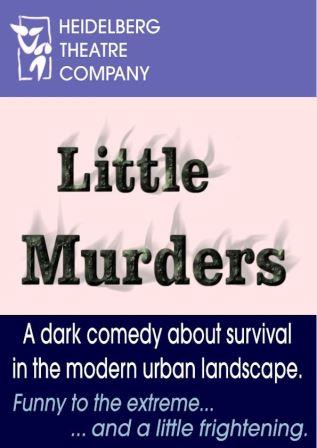 Little Murders
by
Jules Feiffer
.
directed by
Paul King Auditions will be held at the Theatre
36 Turnham Avenue, Rosanna
(Melway ref; 32 A1)
Sunday 13th April at 7.00pm
& Monday 14th April at 7.30pm
Play Season:
3rd – 19th July, 2014.
Weeknights and Saturdays at 8.00pm Sundays at 2.00pm
AUDITIONS ARE BY APPOINTMENT

Please email the director at kzs058@yahoo.com for an appointment.
Auditionees are requested to include a recent headshot and a brief CV of recent stage experience.


Little Murders is an absurdist pitch-black comedy about an everyday dysfunctional American family trying to survive in the urban jungle of late 1960s New York, a city where random shootings, garbage strikes, air pollution, power failures and obscene phone calls are the norm.
When daughter Patsy brings her new boyfriend home to this embattled atmosphere to introduce him to the family, his passivity in the face of danger only leads to more conflict -- and comedy.
Note: Middle-class New York accents are required for all characters.

Principal Roles: Carol Newquist
, a salesman, early/mid 50s. (the family patriarch, long-suffering, irascible, blustering, with a short fuse)
Marjorie Newquist
, his wife, late 40s/early 50s. (lethally prim, tolerant, energetic, an All-American mom with an edge)
Patsy Newquist
, their daughter, a successful interior designer, late 20s/early 30s. (all-consuming, buoyantly cheerful, tall, the All-American girl)
Kenny Newquist
, their son and Patsy's kid brother, early/mid 20s. (a laid-back, quasi-antisocial, slightly psychotic graduate student)
Alfred Chamberlain
, Patsy's fiance, mid/late 30s. (a self-proclaimed Nihilist photographer; big, passive, boyishly innocent)
Cameo Roles: Rev. Henry Dupas
, a hippy pastor,
30s/40s Six Wedding Guests
, 3m 3f, late 20s-40s
The roles of Judge Stern and Lt. Practice have been cast.
---

THE GLASS MENAGERIE
By
Tennessee Williams
Directed by
Karen Wakeham
Reviewed by Richard Burman for Theatrecraft, February 28, 2014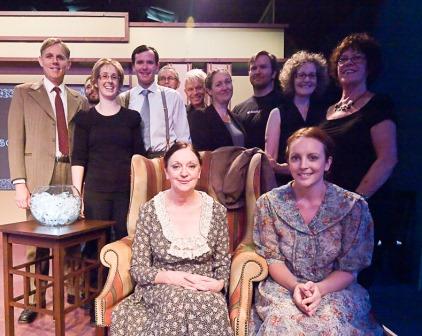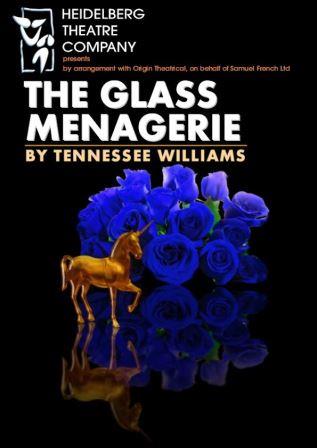 The production of The
Glass Menagerie
by Heidelberg Theatre Company was an interesting one as it was sitting on foundations expressed by David Belton in the HTC Artspace section of the program: "The images displayed here seek to align with Williams' intent by avoiding straight realism and exactitude in their expression" - and - "Williams described
The Glass Menagerie
as a memory play". Marie Mackrell, the set designer also noted that "Tennessee Williams included the revolutionary concept of using cinematic projection in
The Glass Menagerie
".
So the set was in period of the 1930s but plain, with scenery on the side suggesting the Picture Palaces of the period, and a plain living room wall across the back with a large screen in the centre on which were projected images depicting or suggesting memories being expressed in the dialogue. This vision of memory was underscored by the use of a piano on the side of the stage on which John Cheshire played music composed by David Cheshire at times throughout the play, either when scenes were being changed or supporting dialogue.
Director Karen Wakeham chose her cast well. Ian MacGregor played
Tom
, the son, by whose memories the audience is seeing the events in the Wakefield household. Ian gave a strong performance. His frustration and dissatisfaction with his life and his family were well conveyed. But I felt that his last speech thinking of his sister was underplayed.

Laura
, the sister, was played by Clare Hayes. Clare, after creating a good picture of a shy, retiring, crippled young woman, displayed great skill in showing the blossoming and hope of her characters on meeting the
Gentleman Caller
. And her hurt withdrawal into herself when she realises that the relationship will not proceed was touching. I was less happy with the glass animals all being in a large glass bowl, even though having it lit with its own light gave point to the importance of the collection to
Laura.
Marianne Collopy was cast as
Amanda Wingfield
, the domineering mother living always on her memories and unable to see how her attitudes had and were destroying the people around her. This was a finely developed performance and Marianne worked well with the other actors. She dominated the stage at every entrance.
The
Gentleman Caller
who draws
Laura
out of her shell was confidently played by Warren Logan. His character brought a breath of fresh air into the claustrophobic Wingfield home and Warren played it with the necessary contrasting energy. He clearly displayed the outgoing, but self-centred, nature of the character.
The technical side of this production, sound and lighting, was effectively plotted and efficiently operated. Costumes were appropriate for the period, Props were kept to a minimum and many items were conveyed by very effective miming. A tightly-directed production which held the attention of the audience throughout.
---
Celebration of the Life of Julie Hall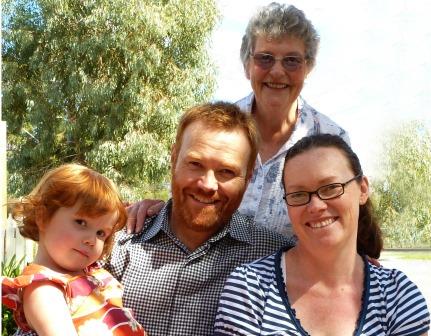 Held at the Theatre onSaturday, 22nd February, 2014
.
Julie Hall, Life Member of the Company and a dedicated supporter of HTC died on the 15th January this year. A Celebration of her Life was held at the Theatre on the 22nd February. There was standing room only as Julie's family together with her many friends and colleagues spent a magical afternoon together sharing memories and anecdotes about this wonderful lady.

HTC President, John Gilbert, welcomed everyone to the Celebration and then Wendy Drowley, fellow Life Member of HTC and long-time friend, spoke of Julie and her long and fruitful association with the Company. A transcript of Wendy's speech is below.
Wendy's speech was followed by more reminiscences about Julie; Stephen spoke of his Mother and their family, and other friends recalled the times they had spent with Julie throughout her life. But the show was stolen by her grand-daughter, Lily, who took the audience on a wonderful journey as she told what Julie, her Nana, had meant to her. (
photo above:
2010 Julie at HTC for the Official Opening of Alice's Garden with
grand-daughter Lily, son Stephen and daughter, Kate.
)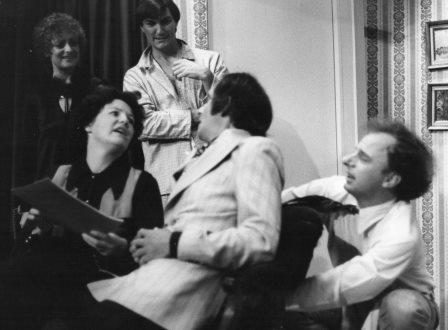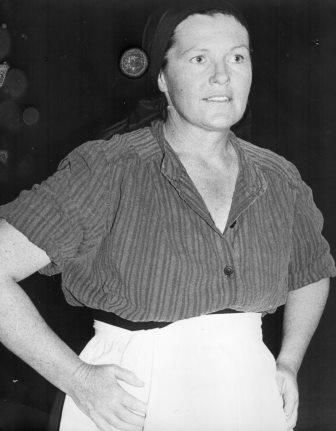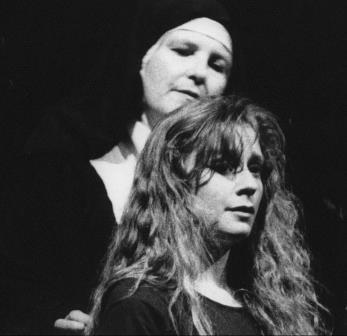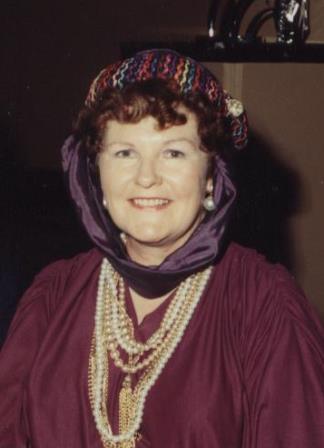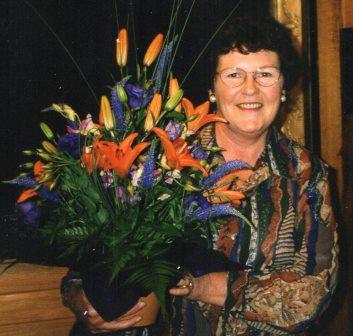 from left:
1978 Julie on left as
Olive Harriet Smythe
in
Move Over, Mrs Markham
,1981 Julie as
Anna
in
The House of Bernarda Alba
,1991 Julie as The
Abbess of Argenteull
in
Abelard And Heloise,
1992 Julie at the 40th Anniversary Costume Ball,
1997 At the AGM when Julie became a Life Member of the Company.
Wendy's Speech
I have been asked to speak about Julie on behalf of the Theatre Company, and I am honoured to do so. This is a day of celebration for a lovely lady whom we have lost. Julie my friend, Julie our friend, we remember years of dedication, friendship and love.
Julie's first play with us was in 1978, when we were still Heidelberg Rep at the Rechabite Hall in Ivanhoe – she played
Olive Harriet Smythe
in
Move Over Mrs Markham
. She had played with the Tait Theatre in Carlton and had played various roles there, a
Bikie
with tats is the more memorable.
In 1981 she played
Anna
in our production of
The House of Bernarda Alba
directed by Judy Muir. It was a great play. All photos of all the plays are on display in the foyer.
In 1982 she offered to be Ticket Secretary for the last play at Ivanhoe,
The Exorcism
. What a wonderful silly woman, with two children, a full time job and the theatre moving to Rosanna. It was a huge task. She got us through the first play here,
The Knight of the Burning Pestle
with Stephen in the cast, she was so proud of him and continued to burst with pride whenever his or Kate's name was mentioned.
In 1983 she was in Deirdre Oliver's Panto,
How Tom Beat Captain Njork and His Hired Sportsmen
as
Aunt Fidget Wonkham Strong
with Stephen as
Algy Wonkham
. The characters' names match the length of the title. Oh! And she did the tickets at well. From then on she just kept going; 83, 84, 86, 87, even surviving
The Life and Adventures of Nicholas Nickleby
, (
Nic, Nic
) six weeks of paired tickets for a 9 hour play – a nightmare jigsaw, and came back for more the following year for the rerun and did the catering as well. We were all mad in those heady magnificent days.
We thought we wouldn't see her again on stage, too busy with tickets, but in 1991 she played the
Abbess of Argenteuil
in
Abelard and Heloise
directed by Joan Moriarty – and played her magnificently.
Tickets meant subscriptions and memberships as well back then and she had wonderful lists and managed everything superbly. This continued until 1995 with only a few breaks, until she was joined at the Box Office by June Cherrey in 1996 and Rose Capuano in 2000 for the next eight years, and that was a formidable team indeed. Julie also held the Membership Secretary role in all ninety plus plays over thirty-one years. For so many years while she was Subscription Secretary she improvised, improved and when computers arrived embraced them and data bases – she loved this new tool.
She took over as Subscription Secretary again in 2009, while continuing as part of the Box Office team, with wonderful plans to upgrade our booking system to online booking. She researched this thoroughly and wanted us to install one, but unfortunately her health and family told her to rest for a while. When eventually Toni and Bob Tyers set up our new wonderful system, she was delighted.
Another of her tasks she tackled with enthusiasm was the preparation of
Prompts
for postage in the early days; the 80s and 90s. To receive a reduction in postage, we had to do the Post Office's work for them; fold, seal, label and sort. All organized by guess who – meticulously, including hours put into the printing of labels, all sorted into postcode order, and woe betide anyone who messed it up – Julie then took the labelled and sorted bundles off to the Post Office.
The fastidiousness extended to Front of House which she organized from time to time and spent many hours 'doing Front of House' for each play. Anyone who has seen Julie wash a wine glass will never forget – her standard was laboratory standard, and was perfect.
In later years she found other ways to be involved in the plays. It probably started with
Dinner
with Joan. She was Production Co-ordinator for her and liking this contact with casts went on to prompt for
Noises Off
and eleven more plays until 2009. She really enjoyed assisting the directors for
Art
– Wayne Pearn and
Caravan
– Di Mileo. She loved being part of the crew with these plays.
Wishing to still do 'something', in 2010 she took on the task of purchasing supplies for Front of House with Maureen McInerney. You really couldn't keep this lady at home.
Julie served on the HTC Committee from 1982 through to 1993, and again in 1996 with a few breaks for health reasons and was on the Committee until 2003.
She was a friendly exuberant lady who did her tasks with patience and perfection, changing tickets back and forth for patrons, organizing special seating arrangements for many of our audience, fronting the ticket box on countless nights, all done with grace and charm. She was one of the people who honed HTC into the great Company it has become, part of that hidden engine that must work smoothly for everything else to succeed.
She was recognized for her voluntary service to HTC in 1999 with a Jagajaga Community Australia Day Award and in 1997 HTC made her a Life Member and Julie received the Bill Cherrey Award for exceptional service in 2007.
She has been a treasured member and dear friend to so many over the year, all of you here today, and I would like to mention Alice, George and Barbara Bugge, and she was a special, special friend to Bill Roberts and Les Niblett.
HTC has so many people to remember with gratitude for their selfless work over the years, many who have passed away – and now unfortunately Julie has joined their exulted ranks.
Thank you Julie, for coming on that magic carpet ride with us, that is theatre, we will miss you.
---
APRIL Sunday 13th 7.00pm Audition – Little Murders
Monday 4th 7.30pm Audition – Little Murders
Saturday 19th 10.00am Working Bee with Lunch
Saturday 26th 10.00am Working Bee with Lunch
MAY Thursday 1st 8.00pm OPENING NIGHT – The Dixie Swim Club
Saturday 17th 8.00pm FINAL NIGHT – The Dixie Swim Club
---
VALE - JANINE CHUGG
janine Chugg, who was the President of Beaumaris Theatre for 10 years as well as a volunteer Reviewer for the Victorian Drama League has passed away after suffering a fall whilst holidaying in India in February.
Janine resigned from Beaumaris Theatre in December last year to spend more time with her little granddaughter, Ava. Her many friends in the amateur theatre world will remember Janine with affection.
PLEASE SUPPORT THE VDL MEMBERSHIP DRIVE