WELCOME TO THE HEIDELBERG THEATRE COMPANY!


June, 2017
No. 3, 65th Year
HTC'S REMAINING 2017 SEASON
PLAY 3:
ALL MY SONS
July 7th - July 22nd
By Arthur Miller
Directed by Chris McLean
PLAY 4:
THE CLUB
Sep 8th - Sep 23rd
By David Williamson
Directed by Gavin Williams
PLAY 5:
BLOOD BROTHERS
Nov 17th - Dec 2nd
By Willy Russell
Directed by Bruce Akers
HTC Youth 2017:
THE (MIS)ADVENTURES OF KING ARTHUR
December 2017
Written by Ryan Purdey & Erich Fordham
All patrons of the Company are invited to become active members. Your participation will be greatly welcomed. Try something new or bring your well-practiced talents to our theatre.
For further information, consult the 2017 Playbill which also contains information on subscriptions, renewals, vouchers and memberships. You can download the Playbill from our website www.htc.org.au.
---
COMING EVENTS AT HTC:
June
Saturday 24th: 10:00am
Working Bee for "All My Sons"
July
Saturday 1st 10:00am
Working bee for "All My Sons"
Friday 7th 8:00pm
Opening night for "All My Sons"
Auditions for "The Club"
Auditions for "The Club"
Closing Night for "All My Sons"
---
HEIDELBERG THEATRE PATRONS,
PLEASE NOTE:
Changes to Theatre Car Parking:
Due to the work being undertaken by the Level Crossing Removal Authority (LCRA) there are a few changes that will reduce the available car parking at the Theatre.
The car park next to the Theatre and Library will be taken over by the LCRA workers and will be closed for public parking.
All of the railway car parking on the Turnham Avenue side of the station will be a construction site and will not be available for public parking.
Accordingly, Theatre patrons can park in the public carpark behind the Library. This car park is accessed via Douglas Street.
The railway car park on the other side of the station will remain open and can be accessed from Beetham Parade. There is a path and a pedestrian crossing over the railway line which runs directly to Turnham Avenue.
We have been advised by the LCRA that the construction timetable will result in these arrangements remaining in place until January next year.
Due to the changed parking arrangements, we strongly recommend that you should allow extra time to ensure that you arrive and park no later than 7.45pm for the evening performances, and by 1.45pm for the matinee performances. So please come a little earlier and enjoy a sherry before the show.
---
UPCOMING PLAY - ALL MY SONS

All My Sons is by the famous American playwright, Arthur Miller, also known for his later works Death of a Salesman and The Crucible. All My Sons, produced in New York in 1947, was Arthur Miller's second Broadway play and the one that rocketed him to fame. With his first, The Man Who Had All the Luck, produced there three years earlier, the 29-year old Miller had had anything but – luck, that is. Despite winning a Theatre Guild's National Award in 1940, The Man Who Had All The Luck had disastrous reviews and closed on Broadway after four performances. A chastened Miller spend the years '45 and '46 writing and honing All My Sons, determined it would not suffer the same fate.. or, if it did, he'd give up playwriting altogether. As preparation, he trialled the play out of town to groups of GIs. They liked it and he grew confident he had a good story.
Why GIs? Well, the background to All My Sons is World War 2 … where men and women fought and died overseas, and others – businessmen particularly – made their fortunes, or built upon them, by fulfilling lucrative government contracts to produce the components, machines, weapons that those soldiers abroad were using to fight with. Those fortunate ones at home could, of course, justify their positions by saying they were just fulfilling the American Dream – wealth, prosperity, financial security – and indeed, by helping keep the country free – they were helping others to achieve the Dream also.
So, who are the "others" to whom responsibility is owed? For Joe Keller, the neighbourhood "hero" of our story, a wealthy businessman whose factory produced aircraft components for war, the "others" are his immediate family, his wife Kate and his two sons Larry and Chris – it is for their benefit that he has worked as he has – has done what he felt he had to do during the tough times. At the start of the play we soon learn that Larry, a pilot in the war, has gone missing in action. Though Kate refuses to believe Larry is dead, Joe and Chris have accepted it – and it's all the more reason for Joe, on the brink of retirement, to pin all his hopes on Chris taking over the business and securing the family fortunes for the future.
Chris considers his father a hero and loves him dearly. For Chris however, who also fought in the war but did make it back, the "others" of his care go beyond his family to those like the men in his company who fought under him, many of whom died. "A little more selfish and they'd've been here today. And I got an idea – watching them go down. Everything was being destroyed, see, but it seemed to me that one new thing was made. A kind of – responsibility. Man for man. You understand me?"
And so is the ground laid for a showdown between father and son – when the son learns how his father has shirked his responsibility. Shirked? This rich and compelling story is more than that, but let's not give the plot away.

Kate (Julie Arnold) is given the letter by her husband Joe Keller (George
Werther), with Chris Keller (Liam Gillespie) and Ann Deever (Claire Abagia).
HTC's All My Sons boasts a practiced and talented cast. We welcome back performers who have appeared in our previous productions. George Werther (Rumours; The Two of Us; Glengarry Glen Ross; Grace) plays factory owner Joe Keller; Julie Arnold (The Dresser; Little Murders; True Minds) is Joe's wife Kate Keller, while Liam Gillespie (One Man, Two Guvnors) plays Joe's son Chris Keller. Claire Abagia (Pride & Prejudice) is Ann Deever – in love with Chris, and Xavier Ryan (The Philadelphia Story; The Business of Murder; Three Sisters; Twelve Angry Men) plays Ann's brother, New York lawyer George Deever. Tim Camilleri (Rosencrantz and Guildenstern are Dead; The Lion in Winter) returns to our stage as the Keller's next door neighbour, Frank Lubey, and Gavin Baker (The Dresser; August: Osage County; When Dad Married Fury; Don't Dress for Dinner; One Man, Two Guvnors) plays Doctor Jim Bayliss, next door neighbour on the other side.
The Company also extends a warm hello to new faces on our stage. Sallyanne Mitchell, who also enjoys performing in musical theatre, will appear as Sue Bayliss, Jim's wife. Kate Manicom joins us after appearing in two Eltham Little Theatre shows earlier this year and will play Frank Lubey's wife Lydia. And a special hi to Francesco Basile who will play young Bert.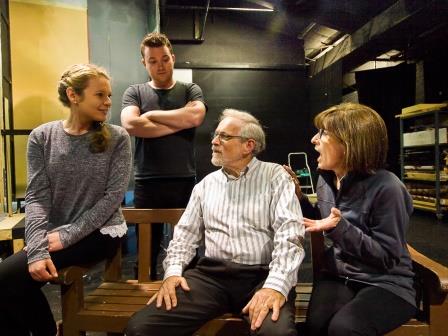 Claire Abagia as Ann Deever with Liam Gillespie as Chris Keller, and George Werther as Joe Keller with Julie Arnold as Kate Keller.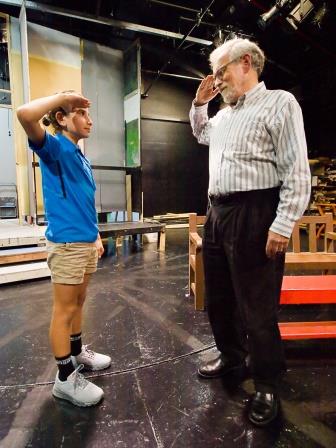 George Werther as Joe Keller and Francesco Basile as Bert.
In his fifth production with HTC, director Chris McLean is very thankful of the support of an experienced production team: Production Co-ordinator Margaret Hassall, Stage Manager Melanie Belcher, Costume Designer Wendy Drowley and Properties Manager Bronwyn Parker. Lighting and Sound are in the very capable hands of Deryk Hartwick and Rob Wanless respectively. Set Construction is coordinated by Owen Evans, and the set artist in Marie Mackrell. This production is dedicated to Neville Wilkie who passed away on Thursday May 4 this year. Neville was with our Company for the last eight years, and was valued for the special properties and furniture he created for so many of our productions.
Performance Dates: July 7 to July 22, 2017
8pm - July 7, 8, 12, 13, 14, 15, 19, 20, 21, 22

2pm - July 9, 16, 22
Tickets: $27 for Adults, $24 for Concessions.
Online at: www.htc.org.au.
Box Office – 9457 4117 or at the door.
Venue: The Heidelberg Theatre Company
36 Turnham Ave, Rosanna
---
PRIDE AND PREJUDICE - Theatrecraft / Stage Whispers Reviews
PRIDE AND PREJUDICE
by Simon Reade,
Adapted from "Pride And Prejudice", by Jane Austen
Heidelberg Theatre Company
Directed by Tim Scott
Reviewed by Deborah Fabbro for Theatrecraft, May 5, 2017
Having only recently studied Jane Austen's Mansfield Park in my literature class, I was in the mood for more of this writer's works. Simon Reade's adaption of Pride and Prejudice as presented by Heidelberg Theatre Company captured the wit and romance of the novel and also Austen's depiction of human nature which, despite the huge differences in social mores between Austen's times and ours, still displays the same basic traits.
Opening with a dance scene, we are transported to the period beautifully. All of the performers were well rehearsed in Dianne Mileo's choreography, in this and subsequent scenes, and created the grace of the era, aided by the pleasing fortepiano accompaniment. Adding to this was John Shelbourn's elegant Regency-style set which made wonderful use of the large, open Heidelberg stage. Clever repositioning of panels, either walls or windows, created the various locations called for in the script. Projecting the name of the location at the start of the scene when it is first used set the locale in the audience's mind. The changes were effected, in low light, by the ensemble of costumed footmen and soldiers and other performers in a mostly smooth manner. This staging allowed the play to flow well between scenes without being slowed by blackouts and was enhanced by Deryk Hartwick's lighting design which was effective.
Also aiding the transportation to the early 1800s is the excellent costuming by Wendy Drowley and her team, Cathy Christensen and Lois Connor: simple designs that, with the addition of an overlay or coat, achieved changes effectively. Sumptuous garments for Lady Catherine de Bourgh set her wealthy status.
Aimee Sanderson as Elizabeth Bennet, and James Antonas as Fitzwilliam Darcy gave strong performances and showed great rapport as performers. We grasp his pride and her prejudice and are waiting for the moment when they will resolve their differences. Abi Richardson (Mrs Bennet) and Lee Threadgold (Mr Bennet) played their scenes together well and with humour as needed. Lee Threadgold portrayed the husband who gently tolerates his wife's histrionics, and Abi Richardson captured the zeal of her character in trying to marry off her daughters, but occasionally seemed a little hesitant in her delivery as well as a little OTT at times.
With the arrival of Mr Charles Bingley (Tyson Legg) at the nearby Netherfield Park, Mrs Bennet hopes that her eldest daughter, Jane, ably played by Claire Abagia may make a suitable match.
The other Bennet daughters, Mary, Kitty and Lydia were portrayed well, and Madalyn McCandless, Morgan Thomas-Connor and Courtney Crisfield, respectively, each captured the nuances of their character, particularly Courtney Crisfield as the wilful Lydia who elopes with Mr Wickham (Christien Dariol).
A strong performance was given by Venetia Macken as the imperious Lady Catherine de Bourgh when she visits Elizabeth and insists that she renounce Darcy, as she wants him to marry her own daughter, Anne (Louise Newton).
There were also fine performances from Claire Benne as outwardly nice but manipulative Caroline Bingley, Lynne McGregor as Mrs Gardiner, Elizabeth's aunt, and Tyson Legg as the easy-going Charles Bingley.
In the role of Mr Collins, the entailed heir to his cousin Mr Bennet's estate, we saw Jacob Pilkington. This character was portrayed as somewhat eccentric and with strange speech patterns. I feel that actor and director should have reined this in a little as it did make it difficult for the audience to follow his dialogue.
As those familiar with the novel would know, a lot of the story is told through letters between the characters. This was handled well by director, Tim Scott, who had the recipient 'reading' the letter while the sender appeared on another part of the stage miming the words they'd 'written'.
Congratulations to director, creatives, cast and crew for a very satisfying evening of theatre.
Deborah Fabbro
Reviewed by Sophia Dickinson for Stage Whispers - May 13, 2017
Heidelberg Theatre Company has done an apt job of bringing Jane Austen's beloved classic to life on stage. On opening night, the house appeared full and the production seemed well prepared.
The show opens with a jovial scene of Regency-period dancing. The cast showed good mastery of Dianne Mileo's choreography. The men looked particularly dashing in their officers' uniforms. The fortepiano added atmosphere and authenticity to the production.
Aimée Sanderson was charming as the lead protagonist Elizabeth Bennet and Abi Richardson brought much comic relief as a melodramatic Mrs Bennet. The whole cast showed good characterisation, with the key aspects of each personality and relationship shining through, although a little over-the-top in some instances. I found Mr Collins difficult to understand, perhaps he was speaking too quickly. The story was told well. I was not familiar with it but was able to follow with ease. There were a few awkward moments in the direction, with some lip-syncing while letters were read aloud and people being on stage unnecessarily. I felt the drama of the final scene where Elizabeth and Darcy finally unite was a little lost and could have been cut after the kiss, to create a theatrical climax.
The set functioned well, allowing room for all the different settings. The names of each locations appeared in lighting at the start of each scene, which helped comprehension. I enjoyed the scene changes, which avoided fades to black and instead were executed by people in costume under dim lighting. The costumes were period appropriate with some beautifully made pieces such as the ladies' coats. Caroline Bingley and Lady Catherine de Bourgh's costumes in particular helped portray their characters' wealth.
Overall, the play was a delight for Jane Austen fans new and faithful, Heidelberg Theatre Company should be proud to add this production to its 65-year tradition of bringing non-professional theatre to the community.
Sophia Dickinson
---
AUDITION NOTICE: THE CLUB
THE CLUB by David Williamson
DIRECTOR: Gavin Williams
AUDITION DATES:
• 6pm-9pm Sunday July 9, 2017
• 6pm-9pm Monday July 10, 2017
• 6pm-9pm Tuesday July 11, 2017
~ Callbacks (If needed)
PERFORMANCE DATES:
8 September to 23 September, 2017 (Wed-Sat 8pm; Sun and final Sat 2pm)
PLAY SUMMARY:
It is well known in today's society that to succeed in any elite team sport, a sporting club needs to be run like a business, with the highest level of professionalism. It wasn't always this way. David Williamson's The Club explores the gauche transition from amateurism to professionalism that many elite sporting clubs endured. A time where necessary evolution clashed bitterly with time-honoured traditions, and accountability was a dirty word. Williamson's impulsive characters, and their volatile relationships, are brutally exposed as they struggle to either obtain, regain or maintain power in the back rooms of The Club.
CAST SUMMARY • 5 Males (ages 20s - 60s) • 1 Female (aged 30 - 60+) CHARACTER DETAILS (Please note that ages are indicative only)
• Geri (Female 30-60+): Club administrator. Extremely good at playing politics with the egos around her. Gets her own way through coercion and manipulation, so it never looks like responsibility for decisions rests on her shoulders. This is a gender swapped character.
• Ted (Male 50-70+): New president of an unsuccessful club. Has never played for the club, so having troubles getting respect within the club for that reason. Owns a pie business, which is struggling financially, and has invested a lot of his own money into the club. Proud and desperately wants to be seen as the saviour of the club.
• Laurie (Male 40-55): Long serving coach. Iconic and well respected figure at the club. Loved by his players. Has wanted to spend money on acquiring players for years, with the club resisting, so is angry that the club has bought Geoff without his consultation. Realises the management of the club are working against him and looking to scapegoat him for their inability to win a premiership for 19 years.
• Danny (Male 30-35): Nearing the end of what has been an illustrious and celebrated career. Despite being much loved within the club, Danny's form is fading and he is struggling to keep up with the game. Personally his marriage and his finances are in turmoil. He is very proud and trying desperately to resolve both issues. Has incredible loyalty to his coach.
• Jock (Male 60+): Former president and legend of the club. Games record holder and last premiership winning coach. Dislikes current coach and wants him out. Inserts himself in all elements of the running of the club, trying to stay relevant and involved in the dynamic power games. Is manipulative and deceitful in getting what he wants.
• Geoff (Male 20-30): The clubs new star recruit, who has been paid big dollars by the club. Sees the men running the club for what they are and is openly contemptuous of them. Realises he is just a piece of meat to them, a player to be bartered, and responds accordingly.
AUDITION DETAILS:
• Location: 36 Turnham Ave, Rosanna, Vic (opp. Rosanna Stn.)
• To assist with planning of audition sessions, please email the director and nominate which audition session you wish to attend, and which, if any, character you are interested (gavin.g.williams@gmail.com ).
• Please bring to the audition a printed, non-returnable, roughly 8x10 sized headshot (printed on A4 paper is fine) with your name and phone number written on the back.
• Audition forms will be available to be completed at the audition.
• Format will be individual and paired auditions. You will prepare and deliver a maximum 3 min monologue and then work in tandem with another auditionee (preferably auditioning a different role to you) on a scene from the play, as provided by the director. Audition process should last approx. half an hour.
• Accents: A standard Australian Accent will be employed by this production
OTHER INFO
• The Club show page: http://htc.org.au/plays/2017/4club.html • Performance dates/times: 8.00 pm on Sep 8, 9, 13, 14, 15, 16, 20, 21, 22, 23. 2.00 pm on Sep 10, 17 & 23
• Day of last performance Sep 23 has 2 shows: 2.00 pm and 8.00 pm
---
VALE - NEVILLE WILKIE

Early in May, Heidelberg Theatre Company received the sad news of the passing of Neville Wilkie. We extend our sympathies to Valmay, his wife and to Neville's family.
Neville joined our set building crew after attending an HTC Open Day in 2008 and by the following year was a well-known regular. Neville soon developed a reputation within the Company for his ingenuity in designing and creating specialised furniture and props. Examples of his excellent craftsmanship appeared in so many of our shows:
• The Dinner Game (2009) - a retractable dagger;
• The Pain Killer (2010) - a sniper 'rifle' and matching case with compartments into which the parts of the disassembled rifle could be packed, and a window with 'guillotine'-like action;
• Under Milk Wood (2011) - a water pump;
• The Lion in Winter (2012) – a 12th century king's throne (that adorns our foyer), three beautiful chairs and a gorgeous jewellery box;
• The Dresser (2013) – facsimile of old theatre device for making the sound of rain;
• Don't Dress for Dinner (2015) - an old French fireplace;
• Pride and Prejudice (2016) – a 19th century piano-forte.
Neville had other talents. A skilled cello player, (he was a member of the Preston Symphony Orchestra), Neville's impeccable musical renditions could always be relied upon to add a touch of class to the 'HTC Capers' concerts that the Company used to run during the Banyule Winter Festival.
Neville ('Nev') was a wonderfully generous man. He often bought his own tools to our working bees, and would be only too happy to loan you one of these, if the Company did not have a similar tool available. At the working bee morning teas, you could always rely on Neville to pull out a pack of tasty bikkies and put them on the communal table to be shared with the rest of the crew.
In 2014 Neville received HTC's Bill Cherry Award for the year, as recognition of his outstanding contribution.
On a fine Sunday in April this year, twelve days before he died, many of Neville's family and friends, including his HTC friends, shared a wonderful celebration of Neville's life, acknowledging how much we had all valued and enjoyed his contribution to our lives over the years.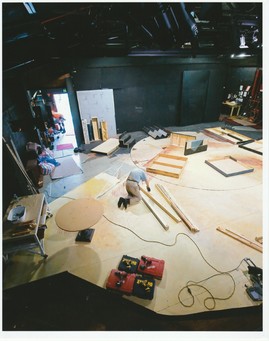 Farewell Neville. You were a true artisan and gentleman. We will remember you with much affection. - The HTC Team
---






Is your group or committee planning it's Fund Raising Calendar

Generous concessions for groups of 10 or more.

Please call the Box Office on 9457 4117.
| | | | | |
| --- | --- | --- | --- | --- |
| | Stay Tuned for further information on 2017's Working Bees. | | | |


Heidelberg Theatre Company Inc. web bookings: www. htc.org.au
36 Turnham Avenue, Rosanna, Vic, 3084 (Melway Ref. 32 A1) General Enquiries: 9455 3039
Box Office: 03 94574117 email: htc@htc.org.au
Hurstbridge line – Rosanna Station website: www.htc.org.au Inc.
No. A008432X ABN: 70 112 958 020 P.O. Box 141, Rosanna, 3084