WELCOME TO THE HEIDELBERG THEATRE COMPANY

No. 5. November, 2016 64th Year
---
ONE MAN, TWO GUVNORS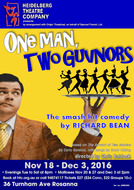 by
Richard Bean
based on
A Servant of Two Masters
by Carlo Goldoni
Directed by
Chris Baldock
18th Nov. – 3rd Dec., 2016
Tuesdays to Saturdays at 8pm Matinees: Sundays 20, 27 Nov. & Saturday 3 Dec. at 2pm,
Groups of 10+
$22 per tkt. Groups 50+
-
$10 per tkt.
Preview & First Wednesday Night
Adults:
$27
Concession Card Holders & Members
$24
For further information check our website: htc.org.au
or call the Box Office on 9457 4117

There is much excitement happening down at HTC at the moment as we ready ourselves for a massive end to 2016 with the hilarious
One Man, Two Guvnors
. A huge hit on the West End, Broadway, three UK tours and an international tour, Richard Bean's
One Man, Two Guvnors
is based on
A Servant of Two Masters
by Carlo Goldini and made a star out of its leading man, James Corden.
This internationally-acclaimed smash hit has a wonderful mix of satire, slapstick and witty one liners. With its roots in commedia dell'arte, the play cleverly manages to play homage to classic British comedy like the
Carry On
films,
Fawlty Towers
,
On The Buses
and even
The Importance of Being Earnest
!
It's 1963 and England is swinging! One easily-confused and ever-ravenous
Francis Henshall
finds himself a minder of two men, a gangster and a criminal in hiding, both of whom are linked in a web of schemes, extortions and romantic associations. To prevent discovery Francis must keep his two guvnors apart at all costs. But it's tricky. Mistaken identities, cross dressing and multiple mishaps soon coalesce to engulf him in pandemonium.
Fresh from our wildly successful
Twelve Angry Men
and known for his acclaimed productions at HTC of
The Grapes of Wrath
,
Cloudstreet
and
One Flew Over The Cuckoo's Nest
among others, director Chris Baldock finds himself a complete change of pace with this deliriously funny play. For his last production in Melbourne, he has assembled a top-notch cast to bring the craziness to life.
Audiences will remember the talents of Benjamin Watts (
Twelve Angry Men, A Streetcar Named Desire
), James Antonas (
Moonlight and Magnolias, Three Sisters
), Cat Jardine (
Amadeus, Steel Magnolias
), Llaani Poor (
Three Sisters
), Jonathan Best (
Twelve Angry Men
), Sam Howard (
The Cripple of Inishmaan
), Ken McLeish (
True Minds
) and Gavin Baker (
Don't Dress For Dinner
). HTC welcomes the following talented actors to our stage: Dianne Algate, Katey Lewis, Liam Gillespie, Nick Cheadle, Wem Etuknwa, Christian Rhodes-Wolfe and Thalia Cairns Dudek.
In addition to the cast, the production will have a stunning quartet of musicians on stage for the entire evening, making up a 1960s skiffle band. Lead by James Chappell on guitar and vocals, we also have Tom Campbell-Dick on guitar/vocals, Robbie Finch on double bass and Ryan Evans on drums/percussion. Expect to see a washboard, harmonica, steel drums and a whole array of instruments make guest appearances!
Having collaborated with the director on many occasions, Bruce Akers is giving his experience, passion and watchful eye to the role of Production Coordinator. Gavin Williams has climbed on board as Assistant Director and Dianne Algate will be choreographing some groovy '60s moves as well as acting in the show. Owen Evans is once again leading the set building team to construction glory as they rise to the challenges of the director's innovative set design.
Melanie Belcher, as Stage Manager, will be leading her small army of dedicated minions behind the set to ensure everything runs smoothly and professionally, namely Sheelagh Belton, Ann-Marie Geros and Katrina Symes. Chris is teaming up once again with lighting designer extraordinaire, Deryk Hartwick, who will produce his special illuminating magic. A very talented and clever newcomer, Louise Anthony, is creating the scenic artwork required for the various scenes.
A colourful array of costumes are being sourced and made by the trusty and experienced team of Wendy Drowley and Maureen McInerney with assistance from Louise Anthony. The myriad of props needed are being sourced by Bronwyn Parker, Rhonda Huckel and Bruce Akers and Bobbie Parish will be brandishing her script and pencil as the best prompt in town.
With two extra performances already added and the season selling like hotcakes, we can assure you tickets will be hard to come by soon. So grab them now to join us for an uproariously funny and joyful end to the year!

Early Rehearsal shots from the Show by David Belton.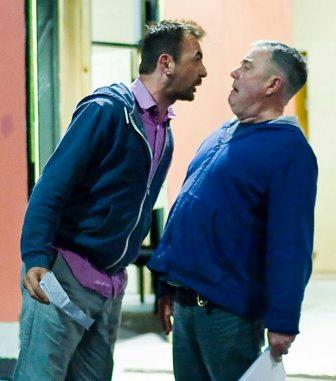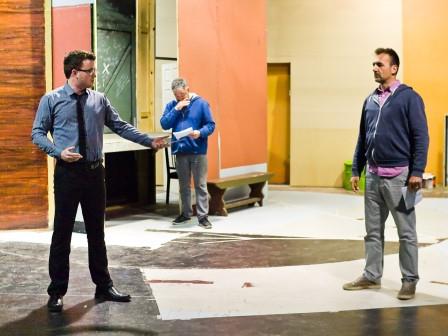 (above left)
:
Nick Cheadle & Ken McLeish

(above right)
: Liam Gillespie, Ken McLeish & Nick Cheadle

Link to my website
---
HEIDELBERG THEATRE COMPANY'S 2017 SEASON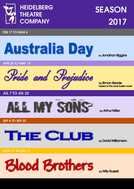 PLAY 1: Australia Day
-
Feb 17 to Mar 4
by Jonathan Biggins directed by Joan Moriarty.
Australian Comedy
PLAY 2: Pride and Prejudice - Apr 28 to May 13
Adapted from the Jane Austen novel by Simon Reade. directed by Tim Scott.
English Drama/Romance
PLAY 3: All My Sons - Jul 7 to Jul 22
by Arthur Miller directed by Chris McLean.
American Drama
PLAY 4: The Club - Sep 8 to Sep 23
by David Williamson directed by Gavin Williams.
Australian Comedy
PLAY 5: Blood Brothers - Nov 17 to Dec 2
by Willy Russell directed by Bruce Akers.
English Comedy/Drama
Link to my website
---
SUBSCRIBERS TO OUR 2017 SEASON
PLEASE NOTE
SEATS WILL BE ALLOCATED IN ORDER OF RECEIPT
SUBSCRIPTION FORMS WILL BE PROCESSED BEGINNING ON DEC. 1st 2016.
We would appreciate the return of your subscription form
before Monday, 9th JANUARY, 2017. Or if you prefer, you may book subscriptions through our Box Office on 9457 4117.
(from 9th Jan. 2017 NON-SUBSCRIBER bookings will be available to all patrons via our website, htc.org.au or through the Box Office 9457 4117)
The Playbill includes details of the plays for the 2017 Season. It sets out Subscription options; including generous discounts to Subscribers and Members, as well as Group Bookings,Gift Subscriptions and Gift Vouchers.
Thank you to all who supported The Company in 2016; onstage, backstage, front of house, as subscribers, members & audiences. The Company looks forward to welcoming you back in 2017.


HTC's 2017 Playbill
PLEASE NOTE:
HTC has discontinued the bulk mail-out of Playbills.
Patrons who chose pay a fee to have Prompts posted to them in 2016 will receive a copy of the 2017 Playbill in the mail with their next issue of Prompts.
Playbills can be collected from the foyer of the Theatre during the season of One Man, Two Guvnors and the HTCYouth production, The Wizard of Oz, from branches of the Banyule Library & the Banyule Service Centres, download a copy from the HTC website, htc.org.au or call the Box Office on 9457 4117 if your require additional copies and they will be mailed to you.
---
NOVEMBER AUDITIONS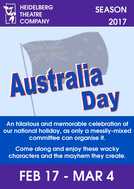 Australia Day by Jonathan Biggins
Directed by:
Joan Moriarty
Audition Dates:
Sunday 20th November at 7.00 pm,
Monday 21st November at 6.30 pm Where:
Heidelberg Theatre, 36 Turnham Avenue, Rosanna
(Melway 32A1)
Performing:
February 17 to March 4, 2017:
Wednesday to Saturday at 8:00 pm,
Sundays at 2:00 pm
Saturday March 4th at 2:00 pm & 8:00 pm.
Auditions are by appointment only.

Email:
joan.thespian@live.com.au
This contemporary play is set in a small country town. The six committee members are planning the Australia Day celebrations. On the big day things go from bad to worse.
Characters
Brian Harrigan. 45 plus. Local mayor and pre selection candidate for the Liberal
Party – very ambitious.
Robert Wilson 45 plus. Deputy Mayor - a decent citizen.
Maree Bucknell 60 plus. President of the local C.W.A. and a long serving member. Wally Stewart 55 plus. A local builder, aggressive and outspoken.
Helen Mc Innes 35 plus. A Local Greens Councillor and new to the committee.
Chester Lee 25 plus. Newly arrived Aust. Born Vietnamese primary teacher and new
to the Committee.
Link to my website
---
HTC YOUTH presents: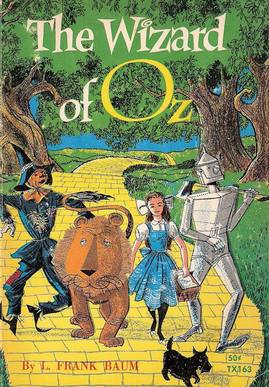 The Wizard of Oz
Adapted by
Ryan Purdey
from the novel by L. Frank Baum
Directed by
Morgan Thomas-Connor
& Julian Adams
9th – 18th December, 2016 Evenings:
Dec 9, 10, 16, 17 at 7pm Matinees: Dec 10, 17, 18 at 2pm
A Message from the Directors of the Show:
"Morgan and I have been in Heidelberg Youth for a while now and it's really exciting to give directing a go.
HTC has given us so much experience and fond memories, and we're really excited to have the opportunity to give back to the company.
We've got a great ensemble cast, some awesome technical staff already asking to be a part of the fun, so it's gearing up to be a great show."
TICKETS: ADULTS $10 CHILDREN $5
Bookings: online at htc.org.au Box Office 9457 4117
CAST MEMBERS

Dorothy- Christina Savopoulos Claudius - Jordan Abuzar
Wicked Witch- Kate Lange General Meero - Joshua Fernandez
Glinda- Beth McLaughlan Uncle Henry - Aaron Gallagher
Aunty Em - Kristen Robertson
Scarecrow- Robbie Nicholson Ms Kismet - Holly Pretorius
Lion- Mathew Arter
Tin Woodsman- David Peters Odd - Lakshmi Ganapathy
Wizard- Simon Nixon Bod - Andrea Lashini
Ensemble
Maddy Hill
Alyssa Trombino
Ellie Martin
Marina Labib

Link to my website
---
REVIEW - A STREETCAR NAMED DESIRE


by Tennessee Williams.

Directed by Karen Wakeham

Heidelberg Theatre Company presents Tennessee Williams' Pulitzer Prize-winning drama

A Streetcar Named Desire

until September 24.

Set in a steamy, late 1940s New Orleans summer, Bruce Akers' impressive set of Elysian Fields (realised by Owen Evans) cleverly depicts the Kowalski's simple apartment, including their bedroom, bathroom entrance, kitchen,. front door, and the Hubbel's neighbouring apartment entrance.

The storyline centres around elegantly dressed but now penniless, schoolteacher

Blanche DuBois

, arriving from Mississippi to visit her sister and brother-in-law,

Stella

and

Stanley Kowalski

.

Blanche'

s arrival and upper-class behaviour unsettles

Stanley

, threatens his control over

Stella

and their humble abode, and friendships with his mates. The theme 'desire' penetrates the play from various character perspectives, leading to conflict, betrayal, violence, rape, and

Blanche

's mental breakdown.

The mellow tones of Tim Overton's saxophone intensify the narrative with emotive poignancy, and his collaboration with composer David Cheshire has produced a striking, musically atmospheric result.

The strong cast assembled under Karen Wakeham's direction includes Claire Benne in the pivotal role of

Blanche

. Petite Claire exuding power over tough, rugged

Stanley

increases dramatic effect, and she delivers a fine performance, skilfully portraying delusional Blanche's pseudo refinement, conflict with Stanley and breakdown.

Warren Logan is great as

Stanley

, his uncouth rawness emphasised by an ordinary, everyday appearance, rather than a stereotyped singlet, and Aimée Sanderson contrasts nicely as personable, loyal

Stella

. Benjamin Watts presents a particularly strong portrayal of

Harold Mitchell

, and fine performances are enjoyed from Katie Hall (

Eunice

), Don Nicholson (

Steve

), Paul Mamone (

Pablo

), Sam Howard (

Young Collector

) and Stephanie Gonelli (

Mexican Woman/Nurse

).

Critically speaking, the similar high pitch levels of Stella and Blanche's voices risk irritation during their scenes together. Slight tonal modification of one voice would be helpful.

Heidelberg Theatre Company's production of Williams' masterpiece is another example of the company's high quality performance standard, and well worth seeing.

Above: The cast of

A Streetcar Named Desire

in scenes from the very popular production Photos: David Belton.
---
COMING EVENTS AT HTC

NOVEMBER
Saturday 5th 10.00am Working Bee with Lunch
Saturday 14th 10.00am Working Bee with Lunch
Friday 18th 8.00pm
OPENING NIGHT
–
One Man Two Guvnors
Sunday 20th 7.00pm AUDITION: AUSTRALIA DAY
Monday 21st 6.30pm AUDITION: AUSTRALIA DAY
DECEMBER
Thursday 1st
BOOKINGS OPEN for the 2017 SUBSCRIBER SEASON
(Subscriptions will be processed in order of receipt –
Bookings open for non subscribers on Monday 9th Jan.)
Saturday 3rd 8.00pm
CLOSING NIGHT - One Man Two Guvnors 9th 10th 16th 17th
7.00pm
HTCYouth
THE WIZARD OF OZ 10th 17th 18th
2.00pm
HTCYouth THE WIZARD OF OZ
Sunday 11th 3.00pm ANNUAL GENERAL MEETING & END OF YEAR PARTY
---
| | | | | |
| --- | --- | --- | --- | --- |
| | ANNUAL GENERAL MEETING & END OF YEAR PARTY | | | |
SUNDAY 11th DECEMBER
AGM at 3pm
followed by the
END OF YEAR PARTY
at the Theatre
36 Turnham Ave, Rosanna


PLEASE HELP
at the WORKING BEES for
ONE MAN, TWO GUVNORS
Saturday 5th & 12th November
from 10.00am
Lunch is provided.
So come along, it's a great experience and a fun time too!
Working Bees not your style?
How about assisting backstage or front of house.
Like to know more – call the Theatre on 9455 3039





Heidelberg Theatre Company Inc web bookings: www. htc.org.au 36 Turnham Avenue, Rosanna, Vic, 3084 General Enquiries: 9455 3039 Box Office: 03 94574117 Melway Ref. 32 A1 email: htc@htc.org.au Hurstbridge line – Rosanna Station website: www.htc.org.au Inc. No. A008432X ABN: 70 112 958 020 P.O. Box 141, Rosanna, 3084