GOD OF CARNAGE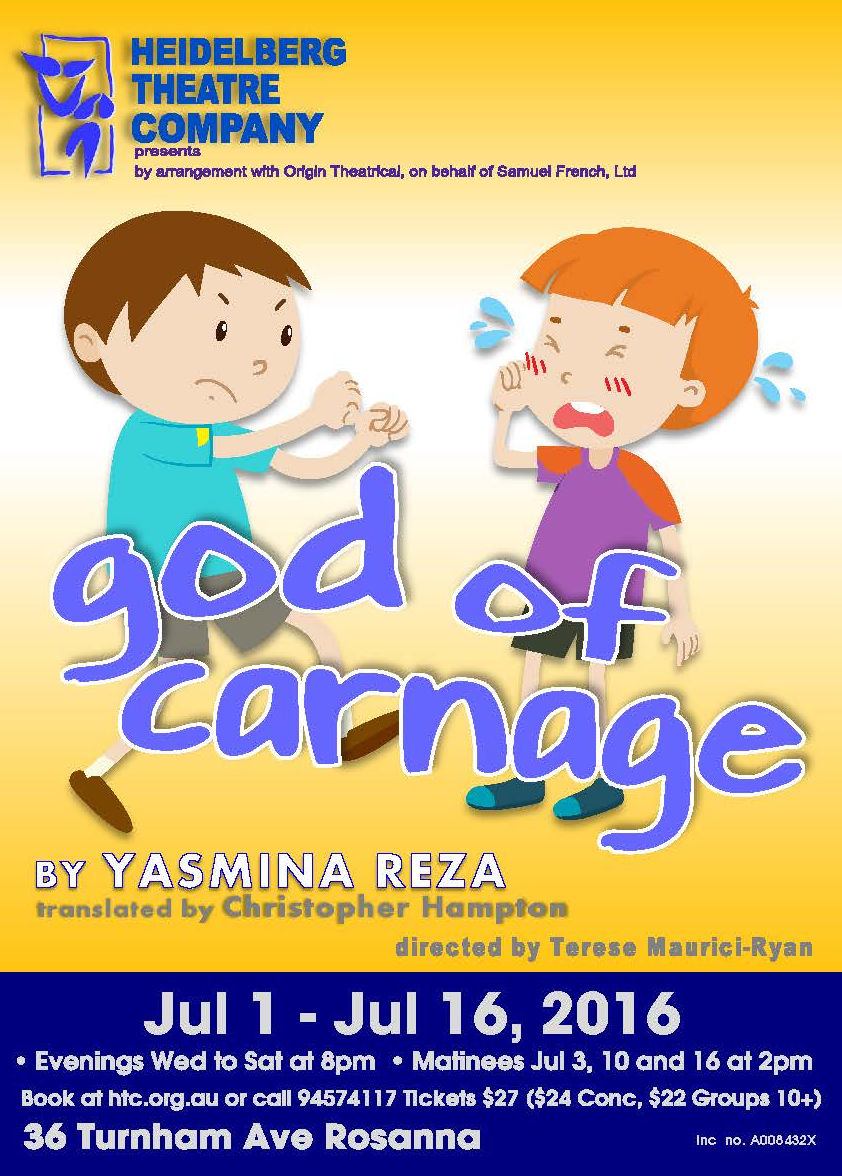 by
Yasmina Reza
directed by
Terese Maurici-Ryan
This Tony Award winning comedy brims with acerbic wit and sarcastic insight.
It's fast, furious and very, very funny.

Season: 1st to 16th July, 2016Evenings:
at 8pm.
Matinees: at 2pm
Sundays
3rd & 10th and Saturday 16th July
Ticket Prices
:
Adults
:
$27.
Concession Card Holders & Members $24
Groups of 10+ $22
per tkt,
Preview & First Wednesday Specials - Groups 50+ $10 per tkt .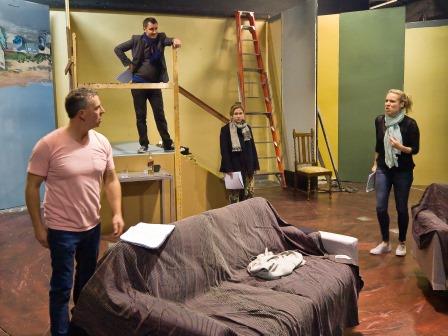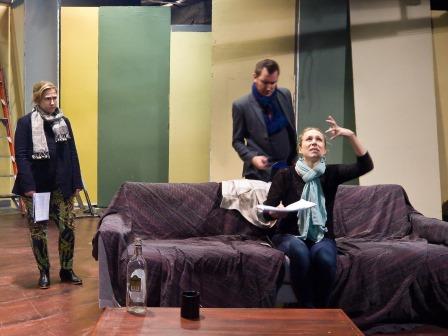 Rehearsal Shots from
God of Carnage
:
on left, from left:
Brian Richardson (
Michael Novak
), Robert Lloyd
(Alan Raleigh
), Kathryn Maloney
(Annette Raleigh
) & Kylie Ryan
(Veronica Novak
).
on right, from left:
Kathryn Maloney (
Annette Raleigh
), Robert Lloyd
(Alan Raleigh
).& Kylie Ryan (
Veronica Novak
). Photographer: David Belton.
God of Carnage
is a comedy written in 2008 by French playwright Yasmina Reza, also known for her 1994 play
Art
, winner of the Moliere, Olivier and Tony awards and presented at HTC in 2006.
Following a playground fight between two small boys, their parents meet to politely discuss the incident – a grown-up discourse to sort out whose child, if either, is blameworthy for the altercation. However, this attempt at restrained adult civility soon devolves into a riotous evening of finger pointing, name calling, tears, stomping, throwing things, petulance and other acts of rudeness. And that's before they bring out the rum! Who are the real children here?
This Olivier & Tony Award-winning comedy brims with acerbic wit and sarcastic insight. It's fast, furious and very, very funny.
Drawing on a real life experience, Reza blithely says of the work "No method, I just wrote it." Following critical and commercial success on its London premiere, it transferred to Broadway in 2009, and became the third longest running show for that decade. In 2011, Reza was commissioned to write a screenplay. This resulted in the movie "Carnage", directed by Roman Polanski and starring Kate Winslet and Jodie Foster.
Cast in this production are Kathryn Maloney and Robert Lloyd as
Annette
and
Alan Raleigh
opposite Kylie Ryan & Brian Richardson as
Veronica
and
Michael Novak
. Kylie has most recently been seen at HTC as
Fury
in 2015's
When Dad Married Fury
and Robert was
Juror #11
in
Twelve Angry Men
which completed its season in May. We are welcoming Brian and Kathryn for their first appearances at Heidelberg.

God of Carnage
is Terese Maurici-Ryan's debut with Heidelberg Theatre Company, some of her previous works being
The Norman Conquests
and
Boeing Boeing
at Essendon Theatre Company,
Lost in Yonkers
&
Moonlight and Magnolias
at Eltham Little Theatre, which won the 2012 Victorian Drama League award for Best Comedy. Terese has been chosen as an adjudicator for this year's VDL Awards.
Owen Evans is again leading the set building team, with Doug, Paddy, Des, Neville, Mal and Ian working together to construct the set designed by Tess. Llaaneath Poor is Assistant Director and Melanie Belcher is at the helm as Stage Manager, Emma Fox is designing the lighting and Tess and George Bissett the sound. The props co-ordinators are Rhonda Huckel and Bronwyn Parker, Bobbie Parish is again doubling up as Rehearsal Prompt and Stage Crew, Costume Design by Wendy Drowley and Tess and the Set and Interior Design by Urban Cocoon and photography by David Belton.

God of Carnage
is proving to be a popular show so book now to avoid disappointment and join us for a great night of comedy.
Link to my website
---
An Update on the Planning Application P1260 /2015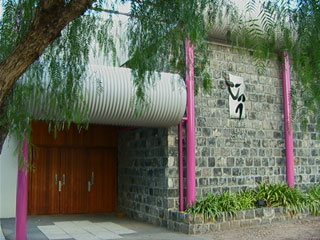 4 44 Turnham Ave RosannaAs many of you would already be aware Banyule City Council is considering a planning application for a supermarket on the land between the Heidelberg Theatre Company and the Rosanna Library.
On Tuesday 24 May, members of the Heidelberg Theatre Company Committee met with Executives of the Banyule City Council Planning Department, together with Cr Tom Melican and Cr Wayne Philips. (
above:
Our Theatre)
The Council has advised HTC that the first two key stages of this three stage process have been achieved and the third stage is now the assessment of the Planning Application. The first stage was the re-zoning of the land at 44 Turnham Avenue from a Community Zone to a Mixed Use Zone, with the second stage being the contract to sell the land at 44 Turnham Avenue to Woolworths.
The Councillors advised that due to the large number of objections received, it was likely that this Planning Application may go to VCAT for a decision.
The specific items contained in the objection lodged by HTC were discussed at the meeting. In summary they were: the loss of a community zone and facilities in Rosanna; the loss of the on-grade car park to service the Theatre and the Library; the loss of disabled parking bays; the proposed built form of the supermarket building up to the footpath, which would impact on the street sightlines to the Theatre and the Library; the loss of the green streetscape in Turnham Avenue due to the removal of nearly all of the mature trees; a request to allow less car parks than the minimum required ratio; no provision for staff parking; no end of trip facilities in the supermarket; increased traffic congestion with the bus interchange in Turnham Avenue; delivery truck access from a residential street to the supermarket loading dock; and the lack of a proper enclosure in the loading dock for rubbish containment.
We also discussed that the proposed supermarket was not within the main retail area of Rosanna and detracted rather than added to the retail precinct that already exists. Council have acknowledged that they met with Woolworths to see if the planning objection matters raised can be satisfactorily addressed before a final plan is considered for approval. It would appear that Banyule Council is eager to approve a supermarket development in Turnham Avenue, regardless of the number of objections received.
Thank you to those of you who have lodged an Objection of your own and held the Council accountable in this Planning Application.
We now await the notification from Banyule Council as to when the application will be considered at a Council meeting.
John Gilbert, President, Heidelberg Theatre Company.
---
JULY AUDITIONS
ONE MAN, TWO GUV'NORS

Auditions for our end-of-year smash-hit production - a glorious celebration of British comedy with a wonderful mix of satire, slapstick and witty one liners, directed by award-winning Chris Baldock - will be held at the theatre as follows:
•
Audition Dates
: Sunday July 3 at 7.00 pm,
Monday July 4 at 7.30 pm,
Tuesday July 5 at 7.30 pm,
Saturday July 9 at 1.00 pm.
•
Where:
Heidelberg Theatre, 36 Turnham Avenue, Rosanna
(Melway 32A1)
•
Performing:
November 18 to December 3
:
Wednesday to Saturday at 8:00 PM, Sundays at 2:00 PM,
Saturday December 3 at 2:00 PM & 8:00 PM.

•
Auditions are by appointment only. Email:
chris.baldock@gmail.com
• Download full audition details here
---
MUSICAL DIRECTOR NEEDED

FOR SMASH HIT

Heidelberg Theatre Company (HTC) is proud to present the Australian non-professional premiere of the hit West End and Broadway riotous comedy
One Man, Two Guv'nors
for a
November/December season
.
One easily-confused and ever-ravenous Francis Henshall finds himself a minder of two men, a gangster and a criminal in hiding, both of whom are linked in a web of schemes, extortions and romantic associations. To prevent discovery Francis must keep his two guv'nors apart at all costs. But it's tricky. Mistaken identities, cross dressing and multiple mishaps soon coalesce to engulf him in pandemonium. Set in Brighton, England in 1963, this internationally-acclaimed smash hit is a glorious celebration of British comedy. It has a wonderful mix of satire, slapstick and witty one liners.
HTC require the talents of a Musical Director, preferably, but not essential, a singer/performer/musician who can also form and lead the on-stage skiffle band, and whip the cast into shape with the handful of musical numbers throughout the show.

Working closely with director Chris Baldock and choreographer Dianne Algate, the successful applicant must be required for rehearsals and production meetings from September and all performances from 18 November to 3 December. Please advise of any commitments during this time in your application as they may be able to be worked around for the right applicant.
A positive can-do attitude, adaptability, a sense of fun, the ability to get the best out of people, an understanding of British comedy and able to work as part of a team are essential requirements.
Applications, including CVs, close SUNDAY JUNE 26
.
Short listed applicants will be interviewed the afternoon on Saturday July 2nd. The successful applicant is invited to sit in on cast auditions July 3 (7pm), 4, 5 (both 7.30pm) and 9 (1pm) and will be part of the casting process. They will be required to put actors through their musical paces at the callbacks on Monday July 11 at 7.30pm
.
This is a paid role to be negotiated between the successful applicant and Heidelberg Theatre Company.
Copies of the score and script are available upon request. All applications and queries are to be forwarded to the director at chris.baldock@gmail.com
---

TWELVE ANGRY MEN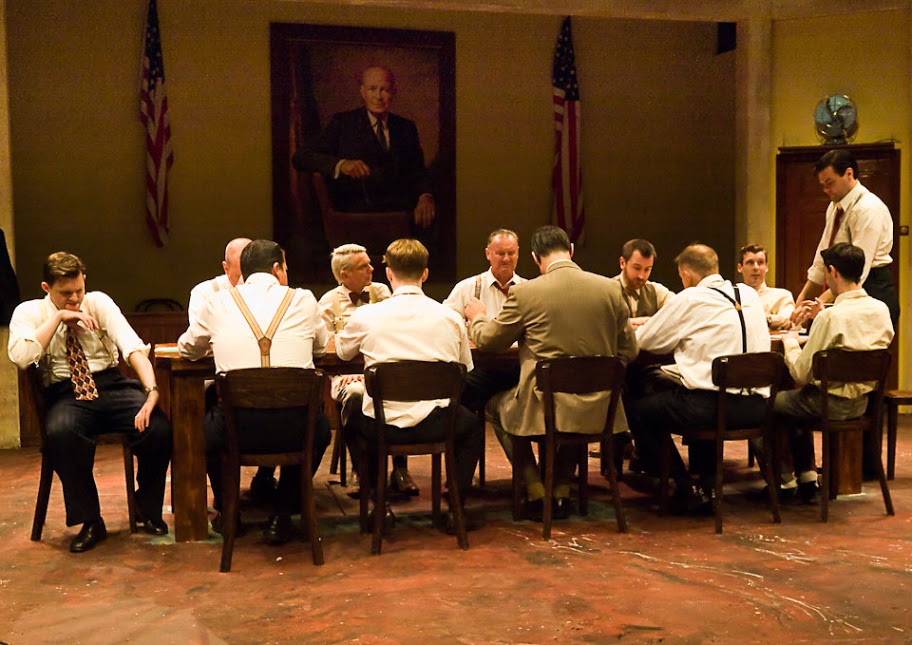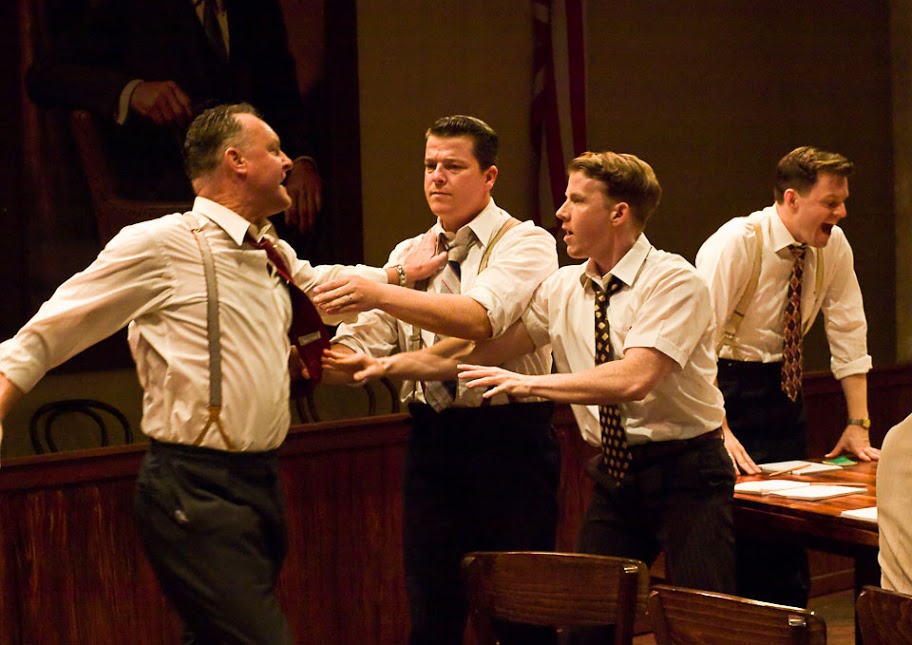 Photos: above left: The Jury at work above right: A tense scene
photos by David Belton

Review by Cheryl Threadgold
The Melbourne Observer
Heidelberg Theatre Company's production of
Twelve Angry Men
by Reginald Rose, opened to a full house last week.
The striking set designed by Chris Baldock instantly transports the audience into the jury room of a New York Court of Law in 1957. An impressive portrait of President Dweight Eisenhower overlooks a large rectangular table surrounded by twelve empty chairs. More empty chairs line the walls, and a washroom is at one side.
Personable
Juror No.11
(Robert Lloyd) enters, inviting audience members onstage as observers. Director Chris Baldock's clever creative thinking introduces an immersive theatre experience for these patrons, and establishes a strengthened connection with the play for other audience members.
The beautifully-spoken Voice of the
Judge
(David Small) is heard before twelve male jurors are ushered into the room by the
Court Guard
(Joshua Fernandez) to take their seats around the table to decide the fate of a seventeen year old boy accused of killing his father.
The powerful, tense conflict and debate between jurors reveals ignorance, prejudices and an irresponsible herd mentality. The power of independent thinking is highlighted when Juror No.8, succeeds in changing mindsets to think carefully before reaching a final decision.
Baldock's wonderful cast of twelve Jurors includes (in order) Benjamin Watts, Lee Cook, Trevor Hanna, Chris Palframan, Thomas Caine, Xavier Ryan, Dylan Cole, Soren Jensen, John Cheshire, Darren Gregor, Robert Lloyd and Jonathan Best. Fine performances are enjoyed from all, with a particularly imposing portrayal of Juror No.8 by Soren Jensen.
The revolving stage is used intermittently and effectively as the jurors argue around the table, and facilitates a stunning curtain call. Deryk Hartwick's lighting design creates mood and atmosphere.
Critically speaking, the generous onstage space did not convincingly convey the claustrophobic environment suggested in the dialogue, and until actors moved downstage, action around the table seemed distant.
Overall this is a first-class, impeccably directed and performed interpretation and is well-worth seeing. Congratulations to all involved.
Review by Coral Drouyn
Stage Whispers

Some may question the validity of another revival of Rose's classic 1950s play about prejudice and persistence. Those people really need to see this production, and their question will be answered for all time.
Rose's claustrophobic drama is set in a jury room, and the problem has largely been, for stage, that the audience is too removed to feel truly connected to what is happening. It's one of the reasons why the film was more successful; it allowed us to get in close, to see the beads of sweat on a top lip – to see the doubt in a man's eyes.
Baldock's bold vision for this production takes the best of what film offers, and puts it on the stage – without the expensive use of cameras and screens. Instead, he puts the audience not only in the auditorium, but in gallery seating on three sides of the stage, and he uses the jury table – on a revolving stage – as a peripatetic set, constantly giving us another angle, another close-up. It's so brilliantly thought out that one wonders how a director could "block" the revolve so that one juror has his back to us as he is abused, only to, within seconds, be facing us for his response.
The actors do step off the revolve – each corner of the stage provides a part set, which is utilised brilliantly. A water cooler, the wash-basins for the toilets, a coat rack. At one stage (I was sitting on stage in one of the galleries) I could have reached out and touched two jurors, in a deep discussion no more than a metre from me. And though the dialogue was 'sotto voce" and could only be heard by, at most, 2 of us, it was pertinent and relevant discussion and I truly felt part of it. And I could see the beads of sweat on
Juror 10's
(Darren Gregor) top lip; see the doubt beginning to grow in the
Foreman's
(Benjamin Watts) eyes. Every flicker, every nuance, every thought was intimated without being overplayed to an audience somewhere "out there" in the stalls. Stunning theatre.
The acting is superlative, even more so when one realises that, at best, many of these actors would be considered semi-professional. Most have day jobs and one can't help but wonder how actors of this calibre can get it so right, when so many of our "name" professionals get it so wrong in Main stage productions.
In an ensemble piece like this, every juror has his "moment" and not all come through the longer speeches, or set pieces. All were brilliant, but I must mention first the honesty and intensity of Soren Jensen as Juror #8 – the role made famous by Henry Fonda. There's a stillness at the central core of Jensen's performance which makes Fonda look like he is over-acting. He is focussed, totally involved in the character, and the result is the honesty that every actor strives for. Of course it is only made possible because the concept and set design are also the work of the director.
Robert Lloyd does superlative work as
Juror #11
– whose European background gives him a different perspective. John Cheshire's dapper elder statesman (
Juror #9
) is filled with the confusion of old age, but when he pounces it is with total conviction, and he is deliciously pleased with himself in his moment of glory. Darren Gregor – as the hateful and full of hate
Juror #10
– has so much tension and prejudice within him that it's palpable and one can easily believe that it's his vicious bile which is making him sick…powerful and pitiful at the same time. Trevor Hanna (
Juror #3
) portrays perfectly the angry heartbreak of a man for whom this is all too personal. Jensen's parting line to him was heart-wrenching in its simplicity. Chris Palframan (
Juror #4
) fits comfortably in the role of a stockbroker, a man whose class and intelligence set him apart. Dylan Cole (
Juror #7)
is dynamic, and uses the stage brilliantly, though he wouldn't lose any of his strength if he reined the performance in just a fraction. Benjamin Watts (
Juror #1
), Lee Cook (
Juror #2
) Thomas Caine (
Juror #5
), Xavier Ryan (
Juror #6)
and Jonathan Best (
Juror #12
) all give terrific performances and contribute to the authenticity and credibility of the piece. As the Court Guard
Joshua Fernandez
(still doing year 12 in High School) is a little green, but will benefit greatly from being on stage with such a stellar cast.
Deryk Hartwick's subtle and impressive lighting design complements the action brilliantly, as does Bruce Parr's sound design, and kudos to the ladies who sourced the costumes. Sometimes good theatre transcends all of our expectation. This is VERY good theatre.
STEPHEN HALL TO PLAY BASIL FAWLTY

Congratulations to Stephen Hall who has landed the plumb role of
Basil Fawlty
in the forthcoming professional production of
Fawlty Towers
which opens in Melbourne at the Comedy Theatre in September.
Stephen is a man of many talents; actor, writer, entrepreneur and Quiz Champion. He played
Sir Lancelot
in the Australian run of Monty Python's
Spamalot
in 2007 and has written and appeared in many shows for television.
As you wold expect, like Cate Blanchett, Stephen's early successes were in roles at the Heidelberg Theatre Company.
In 1982, Stephen, following in the footsteps of his lovely mother, Julie Hall, Life Member of the Company who died in 2014, played
"George, a grocer's apprentice who became a dwarf"
in
the The Knight of the Burning Pestle
, which was directed by the late and great Alice Bugge and was the first production at the then 'new home' of HTC, in Turnham Avenue. So happy memories for many of us and we wish Stephen every success with the show.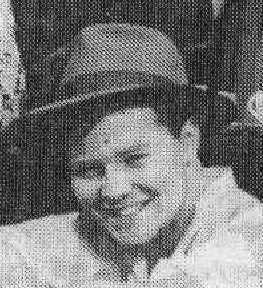 above left:
1982
Stephen as
George
in
The Knight of the Burning Pestle
.
centre
:
1988
Stephen as
Ginger Mick
in
Spare Me Bloomin'Days
adapted from CJ Dennis by Tom Travers. right:John Cleese and Stephen Hall.
---
VALE - WARWICK TAYLOR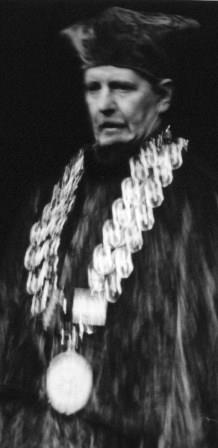 HTC Members will be sad to hear of the sudden death of Warwick Taylor in May.
Warwick was involved with HTC for many years and will be remembered for his direction of
The Importance of Being Earnest
in 1987.
His first role with the Company was in 1984 when he played
Arthur Wiksteed
in
Habeas Corpus
. He last performed on our stage in
A Man For All Seasons
in 1994 as
Cardinal Wolsey
, seen here dressed in the 'glorious red robe' (which he adored) and wore for the role.
Warwick retired to the Mornington Peninsula over a decade ago and was unable to continue his association with HTC, but he will always be remembered for his sublime performance as
Newman Noggs
in the original 1987 season of
The Life and Adventures of Nicholas Nickleby
on the HTC stage.
He was a passionate admirer of Shakespeare;
"To die, to sleep, perhaps to dream." – Hamlet.

---
Nesting Boxes for Friends of Salt Creek - Rosanna Parklands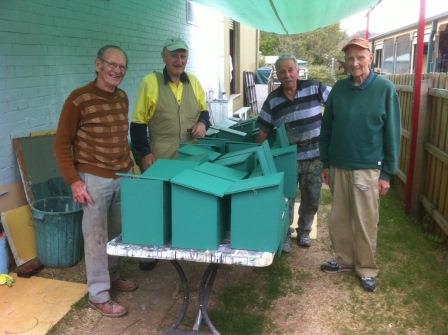 In March this year, the Heidelberg Theatre Company Set Building Team turned their hand to making nesting boxes for local wildlife over a few days at the Theatre. Setbuilders Norm, Des, Mal and Neville are pictured here preparing to stencil the identifying codes onto the completed boxes.
Although not strictly theatrical, the Theatre provided the personnel, workshop and tools for the project and the materials were purchased with a grant to 'Friends of Salt Creek' (Rosanna Parklands) from Montmorency – Eltham RSL.
Doug McNaughton, long time member of HTC, was the instigator and brains behind the operation and when Doug suggested the project to the team at HTC they enthusiastically set about the task.
Twelve nestboxes were built for already present Ringtailed Possums, twelve for already present insectivorous micro-bats and twelve for Sugar Gliders in support of a habitat corridor project that is well under way reaching from the North East of the park. They are scheduled for erection in the central section of the park on the Twelfth of June, and it may be that the whole process is duplicated/triplicated in the future.
---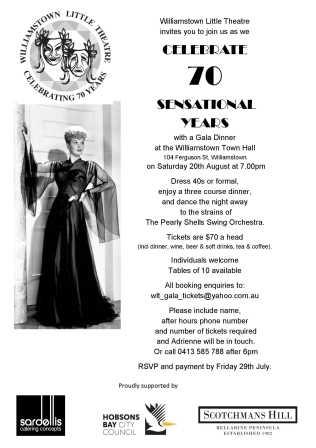 ---
COMING EVENTS AT HTC

JUNE Saturday 18th 10.00am
Working Bee with Lunch
Saturday 25th 10.00am
Working Bee with Lunch
JULYFriday 1st 8.00pm OPENING NIGHT
–
GOD OF CARNAGE
Auditions - One Man, Two Guv'nors - Sunday 3rd 7pm, Monday 4th & Tuesday 5th 7.30pm, Saturday 9th 1.00pm.
Saturday 16th 8.00pm CLOSING NIGHT
-
GOD OF CARNAGE
---