WELCOME TO THE HEIDELBERG THEATRE COMPANY!


April, 2017
No. 2, 65th Year
PLAY 1:
AUSTRALIA DAY
Feb 17th - March 4th
By Jonathan Biggins
Directed by Joan Moriarty
PLAY 2:
PRIDE AND PREJUDICE
April 28th- May 13th
Adapted by Simon Reade
Directed by Tim Scott
PLAY 3:
ALL MY SONS
July 7th - July 22nd
By Arthur Miller
Directed by Chris McLean
PLAY 4:
THE CLUB
Sep 8th - Sep 23rd
By David Williamson
Directed by Gavin Williams
PLAY 5:
BLOOD BROTHERS
Nov 17th - Dec 2nd
By Willy Russell
Directed by Bruce Akers
HTC Youth 2017: Coming Soon...
All patrons of the Company are invited to become active members. Your participation will be greatly welcomed. Try something new or bring your well-practiced talents to our theatre.
For further information, consult the 2017 Playbill which also contains information on subscriptions, renewals, vouchers and memberships. You can download the Playbill from our website www.htc.org.au.
---
April
Saturday 8th 5:00pm Auditions "All My Sons"
Monday 10th 7:00pm Auditions "All My Sons"
Saturday 15th 10:00am Working Bee "Pride and Prejudice"
Saturday 22nd 10:00am Working Bee "Pride and Prejudice"
Friday 28th 8:00pm OPENING NIGHT "Pride and Prejudice"
May
Saturday 13th 8:00pm CLOSING NIGHT "Pride and Prejudice"
---
UPCOMING PLAY - PRIDE AND PREJUDICE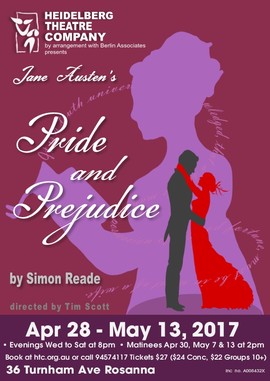 Pride And Prejudice is often described as "the ultimate romantic comedy", and with 2017 marking the bicentenary of Austen's death, it is particularly fitting that HTC has chosen a recent (2009) stage adaptation by Simon Reade for its second play this year. One UK critic enthused that Reade's version "blows fresh air into Austen's wonderful comedy".
The story of Pride And Prejudice needs little introduction. As Mrs Bennet reminds us in the play's opening lines, "a single man, in possession of a good fortune, must be in want of a wife", and when the eminently eligible Charles Bingley arrives in Meryton, bringing with him his haughty sister Caroline and his superior friend, Fitzwilliam Darcy, there is much excitement for the Bennet girls. Oldest sister Jane immediately
draws Bingley's attention, but Elizabeth is less impressed with the proud Mr Darcy. By play's end, of course, marriages abound, but their achievement is not without obstacles.
Four sessions of auditions over two days brought over 100 applicants. The result is a very talented cast, among them a number of familiar HTC faces: Aimee Sanderson, (A Streetcar Named Desire, Three Sisters) plays Elizabeth, with James Antonas (Moonlight and Magnolias, One Man, Two Guvnors) as Darcy; Claire Benne (VDL award-winner as Blanche in 2016's A Streetcar Named Desire) returns as Caroline Bingley; Morgan Thomas-Connor (HTC Youth Theatre and 2015's Three Sisters) is Kitty Bennet, while Dianne Mileo (2015's Quartet) returns as choreographer and onstage as Lady Lucas.
Experienced Melbourne performers Abi Richardson and Venetia Macken return to HTC to play Mrs Bennet and the aristocratic Lady Catherine de Bourgh. HTC welcomes a number of new faces to this play: Lee Threadgold brings his considerable experience to the role of Mr Bennet; Claire Abagia, Madalyn McCandless and Courtney Crisfield complete the Bennet family as Jane, Mary and Lydia; Christien Dariol is the shifty Mr Wickham, with Tyson Legg as the open-faced Charles Bingley; Jacob Pilkington plays the "odious" Mr Collins and Nicola Taylor his unfortunate wife, Charlotte. Lynne McGregor (Mrs Gardiner), David Fowles (Sir William Lucas and Mr Reynolds) and Louise Newton (Anne de Bourgh and Georgiana Darcy) complete the main cast while Andika Azhar, Nicholas Gioskos, Samuel Hughes and Paul Romas serve in an ensemble of soldiers and footmen.
In his first production with HTC, director Tim Scott is fortunate to have the support of an excellent backstage team: Production Co-ordinator Maureen McInerney, Stage Manager Rebecca Bassett, Costume Designers Wendy Drowley and Cathy Christensen and Set Designer John Shelbourn. Sound and Lighting are in the experienced hands of John Rowe and Deryk Hartwick; Bronwyn Parker is in charge of Props. Set Construction is under the direction of Owen Evans. Special mention must be made of veteran HTC craftsman Neville Wilkie who is building the fortepiano which features onstage.
Show Dates: April 28th to May 13th, 2017.
May 3
, 4, 5, 6, 10, 11, 12, 13
May 7, 13.
Tickets: $27 for Adults, $24 for Concessions.
Online at: www.htc.org.au.
Box Office – 9457 4117 or at the door.
Venue: The Heidelberg Theatre Company
36 Turnham Ave, Rosanna
---
CONGRATULATIONS TOM TRAVERS!
Congratulations to Tom Travers on his 90th birthday, celebrated in March at the Beaumaris Theatre. Tom is a veteran of over 100 productions in many community theatres in Melbourne. His last appearance with HTC was as Beverly Weston in August: Osage County in 2013 and other favourite roles at HTC were as James Tyrone in Long Days Journey Into Night in 1988 and Squeers in The Life And Adventures Of Nicholas Nickleby in both the 1987 and 1989 productions.
Very best wishes, Tom, from all your friends at HTC.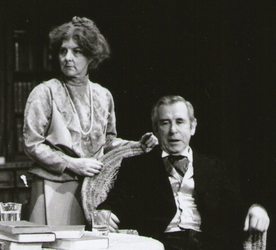 Pictured: Tom Travers as James Tyrone opposite
Wendy Drowley as Mary Tyrone in
Long Days Journey Into Night (1988).
---
EXPRESSIONS OF INTEREST: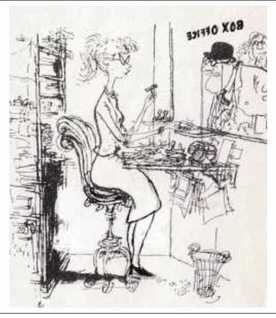 Interested in becoming part of the Heidelberg Theatre Company? We're looking for enthusiastic and capable people of all ages to help out with stage management, assistant stage management, lighting, sound design and costume preparation under the direction of HTC's current team of artists. If interested, please contact us at 9459 3495.
Also, those interested working front of house in the Heidelberg Theatre Box Office, there are a variety of roles available should you wish to help out. Please call 9457 4117 for further information.
---
AUSTRALIA DAY - Melbourne Observer Review
Australia Day
by Jonathan Biggins
Heidelberg Theatre Company
Directed by Joan Moriarty
Reviewed by Cheryl Threadgold - November 22, 2016
Heidelberg Theatre Company presents Jonathan Biggins's witty, thought-provoking comedy Australia Day until March 4 at 36 Turnham Avenue, Rosanna.
Set in the Scout Hall of the imaginary small town of Coriole, Australia Day follows seven months' of planning for the 'big day' in January. The committee of six comprises Councillors, locals and a primary school teacher.
Biggins's satirical script, written as a result of observations made during visits to country towns as an Australia Day Ambassador, not only explores the fascinating dynamics of committees, but in satiric style investigates our Australian national identity, resulting in audiences laughing at the characters, then realising we are actually laughing at ourselves and quirky aspects of our Australian culture.
Things go predictably wrong on the big day, including food poisoning from sausages past their use-by date, overflowing Portaloos and a thunder storm, but clever twists and turns in the narrative add a surprisingly serious element, amid the jocular fun.
Director Joan Moriarty's experienced cast do great work in naturalistically bringing their characters alive.
Jim Thomson (Coriole Mayor, Brian Harrigan) and Nick Freedman (Deputy Mayor Robert Wilson) deliver solid performances, as each encounters ethical issues.
Katie Hall is cheerfully loveable as CWA President Maree Bucknell, Darren Gregor plays knockabout local builder/developer Wally Stewart in fine Ocker style, Maree Barnett (Greens Councillor Helen McInnes) delivers a delightful portrayal of politically correct Helen whose self-righteousness becomes questionable, and Ju-Han Soon (primary school teacher Chester Lee) lights up the stage with his high energy presence.
The Scout Hall set designed by Marie Mackrell adds ideal atmosphere for the narrative and Michael Rowe's lighting design effectively conveys the time.
This show is highly recommended for all who enjoy a good laugh. Most importantly, it is a thoughtful reminder of the great country we call home, despite any cultural idiosyncrasies.
Congratulations Heidelberg Theatre on another top show, and thanks to front-of-house for their friendly welcome.
Reviewed by Cheryl Threadgold
---
AUDITION NOTICE: ALL MY SONS
DIRECTOR: Chris McLean
AUDITION DATES: Saturday April 8 from 5 pm; Monday April 10 from 7 pm
(With possible call-backs in the coming week.)
Season dates: July 7 to July 22, 2017
PLAY SUMMARY:
All My Sons is a drama set in post-war America in August 1947. It explores the repercussions on a close-knit household after personal gain is put ahead of social duty. Some years back Joe Keller chose the prosperity of his family over the well-being of others. Now we join the family on the day of reckoning.
AUDITION DETAILS:
•

Location: 36 Turnham Ave, Rosanna, Vic (opp. Rosanna Stn.)
•

Auditions are by appointment and must be booked by emailing auditions@htc.org.au. Please advise the date preferred.
•

Prior to auditioning, all applicants need to have read the play. Info on obtaining a perusal copy of the script is available from auditions@htc.org.au.
•

Accents - American (non-southern) accents are required for all roles.
•

The audition requires each applicant to present a prepared 2-minute monologue. Further details will be provided when the audition booking is confirmed.
•

For further information email auditions@htc.org.au.
CHARACTERS:
•

Joe KELLER: 50s – 60s. "A man of stolid mind and build, a business man these many years, but with the imprint of the machine shop worker and boss still upon him. When he reads, speaks, listens, it is with the terrible concentration of the uneducated man for whom there is still wonder in many commonly known things, a man whose judgements must be dredged out of experience and a peasant–like common sense."
•

Dr Jim BAYLISS: 30s – 40s. Physician. "A wry self–controlled man, an easy talker, but with a wisp of sadness that clings even to his self–effacing humour." Served in the war.
•

Frank LUBEY: 30s. "A pleasant, opinionated man, uncertain of himself, with a tendency towards peevishness when crossed, but always wanting it pleasant and neighbourly."
•

Sue BAYLISS: Around 40. Jim's wife. Blunt-spoken woman, fearful of ageing and the loss of her figure.
•

Lydia LUBEY: late 20s – 30s. Frank's wife and mother of three. "A robust, laughing girl."
•

Chris KELLER: 30s. Joe's son. "Like his father, solidly built, a listener. A man capable of immense affection and loyalty." Served in the war.
•

BERT: 8 to 11. A boy who lives near the Kellers and likes to play 'jail' in Joe's back yard.
•

Kate KELLER: 50s. Joe's wife. "A woman of uncontrolled inspirations and an overwhelming capacity for love."
•

Ann DEEVER: late 20s – 30s. "gentle but capable of holding fast to what she knows". In love with Chris.
•

George DEEVER: Early 30s. Ann's brother. "A paler man (than Chris), now on the edge of his self–restraint. He speaks quietly, as though afraid to find himself screaming." Now a lawyer in New York.
OTHER INFO
•

Show page: htc.org.au/plays/2017/3ams.html
•

Rehearsals are currently planned as follows:
o

Play Reading – Monday, May 1 at 7:00 pm
o

First Blocking – Sunday, May 14 at 4:00 pm
o

Commencing on May 16 – Tuesday and Thursday from 7:00 pm and Sunday from 1:00 pm.
Young Actor Required –
All My Sons
Heidelberg Theatre Company requires a male actor aged 8 - 11 to play young Bert in our July production of Arthur Miller's All My Sons. Bert lives in Ohio, U.S. in the 1940s, loves playing cops and robbers, and speaks with an American accent.
Auditions will be held early in April.
---
VCAT PROCEEDINGS, AS OF 4/4/2017:
An update on the Woolworths proposal,
by Alicia Curry:
In June 2016, Banyule City Councillors approved an application for a large Woolworths at 44 Turnham Ave, Rosanna, wedged between HTC and Rosanna Library (currently owned and occupied by Banyule Council). The approval was in opposition to the community, which resulted in 140 written objections, 15 speakers and over 2,500 objectors in the form of a petition against the development.
Since then, a community group, led by myself has challenged this decision in VCAT. This month (March), we persevered through an unbelievably long 7 day hearing, fighting many aspects of the proposal. Main points of contention include: removal of native vegetation, lack of setback, 36% reduction in car park supply, traffic and truck access, retail fragmentation and impact to amenity. With the severe flood on the site on 29th December, 2016 this also was a topic of high importance with the proposal including a basement carpark. (Despite this site being prone to regular flooding, no agency is acknowledging a flood risk.)
On the other side to the community, were accomplished legal firms for both Woolworths and council, aligning their interests. The completion of the land sale is subject to a planning permit being issued.
We'd like to thank the huge community support we have received in the form of funding (including significant HTC support), attendance at meetings, attendance at VCAT hearing (every day for some).
Behind the scenes assistance was provided by professionals such as traffic consultants, retail consultants, architects and town planners etc. These were integral to providing sound ground work and a strong submission.
We do not believe that the development has succeeded in its arguments, however, we await a formal decision by the VCAT senior member and will likely have an update for you by the next issue of Prompts.
Written by Alicia Curry
Community Advocate
---






Is your group or committee planning it's Fund Raising Calendar

Generous concessions for groups of 10 or more.

Please call the Box Office on 9457 4117.
Stay Tuned for further information on 2017's Working Bees.




undefined




undefined


Heidelberg Theatre Company Inc. web bookings: www. htc.org.au
36 Turnham Avenue, Rosanna, Vic, 3084 (Melway Ref. 32 A1) General Enquiries: 9455 3039
Box Office: 03 94574117 email: htc@htc.org.au
Hurstbridge line – Rosanna Station website: www.htc.org.au Inc.
No. A008432X ABN: 70 112 958 020 P.O. Box 141, Rosanna, 3084