by Ron Hutchinson
Directed by Bruce Akers
Season: 19th February- 5th March, 2016
Weeknights and Saturdays at 8:00pm, Sundays 21 and 28 Feb at 2:00pm and Saturday 5th March at 2:00pm.
Preview & First Wednesday Night Specials- Groups 50+ at $10 per ticket. Adults: $27; Concession Card Holders & Members $24
Groups of 10+ $22 per ticket.
For more information check our Website: htc.org.au or call the Box Office on 9457 4117
Legendary film producer, David O. Selznick is five weeks into shooting "Gone With the Wind" when he realizes that
the script is awful and that the director doesn't have a clue. He has five days to replace them and restart the shoot or the production will close down. Selznick calls Victor Fleming from the set of "The Wizard of Oz" to direct and he taps legendary playwright, screenwriter and script doctor Ben Hecht to rewrite the script.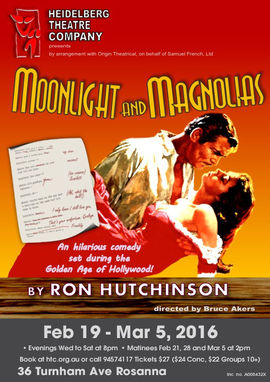 There's only one problem: Hecht hasn't read the book. Over the course of five madcap days, the three men, aided by Selznick's assistant, Miss Poppenghul, frantically craft one of the most beloved screenplays of all time. This hilarious farce, based partially on fact, perfectly captures the true life madness behind the making of the immortal "Gone With the Wind"- one of Hollywood's most beloved classics.
Rehearsals are now well underway with the director, Bruce Akers, thrilled to be working with some of the most
talented actors in Melbourne, all who have graced the Heidelberg stage on numerous occasions. Tim Constantine (Selznick) last seen here as a memorable McMurphy in "One Flew Over the Cuckoo's Nest" has also appeared in "The Judas Kiss", "The History Boys" and "Under Milk Wood" at HTC amongst other fine productions. His fellow
"Cloudstreet" cast member, James Antonas plays Ben Hecht. James was featured in "Three Sisters" at HTC in 2015.
Jeremy Just ("True Minds") plays famed Hollywood director, Victor Fleming and the cast is completed with
Pauline Constantine ("Under Milk Wood") playing the long-suffering Miss Poppenghul.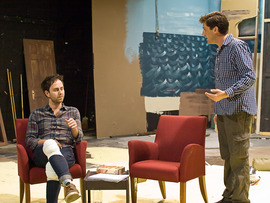 Production Coordinator Karen Wakeham heads a very capable team including Emma Hunt as Stage Manager, Melanie Belcher as Assistant Production Coordinator, Michael Rowe for Lighting Design, Wendy Drowley heading the wardrobe team, Bronwyn Parker handling Props, Rob Wanless is responsible for the Sound design and the indispensable team of set builders is once again captained by Owen Evans. Marie Mackrell will lend her very capable talents as set artist. The overall Set design and concept has been handled by HTC regular, George Tranter.
We look forward to seeing all HTC patrons at the show. This very funny play is the perfect start to the marvellous 2016 Season at Heidelberg Theatre.
(Pictured: From left, James Antonas & Tim Constantine)
(TRANSCRIPTION FROM 2015'S GENERAL MEETING)
On behalf on the Committee I would like to welcome you all to the 2015 Annual General Meeting of the Heidelberg Theatre company.
As we complete our 63rd year we can proudly reflect on a year that has been both successful and rewarding. To date we have produced 409 plays, including the season of the HTC Youth Production, Treasure Island, which commenced on Friday and runs until next Saturday.
Our subscriber numbers this year are a very healthy 569, compared to last year 519. The occupancy rates for each production this year ranged from 80.6% to 100%, which equates to a season average of 92.3%. We are pleased to have received positive audience feedback during the year and are very proud of the high standard we have achieved showcasing our best talent both on and off stage.
The Theatre Company has managed to maintain a sound financial position with adequate cash reserves to cover 12 months operating expenditure.
Playbill
The occupancy rates for our 5 plays in 2015 achieve great results. This is a resounding confirmation of both the playbill choice for the season and the respect we have achieved for the quality of our productions. The occupancy rates for each play were:
100%
When Dad Married Fury
by David Williamson
Directed by Maureen McInerney
90.3%
The Three Sisters
by Anton Chekhov
Directed by Joan Moriarty
91.07%
The Cripple of Inishmaan
by Martin McDonagh
Directed by Bruce Akers
80.68%
Quartet
- by Ronald Harwood
Directed by Brett Turner
99.82%
Don't Dress for Dinner
- by Marc Camoletti
Directed by Chris McLean
The Heidelberg Theatre Company is fortunate to have a strong, dedicated and talented team to drive both the artistic and administrative needs of the company. Our reputation has enabled us to attract some of the best theatre people available in Melbourne and continue to expand our talent base of
great people and proudly produce some of the best non-professional theatre in Melbourne.
The plays of the 2015 season will be covered by Anne Holt and Jill Scott with their appraisal of the 5 productions later in the AGM.
The HTC Youth group has been under the coordination of Christian Dell'Olio and Ryan Purdey who have directed this year's production of Treasure Island from an adaptation by Erich Fordham and Ryan Purdey.
The rights for the 2016 season plays have been secured and the 5 plays as advertised in our playbill are:
Moonlight and Magnolias - by Ron Hutchinson
Twelve Angry Men - by Reginald Rose
God of Carnage
- by Yasmina Reza
A Streetcar Named Desire - by Tennessee Williams
One Man Two Guvnors - by Richard Bean
We will hear more about the 2016 season from the Directors later in the AGM.
VDL Awards.
The Committee decided not to nominate an entry for the 2015 Victorian Drama League Awards. This decision was taken as a result of a nomination omission for the 2014 awards and what appears to be a lack of transparency by the Victorian Drama League organisers responsible for the awards process.
HTC Committee
Elected unopposed to the committee at the 2014 AGM were June Cherrey, Karen Wakeham, Linda Coutts and Jenni Purdey.
Committee members for 2015 were:
Wendy Drowley - Vice President
Bruce Akers –Vice President, Treasurer
Brett Hunt – Secretary
Joan Moriarty - Play selection
Owen Evans – Set builders, Technical equipment and OH&S Jim Thomson - Publicity
June Cherrey- Tickets
Maureen McInerney – Front of House
Karen Wakeham
Christian Dell'Olio – Youth Theatre
Linda Coutts - Tickets
Jenni Purdey - Membership
The committee requested that I should continue as President and I accepted the invitation for the 2015 year. I am also grateful for the strong support of the two vice presidents, Wendy Drowley and Bruce Akers.
Since 2004 our secretary Brett Hunt has managed to do an outstanding job handling the business of the committee with a blend of calm reliability and good
humor
.
Our thanks go to the members of the Play Selection Committee. Chaired by Joan Moriarty, with a sub committee consisting of; Wendy Drowley, Bruce
Akers, Karen Wakeham, Maureen McInerney, Jim Thomson and Margaret Hassall, they continue to drive the success of the Company.
The membership of the Heidelberg Theatre Company can be very proud of their committee, who have generously volunteered their time and talents to the business of running this great community theatre, maintaining an encouraging artistic environment and ensuring responsible financial control.
Membership
Our subscriber numbers in 2015 were 569, compared to 519 last year. In addition to this, we have 70 general members, 25 youth members and 12 Life members.
Financial
Our Treasurer Bruce Akers, will provide a full financial overview later in the meeting of the 2015 year.
We are pleased to report that the Heidelberg Theatre Company has been able to maintain a financially sound position and we currently hold cash reserves in the order of $135K, compared to $92K last year. Our revenue this year has been $169K compared to $152K in 2014 and we achieved an operating surplus of $46.7K, compared to our $12K operating surplus last year.
Our operating expenditure before depreciation was in the order of $123K, compared to last year which was around $130K.
Capital expenditure this year included the following major items: air-conditioning for the wardrobe shed, A Qlab audio computer, a sewing machine, and a 30 litre boiling unit for front of house. Total capital for the year was $18.9K.
Bookings and ticket box
The online ticketing system has now been successfully operating for 3 years and has been well patronised by our non-subscriber audiences. The ongoing maintenance and system enhancement has been coordinated by Toni Tyers, supported with great assistance from Bob Tyers.
The responsibility of managing our bookings and ticket sales continues to be performed with great skill, flexibility and reliability by a dedicated team including, Toni Tyers, June Cherrey, Linda Coutts, Fiona Campbell and Jenni Purdey.
Prompts, Programmes, Posters and Playbill
The editorial task of producing our Theatre newsletter "Prompts" was handed over to Erich Fordham from Toni Tyers and Erich has done a great job managing the production of this year's editions.
Our annual Playbill flyer, the programmes and the posters for this year's plays were once again skilfully crafted by Chris McLean. In addition Chris also keeps the HTC web site current.
Our HTC Facebook page is kept up to date by Christian Dell'Olio.
Archives
Our archives have been growing over the years thanks to the efforts of Wendy Drowley and Toni Tyers, a sample of which was displayed in the foyer during our 60th year celebrations. This year Toni Tyers and Fiona Campbell attended a workshop conducted by the Victorian Collections, run by Museums Victoria as a State Government initiative, and gained a valuable amount of information to ensure that our collection can be catalogued and recorded using the many resources available to HTC.
Foyer Artspace
Our Artspace Curator Teresa Schipano has done a wonderful job this year coordinating the foyer art displays including works from, Cat Jardine, Philip O'Brien, Patrick Ryant, Our Lady of Mercy College and Dale Cato
Publicity and Promotion
During the year Jim Thomson has coordinated the publicity responsibilities for HTC with assistance from Toni Tyers and from Bruce Akers.
Acknowledgements
As our resident photographer, David Belton has provided us with some great images for our programmes, front of house and archives again this year and his work is greatly appreciated and admired by all of us at the theatre.
The Front of House roster for each production has been co-ordinated by Jenny Gilbert and is delivered by a team of wonderful volunteers who willingly undertake the Front of House duties for each play season. In addition Maureen McInerney and Sheelagh Belton have taken care of the Front of House supplies and catering.
Set designs this year have been created by Marie Mackrell, Matthew McLaughlan, George Tranter and Chris McLean. Our talented team of Set builders has included, Owen Evans, Noel Purdey, Paddy Moriarty, Des Harris, Neville Wilkie, Doug McNaughton, Mal Cother, Blake Egan, Pete Trimble, Norm Munks, Ian Green, Stephanie Gonelli, Ian McCabe, Christian Dell'Olio, Chris McLean and Jim Thomson.
Our technical and back stage crews included the talents of George Bissett, Craig Pearcey, Deryk Hartwick, John Rowe, Michael Rowe, Margaret Hassall, Melanie Belcher, Bobby Parish, Sheelagh Belton, Rob Wanless, Llaaneath Poor, Christian Dell'Olio, Stephanie Cross, Kareena Dhaliwal, Gavin Baker, Tim Overton, Luke Jackson, Julian Adams, Bruce Moorhouse, Emma Fox and many more - all of whom the audience are unlikely to see.
Our properties have been managed by Rhonda Huckle with assistance from Bronwyn Parker and David Belton.
Our extensive wardrobe and costume requirements continue to be managed by Wendy Drowley, Lois Connor, Dianne Brennan, Maureen McInerney, Paris Elstone and Vickie Ashton.
Our thanks and recognition must also go to the Production Coordinators this year who were: Margaret Hassell, Karen Wakeham, Maureen McInerney, and Joan Moriarty.
We are also proud to see Julia Christensen graduate from NIDA this year. Julia last appeared at HTC in the 2012 production of "The Lion In Winter."

Council
The Heidelberg Theatre Company is grateful to the Banyule Council for the loan of their Phonic Ear Kit during the year which has been made available for all of our performances and this facility is greatly appreciated by those audience members who are hearing impaired.
We understand that the Council property next door in Turnham Avenue and Douglas Street has been sold under contract to a developer and is subject to the next development stage of office accommodation at the Banyule Council's Watermark building in Greensborough.
We are still waiting for Banyule City Council to forward the necessary documentation for our lease option period which runs until 2023.
O.H. &S.
We have continued to include O.H. &S. as part of the monthly committee reporting. Whilst we have experienced a couple of minor incidents during the year, we have managed to maintain a safe working environment and safe work practices for all our volunteer workers.
Community involvement and Charity
During the year the Theatre has been regularly used by the Rosanna Library and Banyule City Council. The theatre was also made available to Araluen again this year for a fundraising evening.
Preview nights were available to charity groups at the discounted rate of $10 per ticket for 50 or more. This offer was taken up during the year by several groups including The Soroptimists, Oxfam, McLeod College and the Uniting Church.
We have supported various groups and school fund raising initiatives during the year by providing tickets to our plays.
Props and costumes and props from our extensive collection were loaned to
several other amateur theatre companies around Melbourne during the year.
HTC has also continued to support the community radio station 96.5 Inner FM during the year.
Vale
We said goodbye to following Heidelberg Theatre Company family members this year.
Peter Spackman
Peter had been both an actor and director at HTC, including a role in the production of "The Life and Times of Nicholas Nickleby", which also toured New Zealand and directed the production of "Patrick Pearce Hotel". He was well known in Melbourne amateur theatre circles and passed away on 15th January this year.
Ian Grealy
Ian was a very well regarded actor amongst the Melbourne theatre community. His last appearance at Heidelberg was in 2004 in the role of Theodore Hickman in the production of "The Iceman Cometh". We were very saddened by the news of his sudden passing in early June this year
Ted Drowley
Ted's history with HTC dates back to 1958 when Wendy dragged him down to East Ivanhoe to assist with the production of See How They Run. Over many years Ted continued to work with Wendy on set designs for her productions and he became more heavily involved with set construction for the bulk of the HTC productions each year.
In addition to set construction, Ted also took on the responsibility for coordinating and actioning the Theatre's maintenance obligations. He was a practical man who contributed many years of service to the Heidelberg Theatre Company. Ted passed away peacefully on 23 October this year.
Close
The Committee is pleased to report that the 2015 year has been a very successful one, with outstanding occupancy rates, positive feedback and artistic recognition. As our 63rd year draws to a close and we prepare to enter our 64th year in 2016, we can safely state that The Heidelberg Theatre Company is in a sound financial position and is artistically ready to accept the challenges ahead.
We are very proud of the dedicated members who willingly volunteer their talent and time to our thriving community asset, not only for the people of Banyule, but also for the greater theatre community of Melbourne. Our reputation for consistently delivering the highest quality non-professional theatre is well recognised and as result we continue to offer wonderful opportunities for involvement at all levels and ages, both on and offstage.
Our 2016 playbill will continue to deliver both cultural diversity and great entertainment providing affordable live theatre access to a broad audience base.
On behalf of the Committee we thank all of those people who have contributed at all levels to ensure that 2015 has been another great year for The Heidelberg Theatre Company.
To our members and our appreciative audiences, we wish everyone a safe and happy Christmas and a prosperous New Year.
John Gilbert
President Heidelberg Theatre Company December 2015