WELCOME TO THE HEIDELBERG THEATRE COMPANY!


August, 2017
No. 4, 65th Year
HTC'S REMAINING 2017 SEASON
PLAY 4:
THE CLUB
Sep 8th - Sep 23rd
By David Williamson
Directed by Gavin Williams
PLAY 5:
BLOOD BROTHERS
Nov 17th - Dec 2nd
By Willy Russell
Directed by Bruce Akers
HTC Youth 2017:
THE (MIS)ADVENTURES OF KING ARTHUR Dec 8th - 16th
December 2017
By Erich Fordham & Ryan Purdey
All patrons of the Company are invited to become active members. Your participation will be greatly welcomed. Try something new or bring your well-practiced talents to our theatre.
For further information, consult the 2017 Playbill which also contains information on subscriptions, renewals, vouchers and memberships. You can download the Playbill from our website www.htc.org.au.
---
COMING EVENTS AT HTC:
August
- Saturday the 26th - WORKING BEE
September
- Saturday the 2nd - WORKING BEE
- Friday the 8th - THE CLUB, OPENING NIGHT
- Sunday the 10th - BLOOD BROTHERS AUDITIONS, from 6:30pm
- Monday the 11th - BLOOD BROTHERS AUDITIONS, from 7:00pm
- Saturday the 23rd - THE CLUB, CLOSING NIGHT
---
HEIDELBERG THEATRE PATRONS,
PLEASE NOTE:
Considerations for Theatre Car Parking:
As many of you may have already experienced during the season of 'All My Sons', the Level Crossing Removal work at Rosanna has made car parking a little more challenging.
The next stage of works will result in all of the railway car parking areas, that is both sides of the railway line, being closed for construction from mid-September.
The car park between the Heidelberg Theatre and the Rosanna Library has been taken over by the Level Crossing Removal Authority workers, and is no longer available for public parking.
In addition to the limited street parking in Turnham Avenue, there is a public car park at the rear of the Library a few doors down from the Theatre. The vehicle entrance is from Douglas Street and there is a pathway from that car park that brings you up to the Library at Turnham Avenue. From there it is a short walk to the Theatre.
We appreciate your patience during this disruption and thank all those patrons who have allowed a little extra time to ensure that you arrive and park no later than 7.45pm for the evening performances and by 1.45pm for the matinee performances. We welcome you to enjoy a complementary pre-show sherry, and hope you enjoy our upcoming production of The Club.
---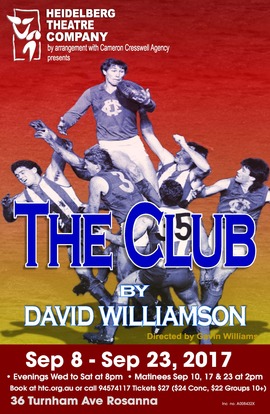 David Williamson's 'The Club' is a set in the social room of a famous football club; one with a rich tradition and history of success. However times have changed. The Club is in it's longest ever premiership drought; 19 years and counting. Embattled coach Laurie Holden (Andy Fry) has had enough of incoming president Ted Parker (Darren Gregor) and his constant meddling in everything from team selection to game day strategy, and has publicly resigned, blasting Ted in the media in the process. Laurie is also upset that the club paid a small fortune to recruit Geoff Hayward (Abhi Parasher) without consulting him, especially as it turns out an arrogant Geoff is not playing anywhere near well enough to justify the money. This purchase has also upset many long term players on significantly less money, leading to captain Danny Rowe (Andrew Rance) threatening to strike if Laurie's resignation is accepted.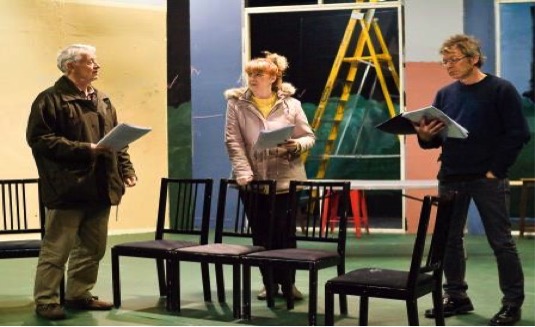 Bob Tyers (Jock), Jennifer Mettner (Gerri) & Andy Fry (Laurie).
With all these issues and egos floating around, Club administrator Gerri Cooper (Jennifer Mettner) takes on the responsibility of mediating for Laurie and Ted with the go
al of presenting a united front to the media. The situation complicates when the egomaniacal club legend (and the club's last premiership coach), Jock Riley (Bob Tyers), imposes himself on the situation as saviour. Both Gerri's mediation of Laurie and Ted (and her future plans for the club) and Laurie's management of his players, are thrown into chaos by his input, much to the chagrin of both Gerri and Laurie.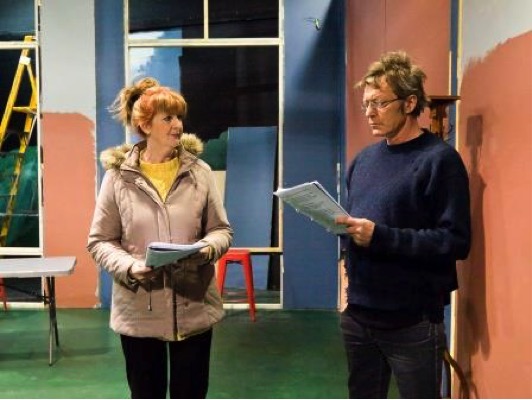 Jennifer Mettner (Gerri) & & Andy Fry (Laurie)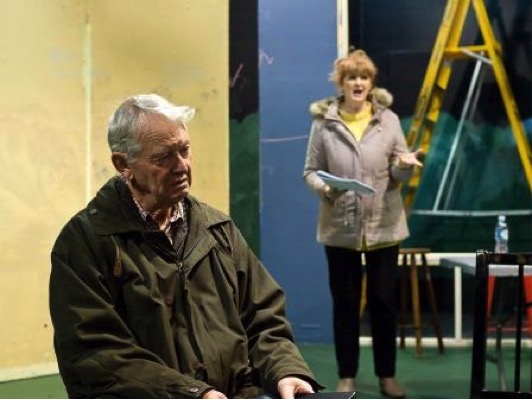 Bob Tyers (Jock), Jennifer Mettner (Gerri)
Director Gavin Williams, with the invaluable support of A.D. Eleni Alvertis and Production Coordinator Joan Moriarty, has put together a talented cast of newcomers and familiar faces to HTC, presenting this rich character exploration of ego and power. Costume designer Wendy Drowley is bringing all the character and fun of 70's fashion, and Owen Evans leads a fantastic team of builders constructing a set he designed, which will feature the work of the lovely Marie Mackrell. The show is ably stage-managed by Mel Belcher and her team.

The Club runs from September 8th to the 23rd.
---
ALL MY SONS - REVIEW ROUNDUP
THE MELBOURNE OBSERVER
Heidelberg's production of Arthur Miller's award winning 1947 play 'All My Sons', directed by Chris McLean, is measured and thoughtful, featuring strong and intense performances.
The play takes place three years on from a major event that rocked the Keller and Deever families. Joe Keller (George Werther), is owner of a factory that once made parts for WWII aircraft. When a shipment of defective parts results in the deaths of 21 pilots, Joe's partner and friend Steve Deever is blamed and jailed. Joe is cleared of any involvement. Joe's eldest son Larry, a WWII fighter pilot, has been missing in action presumed dead for the past three years. His wife Kate (Julie Arnold) refuses to believe he is dead. When Joe's youngest son Chris (Liam Gillespie) invites Anne Deever (Clair Abagia), Larry's former sweetheart to visit with the intention of marrying her, devastating secrets are exposed and the family's happy veneer crumbles.
Arnold as Kate gives a remarkable performance, intensely portraying the fragile and unhinged mother, in denial and fearful of the truth, she is desperate to keep the family together.
Gillespie is convincing as Joe's idealistic and idolising son, and projects beautifully. However when the truth is revealed, the complexity and depth of emotion wasn't quite there. Werther's Joe is conflicted by his own contradictions – the honest and hardworking family man versus the dishonest and ruthless businessman unable to take moral responsibility for his actions. Abagia gives a considered performance, as do supporting cast.
The effective set by Chris McLean and Marie Mackrell features an impressive two-storey home that looks out over the back yard where all the action takes place. Lighting design (Deryk Hartwick), effectively portrays the varying hours of the day/night, and costumes (Wendy Drowley) create a real sense of the era. Chris McLean has done a great job ensuring the melodramatic elements don't distract from this classic Miller tragedy.
Reviewed by Beth Klein, July 12
STAGE WHISPERS
Heidelberg Theatre Company's 'All My Sons' may seem like it is a play about a bygone era, yet many of the themes that were highlighted in this production were relevant to a contemporary context. Miller's text is intriguing in the way it shows how the personal cost of war also transforms to a wider loss that is felt in broader society.
Kate Keller (Julie Arnold) is played with a forcefulness that makes her pain from the loss of her son very palpable. Arnold's presence on stage created a strong dynamic between all the characters and is often central to the more dramatic scenes. Joe Keller (George Werther) was portrayed as a truly endearing character which gives the tragic revelations great impact.
Anne Deever (Claire Abagia) conveyed both elements of naivety and shrewdness that gave her character complexity and depth. The nuances in Chris Keller's (Liam Gillespie) characterisation were not as clearly delineated. Chris is faced with some enormously challenging moral dilemmas and this could be accentuated more. Overall, the entire cast provided some substantial and solid performances.
The set is extremely evocative and creates a wonderfully homely and warm environment. Although the atmosphere among the characters changes, the atmosphere created by the set seemed to remain static. However, the staging is beautifully managed and the production as a whole gives a very faithful portrayal of this exceptional text.
Reviewed by Patricia Di Risio, July 13
THEATRECRAFT - July 19, 2017
The dramatic start to Heidelberg's production of All My Sons set the scene for Arthur Miller's tragedy about a successful businessman whose irresponsible practices during World War 11 ultimately destroy his family. I dug out my well-thumbed copy of All My Sons to read the opening of the play believing it to start on a fine sunny
morning after the storm, which it does. The addition of this brief prelude in which we see and hear the storm and observe Kate Keller stagger outside to witness the fall of an apple tree in the garden is symbolic of the tragedy that is about to unfold. Well done on the technical aspects of creating this scene, particularly Gavin Baker for the tree. It would have been good if the tree upstage of the fence had also 'blown' in the wind but this is a minor criticism.
Set in the backyard of the Keller house, well represented in the set design by Chris McLean and Marie Mackrell, the tree is a memorial to the son, an air force pilot, who was reported missing in action three years earlier. His mother refuses to believe he is dead, though his father Joe and brother Chris have accepted Larry's fate. So too has Anne Deever, who was engaged to Larry and now plans to marry Chris. Anne was a former neighbour and the daughter of Joe's business partner, Steve Deever. Their business supplied defective aeroplane parts that led to a series of plane crashes. Steve is now in prison but Joe was exonerated. As the plays develops Joe's innocence is questioned and the truth about his guilt is exposed.
Director Chris McLean has guided his cast well and they present a compelling depiction of the flawed yet absorbing characters in this play and the tension mounts through the performance to its inescapable conclusion. Julie Arnold excels as the emotional Kate conveying every nuance of the character's sorrowfulness and anxiety with wonderful facial expressions and deliberate, controlled physicality. George Werther portrays Joe and fortunately the power of his body language is that we sense the character's loss of confidence and dissolution into desperation and misery, but the lack of clarity and diction in delivering dialogue detracted from an otherwise moving performance. As son Chris, Liam Gillespie's performance is strong, well-shaped and clearly defines the shift in the relationship between father and son which is central to the play. Anne Deever is the only character in the play who one feels may just be able to move on from all these tragic events and Claire Abagia's performance portrays this with fine distinction. Ann's brother George appears only briefly in the second act and is mainly there as the catalyst to bring the situation to a head. Xavier Ryan is striking in his interpretation as the angry, bitter son of Steve who wants the Kellers to acknowledge the truth but is almost disarmed by them. Support roles are similarly well considered and performed: Gavin Baker's GP Jim Bayliss who wanted to spend more time in medical research; Sallyanne Mitchell as Sue, Jim's needling, envious wife;Timothy Camilleri's simple Frank Lubey who is an amateur astrologer; Kate Manicom as flighty Lydia Lubey. And well done to Francesco Basile who made his stage debut as young neighbourhood boy Bert. His scenes with Joe were quite touching.
Backed by a strong production design, lighting by Deryk Hartwick, sound by Rob Wanless, costumes by Wendy Drowley and her team, and properties by Bronwyn Parker, we were presented with all the elements for a powerful and engrossing evening in the theatre.
Reviewed by Deborah Fabbro, July 19
FROM OUR PATRONS:
"Last week my husband and I attended your production of All My Sons and I felt the need to write and congratulate you all on a wonderful production of a very special play. We had travelled from Gippsland and, having read and enjoyed the play immensely, were hoping that your company would do it justice. And you did not disappoint. What an incredibly powerful play, still, and what a fabulous cast who understood the complexity of the script and the characters. Each member of cast had obviously researched their character and were totally immersed in the story. For me, Liam Gillespie and Claire Abagia were simply outstanding. The mastery of their characters and the absolute professionalism of their presentation, as well as their sincere and spontaneous reactions whilst presenting lines or interacting with others, was as good as anything I have seen this year in and around Melbourne, and I go to a lot of theatre.
Beautiful performances and please pass on my congratulations to them both. I was truly captivated by them and do hope that their talent will be recognised and we will see more of them in the future. Claire lit up the stage and her range of emotions made us feel so deeply for her personal struggle and her charm and playfulness did not allow us to be swallowed by the serious nature of the play and push us into despair. She and Liam are stars in the making. I have been a Gippsland Associated Theatres Judge for many years so my comments are not just from an audience member who had a wonderful evening, but from a professional and experienced point of view. I loved the functionality of the set, the research into the authentic costumes, the strength of the cast, the soundscape and some very clever direction. Congratulations once again from a most impressed audience member." - Ms P.A. Vermay
---
AUDITION NOTICE: BLOOD BROTHERS
Blood Brothers, by Willy Russell
Directed by Bruce Akers
Audition Dates:
- Sunday September 10, from 6:30pm
- Monday September 11, from 7:00pm
Season Dates:
- November 17 to December 2, 2017
Weeknights and Saturdays at 8:00pm; Sunday matinees at 2:00pm
Note: There will be an additional Saturday performance on December 2 at 2:00pm
Audition Details:
Location:
Heidelberg Theatre, 36 Turnham Avenue, Rosanna (Melway 32 A1), o
pposite the Rosanna Railway Station car park.
Accents:
The play is set in and around Liverpool, England. Accents from that region will be used.
Scripts: These will be available at the theatre 30 minutes prior to each audition.
AUDITIONS ARE BY APPOINTMENT
For audition appointment or for other queries contact Bruce Akers at
bwakers27@hotmail.com
or 0432 984 781.
Auditionees, please bring a recent headshot and a brief CV of your recent stage experience.
PLAY SUMMARY
'Blood Brothers' tells the tale of twin brothers who were born into a large working-class family in Liverpool, England and what happens when their mother
decides to have one of them adopted. The play looks at the differences and conflicts of the brothers' upbringings, their relationships with each other and with
their real and adopted mothers.
Note: This is the play version of the narrative, not the musical version.
CHARACTER DETAILS
Edward
- 20s - early 30s. (Ages 7-25 in the play). Actor required to play Edward at various ages during the play. Speaks with refined accent.
- Twin brother to Mickey, given away by mother to well-to-do Lyons family. Attends the best boarding school. Earnest and sheltered. Delighted to meet
and befriend Mickey. Open and optimistic.
Mickey
- 20s - early 30s. (Ages 7-25 in the play). Actor required to play Mickey at various ages during the play. Speaks with Liverpudlian accent.
- Twin brother to Edward, raised by his mother in relative poverty. A fiery character, he is nevertheless good-natured and well meaning. He is subject
to periods of depression.
The Mother (Mrs Johnstone)
- The real mother of Edward and Mickey; late 30s - 40s. (Ages 25- 50 in the play). Speaks with Liverpudlian accent.
- Single mother of seven. Compassionate and determined. Naturally maternal but can act on impulse as opposed to thinking carefully over the
consequences of her actions. Superstitious.
- Must be able to carry a tune as she sings unaccompanied at the beginning of the play.
Mrs Lyons
- The adoptive mother of Edward; late 30s - 40s. (Ages 30-55 in the play). Speaks with refined accent.
- Upper class wife from a world of privilege, desperate to have a baby. Unhealthy obsession with protecting Edward from the truth.
Linda
- Friend of Mickey and Edward; 20s - early 30s. (ages 7-25 in the play). Actor required to play Linda at various ages during the play.
- Grows up in the same neighbourhood as the Johnstone family. In love with Mickey. A lovely and caring person.
The Narrator
- Also plays The Milkman, The Doctor, The Policeman, The Conductor and others; male, 30s plus.
- The Narrator observes and comments on the action of the play and at various times steps into the story as various characters. A cross between a storyteller and a
moral commentator.
Chorus- as required.
- Will be used as and when needed. Small parts (to be decided), filling out scenes, setting up and dismantling scenes onstage.
- Chorus includes the part of Sammy (the elder brother to the twins). 20's-30's. A troublemaker all his life. Not a large part. Speaks with Liverpudlian accent.
- Also, school mates etc.
A perfect opportunity to obtain valuable on stage experience.
OTHER INFORMATION
- Rehearsals will commence the last week of September.
There will be two weeknight rehearsals, possibly Tuesday and Thursday from 7:30pm (to be confirmed) plus Sunday afternoon from 1:00pm.
For audition appointment or for other queries contact Bruce Akers on bwakers27@hotmail.com or 0432 984 781.
---
HTC YOUTH AUDITION NOTICE:
THE ADVENTURES OF KING ARTHUR
The Adventures of King Arthur, by Erich Fordham and Ryan Purdey
Directed by Sam Howard
'The Adventures of King Arthur' tells the story of legendary British hero Arthur, and the knights that followed him, but never as you've heard it before. When the Holy Grail goes missing, Arthur must lead his ragtag assortment of heroes into the great unknown to retrieve it; the mishaps that follow fuel a madcap adventure brimming with prophecies, wizards, witches, an inconvenient dragon, vexing peasants and many other sorts of theatrical silliness.
Audition Dates:
- Sunday September 3, from 6:00pm
- Monday September 4, from 6:00pm
- Thursday September 7, from 6:00pm
Season Dates:
- December 8 to December 16, 2017
Evening performances on Thursdays, Fridays and Saturdays at 7:00pm; Matinees on Saturdays at 2:00pm
Audition Details:
Age: Audition slots are open to applicants aged roughly 15-25, both male and female.
Location: The Sunday night auditions will be held at St John's Church in Heidelberg, at 1 Burgundy Street. The Monday and Thursday night auditions will be held at St Andrew's Church in Rosanna, at the corner of Invermay and Grandview Groves.
Scripts: The audition pieces will be given on the night. No prior preparation is necessary.
AUDITIONS ARE BY APPOINTMENT
For audition appointment or for other queries contact the HTC Youth team at
htcyouth@htc.org.au
.
Auditionees, please bring a recent colour headshot.
CHARACTER OUTLINES

KING ARTHUR: The show's main hero. A man who believes he is strong, noble and awesome in his quest.

GUINEVERE: King Arthur's queen, and the unnoticed true brains behind the throne.

KAY: Arthur's tired, long-suffering brother and his first knight.

BEDIVERE: Arthur's loyal companion; a dim but enthusiastic knight of Camelot.

PELLINORE: Arthur's oldest champion; an ancient, near-fossilised knight of Camelot.

AGRAVAIN: Another of Arthur's knights; a cowardly, unreliable "hero" of Camelot.

LANCELOT: A fabulous, flashy, romantic knight of Camelot, and Arthur's greatest knight.

MERLIN: The narrator and guide of the show. Grumpy and constantly stressed out.

MORDRED: One of the two villains. A petty, bitter knight of Camelot fuelled by resentment and scorn.

MORGANA: The show's main villain. A wily, cunning sorceress with a fondness for drama.

THE LADY OF THE LAKE: Morgana's supernatural counterpart; an ethereal source of guidance and hope.

THE BLACK KNIGHT: A mysterious rogue who encounters Arthur's company on the road.

MORAG: A decrepit bog witch who reluctantly helps Arthur on his quest.

BOGG & THICKETT: Two annoying peasants who frequently pop up throughout the show, always where they're least expected.
Rehearsal Dates:
King Arthur will be rehearsing from September through to early December, every Sunday and Monday night, with Thursday rehearsals in late November.
For any further questions, or to book your audition slot, please contact us htcyouth@htc.org.au.
---
VALE
DAVID SMALL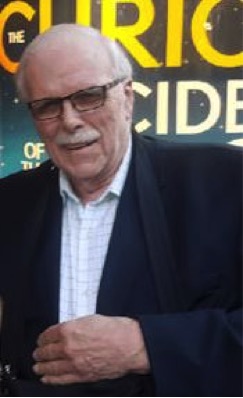 It is with deep sadness that we announce the sudden death of David Small, a longtime HTC member, a great actor, a director and a friend
of Melbourne's theatre community.
David
joined HTC in 1983, stepping immediately into the wonderful role of Henry
II in 'The Lion In Winter'. During his time at HTC, David acted
in a remarkable 27 plays and directed 8. Among his memorable performances were Sir Thomas More in 'A Man
For All Seasons', David Bliss in 'Hay Fever', Einstein in 'Insignificance', Ralph Nickelby in 'The Life And Adventures Of Nicholas Nickelby' and Jack in 'Brighton
Among his directed efforts were 'The Life And Adventures Of Nicholas Nickelby', 'Amadeus', 'Hobson's Choice' and 'Burke's Company'. In recent years, David also took cameo roles in 'Arsenic And Old Lace' and 'One Flew Over The Cuckoo's Nest'; his last role at HTC was as the authoritative voice of the Judge in 'Twelve Angry Men'.
For many years, David served on HTC's Committee in roles such as the Artistic Director for 1989, Publicity Officer and as a member of the 50th Anniversary Committee. He was very generous with his support of younger actors, many of whom remember him fondly as a mentor and value his wise advice.
In addition to his time at HTC, David was an active member of the Victorian Drama League, serving as a council member, awards judge, reviewer and editor of the Theatrecraft magazine. He also acted with many other Melbourne theatre companies to great acclaim, twice winning the Gold Award for Best Actor at the VDL Awards. For 27 years, David was a presenter on the local FM radio, presenting a fine range of programs spanning theatre and worship. In his pursuit of the latter, David also directed four productions of the Annual Melbourne Passion Play at Doncaster.
In remembrance, hundreds of David's friends and family attended a memorial service for him. Beautiful tributes were given by his daughters and grandchildren, celebrating a long life well lived. Kevin Trask spoke sincerely for the theatre and wider community, and we farewelled David with a rousing ovation.
Everyone at HTC will miss David's immense presence and influence, and we offer our sincerest condolences to his daughters Meredith, Trudi and Leigh, and their respective families.
ADRIAN CALLINAN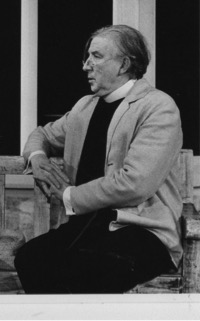 HTC has also said goodbye to Adrian Callinan, an actor and patron of the company for many years. Adrian was the esteemed Principal of Macleod High for many years, and a keen admirer of classical literature. He joined HTC
in 1986, and acted in 'Burke's Company', 'Amadeus', in addition to lauded performances as Reverend Chasuble and Friar Laurence in 'The Importance Of Being Earnest' and 'Romeo & Juliet' respectively.
Adrian will be remembered as a fine actor
MICHAEL BOND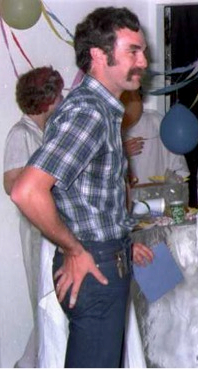 HTC is also sad to hear of the passing of Michael Bond recently. Michael was known around the company as one of the "young ones" from the theatre's early days at the venerable Rechabite Hall. Michael acted with HTC, learned the ropes, became a director, helped to start Saturday morning theatre classes for children and wrote three very well-received pantomimes for the theatre.
Michael acted in 10 plays, directed 'My Fat Friend' in 1981, built sets and steadfastly served on the Committee, managing the lighting for plays for many years in the new venue. In recent years, he was a reviewer for the VDL and a director for the Encore and Essendon Theatre Companies.
In his passing, Michael is gone, but not forgotten.
---






Is your group or committee planning it's Fund Raising Calendar

Generous concessions for groups of 10 or more.

Please call the Box Office on 9457 4117.
Stay Tuned for further information on 2017's Working Bees.




undefined




undefined


Heidelberg Theatre Company Inc. web bookings: www. htc.org.au
36 Turnham Avenue, Rosanna, Vic, 3084 (Melway Ref. 32 A1) General Enquiries: 9455 3039
Box Office: 03 94574117 email: htc@htc.org.au
Hurstbridge line – Rosanna Station website: www.htc.org.au Inc.
No. A008432X ABN: 70 112 958 020 P.O. Box 141, Rosanna, 3084