Visit us on:

​

Are you a poet, writer, artist or translator? We would love to receive your work for consideration
News and Updates
The Annual International Urdu Conference 2014 is being held from October 16-19th this year, at the Karachi Arts Council. The conference includes a special mushaira on Friday, 18th October at 9:30 p.m., featuring prominent poets from Pakistan and some exciting visiting poets from India. We at Umang are looking forward to this enlivening poetic event, and wish to inform our readers about it as well - so please mark your calendars!
تازه تازه
ساتویں عالمی اردو کانفرنس اس سال کراچی آرٹس کونسل میں ۱۶ سے ۱۹ اکتوبر تک منعقد ہو رہی ہے۔ کانفرنس کے پروگرام میں جمعہ، ۱۸ اکتوبر کو شام آٹھ بجے ایک خصوصی مشاعره شامل ہے، جس میں پاکستان اور بھارت کے سرکره شعرا شرکت کر رہے ہیں۔ امنگ میں ہم اس شاعرانہ محفل کے منتظر ہیں، اور اپنے قاریوں کو بھی اس کے بارے میں مطلع کرنا چاہتے ہیں، سو اپنے کیلنڈروں پر ضرور نشان لگا لیجیے۔



Poetry منکہت
'Who are you?'
Nasreen Anjum Bhatti
وے کیہڑا ایں
نسرین انجم بھٹی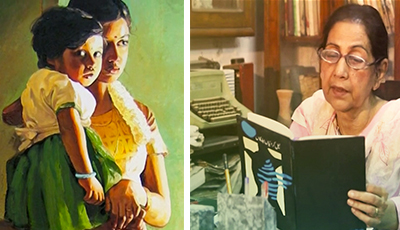 In this harrowing, nightmarish poem by Nasreen Anjum Bhatti, the poet recounts to her father his cruelty on the occasion of her wedding.
نسرین انجم بھٹی کی اس خوفناک خواب جیسی نظم میں شاعر اپنی شادی کے موقع پر اپنے بابا کے ظلم گنواتی ہے۔
'Whales in Bewilderment's Ocean:
Six Ghazal Couplets by Abdul Qādir Bedil'
Prashant Keshavmurthy
:حیرت کے سمندر کے فیِل ماہی'
'عبدالقادر بیدل کے چھ اشعار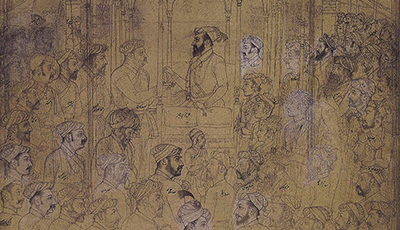 The 17th-18th century Hindustani poet, Abdul Qadir Bedil, is recognized as being among the greatest of Persian poets, unmatched in the polysemic subtlety and depth of his poetic expression. In this essay, Prashant Keshavmurty sets up an evocative frame from Bedil's autobiography, in which he then masterfully interprets six of his couplets.

سترویں-اٹھارویں صدی کے ھندوستانی شاعر، عبدالقادر بیدل فارسی کے عظیم ترین شاعروں میں گنے جاتے ہیں، جن کے شاعرانہ اظہار کی کثیرالمعنی لطافت اور گہرائی کی کوئی نظیر نہیں۔ اس مضمون میں پرشانت کیَشَومُرتی بیدل کی خودنوشت کے ایک ٹکڑے کو تمثیل بنا کر اس کے پس منظر میں اُن کے چھ اشعار کی ماہرانہ تشریح اور ترجمہ پیش کرتے ہیں۔
---
to receive our monthly poemletter, write 'y' and send to: