Visit us at:

​

Are you a poet, writer, artist or translator? We would love to receive your work for consideration
Umang organized its first on-the-ground activity for poetic learning this past weekend, by hosting a stall at the

Karachi Literature Festival 2014.

We screened our videos, distributed free Umang bookmarks,

interviewed poets

, and dialogued about poetry with people from all age groups and walks of life. Our space was described as having an "

awami

" spirit, which stood out by "not trying to sell anything." We are deeply grateful to those who extended their warm support, and

look forward to receiving submissions

from those who promised!
تازه تازه
گزشتہ وِیک اینڈ منعقد ہونے والا کراچی لٹریچر فیسٹول ۲۰۱۴ اُمنگ کے لیئے انٹرنیٹ کی دنیا سے باہر شاعرانہ تعلیم منظرِ عام پر لانے کا پہلا موقع تھا۔ ہم نے اپنے وڈیو دکھائے، امنگ کے بُک مارک مفت تقسیم کیئے، شاعروں کے انٹرویوُ کیئے، اور ہر عمر اور پیشے کے لوگوں سے شاعری پر گفتگو کی۔ لوگوں نے کہا کہ ہمارے گوشے میں ایک عوامی فضا ہے، چونکہ ہم کچھ بیچنا نہیں چاہتے۔ جن لوگوں نے ہماری پُرجوش ہمت افزائی کی ہم ان کے تہ دل سے شکر گزار ہیں، اور ان لوگوں کی پیش کشوں کے منتظر ہیں کہ جنہوں نے ہم سے وعدے کیئے تھے! اس موقع کی چند تصاویر یہاں دیکھی جا سکتی ہیں۔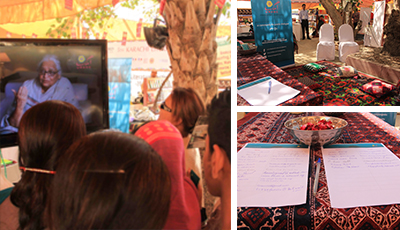 More photos here.
Poetry منکہت
'A Bad Omen'
Iftikhar Arif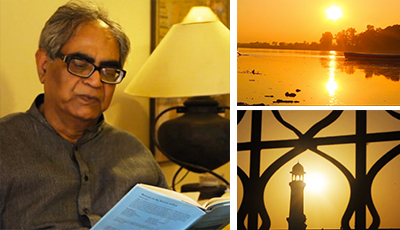 In his obsessive search for new and ambitious visions, Iftikhar Arif has inauspiciously let fall in this poem, the book of his original clarity of vision.
نئے

نظاروں

کی

ہوس میں شاعر نے اپنی بصارت

کی اصل کتاب کھو دی۔ افتخار عارف کی یہ نظم اس دل خراش واقع کا نوحہ ہے۔
Read more

مزید پڑھیے
'Hands on the Table'
Azra Abbas
'میز پر رکھے ہاتھ
'
عزرا عباس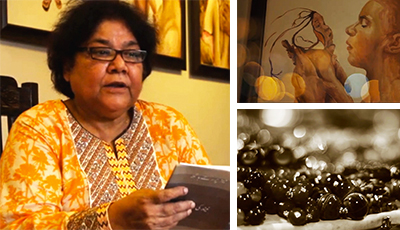 Why have her hands abandoned her and taken on a life of their own in this haunting poem by Azra Abbas?
جانے کس کیفیت میں عزرا عباس کے ہاتھوں نے اس نظم میں ان کا ساتھ چھوڑ دیا۔
---
to receive our bi-monthly poemletter, write 'y' and send to: