Help the Pantry:
Save these dates!!
Sunday, June 12, 4:00-7:00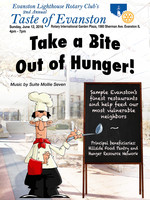 Thanks to volunteer Ken Green, the Evanston Lighthouse Rotary Club has chosen Hillside Food Pantry as one of the beneficiaries of its annual "Taste of Evanston!!" Sample fare from 20 local restaurants while funk/soul/rock/jazz band Suite Mollie Seven plays and a strolling magician delights kids of all ages. Tickets are $80 ($40 for students, $10 for kids) at
http://evlrotaryclub.pingg.com/Taste16.
Saturday, June 25 at Jackson Park
Plan to be a part of the Hillside Food Pantry Hunger Walk team! Note the change of location: the event will be held in Jackson Park this year. We would like to charter a bus for our team but need at least 34 people for the cost to be reimbursed by GCFD. This is a great way for groups of all sizes to support Hillside Food Pantry -- we raise almost our entire food budget through this event! GCFD will give us $12 for every person who walks on our behalf. You don't have to walk with us to walk for us, so if you have a group or want to gather a group to walk together on our behalf, you can!! More information on the Hillside Food Pantry team to come, but for more information in the meantime, go to
http://www.crowdrise.com/GCFDhungerwalk2016

Somehow it doesn't seem possibe that we have been gathering and giving out food for 7 years! We hope you will join us to celebrate our 7th Anniversary on

Saturday, May 14, 5:30 - 7:30 at
Hillside Church, 2727 Crawford Avenue, Evanston
It is always a joy to gather together to share our pantry experiences and rejoice in what God is doing in and through our "community of people helping people." This year we will be honoring Potash Corp and St. Athanasius Parish's School and St. Vincent de Paul Society. We have been blessed to have the support of so many people, churches, schools, businesses and community groups, so it is difficult to choose who to honor. We hope the stories we will share about those we are shining the spotlight on will be as exceptionally inspiring and delightful to you as they are to us.

Please RSVP by Monday, May 9

so we can be sure to order enough food. All volunteers are welcome, even if you haven't been with us lately. This is our small way of thanking you for helping us gather, pack and give away over 28,000 bags of food (enough to make more than 92,700 meals!!) since we launched in May, 2009. And it's just plain fun!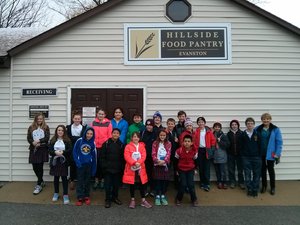 We are continually blessed by the generosity of people who have gone above and beyond to find ways to support our efforts and include people too young to volunteer with us and rally hundreds of others to contribute who might not know about us or be able to volunteer. Karen Flood, who has volunteered with us since the beginning, brings her 4th graders from St. Joan of Arc School, above, for their service project, which includes making birthday kits to give to patrons.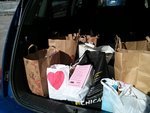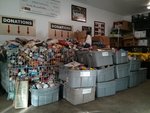 Chris Djuric, who connected with us through Nichols Farm at the Evanston Farmers Market, spearheaded the Winter Market at Immanuel Lutheran Church, donated a portion of the vendor fees to us, and organized a "Have a Heart" food drive that brought in a trunk-load of non-perishable donations, above left. Kelli Handel and Marsha Byrne helped coordinate a school-wide food drive at St. Athanasius School that brought in over 30,000 non-perishable items, above right. The school's theme song? "We Can Make a Difference!!" Together we all do. Two more ways you can help? Come to Evanston Light-house Rotary Club's "Taste of Evanston" and/or walk with us at the Greater Chicago Food Depository's Hunger Walk -- see the sidebar for more information. With your help we will continue serving those of us in need -- we're all in this together.
Maiya Lueptow, Director
www.hillsidepantry.org