Do your clients speak Spanish? Make sure they know about this Wisconsin Al-Anon website:
www.alanon-wi.org/espanol.asp
---
Professional to Professional
"With Al-Anon's help, I've seen
children do better in school,
spouses

sleep better

at night, and parents

stop obsessing

over their adult children. My patients are healthier and their lives get back on track."
- Randolph Holmes, MD, Whittier, CA
---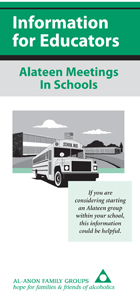 ---
Learn more
HOW CAN I HELP MY CHILDREN?



WHY SHOULD I ATTEND ALATEEN?



HOW WILL ALATEEN HELP ME?

---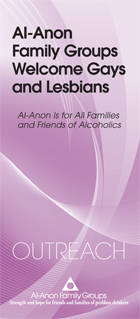 NEW YOUNG PEOPLE'S MEETING!
Begining Wed., Nov. 5 at 7 pm in Milwaukee at LGBT Community Center, 1110 North Market St. #2. All are welcome.
LEARN MORE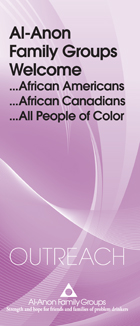 ---
Hundreds of meetings every week
Click on this postcard to FIND A MEETING for your client, your student, your patient—or yourself.

Road trips to recovery
Refer your clients to Al-Anon events this fall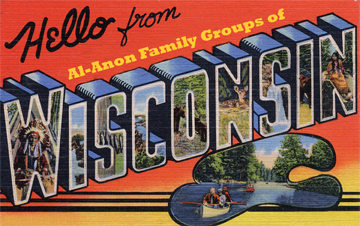 A bountiful harvest of workshops, potlucks and other recovery events are coming this fall to Wisconsin.
Be sure to refer your clients or check them out yourself:


Sat., Oct. 18—WAUTOMA:

6 - 9 pm at Hope Lutheran Church, 301 East Morris Ave. MORE



Sun., Oct. 19—PEWAUKEE:

5:30 - 8:15 pm at Galilee Lutheran Church, N24W26430 Crestview Dr. MORE
Sat., Oct. 25—MONONA:

9 am - 2:30 pm at St. Stephen's Church, 5700 Pheasant Hill Rd. MORE
Sat., Oct. 25—OSHKOSH:

4:30 - 7:30 pm at Solutions 12 Step Recovery Club, 621 Evans St. MORE
Sat., Nov. 1—APPLETON:

12:30 - 4 pm at United Methodist Church, 325 East Franklin St. MORE
Sat., Nov. 1—JANESVILLE:

Annual AA Fall Recovery Roundup, Salvation Army, 514 Sutherland Ave., 10 am registration and hospitality, breakout sessions/panels throughout the day,
5 pm Al-Anon speaker, 7 pm AA Speaker, evening dance follows. MORE
Fri. Nov. 7—BURLINGTON:

5:30 -9 pm, St. John the Divine Episcopal Church, 216 East Chandler Blvd. Al-Anon, Alateen and AA Speakers, potluck. MORE
Sat., Nov. 8—KENOSHA:

8:30 am - 3:30 pm, Alano Club, 630 56th St., panels, Al-Anon speaker, AA speaker, potluck. MORE
Sat., Jan. 17—RACINE:

8:30 am - 3 pm, Church of Covenant, 40 Ohio St., speakers, panels, games, raffles, potluck. MORE
Monthly—SE WISCONSIN:

Check out this SCHEDULE of recurring open meetings
---
Family alcoholism effects on youth

1 in 4 children

grows up in a family or

home where someone has an issue with alcohol
The effects of growing up in an alcoholic home can be profound and long-lasting. Why not consider starting an Alateen meeting at your school? Download the brochure at left for all you need to know on how to do this. Also contact publicoutreach@area61afg.org to connect with local Al-Anon and Alateen members in your community. And consider hosting a presentation (image below) for your education colleagues, delivered by local Al-Anon members, to acquaint them with all Al-Anon and Alateen has to offer.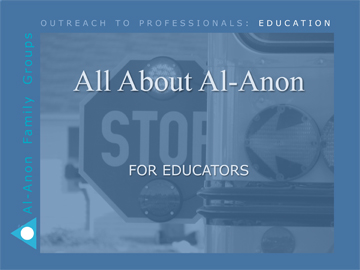 LEARN MORE—

Current alcoholism research and how it involves family members affected by someone else's alcoholism.





Listen to the 9:06 audio podcast

HERE
---
HOT
off the presses for 2015!
Download today, share with your clients, and order print copies of this 28-pp four-color magazine HERE.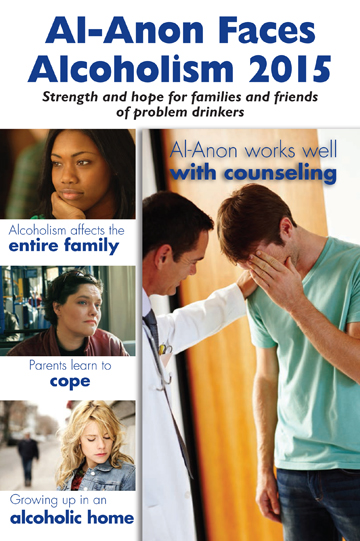 ---
BOOKMARK IT!

---
PLEASE NOTE: IN KEEPING WITH THE SPIRITUAL PRINCIPLE OF ANONYMITY IN AL-ANON, ALL PHOTOS USED IN THIS NEWSLETTER ARE STOCK IMAGES AND DO NOT PORTRAY ACTUAL MEMBERS OF THIS FELLOWSHIP.