September What's In Season
Apples and cider
Beans
Beets
Broccoli
Cabbage
Carrots
Celery
Eggplant
Green onions
Greens
Herbs
Lettuce
Melons
Onions
Pears
Peas
Peppers
Potatoes
Pumpkins
Radishes
Raspberries
Squash
Sweet corn
Tomatoes
Year-Round
Baked Goods
Body Care Products
Crafts
Eggs
Fresh Cut Flowers
Fruit Butters
Honey
Jams and Jellies
Jewelry
Maple Syrup
Grass-Fed Meat

and more!


Share Your Photos!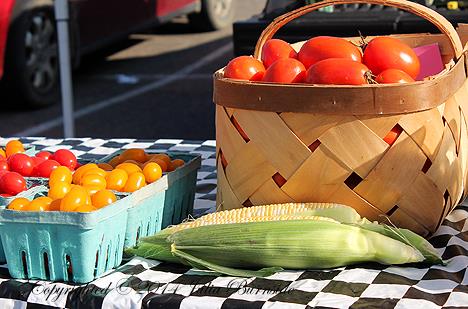 Photo: Julia Burnside
Did you prepare a meal with market ingredients?

Are you growing a market-purchased plant in your garden?

Did you take a great photo at the market?
We'd love to see your pictures! Post them to our Facebook page!
Our Vendors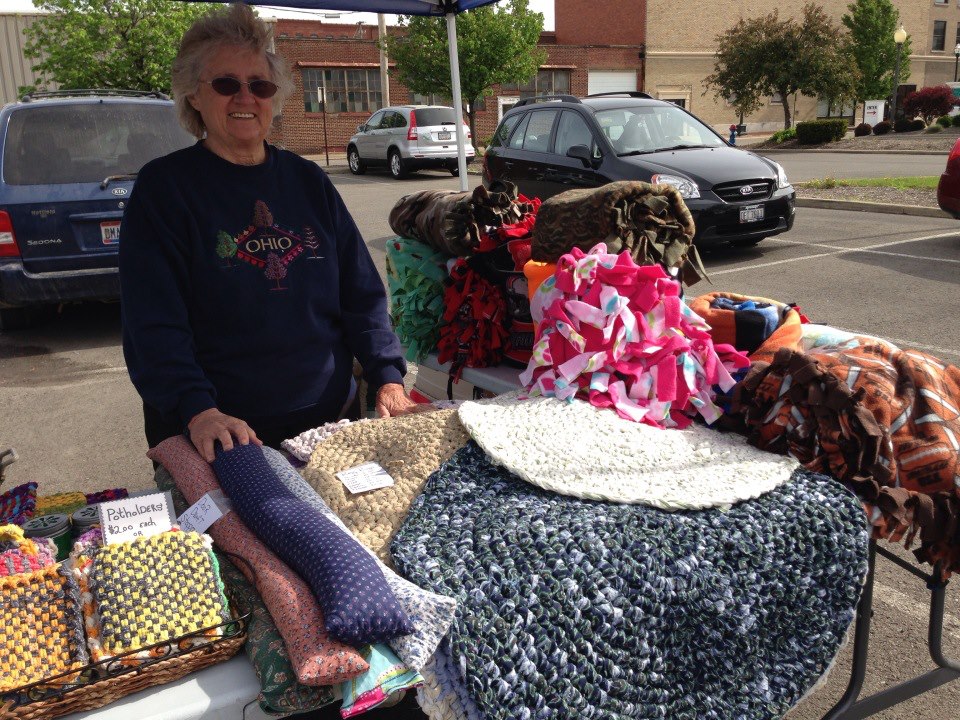 Photo: Kate Ervin

A Few of My Favorite Things
Arnold Family Gardens
Beard Farm
Berry Family Farm
Bob's Tomatoes
Calico Country Creations
Down the Road Farm
E's Garden
Eileen's Baskets and Totes/Barnes and Soapel
Fornof Markt
Gene's Produce
Gerlach's Blueberry and Fruit Farm
Glenn Family Gardens
Great Harvest Bread Co.
Hugus Fruit Farm
Joos Farms
Lois Bibler
Merritt Family Farm
My Mushroom Store
New Roots Farm
Not Your Average Daylily/Honey Bee Sunflower
Oak Creek Gardens
Queen's Family Farm
Roberts Greenhouse
SAS Gardens
Saum Family Farms
Schultz Valley Farms
Sheri Hartman
Shriner's Farms
Smith's Farm
Timberpeg Tree Farm
Trinity Sister's Blessings
Weaver's Produce and Baked Goods
Wild Mojo Jewelry
September 2014 Newsletter


Happy Labor Day!

For many, Labor Day signals the end of summer. The days are growing shorter and the kids are back to school. These seasonal changes are bringing different crops to the market. One of the best parts of shopping local is eating seasonally, and living this change along with the farmers as you set your dinner table.

One happy harbinger of fall are apples, pears, and cider! Pumpkins, winter squash, root vegetables, and fall greens are also another sure sign of autumn in Ohio.

Join us at the market and pick up these and other fresh fruit and vegetables, along with pastured meat and eggs, baked goods, flowers, crafts, and more. Celebrate the last tastes of summer and the first tastes of fall with us!
Not to worry! The market continues through October!

Have You Visited Our Website?

Vendor information and products
Market information and directions
Market updates
Photos
Contact information
And more!
---
Eating Seasonally:
Roasted Chicken and
Butternut Soup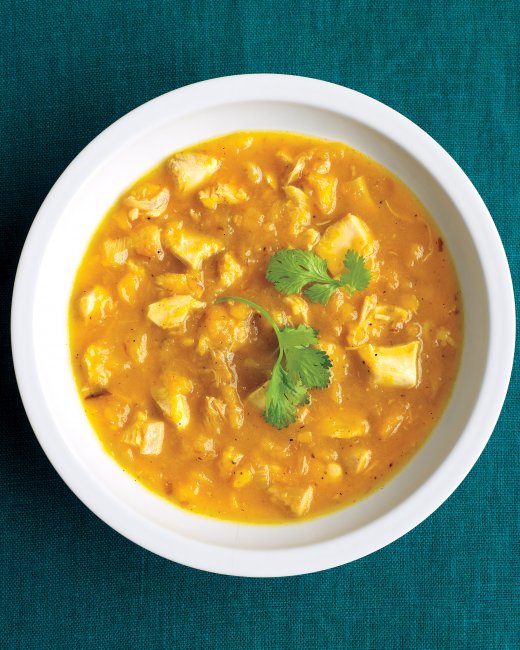 Ingredients:

4 bone-in, skin-on chicken thighs

1 med. butternut squash, peeled, seeded, and chopped into medium-sized cubes

1 sm. yellow onion, chopped

2 Tbs. olive oil

Coarse salt and ground pepper

4 c. low-sodium chicken broth

1/4 tsp. ground cumin

1/4 tsp. ground coriander

1-2 Tbs. fresh lemon juice

Fresh cilantro (optional)
Directions:

Preheat oven to 425 degrees. In a roasting pan or rimmed baking sheet, toss together chicken, squash, onion, and oil; season with salt and pepper. Arrange in a single layer and roast until squash and chicken are cooked through, about 30 minutes.

Transfer chicken to a plate and let cool. Transfer squash and onions to a medium pot and add broth, cumin, and coriander. Bring to a simmer over medium-high heat. With a potato masher or back of a wooden spoon, mash some vegetables until soup is thick and chunky. Discard skin and bones from chicken (or save for broth); cut meat into small pieces and add to soup. Stir in lemon juice; season to taste with salt and pepper. To serve, top with fresh cilantro.

Serve warm with a toasted crusty bread, and shaved Parmesan cheese. To save, transfer cooled soup to a freezer bag or airtight container and freeze, up to 3 months. Thaw, and then reheat. Add garnishes just before serving.