Hydration for (Tree) Health
As much as we like to think of trees as being self-sufficient, they need us as much as we need them. There are ways a tree owner can aid a tree during its establishment period, the three years after transplanting that it takes a tree to become habituated to its new environment.

During this time a tree's roots are developing. A healthy root system is essential to a tree's long-term vigor, enhances a tree's stability and supplies nutrients to the trunk and branches. Roots are much more than a feeder system for what happens above the soil, they have an intricate life of their own. If roots are a tree's foundation, they're also its internet; gathering and sharing information with organisms near and far. To keep the analogy going, roots can also be thought of as a tree's social network, engaging in countless symbiotic relationships with nearby biota.

Much like the tree itself, photosynthesis, a process that allows a tree to convert energy into nourishment, is thought to be largely autonomous. The basic recipe for photosynthesis is CO2 + H2O + Sunlight. In the Pacific Northwest, despite all our collective wishing, we can't control sunshine. Likewise, we can't manage a tree's carbon dioxide intake. Of the three ingredients, tree owners can only control if their tree is getting enough water.

The easiest way a tree owner can help a tree during its establishment period is to make sure the tree's roots are getting enough water. A tree needs 10-15 gallons of water a week in the dry season. The only way it will get that amount of water during the months of May through October is by human intervention. A hose will get the job done, but a hose needs an operator. This is an issue during vacations and action-packed summer schedules. FOT sells ooze tubes, a 15 gallon drip irrigation system that delivers water to roots. Being practical and thrifty, the staff also endorses the bucket system. Creating two 1/16 holes in the bottom of an easy to fill five gallon bucket, allows the same deep soaking as an ooze tube.

FOT also offers a watering service for the trees we planted. For $175, (plus $65 for each additional tree), we'll supply an ooze tube and fill it every two to three weeks in the summer for two years. If you planted a tree with FOT during this past planting season, you can still purchase the watering plan, by calling the office, 503-467-2529.

After planting over 600,000 trees and native plants in 26 years, we've learned the importance of caring for trees after the planting day; mulching, maintenance checks, pruning programs and especially summertime watering helps your tree during its establishment period. With summer here, we'd love to encourage you to keep your tree hydrated and happy.
VOTE JENNIFER!
If Jennifer Karps (the Portland Timbers & tree enthusiast on the right) is voted Major League Soccer's Community MVP, FOT will win $10,000.
Vote Here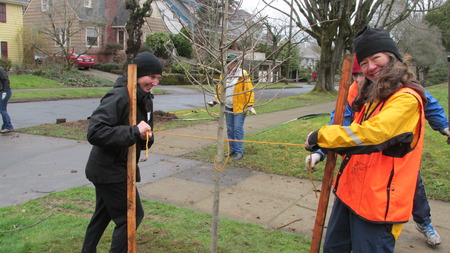 Vote Early, Vote Often and Vote before July 28th.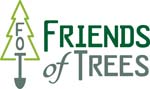 503-282-8846
www.friendsoftrees.org