A record summer drought, followed by endless December rainfalls, and topped off with a cold snap and rare snow day in the low elevations: The weather in the Pacific Northwest has been extreme for the last 12 months. While we wait for January's apricity, our regional meteorological extremes invite worry for people with young and recently transplanted trees.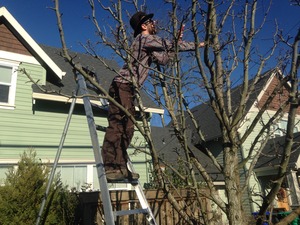 Co-Creative Pruning's Adam Leyrer, is an ISA certified arborist, a FOT volunteer of six years on the Summer Tree Inspector & Community Tree Care teams and who, perhaps most awesomely, is Portland's Bicycling Arborist. Adam says, "In a normal winter, trees acclimate to the cold through dormancy, [and] a reduction in energy and growth." The issue for trees isn't cold temperatures or relentless precipitation, he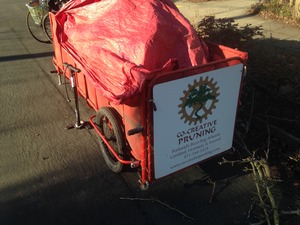 continues, "Problems arise when temperatures rise and fall abnormally and confuse the tree."

As for the recent run of low temperatures, Andrew Land, one of eight Certified Arborists on Friends of Trees' staff, counsels tree owners concerned about the cold and occasionally freezing weather that trees are very hardy. "Oregon's nurseries grow trees that can thrive in most, if not all, of the United States. Our winter weather is mild compared to that of the Great Lakes region or New England."

"Extreme weather highlights the importance of good young-tree stewardship. If your tree was located in the forest rather than along the street or in your yard, there would be a thick layer of leaves and organic matter locking in moisture and insulating the roots. Start by mulching a newly planted tree, we always recommend keeping the 3-3-3 rule in mind: three inches deep, three feet wide, and keep the mulch at least three inches away from the base of the trunk so it doesn't rot the root crown (Mulch like an Arborist after watching this video on YouTube)."

Mulching is an easy and essential form of care you can provide to your tree (FOT offers free mulch in our Portland Office Parking Lot). Like you, Friends of Trees wants your new tree to be healthy and live a long life. If you have issues or concerns that go beyond the inclement weather or mulching, please contact an International Society of Arboriculture certified Arborist, like Adam or visit our Arborist partner page for tips and links when looking for a tree care expert.
A New Hope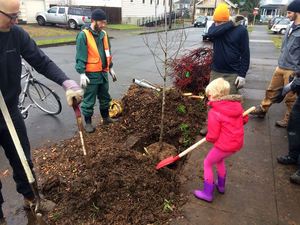 Plant it!