Tree Forte
Treehouses are awesome. Up off the ground, surrounded by shade, away from everything a child wants to avoid - siblings, bullies, parents and all earthbound responsibilities. For some of those reasons, treehouses are pretty awesome for adults too and the last few years treehouses have elevated (sorry) their game. No longer scrap 2 x 4's and salvaged plywood devoid of handrails, treehouses have taken a turn towards the fanciful. Nationally, people at least those with basic cable, can watch complete tree makeovers on Treehouse Masters. In the NW, women and men can get away and into the trees by booking treehouse vacations.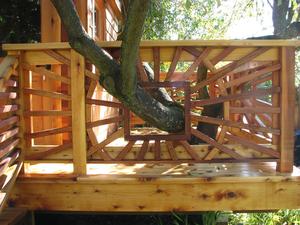 Locally, there are carpenters dedicated to tree-centric building. Schuyler Silva of Elevated Living helps Portlanders live out their dream of having a cool place to spend time in the trees. How does someone whose expertise is in technical theater, specifically, set building, end up specializing in designing and constructing treehouses? The answer, "I have yet to meet anyone who frowns at the mention of a treehouse. They are fun, exotic, and encourage play in everyone. It is primal to climb up into a tree, explore, and learn."

Article Continues with more photos, more builders and explains why in this one instance, Doug Fur is spelled correctly...