Over 5,000 of you gave your time to Friends of Trees last year. Our mission to plant trees together is fueled by the knowledge, muscle power and dedication of our volunteers. This year, we kicked off our new planting season on October 10th and with all the tree orders and events we've planned this season, we'll depend on both new and faithful volunteers to help us reach our ambitious and tree-centric goals!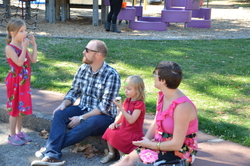 At our recent volunteer appreciation picnic (Yes! Volunteers get appreciation picnics), one of our volunteers, Emily told us why she offers time to help plant trees. She sees her once a year service in her Russell Neighborhood as a benefit to the health and environment of her community. Speaking to the long-term benefits of trees she noted that "Planting trees keeps the air clean," for her young family, neighbors and Portlanders.
Alonzo, a Crew Leader who helps new and returning volunteers by providing advice, tree knowledge and experience at five plantings a year. He views his volunteerism is a chance to pay-it-forward with trees. The opportunity to benefit his community keeps him coming out weekend mornings to our plantings. He says, "It's fun to plant trees and it gives something for everyone to enjoy."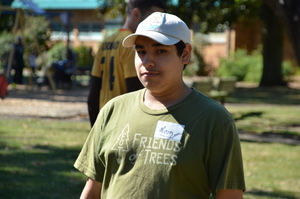 There are nearly as many reasons for volunteering as there are volunteers. For our Tree Callers, the Wednesday night team of phone volunteers who help homeowners choose the right tree for their property - there's a chance to be pro-tree without getting your hands dirty.
For truck owners who never get tired of lending out the bed of their vehicle, Friends of Trees relies on your good nature to help us transport trees to their future homes. Double for bicyclists: If you think hill training is rough, add pedaling a tree to your workout. Annually, we move 100+ trees to planting sites via bikes. With more bike volunteers, we can double that number. Most people spend time with us because they're tree people who want to improve the natural world, green their communities and meet new friends and neighbors in the process.
The sheer number of annual volunteers is a testament to the passion people have for planting trees. Friends of Trees offers volunteers a memorable, valuable, and meaningful experience while improving the world around us.
Ready? Become a volunteer or Crew Leader by contacting our volunteer coordinators/concierges at volunteer@friendsoftrees.org or 503-595-0213.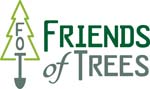 503-282-8846
www.friendsoftrees.org