Great Expectations

February is a much heralded month of love. February is also a month of hibernation; just ask the groundhog, who last week, crawled out of his lair, took a look at the weather then climbed back in his hole to wait for spring. February is a month when we fall into a rut with our routines. Yet, there is no better month to get out of the house, be active, meet people, and contribute to a better world and Friends of Trees offers the whole package!

In January 2016, 1,500 people came to FOT events and planted 12,000 trees and native plants. In February, there are 17 scheduled plantings. We are in need of volunteers at our MacGregor Heights planting in SE Portland on February 20th beginning at 9:00am. For dates and locations, browse our planting schedule. With leap year providing a bonus day this month, why not spend a weekend in February planting with FOT?

Valentine's Day is right around the corner (no pressure) and, given the importance that society places on this holiday, some of you might be feeling pressed to find your Valentine. Volunteering is a great opportunity to meet that special someone! We're currently taking credit for at least half a dozen long-term relationships (and at least one, although possibly more, bouncing baby/future Crew Leader). These happy couples met through volunteering with Friends of Trees and keep the fires burning by continuing to volunteer at our plantings.

So what are you waiting for? Take a chance, ditch the dating apps to come out to our next planting and mingle while you help improve the health of your community. Your Valentine (whether it be a tree or a person), friend, and future neighbor is there waiting for you!

Trees Bring People Together


ICYMI - Thank You Volunteers






503-282-8846
www.friendsoftrees.org
Tabs for Trees!

​
Tabs for Trees partners Rainier Beer with the Arbor Day Foundation to plant one tree for every red tab collected. This year an estimated 15,000 trees will be planted. Rainier Beer will also be participating in FOT's February 13th planting in the NE Boise, Eliot, Humboldt, King Neighborhoods. Way to love the trees. Thank you.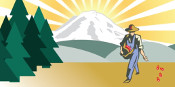 LAST CHANCE!
To dedicate a gift tree for your Valentine. Order by February 10th and Friends of Trees will send a certificate, ready to present to your special someone.
These green valentines come with a "date" where you and your recipient are invited to plant the tree that will keep growing for years to come.
The planting is March 20th in the Tualatin River National Wildlife Refuge. Questions? Visit our website or call Lizzie, 503-467-2524