CALIFORNIA CASA NEWS:

PROFILES:



NEW AT CALIFORNIA CASA:
Watch this short interview with Cory Pohley, California CASA CEO, as she shares plans for improving the organization's communications and marketing efforts.

Why reinvent the wheel when you can learn from those who have gone before you.

CASAs (Court Appointed Special Advocates) are volunteers and ordinary citizens, like you, doing extraordinary work.
Sign up to receive periodic email updates about our work.
Friend of CASA,

On the Road




California CASA staff members rarely stay home.

Over the past 12 months, Marissa Guerrero and Karen Finan traveled across the state, conducting six informed, and culturally sensitive trainings on sexual orientation, and gender identity and expression (SOGIE). They trained ~240 volunteers and staff members from 29 programs serving 33 counties, as well as two staff members from the Judicial Council who work with CASA.

Marissa based her three-hour module on CASA for Riverside County, Inc.'s training piece, "Advocate Pride." Her training provided an opportunity for volunteers and staff to deepen their understanding of sexual orientation, gender identity, and gender expression. And provided opportunities for deep exchange about this critical and sometimes challenging topic.

"It is a joy to train CASA volunteers because they are so dedicated to children. They come to their advocacy with open hearts and minds," said Marissa Guerrero. "At the beginning of every training, I tell them that this will get them far, even though many of them are not closely familiar with the LGBTQ community, which has its own language and culture."

Karen and Marissa started each session with a series of exercises. They worked with the participants to help them understand challenging concepts and confront assumptions (their own and society's') about SOGIE. They discussed ways in which queer or gender non-conforming young peoples' safety, permanency, and well-being can be threatened. Particularly if they find themselves in a placement, school, or biological family that doesn't accept them or worse - rejects or harasses or harms them. They confronted "straight privilege" and "heteronormativity." Marissa and Karen helped the participants realize that assumptions about sexuality and gender expression surround us all the time.

Kathryn Matthews, program director at Child Advocates of Placer County, acknowledged that her volunteers now have a better understanding of the SOGIE terminology, which gives them more comfort with the younger generation.

If you would like to know more about this topic, please go to CASA Conversation about SOGIE, on our new website. It's a great primer for those who have not gone through the training, or for those who need a refresher or "cheat sheet."





CASA Conversation Improves Advocacy and Outcomes for Imperial County Youth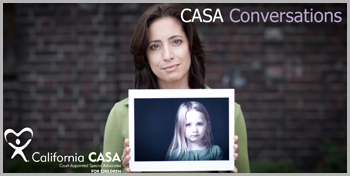 Alex Cardenas, executive director of CASA of Imperial County, knew that many children were prescribed psychotropic medications after entering the dependency system. He couldn't understand why the children needed to take them. And the effects troubled him.

"Some of our children on psychotropic meds were having disruptive behavior in school," explained Cardenas. "The school was treating these behaviors in a punitive manner. Pulling the children out of class."

Cardenas noted the cascading effect, which triggered truancy and poor academic results. CASA volunteers also expressed concerns about the children's insomnia, lack of appetite and lack of desire to participate in activities.

But Cardenas didn't know where to turn. "We had always thought conversations about psychotropic drugs were outside of a CASA's scope. Deferred to the social workers," admitted Cardenas.

Then the CASA Conversation on psychotropic meds came out. California CASA produced 14 CASA Conversations to help volunteers navigate difficult issues in a meaningful way.

Cardenas quickly included this CASA Conversation into his CASA trainings. He particularly liked the section addressing how to start the conversation and the step by step process leading CASA volunteers onto the right path: identify the medication; determine what it's being prescribed for; become familiar with the side effects; determine how long it should be prescribed; monitor it; and ask if there are other medications that could be prescribed instead.

"These tools provide excellent initiatives to target the improvement of health/wellness of our foster children," acknowledged Alex. "CASA Conversations have been incorporated into new orientation trainings and continued education opportunities of CASAs though out the year."

After the training, CASA volunteers took the next step. They talked with the children about this topic during recreational activities, when the children felt comfortable sharing such vulnerabilities as their inability to stay still, feel normal or be able to speak. CASA volunteers also asked teachers if they observed the same behavior in their classroom. This allowed them to use the teachers' observations to substantiate their findings with the courts and social workers.

As a result, Imperial County judges now calendar discussions and hear evidence about the need for psychotropic meds."The judge is not going to sign off on it unless it's 'clear and convincing'," stated Cardenas. "Only if it's in the child's best interest."

Cardenas encourages other executive directors to look for connections between defiant school behavior and the administration of psychotropic meds. "See if the side effects are linked with behavior. The separation anxiety a child experiences from being removed from their home doesn't necessarily warrant psychotropic drugs. Don't rubber stamp," warns Cardenas. "CASA can, and should be a major player in determining if psychotropic meds are in the best interest of children."





California CASA Unveils New Website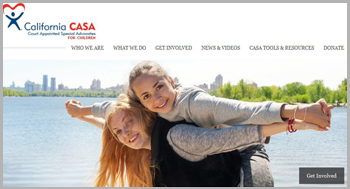 Welcome to California CASA's brand-y new website! We have new images. New language. New resources.

You may remember that we sent out a survey to local CASA staff and multiple stake holder groups 17 months ago, asking about our website: its content, navigation, tools and resources. And we listened to what everyone had to say.

Then we started working. We looked at designs, layouts, themes and widgets to create the best possible website. We re-wrote the content, improved the navigation, look, and feel of the site. We even added a new feature, the Marketing Resource Center, a central hub for local programs to share, upload, store, and search successful marketing materials and strategies. In the end, we created a website that incorporates our needs with your requests and suggestions.

We hope you like it.

Please take a look. And send us your feedback. We'd love to know what you think.





CASA of San Mateo County - Gabriella Cruz shares her story about her CASA, Stephanie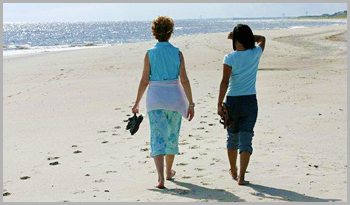 "The most important thing we ever did was talk," said Gabriella Cruz describing her relationship with her CASA, Stephanie.

At 13 years old, Gabriella entered the foster care system. "I had been really wary of social workers, family therapists, judges, lawyers, and group home staff. They were all constantly changing," explained Gabriella. "Most of the time people saw me as a problem or a paycheck."

By the time the court assigned her a CASA named Stephanie, Gabriella had grown weary of all of the changes in her life.

"I recall there were a few weeks in a row I wouldn't even speak to her. Once I even yelled at her in frustration," admitted Gabriella. "Yet Stephanie has always remained patient, non-judgmental, and consistently present in my life."

While others saw Gabriella as stubborn, uncooperative, and angry, Stephanie saw her as compassionate, artistic, and bright.

Stephanie listened carefully to Gabriella's stories about her experiences, her opinions, her fears and her hopes. She asked Gabriella what she wanted the judge to know and included her opinions in her report. When Gabriella wanted to attend summer camp or trapeze classes, Stephanie applied for grants to cover the costs.

"She has been different from most of the adults I knew in the system. Stephanie spent hours at a time with me, and would ask what I would like to do," recounted Gabriella. "We often went for walks, visited the library to work on homework, out to dinner, window shopped, or created artwork - with the occasional pedicure or trip to the movies thrown in."

Stephanie not only encouraged Gabriella to finish high school on schedule but also helped her to receive a scholarship and other resources to attend City College of San Francisco. After graduating from City College, Gabriella would like to attend a state university and earn a degree in civil engineering or architecture.

"She knows more about me than the average classmate at my college and understands more about my struggles with the foster care system than my closest friends," claimed Gabriella, who still calls Stephanie for advice. "She has been with me throughout all of that time, in and out of foster care."

Gabriella summed up her relationship with her CASA, "She has gone way beyond anything I would have expected from anyone as a young girl, and I've been so grateful to have her in my life."



CASA Volunteer Dena Zwingle Loves a Happy Ending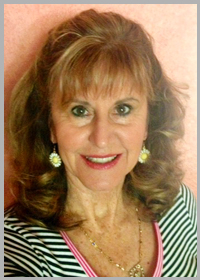 Pictured: Dena Zwingle

Dena Zwingle first learned about CASA 14 1/2 years ago, when a friend contacted her with information about an organization she thought might interest her, CASA of San Mateo. Within a few days, Dena attended a training. She's been hooked ever since.

In total, she has served as a CASA for 11 children, ranging in age from six months to 13 years-old. Often, she's worked with two children at a time. So far, five children have been adopted. Currently, she's working on the 6th.

"I get so much more back than I ever hoped to give. I feel that if every kid had one person who believed in him or her and had their back, they would make it. There are so many kids who don't have anybody," said Dena.

As a CASA, Dena figured out quickly how to establish a relationship with the children, "I don't ask them any questions. So many other people are asking them questions."

At her first or second meeting with a child, Dena does, however, ask the child to make a list of the things they'd really like to do. That list guides her activities. She's taken them to parks, to kids' museums, out to eat, to Costco to taste the samples and to look at books and clothes, to gymnastics, the library, Great America, and even to 49ers games.

Trust didn't necessarily come easily. In her first case, it took a little girl five months to open up. Dena earned it by, "showing up all the times that I said I would." When the little girl eventually told her things that had happened to her, Dena "almost drove off the road."

Dena's clear about the most rewarding part of her time as a CASA, "When I see them get adopted or returned to their home. I love to see a happy ending."

If you want to make her blood boil, label a child 'unadoptable.' She completely understands why a five year-old might have anger issues after experiencing so much change and instability. "I can't understand anyone turning a kid away. Calling them unadoptable," exclaimed Dena.

Dena urges others to join her as a CASA, "If you love kids and you want to help kids, this is the best position," declared Dena. They don't have anyone to speak up for them. Every kid deserves somebody."

And what's Dena's answer to someone who can't volunteer to be a CASA? "Donate, donate, donate so we can continue our work."





California CASA staff profile Janel Brown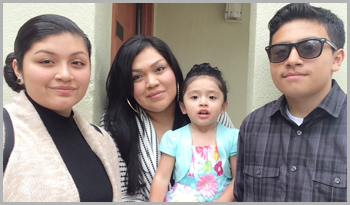 Pictured: Janel Brown with her 3 children

For the past 10 1/2 years, Janel Brown has worked at California CASA as the Data and Technology Manager. Janel, a self-taught graphic designer, loves sharing her creations across the state - from invitations to web pages, to training materials. "There's something about knowing that someone has seen your work statewide, maybe beyond, and appreciated it, if only for a couple of minutes!", said Janel.

She also finds great personal satisfaction in her ability to learn and utilize some of the harder technology programs, such as Salesforce and WordPress, which she accomplished by trial and error, and by reading about and researching them.

But that satisfaction doesn't go far enough for Janel. She'd love to see a larger state-wide presence on many different levels through technology and social media. "We have a huge network and can have a greater impact if we join together," stated Janel.

Janel also notes the huge technology gap that exists in local programs. "The ones I've visited are so lacking the right skills to get ahead," explained Janel who offered to help those programs that don't have staff members with her skills. "I'd like to be the person who can give them something."

You can see Janel's many talents when you visit our new website, read our newsletters, or stroll through our annual report.

Janel didn't set out to work in this field, but she did start out working with children. As a teenager, she worked as a peer tutor for children in kindergarten through 6th grade. And as a child, she wanted to be a judge, a teacher or a psychologist.

She's stayed at California CASA not only because she believes in the mission, but because she believes "there is a huge need to make sure all of our programs have a means of communication, a central place to get information, and access to resources when needed. There is a huge technical aspect to what California CASA does for programs throughout the state and I'm happy to help bridge that gap."

Despite her many achievements, the one challenge she hasn't managed to master is having enough time to do everything.

And what is this full-time, working mother of three children doing when she's not toiling away at California CASA? Enjoying one of her very few guilty pleasures, watching Real Housewives of Atlanta, and Scandal.





Insights from a Funder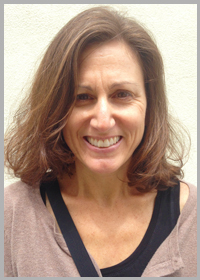 Pictured: Amy Price

Amy Price knows exactly why her employer, the Zellerbach Family Foundation, funds California CASA. "This state agency provides great value,," said Amy, a program executive. "It's an efficient way to provide training and resources to the local programs."

For close to four years, Amy has focused her energy, and Zellerbach's resources, in the program area called, Improving Human Service Systems, which makes grants to improve the management, practice and accountability of public systems serving vulnerable children and families. Prior to working at Zellerbach, she worked at UC Berkeley's National Abandoned Infants Assistance Resource Center, which addresses issues of perinatal substance abuse and HIV.

Amy values California CASA's clear goals and intentions and its thoughtful and strategic collaborative work with other agencies. "CASA is a critical part of the child welfare system," stated Amy, who added, "The staff is fabulous."

According to Amy, California CASA's "After 18 Training Curriculum," which focuses on ways for CASAs to serve young adults in Extended Foster Care, registers with her as outstanding. "We were interested in having tools informed by youth involved in the system," explained Amy. "California CASA, with our support, provided that partnership opportunity with the Y.O.U.T.H. Training Project. Kudos for creating that space and making that partnership work."

California CASA has received funding from the Zellerbach Family Foundation since 2011.