Friend of CASA,

CASA Conversation Improves Advocacy and Outcomes for Imperial County Youth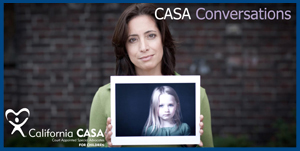 Alex Cardenas, executive director of CASA of Imperial County, knew that many children were prescribed psychotropic medications after entering the dependency system. He couldn't understand why the children needed to take them. And the effects troubled him.

"Some of our children on psychotropic meds were having disruptive behavior in school," explained Cardenas. "The school was treating these behaviors in a punitive manner. Pulling the children out of class."

Cardenas noted the cascading effect, which triggered truancy and poor academic results. CASA volunteers also expressed concerns about the children's insomnia, lack of appetite and lack of desire to participate in activities.

But Cardenas didn't know where to turn. "We had always thought conversations about psychotropic drugs were outside of a CASA's scope. Deferred to the social workers," admitted Cardenas.

Then the CASA Conversation on psychotropic meds came out. California CASA produced 14 CASA Conversations to help volunteers navigate difficult issues in a meaningful way.

Cardenas quickly included this CASA Conversation into his CASA trainings. He particularly liked the section addressing how to start the conversation and the step by step process leading CASA volunteers onto the right path: identify the medication; determine what it's being prescribed for; become familiar with the side effects; determine how long it should be prescribed; monitor it; and ask if there are other medications that could be prescribed instead.

"These tools provide excellent initiatives to target the improvement of health/wellness of our foster children," acknowledged Alex. "CASA Conversations have been incorporated into new orientation trainings and continued education opportunities of CASAs though out the year."

After the training, CASA volunteers took the next step. They talked with the children about this topic during recreational activities, when the children felt comfortable sharing such vulnerabilities as their inability to stay still, feel normal or be able to speak. CASA volunteers also asked teachers if they observed the same behavior in their classroom. This allowed them to use the teachers' observations to substantiate their findings with the courts and social workers.

As a result, Imperial County judges now calendar discussions and hear evidence about the need for psychotropic meds."The judge is not going to sign off on it unless it's 'clear and convincing'," stated Cardenas. "Only if it's in the child's best interest."

Cardenas encourages other executive directors to look for connections between defiant school behavior and the administration of psychotropic meds. "See if the side effects are linked with behavior. The separation anxiety a child experiences from being removed from their home doesn't necessarily warrant psychotropic drugs. Don't rubber stamp," warns Cardenas. "CASA can, and should be a major player in determining if psychotropic meds are in the best interest of children."





California CASA Unveils New Website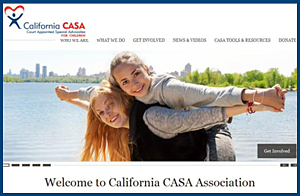 Welcome to California CASA's brand-y new website! We have new images. New language. New resources.

You may remember that we sent out a survey to local CASA staff and multiple stake holder groups 17 months ago, asking about our website: its content, navigation, tools and resources. And we listened to what everyone had to say.

Then we started working. We looked at designs, layouts, themes and widgets to create the best possible website. We re-wrote the content, improved the navigation, look, and feel of the site. We even added a new feature, the Marketing Resource Center, a central hub for local programs to share, upload, store, and search successful marketing materials and strategies. In the end, we created a website that incorporates our needs with your requests and suggestions.

We hope you like it.

Please take a look. And send us your feedback. We'd love to know what you think.





Spotlight on New Executive Director
Cesar Navarrete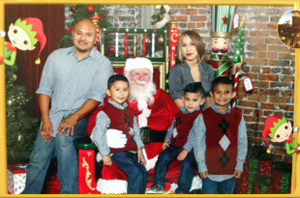 Though Cesar Navarrete has only served as executive director of Child Advocates of San Bernardino County for 10 months, he can immediately tell you his biggest challenge.
"Trying to serve the youth on our wait list. There's a big need," declared Cesar whose County has more than 3,400 children living in foster care. "How can I attract more volunteers?"
Working at CASA resonates with Cesar because he understands the feelings and experiences of abuse. "I came from a disadvantaged background. My father was abusive, physically and verbally. We were one of the cases where abuses existed, but were not caught," acknowledged Cesar. "I had all the signs but was quiet. People mistook it for being shy, and missed the issue."
His childhood experiences didn't stop Cesar from moving forward. He first started working with young people as a tutor with inner city youth. "Talking to kids at high school helped me build up my self-esteem and confidence," said Cesar. "I can help the next generation."
Before he finished his B.A. in Criminal Justice at Cal State San Bernardino, Cesar started working at Family Services Association as a group home child-care worker. He remained at Family Services for 10 years, where he ultimately became the director of programs administration working with a 400 person staff and a $22 million budget
Now he directs a different kind of operation."This group is a lot smaller," explained Cesar. "And they're here for the right reasons. They're really passionate. It makes my job a lot easier."
As executive director, Cesar's role has changed. "I miss the direct contact with youth and volunteers," admitted Cesar. "But I live through the eyes of my staff, by hearing about the success stories."
Cesar has great confidence in his Child Advocates' staff and the job they're doing. "My job is to support them, so it continues," said Cesar who doesn't see himself leaving this position anytime soon. "I see an opportunity to grow and expand the agency."
Despite his busy professional life, Cesar still has time to play with his three sons, ages 8, 5, and 4. "I'm up to date on all my Dr. Seuss books," announced Cesar who awaits the birth of his first daughter. "And I'm keeping up to date with cartoons and super heroes."





California CASA TV Ad Helps Santa Cruz and Monterey Counties Recruit Volunteers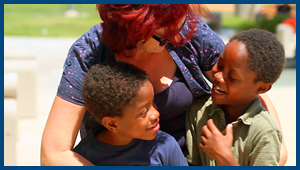 When Cynthia Druley, executive director of CASA of Santa Cruz County, saw the 30-second TV ad produced by California CASA, she knew she wanted something like it for her program.

"We had done research on running ads and had thought about creating our own. The others didn't resonate for us," explained Cynthia. "This one did. We wanted to show happy kids that CASAs are helping. That they are making a difference."

Cynthia shared what she had seen with her outreach coordinator, Cita Rasul, "We liked that it showed real people, cultural diversity, men and women. And it was very clear what a CASA volunteer really does," said
Cita. "It just showed adults hanging out with kids. Very simple and very clear."

Cita jumped on the task, first asking neighboring Voices for Children, CASA of Monterey County, if they would like to partner with them to cover the cost of running the ads on two TV stations, and 30-second spots on two radio stations. Monterey County said yes.

Then she reached out to California CASA staff who put her in touch with the board's Marketing Committee for help. A Committee member offered to brand the ad with a shared Monterey/Santa Cruz website and phone number.

The two local CASA programs budgeted for three campaigns, at $5,000 per organization ($4,000 each for TV, $1,000 each for radio), to run for two weeks in March, June and September, leading into their next trainings.

In order to reach a wide audience with limited dollars, they chose one TV station to air 25 paid spots during news broadcasts and received 30 bonus ads, which mostly ran on overnight off hours. They chose the second station, a local CBS affiliate that aired March Madness basketball games, because they wanted to reach men. The affiliate station ran 39 ads and at least 30 bonus spots.

Earlier in the year, California CASA had piloted the ad on a TV station in the greater Sacramento region, where it aired 160 times in three months benefiting 10 CASA programs.

The 30-second radio spots required two scripts – one targeting men, one targeting the general public. They chose the local country radio station to air the spot targeting men, which ran 47 times. The general appeal spot aired on the local NPR station 42 times.

Cita promoted the ads in advance by sending an email to her board, and posting it on Facebook with the following message, "Here's a sneak peek of the ad that will run this week."

In Cita's mind, the ads had one purpose, "We were hoping to get more volunteers. To bring CASA to people's consciousness. To keep it at the front of people's consideration."

Their efforts paid off. Thirty percent more people attended their April orientation.

They tracked their efforts by changing the forms on their website to find out how people had found out about the orientation. "We got a tremendous amount of feedback that people saw the commercial and liked it," remarked Cita. "For those weeks that the ad was running, web traffic was up to 39 visits a day. People couldn't hide from us."

Santa Cruz and Monterey County CASAs will repeat their advertising project in June and September. "The next two will be a teeny bit different. The CBS ads will be fewer, but focused in primetime," described Cita, hoping to hit a new audience. "I want to stick with the radio plan and see where we get by the end of the three campaigns."

Cita urged other local programs to join with neighboring counties to share the costs and the tasks. "I was able to make the time to negotiate the contract. Monterey County created the landing page," explained Cita.

She credits their success to forward thinking and supportive leadership, "We're really fortunate that we have an executive director and a board that budget time and staff to focus on outreach."

Also having access to California CASA's ready to use ad offered a huge benefit. "We were able to begin our first campaign within weeks of deciding to work with Monterey County," stated Cita. "We would have had to delay the campaign at least three months to produce our own commercial without it."

With seven months left in the year, Cita's already making her media plans for 2016. "We might do something very similar, but more local," proposed Cita, who wants to use sites, places and landmarks that speak to people in her community. "I like people being able to see themselves."

Click here to see the TV ad

If local program staff would like to use this television ad to recruit volunteers, please contact staff@californiacasa.org.





California CASA Plays a Key Role Supporting Several Statewide Policy Issues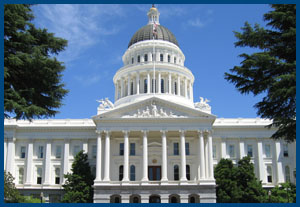 California CASA organized the California CASA Network, and together they played a key role in supporting several statewide policy issues affecting children and youth in foster care. Here's a review of their work.

Last year, California CASA and local CASA programs joined other advocates across the state to support the passage of SB 1023 (2014), Senator Liu's bill that authorized a Community College pilot program to provide additional supports to current and former foster youth who participate in the Educational Opportunity Program. California CASA rallied the support of dozens of local CASA programs and this support clearly helped the bill's passage.

This year, the primary sponsor of the bill, the John Burton Foundation for Children Without Homes, set out to ensure that funds were appropriated to implement SB 1023. And, while an exact dollar allocation has not been decided, the Governor's May revision of the budget specifically proposes the implementation of SB 1023, and provides a $15 million increase to "further close achievement gaps in access and achievement in underrepresented student groups."

According to Phil Ladew, Associate and Legal Director, many young people in foster care start community college, but don't finish; and, "these real-life supports, like counseling, books, supplies, tutoring, child care and help with transportation and housing can make the difference in helping youth achieve their dream of earning a degree."

The Budget should be finalized by July 1, 2015, but before then there still needs to be a response from the Legislative Analyst's Office, review by the budget committees of the Assembly and the Senate, and a legislative conference committee to iron out any differences.

+ + + + + + +

Local CASA program staff members know full well that attorneys representing children in dependency court struggle under a crushing caseload. According to the Children's Law Center of California, 32 California counties do not receive sufficient funding to honor the maximum amount of 188 cases. Of those counties, 15 are so under‐resourced that lawyers' caseloads have grown to more than double the maximum standard. Children have a right to the appointment of effective legal representation, and caseloads this high robs children of that right.

Last year, California CASA staff members reached out to the Network urging folks to support an increase in the State's appropriation for dependency counsel for children. This efforts was repeated this year, and nearly every local CASA program responded. California CASA submitted 44 letters of support addressed to Governor Jerry Brown's office and to the appropriate Assembly and Senate subcommittees.

This effort was joined by many other advocates across the state, yet, despite the Children's Law Center of California request for a $33.1 million increase, amounts have yet to be specifically appropriated. The outcry did not go unheard, however. The Governor's budget summary specifically addresses the need to reduce dependency attorney caseloads, and states: "The Administration will work with the Judicial Council to develop a caseload‑based allocation methodology and explore ways to reduce the number of cases per attorney."

+ + + + + + +

California CASA supports a package of four bills, sponsored by the National Center for Youth Law, aimed at addressing the overuse and lack of oversight in the administration of psychotropic medications on foster youth.

The legislative package includes bills to analyze and review overuse of psychotropic medications in certain group homes, provide judges with more information before authorizing psychotropic medication, insist that psychotropic medications are only authorized when there is a high probability that they are needed, and will increase access to public health nurses who can provide better monitoring.

According to Phil Ladew, "Something has to be done, and these (laws) will be significant step in the right direction."