Friend of CASA,
Welcome to California CASA's first e-newsletter!

Every day in California, children who have been abused or neglected join the state's population of more than 50,000 children in foster care. Those of us who have experienced the foster care system know it can feel disorienting, traumatic and isolating.

At California CASA Association, we believe that no child should go through the foster care system alone. That's why we work every day to raise awareness about the needs of children who find themselves removed from their homes through no fault of their own. We know the difference one person can make.

As supporters of California CASA, you deserve to know about our programs and achievements. And the people behind the stories. Our new publication will include news, information and much more.

In this inaugural issue, we feature Eddie Allen, a recently emancipated adult's success working at SWIRL. We profile, Jamie Carroll, a Humboldt CASA board member with an inspiring story to tell and Marissa Guerrero, a multi-skilled CalCASA Resource Development Manager. Please spend a few minutes watching a short video interview with Cory Pohley, CalCASA CEO. Read about our two new board members Malcolm Goepfert and S. Keating Rhoads. And an indepth story in the San Jose Mercury News, "Drugging Our Kids."
Be sure to include staff@californiacasa.org in your address book's list of approved senders and contacts. And please send ideas for articles, questions or comments to Karen Topakian, CalCASA's Communications Manager, ktopakian@californiacasa.org.





Working in Paradise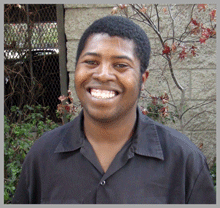 … that's what one of our emancipated CASA foster guys is doing: working in paradise. It's not the end of the story that matters. It's his path to getting there that can encourage all CASA supporters.

We're talking about Eddie Allen, the new Office Coordinator at Swirl, a successful, leading-edge advertising firm. Swirl and its location (the San Francisco Presidio's Main Post campus) comes as close to employment paradise as one could imagine. Especially for a CASA young adult like Eddie who experienced a myriad of challenges that brought him to CASA as a young child.

Eddie experienced abuse at eight years old and spent his educational career in special education classes. But with CASA support, he completed high school gang-free, crime-free, drug-free, and thriving! Given the statistics for foster youth (50% unemployment rate) his story can truly inspire.

Swirl found Eddie through Kelly Shultz, Director of Development and Marketing at Best Buddies, an agency that finds opportunities for people with intellectual and developmental disabilities. Eddie's CASA Advocate worked closely with Marilyn Ridgway, Supervisor at the Dept of Rehabilitation, who zealously supported Eddie through several job trainings and searches.

Eddie's story illustrates how CASA serves as the hub among various social service organizations to find CASA children a productive place in the world.
CASA connected these programs. Eddie eventually found Swirl and vice-versa. Swirl puts its company values into action by creating a respectful and worthwhile position for Eddie. His responsibilities include maintaining conference rooms, delivering mail and performing other inter-office functions, while generally spreading good-will, because he is so darn congenial.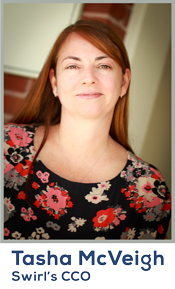 Swirl demonstrates how a modern model of company social responsibility can work for other organizations. For Eddie's initial training phase, Best Buddies provided an on-site job counselor, Maggie Michaels, who worked with him closely to help him understand and adapt to his position. Tasha McVeigh, Swirl's Chief Culture Officer (a very cool title) says, "Best Buddies' guidance, involvement and on-site support was invaluable in helping Eddie learn how to make a valuable contribution to the firm."

A trip around Swirl looks like a walk through corporate Nirvana. And Eddie makes his mail rounds all the while joking on a first-name basis with almost everyone in the 150 person firm including Co-CEOs Tom Sebastian and John Berg, Director of HR Annie Tahtinen. Many staff members clearly relish their working relationship with Eddie. But like all CASA kids, the path ahead for Eddie will never lack obstacles. It takes a company with compassion to provide an opportunity to succeed. And Eddie demonstrates his appreciation and commitment through determination and hard work.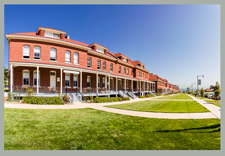 Today, Eddie gives out his business card like candy. It reads, "Eddie Allen. Office Coordinator. Swirl."

Company address: Paradise.





Profile of Marissa Guerrero

From mentoring underserved youth to working at the Princeton Review, Marissa Guerrero has done it all. But Guerrero found a home when she joined the California CASA staff in 2011.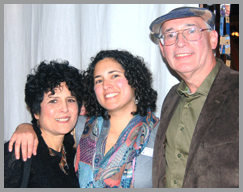 Marissa (center) with her parents at Lifting Hearts 2014

Like many CalCASA employees, Guerrero wears a few hats. She serves as Resource Development Manager, responsible for securing and raising funds for the statewide organization. And remains connected to the organization's mission by participating in curriculum development and training. Currently, she's conducting statewide LGBTQ trainings.

Guerrero loves her job because she can "build relationships with wonderful people who care deeply about children and become fiercely dedicated to and supportive of our mission." And she has another love, "I love going to board meetings, being in a room of really smart people, having intellectual exchange," said Guerrero. "I feel the same buzz from being in a classroom."

Even though she spent many years in a classroom earning her Ph.D. in political science, she apparently still misses the "buzz."

She described her biggest challenge at CalCASA as finding the time to get everything done. (A common lament from those who work in the nonprofit world).

While her work occupies her weekdays, Guerrero still has time for other activities: practicing yoga, visiting the seashore and the Morcom Amphitheater of Roses in Oakland. And serving as a CASA for a young adult.

"The most rewarding part of being a CASA is being that constant in the young person's life when they are experiencing change and instability - something that has become all the more important since she has turned 18," said Guerrero, who has been a volunteer for two and a half years. "The challenge is one I think all CASAs working with young adults face: navigating a balance of supporting her autonomy, while also helping her to set and accomplish goals."

At the moment, Guerrero's reading the six-volume tome, My Struggle... by Karl Ove Knausgaard, and listening to Put Your Hands Together with Cameron Esposito, a first-of-its kind weekly stand-up podcast taped live at the Upright Citizens Brigade Theatre in LA.

Despite her advanced degree and professional competency, Guerrero also enjoys delving into her one guilty pleasure: watching teenage drama TV shows.






Intro to Cory Pohley video

Watch this short, fun interview with Cory Pohley, California CASA CEO, as she shares, "Why I Came to California CASA."






D'Anthony's Story - Part 2
"D'Anthony's Story"– part 2 of a San Jose Mercury News series "Drugging Our Kids"
Click on this sobering look at the over-drugging of foster care youth. D'Anthony, a young Oakland man in foster care, struggles with growing up in multiple group homes while under the influence of doctor prescribed drugs.
Read about CASA volunteer, Tara Beckman's, successful advocacy efforts to help D'Anthony find his way.





New CalCASA Board Members

A Warm Welcome to Malcolm Goepfert and Keating Rhoads

California CASA is pleased to welcome and introduce our two newest board members, Malcolm Goepfert and Keating Rhoads. Both men possess considerable expertise in their fields as well as a deep passion and commitment for our mission. Mr. Goepfert and Mr. Rhoads join an impressive statewide board committed to supporting, strengthening and expanding CASA service in California. A brief summary of their distinguished careers follows:

Malcolm Goepfert has served as Director of Investments at the James Irvine Foundation since 2009. Working with the Chief Investment Officer and other investment staff, Malcolm conducts the sourcing, evaluation, recommendation and monitoring of the Foundation's investment managers, investment opportunities and portfolio. Prior to joining the Foundation, he was a Director of Investments with the W.K. Kellogg Foundation. Malcolm also worked as the Senior Investment Officer for private equity and real estate with the School Employees Retirement System of Ohio and as a Real Estate Investment Officer for the Alaska Permanent Fund Corporation. Malcolm holds a bachelor's degree in business administration from the University of Alaska Fairbanks and is a Chartered Financial Analyst.

Read Mr. Goepfert's words about joining the California CASA board:
"I am very pleased and honored to serve on the Board of California CASA and look forward to working with my fellow board members as we work to strengthen and support local CASA organizations throughout California."

S. Keating Rhoads serves as President of Learning Strategies International, an educational consulting and assessment services provider. During his forty-year business career, he has held senior leadership positions in the newspaper industry and various private equity backed companies. He became Chairman and CEO of Tartan Textile Services, a nationwide service provider to the healthcare and hospitality industries. He held several executive positions in a 20-year span in the newspaper business, most recently as Senior Vice President of Operations and Technology at the Los Angeles Times. In addition to volunteering as an Advocate, Keating served on the Board of Directors of CASA of Orange County (CA) and on the boards of the Los Angeles Urban League, the Times Mirror Foundation, the Blind Children's Learning Center and the Laguna College of Art and Design, among other nonprofits. He received an undergraduate degree from Stanford University and an MBA degree from Columbia University.

Mr. Rhoads says:
"I know firsthand that CASA has a proven and effective approach to helping abused and neglected children. Every foster child should have a CASA. I'm pleased to join California CASA in the pursuit of that goal."






Heartfelt Thanks

Thank You for Supporting California CASA!

California CASA could not support a statewide network of 45 local CASA programs, provide them with comprehensive program assistance or promote progressive child-centered policies in California without the generous support of our loyal funders.

Thank you to our individual contributors and the following funding institutions for supporting our efforts to ensure that children in the foster care system have both a voice and the services they need for a stable future:
Bank of the West

Kaiser Permanente Northern California Community Benefit Programs

National CASA

Stuart Foundation

van Löben Sels/RembeRock Foundation

Walter S. Johnson Foundation

Zellerbach Family Foundation