Friend of CASA,

Welcome to California CASA's first e-newsletter!
In response to your request for more communication, California CASA proudly offers you our first e-newsletter. We will continue to post the latest news and important updates as they happen via the listserve and on our website. We hope this e-newsletter will serve as a bridge between programs by profiling CASA programs and leadership throughout the state, sharing news and resources and highlighting the work we do in support of your programs and our shared mission.
We will send our new publication to our entire state network of programs, staff, volunteers and supporters. Be sure to include: staff@californiacasa.org in your address book's list of approved senders and contacts. And please send ideas for articles, questions or comments to Karen Topakian, CalCASA's Communications Manager, ktopakian@californiacasa.org.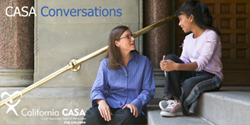 CASA Conversations – A new tool for volunteers and staff
When it's time to hold a difficult conversation about topics like money, sex or grief, we often hold back because we don't know what to say. Knowing how to start and conduct these conversations takes time and skill. Unless we possess professional training, we might just bumble through them or avoid them completely.
At California CASA, we recognized the need for CASA volunteers to navigate these conversations in a meaningful way. Children and youth need a place to discuss their own health and well-being. That's why we developed 14 CASA Conversations on the following topics:
Bullying

Credit

Drug and Alcohol Use by Teens

Employment and Job Search

Exercise: Movement Matters

Grief and Loss

Keeping Your Money Safe / Identity Theft

Starting a Conversation

Psychotropic Medications and Foster Youth

Nutrition: Rethink Your Drink

Sexual Orientation and Gender Identity and Expression

Spending and Saving

Therapy

Youth Runaway/AWOL
CalCASA staff consulted with experts and carefully researched and wrote the facts, along with general guidelines, conversation starters and tips on how to avoid common mistakes when tackling hard topics.
Then the CalCASA staff shared early drafts with the California Youth Connection's Curriculum Advisory Team for a final review. These young adults who are currently or formerly in foster care, refined the CASA Conversations, lending their voices and experience to bring the Conversations alive.
As part of a pilot program funded by Kaiser Permanente Southern California, CalCASA staff introduced the Conversations to staff members from seven Southern California CASA programs in a five-hour, in-person training.
During the six-month pilot program, staff members developed their own unique strategies for implementation, which included:
Using CASA Conversations as a training tool – for case planning and topical trainings on issues such as AWOL/Running Away

Including CASA Conversations in an "Advocate Resources" section on their program's website

Building a training around CASA Conversations that helps advocates prepare for conversations on a wide variety of topics

Employing examples from CASA Conversations to inform role plays in training

Incorporating CASA Conversations into new or existing curricula (in this case, a new curriculum to support advocates working with transition-aged youth)
And the program doesn't end there! Now every local CASA program can have access to the full set of CASA Conversations by going to our

CASA Conversations

webpage.
P.S. CASA Conversations have already proved successful and game changing. Alex Cardenas, Executive Director of Imperial County CASA, shared that the Psychotropic Medication CASA Conversation gave advocates a script and a strategy to engage youth and their caregivers about their prescriptions and side effects. These early efforts prompted CASA and the court to request a mental health assessment for every child entering care. This example demonstrates CASA Conversations' potential for tremendous impact. Volunteers armed with the information and guidance they needed to start a conversation, expanded their advocacy focus, affected the children's outcomes and made the court more responsive to Imperial County's foster care children's mental health needs.



CASA ED Spotlight

Marilyn Barr, ED CASA Tulare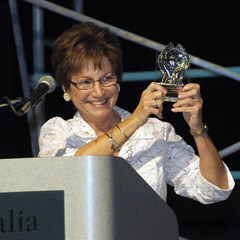 Marilyn Barr accepts CASA Tulare's Non-Profit of The Year award.

Marilyn Barr's sense of responsibility and diligence showed itself in her first job babysitting as a young teenager. "I always did a little more," said Barr, executive director of CASA Tulare. "When the kids went to bed, I picked up their stuff. I was just never able to do the minimum."

She's carried that same work ethic throughout her professional life. For the past 16 years, Barr has successfully led this Central California county's CASA. And her work hasn't gone unnoticed. In 2014, the Visalia Chamber of Commerce awarded CASA Tulare their Non-Profit of The Year award.

But Barr didn't start at the top. She began by organizing CASA Tulare's first fundraiser in 1995, then was asked to join the board of directors. "I don't ever remember saying "Yes," recalled Barr. But she did, and served on the board for two years.

When the executive director resigned at the end of 1997, Barr beat the bushes looking for a new executive director.

"Not too many sane people accept this responsibility for this pay," said Barr about the challenge of finding a qualified candidate. She chose to apply for the position, took a sizeable pay cut to work for CASA Tulare and has never looked back.

Barr loves speaking up for those who don't have a voice. The words executive director after her name help her speak up a little louder. "The title opens doors that would not otherwise open. It gives credence so people will listen," said Barr, who walks through that open door to work on systemic changes that will affect the lives of foster children.

However, Barr doesn't love the annual race to raise money. "Every single year Mount Everest gets higher. You have to sustain what you have [raised] and get more," said Barr, who works in a county with a low literacy rate and a high child poverty rate.

When Barr's not raising money and providing leadership for her organization, she's kicking back with her four grandchildren, ages four to thirteen. Listening to music - everything from the Beach Boys, to Barbara Streisand, Neil Diamond, Glen Miller, opera and Celtic music. Or burying her nose in a book.

At the moment, she's reading "Unbroken" by Laura Hillenbrand, about Louie Zamperini, who started as a teenage brawler and became an Olympic runner. According to Barr, he was in all kinds of trouble, all the time: stealing, bad mouthing and fighting. But his older brother believed in him and pushed him to get involved in his school track team. When Louie found out he could run, he turned himself around. Barr reflected, "If CASA has any message, it's [the power of] someone believing in kids."





News From National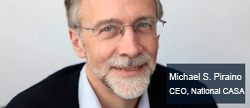 Michael S. Piraino, CEO National CASA
National CASA's name for their new strategic framework says it all: Prioritizing Partnerships with State Programs to Build Capacity. And they aren't kidding!

The framework clearly states National's commitment. "Supporting our programs should be the top priority of the states and National CASA, and if it is, we have to rally around them to give them the level and type of support that they need," says Michael Piriano, National CASA executive director.

National CASA will use this framework to guide their future planning, direct their work and focus their activities.

Piriano believes the strategic framework will make National CASA a "leading edge networked group of organizations on behalf of these kids."

They've chosen to concentrate on five areas. The first three listed below will affect local programs directly.
Strong Support to the Programs

Effective Partnerships with State Organization

Platform for Financial Sustainability

Planning Research and Analysis

Governance Effectiveness
Under Strong Support to the Programs, National CASA will bolster services and support local programs. Specifically, they will increase resources and expertise in both human and financial resource development, marketing and communications, training and technical assistance upon request. They will convert from a regional program officer model to a model organized functionally by clustering services to programs with unique but similar needs, e.g. urban, rural, tribal etC.

In the second area, Effective Partnerships with State Organization, National CASA believes that their success hinges upon a strong system of state organizations.
Therefore, they will partner with existing state organizations to build and support the development of state offices or statewide support systems where they don't exist. This partnership should build a stronger network of programs and increase the efficiency and effectiveness of their work.

And finally, in the third section, Platform for Financial Sustainability, National CASA will re-invest in state organizations and increase funding for capacity building in their programs.

This sea change in focus and practice began with conversations with the states. According to Piriano, California CASA CEO Cory Pohley and her staff contributed to the changes. "It's really been helpful to have Cory as a part of the national leadership in public policy to go to Capitol Hill, and as we've been thinking through this framework. The leadership coming from Cory is extraordinary. She's a natural leader in our network. She has a way of communicating to help understand key issues and why it's important to take action on a national level," said Piriano.

He encourages all CASA programs to recognize the significance of this new strategic framework. Piriano who wants to change the lives of children said, "This is not just tinkering with structure. But transformational."

Cory Pohley, California CASA CEO also sees great value in this new direction, "This new strategic framework presents an opportunity for birthing a fresh approach. I believe it will bring about a more cohesive, compassionate and effective CASA movement."

At the December CASA Director's meeting, NCASA's new Chief Strategy Officer, Tara Perry and Policy Director, Ashley Lantz, will discuss these new directions and approaches.

Policy & Practice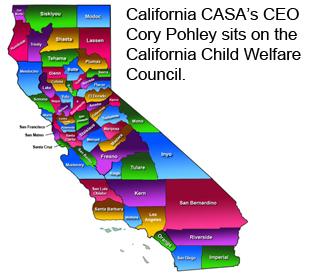 What is the Council?
The California Child Welfare Council (Council), a statewide multidisciplinary advisory body established by the 2006 Child Welfare Leadership and Accountability Act, bears responsibility for improving services to children and families in the child welfare system and those at risk of entering the system.
The Council must also report on the extent to which child welfare programs and the courts respond to children in their joint care's needs.
They bring together leaders from multiple agencies across all three government branches at the state and local level, as well as providers, advocates, service recipients and other stakeholders.
Visit the following link to access the
2013–2014 California Child Welfare Council Annual Report (PDF)
detailing the Council's major accomplishments over the past year.
When and where does the Council meet?
The Council meets in-person quarterly from 9:30 a.m. to 12:30 p.m. and alternates between Los Angeles, San Francisco, and Sacramento. Meetings are open to the public and can also be accessed using a conference call-in number (see link below.)
Many child welfare stakeholders who are not on the Council are involved in supporting the Council's work through attendance at Council meetings and participation on one of the four standing committees* that meet immediately following each Council meeting from 1:00– 4:00 p.m. If you'd like to attend a Council meeting, the schedule, location, agenda, and materials for each meeting can be found on their
Council Meeting Information
page.
The Council welcomes the CASA voice and perspective!
*Prevention and Early Intervention; Permanency; Child Development and Successful Youth Transitions and Data Integration and Information Sharing.