| | |
| --- | --- |
| | |
Volume 5, Issue 42



NOFAS News
Draw or Design NOFAS' 2014 Holiday Card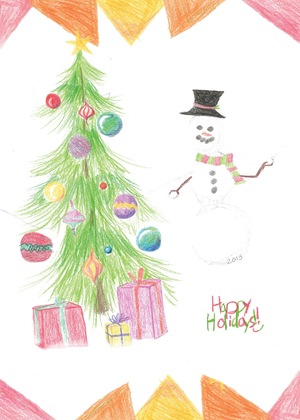 Send us your drawing or design for the 2014 NOFAS Holiday Card! Your design could be selected to become the cover of the 2014 NOFAS holiday card and be mailed out to hundreds of members of the NOFAS and FASD community..
Community News
The Birth Mother Perspective on FASD: An Interview with Kathy Mitchell of NOFAS
"Kathleen Tavenner Mitchell, M.H.S., LCADC, is Vice President and International Spokesperson for NOFAS. She is also the birth mother of a daughter, Karli, who was diagnosed with FAS in 1986… For this month's Ask the Expert, Ms. Mitchell has been kind enough to provide her perspective on being the birth mother of a child with an FASD, and on her extensive work to increase awareness of FASD and increase and improve services for individuals with an FASD as well as for women who are dealing with addiction issues." –
FASD Center fo Excellence
Profile of 13-Year Old Tracy, Living with FASD (Part 3)
This article continues to tell the story of 13-year old Tracy. "School and time with some peers has become a nightmare for Tracy… Less-than-kind peers and even "trained" teachers feel she is "acting out," "not trying hard enough," "has bad parenting," or take your pick of other judgments. The truth of the matter is: Tracy has a brain-based disorder caused by her biological mother having consumed alcohol while pregnant with her." -
Ionia Sentinel-Standard
Research News
Young Adults with FAS: Social, Emotional and Occupational Development
"Maternal alcohol abuse during pregnancy causes physical, cognitive and behavioural impairments in the child. Deficits are irreversible and persist into adulthood. It was the objective of this study to investigate the specific problems and challenges faced by young adults with Fetal Alcohol Syndrome (FAS)." -
Klinische Padiatrie
Fine Motor Skills in Children With Prenatal Alcohol Exposure or FASD
"This systematic review examined which types of fine motor skills are impaired in children with PAE or FASD; which fine motor assessments are appropriate for FASD diagnosis; and whether fine motor impairments are evident at both "low" and "high" PAE levels." -
Journal of Developmental and Behavioral Pediatrics (JDBP)
Public Health/Policy
FASD Debate in U.K. Parliament
"Bill Esterson , a U.K. MP is to hold a debate in Parliament about the dangers to children of their mothers drinking alcohol while pregnant… Mr Esterson said: "Children who in care or who are adopted are often among those most at risk of having been exposed to alcohol during pregnancy and adults who support children in care often have little or no idea of the difficulties which children with FASD and those around them face." –
Southport Visiter
Study: Binge Drinking Risk to Baby's Mental Health
"Pregnant women who binge drink could raise the risk of mental health problems in their children, research shows. The study, conducted by the universities of Nottingham, Bristol, Oxford, Sheffield and Leicester, discovered problems with hyperactivity, attention deficit and poor exam results persisted at ages four, seven and 11." –
Independent Online
Webinars
Preventing Fetal Alcohol Spectrum Disorders
October 21, 2014. 4:00 PM EST. "This webinar will be led by Susan J. Astley, Ph.D. At the conclusion of this presentation, participants should be able to: 1. Understand that alcohol is a teratogen and identify the outcomes associated with prenatal alcohol exposure 2. Identify patients at risk for offspring with FASDs…"
The Impact of Prenatal Alcohol Exposure on the Eye and Vision
October 22, 2014, noon – 1:30 pm CDT. "MOFAS will host a fascinating webinar presented by Dr. Ray Areaux an Ophthalmologist and professor at the University of Minnesota. The webinar will explore the impact of prenatal alcohol exposure and conditions, such as optic nerve hypoplasia. The webinar is designed for healthcare professionals."
Webinar: FASD Basics
October 29, 2014, 1:30 pm – 3:00 pm CDT. "MOFAS will present the FASD Basics designed to provide an introduction to Fetal Alcohol Spectrum Disorders. This webinar is designed for primary and behavioral health care providers, social workers, educators, and other professional who work with individuals with an FASD and their families."
Events
2014 Alberta FASD Conference
October 20-21, 2014. Edmonton, Alberta, Canada. "The Government of Alberta invites you to join us in this important multidisciplinary conference focused on FASD and its impact on individuals, families, communities and society at large. The conference will feature keynote presentations by Hayley Wickenheiser, Michael J. Kendrick, Peter Choate and Drew Dudley, and over 35 breakout sessions discussing the latest practices in FASD prevention, assessment and support."
Struggling in School: Making Sense of IEPs, 504s, and Your Child's Right to an Education
October 25, 2014. Calverton, Maryland. "Is your child struggling in school? Deciding how to take the next step in supporting your child's education can be a daunting task. Educational jargon, contradictory advice and excessive red tape only make the process more difficult. Adoptions Together has created a training to help clarify the process of helping your child receive an appropriate education."
FASD: A Focus on Congenital Heart Defects November 4, 2014. St. Petersburg, Florida.
This CME accredited course will provide current information on effects of alcohol on the developing cardiovascular system in addition to neural effects and the societal impact. Current research and studies will be addressed. Presenters include MOFAS Founder Susan Carlson, JD, Katherine Shea, PhD and NOFAS Vice-President Kathy Mitchell.
Conference: FASD and Human Rights
November 13-14, 2014. Brooklyn Park, Minnesota. Registration is open for the annual FASD matters conference. This year's theme is FASD and Human Rights. We have exciting keynotes planned for the event.
Please send suggested items for the roundup (events, articles, research) to information@nofas.org

The content of the NOFAS Weekly Roundup does not necessarily reflect the official positions or views of NOFAS.

The NOFAS Weekly Roundup is edited by Andy Kachor.