| | |
| --- | --- |
| | |
Volume 5, Issue 37



NOFAS Event
NOFAS International Gala.
September 17, 2014. Washington, DC. Gala celebrating 25 years of NOFAS at the Embassy of Italy. Honoring: His Excellency the Ambassador of Italy Claudio Bisogniero, The Honorable Tom Harkin, and The Honorable Lisa Murkowski.
NOFAS Webinar
FREE Webinar: How to Do "FASD-Informed Care"
September 24, 2014. 2:00 PM – 3:00 PM EST. This webinar features Dr. Heather Carmichael Olson, PhD. on "Adapting Existing Treatments, Adopting New Interventions."
Community News
NOFAS Ohio Holds 'Too Young To Drink' Campaign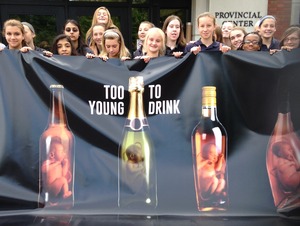 "An event was held on the campus of the University of Toledo on Tuesday in hopes of educating women about the dangers of drinking during pregnancy. Double ARC, a local non-profit organization serving children with Fetal Alcohol Spectrum Disorders (FASD), displayed banners and posters outside UT's Student Union at 9:09 a.m." - NBC News 24
Alcohol-related Disabilities 'Invisible' in Canada, Advocates Say
"FASDay, a global awareness day for Fetal Alcohol Spectrum Disorder (FASD), is held on the ninth day of the ninth month… Brian Philcox, who organizes the day every year, with his wife Bonnie Buxton says, "There's no safe kind [of alcohol], no safe time [to drink alcohol]. When you're planning a pregnancy, that's when you should stop drinking." In Toronto, the couple's charity, FASworld, is holding a "pregnant pause" to coincide with FASDay on Tuesday. " - CBC News
'Too Young to Drink' Campaign Launch
"The Drink Think Project, based in Derry, launched their part of the European 'Too Young To drink' campaign at Guildhall Square on Tuesday. It aims to raise awareness of the risks of drinking alcohol during pregnancy and this year nearly 60 organisations in 30 countries took part on September 9, the 9th day of the 9th month, at 9:09am, on the occasion of the International Fetal Alcohol Spectrum Disorders Day." – Derry Journal
Public Health/Policy
CDC Feature on FASD
This is a great new feature from CDC for FASD Day, which tells the story of a young man, Sasha, and his experiences with FASDs.
Vermont Health: No Alcohol During Pregnancy
"Vermont Department of Health is sending a message to your providers. The bottom line is drinking alcohol at any point of the pregnancy is bad for your baby." – My Champlain Valley
Research News
Binge Drinking ONCE During Pregnancy Can Damage Child's Mental Health and School Results
"Pregnant women who drink four glasses of wine in one sitting can damage their unborn child's mental health, scientists have warned. Researchers found binge drinking during pregnancy can increase the risk of mental health problems in 11-year-olds, particularly hyperactivity and inattention." – Daily Mail
TIME Magazine: This Is Your Child's Brain on Alcohol
"Social scientists have calculated that detrimental effects of alcohol cost the U.S. some $223.5 billion a year... But there's a more disturbing cost that you might be surprised to learn about that's not even factored into those staggering numbers: fetal alcohol spectrum disorders, the conditions that can result when a mother drinks during pregnancy." - TIME Magazine
UNM Opens New Center to Study FASD
"The University of New Mexico has launched the nation's only research center targeting fetal alcohol syndrome disorder, with support from an $8.1 million federal grant, the center's director said." – Albuquerque Journal
Indiana School of Science researchers receive $200,000 grant to research FASD
"Researchers from the School of Science at Indiana University-Purdue University Indianapolis hope to increase awareness of the risks of drinking alcohol while pregnant." – IUPUI Newsroom
FASD Study
FASD Strongest Families Study
"The Strongest Families FASD program will be delivered to families in their own home, over the Internet and by telephone. The program is designed to help parents/caregivers deal with challenging behaviors that are present in kids with FASD. We are currently looking for families who have children aged 4-12 years, living in Canada, and have a FASD diagnosis to take part in our study. If you would like additional information about the Strongest Families study, you can find it
at this link
"
International FASD Day Campaign
Too Young to Drink - International Campaign
On September 9, the 9th day of the 9th month, at 9:09am, over 30 countries and 90 organizations participated in an international FASD public awareness campaign. The European FASD Alliance spearheaded the effort and the National Organization on Fetal Alcohol Syndrome (NOFAS) led the U.S. effort. NOFAS partners included: NOFAS-NH (Andrea LL Macht), NOFAS/FASD-Australia (Vicki Russell) , NOFAS-OH (Sr. Suzette Fisher; Double Arc), Better Endings New Beginnings (Jodee and Liz Kulp), UNC Bowles Center for Alcohol Studies (Kathy Sulik) , University of Washington (Kay Kelly and Theresa Grant), University of Oklahoma (Tatiana Balachova) and San Diego State University (Ed Riley) The images for the campaign were conceived by Cuban artist Erik Ravelo responsible for Social Engagement Campaigns at Fabrica, the Benetton group's communication research center. On 9-9-14 at 9:09 A.M. local time campaign banners and posters were hung in front of historic sites and museums and cities across the world. The visuals started in Austrailia and ended in California. The photos were then spread across FaceBook and twitter using the hashtag: #TooYoungToDrink Find international photos on Facebook Page:
"Too Young To Drink"
Webinars
FREE Webinar: How to Do "FASD-Informed Care"
September 24, 2014. 2:00 PM – 3:00 PM EST. This webinar features Dr. Heather Carmichael Olson, PhD. on "Adapting Existing Treatments, Adopting New Interventions."
FASD: Supporting Across the Lifespan
September 24, 2014. 12:00 PM – 1:30 PM EST. "Families with loved ones diagnosed with an FASD are often caught up in the day to day challenges of raising their children, but in the back of their minds, they worry about the future… Families need support and encouragement from professionals in looking at the lifespan of their loved ones."
The Impact of Prenatal Alcohol Exposure on the Eye and Vision
October 22, 2014, noon – 1:30 pm CDT. "MOFAS will host a fascinating webinar presented by Dr. Ray Areaux an Ophthalmologist and professor at the University of Minnesota. The webinar will explore the impact of prenatal alcohol exposure and conditions, such as optic nerve hypoplasia. The webinar is designed for healthcare professionals."
Webinar: FASD Basics
October 29, 2014, 1:30 pm – 3:00 pm CDT. "MOFAS will present the FASD Basics designed to provide an introduction to Fetal Alcohol Spectrum Disorders. This webinar is designed for primary and behavioral health care providers, social workers, educators, and other professional who work with individuals with an FASD and their families."
Events
NOFAS International Gala.
September 17, 2014. Washington, DC. Gala celebrating 25 years of NOFAS at the Embassy of Italy. Honoring: His Excellency the Ambassador of Italy Claudio Bisogniero, The Honorable Tom Harkin, and The Honorable Lisa Murkowski.
DC

Department of Health - Think Before you Drink
September 19, 2014. Washington, DC. The conference goal is to increase the awareness of risks associated with perinatal and alcohol use and its' effect on the fetus. Kathy Mitchell, Vice-Predident of NOFAS and Taylor Allen, member of the NOFAS Support Group, will be presenting.
ATTACh Conference, Trauma-Informed Treatment: The Intersection of Attachment, Science, and Hope
September 17-20, 2014. Orlando, Florida. "This conference brings together a global network of professionals and parents for transformative workshop sessions with leading experts in the field of trauma and attachment. Dr. Ira J. Chasnoff, leading researcher in the field of child development and the effects of maternal alcohol and drug use on the newborn infant and child, will present an all-day Pre-Conference training on September 17th."
Healthier Pregnancy: Tools and Techniques To Best Provide ACA-Covered Preventive Services
September 23, 2014. 9:00 AM – 10:30 AM EST. "This event will focus on the following topics using trauma-informed care principles: Tobacco, Alcohol, Depression, Intimate partner violence, Obesity, Breastfeeding."
FASD Action Summit
September 26, 2014. Moline, Illinois. "Join national experts in the field of FASD as they present the latest research and practices regarding prevention, diagnosis and strategies for living with the neurodevelopmental conditions associated with the use of alcohol during pregnancy."
Workshop: FETAL ALCOHOL & OTHER NEUROBEHAVIORAL CONDITIONS
October 16, 2014. Portland, Oregon. "The workshop will educate you on the current status of research for identification and on a best practices approach for treatment and accommodations. The goal is to increase understanding, reduce frustration, and expand options. Case examples of successful diagnosis, treatment and accommodations are central to this training."
2014 Alberta FASD Conference
October 20-21, 2014. Edmonton, Alberta, Canada. "The Government of Alberta invites you to join us in this important multidisciplinary conference focused on FASD and its impact on individuals, families, communities and society at large. The conference will feature keynote presentations by Hayley Wickenheiser, Michael J. Kendrick, Peter Choate and Drew Dudley, and over 35 breakout sessions discussing the latest practices in FASD prevention, assessment and support."
Struggling in School: Making Sense of IEPs, 504s, and Your Child's Right to an Education
October 25, 2014. Calverton, Maryland. "Is your child struggling in school? Deciding how to take the next step in supporting your child's education can be a daunting task. Educational jargon, contradictory advice and excessive red tape only make the process more difficult. Adoptions Together has created a training to help clarify the process of helping your child receive an appropriate education."
FASD: A Focus on Congenital Heart Defects
November 4, 2014. St. Petersburg, Florida. "CME accredited course. FASD is a world-wide epidemic. The purpose is to provide current information on effects of alcohol on the developing cardiovascular system in addition to neural effects and the societal impact. Current research and studies will be addressed."
Conference: FASD and Human Rights
November 13-14, 2014. Brooklyn Park, Minnesota. Registration is open for the annual FASD matters conference. This year's theme is FASD and Human Rights. We have exciting keynotes planned for the event.
Please send suggested items for the roundup (events, articles, research) to information@nofas.org

The content of the NOFAS Weekly Roundup does not necessarily reflect the official positions or views of NOFAS.

The NOFAS Weekly Roundup is edited by Andy Kachor.