| | |
| --- | --- |
| | |
Volume 5, Issue 26
NOFAS Event Video
NOFAS American Indian Honoring Reception
Watch a brief video with highlights from our reception, including remarks by U.S. Congressmen Don Young of Alaska and Mike Honda of California, Ernest L. Stevens of the National Indian Gaming Association, and Mary Pavel of the U.S. Senate Committee on Indian Affairs.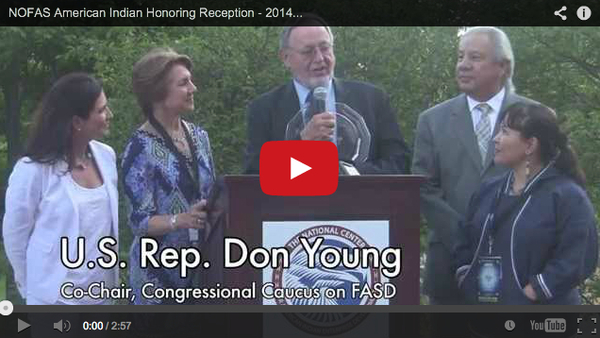 Research News
Effects of Prenatal Alcohol Exposure on the Development of White Matter Volume and Change in Executive Function
"These novel results relating improved cognitive function with increased white matter volume in fetal alcohol spectrum disorders (FASD) suggest that better cognitive outcomes could be possible for FASD subjects through interventions that enhance white matter plasticity." -
Pediatrics
CDC Report: 1 in 10 Deaths among Working-Age Adults Due to Excessive Drinking
From CDC's Excessive Alcohol Use Prevention Team. "Excessive alcohol use accounted for approximately 88,000 deaths per year from 2006 – 2010, and accounted for 1 in 10 of all deaths among working age adults ages 20–64… In total, excessive alcohol use led to 2.5 million years of potential life lost each year, and shortened the lives of those who died by about 30 years."
Community News
Why Doctors Don't Talk to Pregnant Women About Toxic Chemicals
"Reducing pregnant women's exposure to environmental toxins was recently deemed "critical" by the American College of Obstetricians and Gynecologists to prevent birth defects and other fetal health problems. But a survey published last week of more than 2,500 physician members of that group found that fewer than one in five of them ask pregnant patients about any exposure they have had to unsafe levels of toxic chemicals." –
Boston Globe
Australian Woman with FASD Returns Home from Jail
Rosie Fulton is a 24-year old Aboriginal woman with FASD. She spent 21 months in jail in Australia without trial or conviction and has just been released. -
Australian Broadcasting Corporation
Alberta, Canada Town Supports Local FASD Organization
"Committed to helping people with health issues, High Prairie town council presented a check of $7,000 as the grant for the Northern Association for Fetal Alcohol Spectrum Disorder that serves the High Prairie region." –
South Peace News
Policy News
Canadian Bill Could Change the Way People with FASD Go Through Courts
"Yukon MP Ryan Leef's… private members bill proposes two things: It puts Fetal Alcohol Spectrum Disorder (FASD) in the Criminal Code, and it gives instruction to the court to order an assessment on individuals where FASD is suspected to have played a role in his or her crime." –
CKLB Radio News
Australian Government To Spend $9.2 million on FASD Prevention
"The scheme will implement targeted approaches to better prevent and manage the issue by helping women reduce and ultimately cease drinking in the lead up to the birth of their child, Assistant Health Minister Fiona Nash told the Senate on Wednesday." –
Daily Mail
Australian Magistrate: Injustice for Young People with FASD
"A Children's Court magistrate who worked in the Kimberley [in Australia] for two years says injustices are being done when it comes to young people with Fetal Alcohol Spectrum Disorder (FASD)." –
Australian Broadcasting Corporation
Webinars
FASDs: Myths, Media, and Medical Home
July 16, 2014 at 3 pm ET (30 minutes). Webinar though CDC/NCBDDD cooperative agreement with The American Academy of Pediatrics (AAP). "The myths, media and the medical home session will highlight common media misconceptions about alcohol use during pregnancy, provide a clinical overview of fetal alcohol spectrum disorders, and most importantly discuss the role of medical home providers in identifying and managing children with FASDs."
FASDs: Detection, Discovery, and Diagnosis
July 28, 2014 at 3 pm ET (30 minutes). Webinar though CDC/NCBDDD cooperative agreement with The American Academy of Pediatrics (AAP). "The detection, discovery and diagnosis session will delineate the signs and symptoms that may indicate prenatal alcohol exposure and a possible condition along the continuum of FASDs. An algorithm for evaluation of FASDs will be introduced and discussed as a tool for diagnosis and referral in primary care. Information about various diagnostic tools will also be shared."
FASD Definition, Prevalence, and a Practical Approach to Diagnosis
July 31, 2014. 12:30 PM – 2:00 PM EST. "Fetal Alcohol Spectrum Disorders are the most common and preventable cause of developmental disability in the world. This presentation will cover background, defining terms and active studies regarding prevalence and clinical manifestations."
FASDs: Roles, Referrals, and Reimbursement
August 13, 2014 at 3 pm ET (30 minutes). Webinar though CDC/NCBDDD cooperative agreement with The American Academy of Pediatrics (AAP). "The roles, referrals and reimbursement session will provide primary care clinicians with the tools they need to work with families and children who have or may have an FASDs. Dr Wargowski will identify the appropriate professionals needed to build an FASD team and discuss options for community based resources for referral and treatment. Billing, coding and reimbursement will also be discussed."
FASDs: Communication, Care Plans, and Care Coordination
August 13, 2014 at 3 pm ET (30 minutes). Webinar though CDC/NCBDDD cooperative agreement with The American Academy of Pediatrics (AAP). "The communication, care coordination and co-management session will confirm the importance of a medical home and its role in working with patients and families. Drs Matthias and Chasnoff will review the development of comprehensive care plans and present several case studies to demonstrate different approaches to care coordination and co-management."
Events
Supporting Children Affected by Parental Co-occurring Disorders: Substance Abuse, Mental Illness, HIV
June 30 - July 2, 2014. Seattle, Washington. "The ​National ​AIA ​Resource ​Center ​invites ​you ​to ​attend ​a ​ national ​symposium ​tasked ​with ​formulating ​an ​informed ​response ​ to ​address ​the ​needs ​of ​children ​whose ​parents ​have ​ co-occurring ​disorders."
Frontier Regional FASD Training Center In-Person Trainings
. In order to provide a comprehensive recipe of advocacy for those with an FASD, this workshop will take participants on a journey that enfolds the fields of prevention, intervention and ethics within the FASD domain.
Fargo, ND - July 9, 2014
.
Billings, MT - July 16, 2014
.
Denver, CO - July 30, 2014
.
Boise, ID - August 13, 2014
.
Salt Lake City, UT - September 11, 2014
.
FASD Training
MILE Instructor Training
August 1 & 2, 2014. Atlanta, Georgia. "The training consists of a 1½ day theoretical and hands on model, where participants practice the Math Interactive Learning techniques, developed for children with FASD."
Call for Presenters
MOFAS is Seeking Applications for Presenters for the 2014 Annual FASD Matters Conference
November 13 - 14, 2014. Minneapolis Marriott. "We are looking for presentations with a human rights focus that: provide new information, ideas and solutions for families, agencies, and systems to implement share innovative strategies, tools, and best practices increase the knowledge, skills, and abilities of those living and/or working with someone with an FASD."
Please send suggested items for the roundup (events, articles, research) to information@nofas.org

The content of the NOFAS Weekly Roundup does not necessarily reflect the official positions or views of NOFAS.

The NOFAS Weekly Roundup is edited by Andy Kachor.