| | |
| --- | --- |
| | |
Volume 6, Issue 4
NOFAS News
Dianne O'Connor on Raising Adults with FASD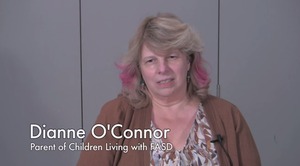 NOFAS produced this video interview with Dianne O'Connor. She discusses her experience raising six children with FASD, who are now adults. Dianne offers some tips to parents on how to get services for their children.
Community News
Student with FASD Has Moment to Shine at Basketball Game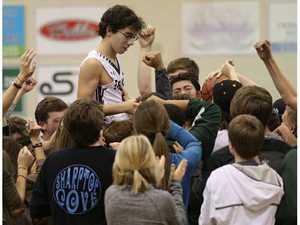 This inspiring article describes the moment when high school senior Nicholas Bennett, who lives with FASD, was picked up on the shoulders of cheering students after making his 1,000th half-court shot at their recent basketball game. –
Gainesville Times
Hope in South Africa to Prevent FASD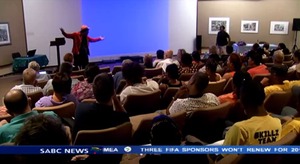 This South African national news report the non-profit "Hope in South Africa" which has launched a two-year project to prevent FASD through the use of sports. –
SABC News
New Company Creates Jobs for People with Developmental Disabilities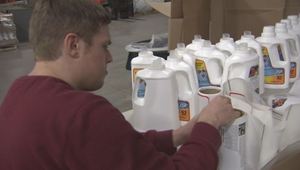 This local news video reports on "Achieve Services" in Minnesota. "Daniel O'Connor, who lives with fetal alcohol syndrome, is one of nearly a dozen who are working in the factory sticking labels on detergent bottles, packaging the products, and filling orders." –
KMSP NEWS
Public Health
CDC Warns of High Opioid Use by Women of Childbearing Age
"Narcotic painkillers — which can cause birth defects — commonly were prescribed for women of reproductive age, according to new data by the CDC. The research… found that 39% of women ages 15 to 44 on Medicaid and 28% of those on private insurance received an opioid prescription. "Many women of reproductive age are taking these medicines and may not know they are pregnant and therefore may be unknowingly exposing their unborn child," CDC Director Tom Frieden said in a statement." –
Milwaukee-Wisconsin Journal Sentinel
Policy
$19.5M Renews Neurodevelopmental Disorders Research Network
"NeuroDevNet, a Vancouver-based national network is being renewed for five years with funding of $19.6 million from the federal government. The funding supports collaborative research into pediatric neurodevelopmental disorders, specifically autism, cerebral palsy and fetal alcohol spectrum disorders (FASD)."
Webinars
A Method to Improve Outcomes in Treatment by Recognizing FASD
February 19, 2015. 2:00 PM – 3:30 PM EST. "In this Third Thursday iTraining, Mr. Dubovsky discusses a model for screening adults in treatment for a possible fetal alcohol spectrum disorder and modifying treatment approaches."
Events
Papillion Center FASD Conference
January 30, 2015. Nashville, Tennessee. Strategies for Education: Understanding FASD and Children from Hard Places. "Do you live with, teach, or work with a child from a hard place? Do you find yourself wondering how to best help the child in your care? If so, this conference is for you. We will be covering the "why" behind the behaviors and the "how" to help makes things different. You will leave this conference with a "tool box" of usable information and a greater understanding for the children in your care."
FASD Presentation at Cal State San Bernardino
February 4, 2015. San Bernardino, CA. The impact of FASD will be explored in a free presentation in the Santos Manuel Student Union Events Center at Cal State San Bernardino. "Staff and faculty members from The Institute for Fetal Alcohol Spectrum Disorders Discovery at the University of California, San Diego will discuss the research, impact and treatment options surrounding these disorders."
FASD Forum and Training
February 4-6, 2015. Juneau, Alaska. "This four-day forum will offer strategies for addressing FASD — for parents, teachers, attorneys, judges, behavioral health/developmental disability providers, medical professionals, probation and corrections, and others."
FASD Day at the Capitol
February 24, 2015. St. Paul, Minnesota. "Come together with other advocates to learn about the importance of advocating for FASD issues. Speakers will provide information on the how to effectively advocate and tell your story. You will have the opportunity to dig deeper into the proposed legislation that will affect the FASD community."
The 6th International Conference on FASD
March 4-7, 2015. Vancouver, BC, Canada. "This advanced level conference continues to bring together experts from multiple disciplines to share international research. From the pure science, to prevention, diagnosis and intervention across the lifespan, the conference will address the implications of this research and promote scientific/community collaboration. It provides an opportunity to enhance understanding of the relationships between knowledge and research and critical actions related to FASD. First held in 1987, the conference brings together people passionate about this work in a stimulating environment where they can learn and forge new partnerships."
NOFAS-UK Accredited Training Day for Health Professionals
March 10, 2015. London, England. "As a health professional, what do you tell a pregnant woman about alcohol? How might alcohol affect the baby? When is it safe to drink? Is it safe to drink at all? What is the best way to discuss alcohol with a pregnant woman? Get the answers at an RCM CPD accredited training day. Doctors, Midwives, and mothers of children with alcohol related disabilities will present the evidence."
Ounce of Prevention Conference
April 7, 2015. Worcester, Massachusetts. "This event is sponsored by the Massachusetts Department of Public Health."
Please send suggested items for the roundup (events, articles, research) to information@nofas.org

The content of the NOFAS Weekly Roundup does not necessarily reflect the official positions or views of NOFAS.

The NOFAS Weekly Roundup is edited by Andy Kachor.