| | |
| --- | --- |
| | |
Volume 5, Issue 27
Luke Comeau Talks About Having a Father with FASD
Luke Comeau talks about growing up with a father with FASD. Luke is the Coordinator of Trainings and Technical Assistance at The Center for Disabilities of South Dakota, a NOFAS affiliate.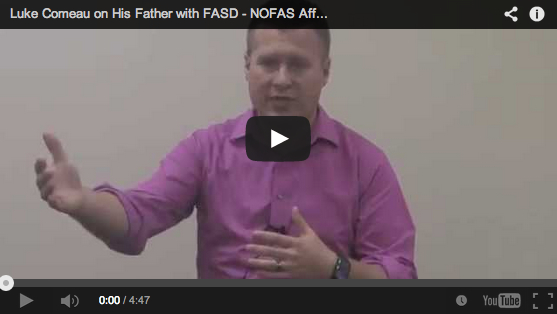 NOFAS Free Webinar
MILE: An Intervention for Children with FASD
July 16, 2014. 2:00 PM – 3:00 PM EST. This webinar is presented by Dr. Claire Coles and will discuss the factors that prevent children with FASD from achieving in Math and describe how the Math Interactive Learning Experience (MILE) leads to significant improvements in behavior and academic functioning. MILE consists of individualized math tutoring with a focus on habilitation of underlying cognitive functions, such as working memory, visual-spatial skills, and graphomotor function.
Research News
Fetal Alcohol Forum - Issue 11 (link to PDF)
This extensive PDF document from NOFAS-UK includes hundreds of recent articles and research studies from FASD experts.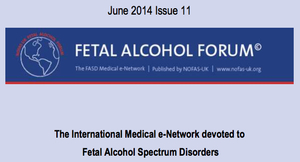 Community News
Australian Campaign on Dangers of Alcohol During Pregnancy
"Only 20 per cent of Australian women abstain completely from alcohol during pregnancy. A national campaign launched by the Federal Government aims to increase this number by giving health professionals better resources to educate mothers-to-be." –
The Courier-Mail
Women Face Gender-specific Challenges in Fighting Addiction and Alcoholism
"Men and women metabolize drinks differently. Depression is more frequent in women than in men; addiction is more frequent in men than women, but if women have a problem of addiction or alcoholism, there is more likely of having other psychiatric problems like depression. The likelihood they were exposed to trauma is higher." –
Miami Herald
Take Action
Petition to Change U.K. Guidelines on Alcohol and Pregnancy
Sign this petition to the U.K. Department of Health. The petition states, "Please change your confusing guidelines and inform pregnant women that they should not drink alcohol during the nine months of pregnancy. Change the guidelines for pregnant women. Make the message unambiguous – No Alcohol Equals No Risk. Don't make it confusing and open to abuse."
Tell Maryland Developmental Disabilities Administration (DDA) to Change Eligibility Requirements
DDA has made some changes to eligibility requirements for Low Intensity Support Services (LISS) funding from previous years.
Policy News
Obama Administration Opposes Tennessee Law Making it a Crime to Use Drugs while Pregnant
"It is now a crime to use drugs if you are pregnant in Tennessee… The law, which charges a woman with a misdemeanor if she is found to be using drugs, will remain in effect until July 1, 2016. But that law, the way other states apply existing statutes and a recent court case have opened up a fissure between states and the Obama administration on how to best tackle the growing issue of opiate abuse." -
Washington Post
Webinars
FASDs: Myths, Media, and Medical Home
July 16, 2014 at 3 pm ET (30 minutes). Webinar though CDC/NCBDDD cooperative agreement with The American Academy of Pediatrics (AAP). "The myths, media and the medical home session will highlight common media misconceptions about alcohol use during pregnancy, provide a clinical overview of fetal alcohol spectrum disorders, and most importantly discuss the role of medical home providers in identifying and managing children with FASDs."
FASDs: Detection, Discovery, and Diagnosis
July 28, 2014 at 3 pm ET (30 minutes). Webinar though CDC/NCBDDD cooperative agreement with The American Academy of Pediatrics (AAP). "The detection, discovery and diagnosis session will delineate the signs and symptoms that may indicate prenatal alcohol exposure and a possible condition along the continuum of FASDs. An algorithm for evaluation of FASDs will be introduced and discussed as a tool for diagnosis and referral in primary care. Information about various diagnostic tools will also be shared."
FASD Definition, Prevalence, and a Practical Approach to Diagnosis
July 31, 2014. 12:30 PM – 2:00 PM EST. "Fetal Alcohol Spectrum Disorders are the most common and preventable cause of developmental disability in the world. This presentation will cover background, defining terms and active studies regarding prevalence and clinical manifestations."
FASDs: Roles, Referrals, and Reimbursement
August 13, 2014 at 3 pm ET (30 minutes). Webinar though CDC/NCBDDD cooperative agreement with The American Academy of Pediatrics (AAP). "The roles, referrals and reimbursement session will provide primary care clinicians with the tools they need to work with families and children who have or may have an FASDs. Dr Wargowski will identify the appropriate professionals needed to build an FASD team and discuss options for community based resources for referral and treatment. Billing, coding and reimbursement will also be discussed."
FASDs: Communication, Care Plans, and Care Coordination
August 13, 2014 at 3 pm ET (30 minutes). Webinar though CDC/NCBDDD cooperative agreement with The American Academy of Pediatrics (AAP). "The communication, care coordination and co-management session will confirm the importance of a medical home and its role in working with patients and families. Drs Matthias and Chasnoff will review the development of comprehensive care plans and present several case studies to demonstrate different approaches to care coordination and co-management."
Events
Frontier Regional FASD Training Center In-Person Trainings
. In order to provide a comprehensive recipe of advocacy for those with an FASD, this workshop will take participants on a journey that enfolds the fields of prevention, intervention and ethics within the FASD domain.
Fargo, ND - July 9, 2014
.
Billings, MT - July 16, 2014
.
Denver, CO - July 30, 2014
.
Boise, ID - August 13, 2014
.
Salt Lake City, UT - September 11, 2014
.
FASD Training
MILE Instructor Training
August 1 & 2, 2014. Atlanta, Georgia. "The training consists of a 1½ day theoretical and hands on model, where participants practice the Math Interactive Learning techniques, developed for children with FASD."
Call for Presenters
MOFAS is Seeking Applications for Presenters for the 2014 Annual FASD Matters Conference
November 13 - 14, 2014. Minneapolis Marriott. "We are looking for presentations with a human rights focus that: provide new information, ideas and solutions for families, agencies, and systems to implement share innovative strategies, tools, and best practices increase the knowledge, skills, and abilities of those living and/or working with someone with an FASD."
Please send suggested items for the roundup (events, articles, research) to information@nofas.org

The content of the NOFAS Weekly Roundup does not necessarily reflect the official positions or views of NOFAS.

The NOFAS Weekly Roundup is edited by Andy Kachor.