| | |
| --- | --- |
| | |
Volume 5, Issue 43



NOFAS News
Draw or Design NOFAS' 2014 Holiday Card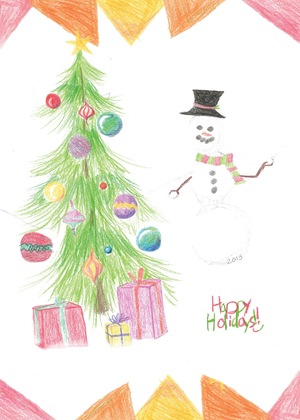 Send us your drawing or design for the 2014 NOFAS Holiday Card! Your design could be selected to become the cover of the 2014 NOFAS holiday card and be mailed out to hundreds of members of the NOFAS and FASD community..
Research News
Study Finds Up to 1 in 20 U.S. Children Have FASD
"New research suggests that as many as one in 20 U.S. children may have health or behavioral problems related to alcohol exposure before birth. The study found that between 2.4 percent and 4.8 percent of children have some kind of fetal alcohol spectrum disorder, or FASD." –
U.S. News & World Report
Journal Article in Pediatrics: Prevalence and Characteristics of FASD
This is the original journal article by Dr. Philip May and others which finds that, "FAS in this community likely ranges from 6 to 9 per 1000 children, PFAS from 11 to 17 per 1000 children, and the total rate of FASD is estimated at 24 to 48 per 1000 children, or 2.4% to 4.8%." -
Pediatrics
Understanding Drinking Behaviors Among Women with Unwanted Pregnancies
"A new study examines changes in alcohol use from before pregnancy recognition to during pregnancy among women with unwanted pregnancies – meaning women who tried, but were unable, to terminate their pregnancies… Results will be published in the November 2014 online-only issue of Alcoholism: Clinical & Experimental Research and are currently available at Early View." –
Medical Xpress
Community News
Double ARC Assists Parents Raising Children Impacted By FASD
"Karen and other parents [of children with FASD] shared how [NOFAS affiliate] Double ARC has impacted their lives through diagnosis, education, training and support. "They took me by the hand and coached me on how to raise my son with his special needs," Karen said. "Double ARC is the best thing that ever happened to me besides God." –
The Mirror Newspapers
Profile of 33-Year Old Woman with FASD in Australia
"Lola Miers lives with FASD… it was the silent symptoms of her belated FASD diagnosis - the brain damage that led to lifelong learning difficulties, the risky behavior over which she has no control, her poor memory - that have endured. At 33, she can rattle off rules without understanding them. Because she is unable to comprehend an abstract concept like responsibility, she is happy for her foster parents to raise her young daughter, whom she almost regards as a little sister." –
Sydney Morning Herald
Profile of 13-Year Old Tracy, Living with FASD (Part 4)
This article is the last in this series telling the story of 13-year old Tracy. "Sent to the principal's office (again), forced to come up with an explanation of why she was in trouble, Tracy explained, "I hit Emily." (She never hit anyone.) Expelled for hitting, Tracy was sent home. Tracy used something called "confabulation," common in persons with a FASD." -
Ionia Sentinel-Standard
Community Bracing for News that 1 in 4 Children Have FASD
"The Kimberley [Australia] town of Fitzroy Crossing is bracing for bad news that it suspected all along — that up to one in four children suffers FASD, a level far higher than previously reported in Australia and one of the world's highest recorded rates. Community elders and local pediatricians expect that between 25 and 30 per cent of tested children will have a diagnosis that ­places them on the spectrum for a fetal alcohol-related disability." –
The Australian
Public Health/Policy
SAMHSA FASD Center for Excellence Announces New Web Site Feature, FASD in Review
"This page will include a review and discussion of news, research, policy articles, and other reports addressing FASD and alcohol prevention during pregnancy… The aim of this approach is to provide the reader with a more comprehensive and contextual understanding of the findings and their impact on advancing efforts to prevent and address FASD."
Webinars
Webinar: FASD Basics
October 29, 2014, 1:30 pm – 3:00 pm CDT. "MOFAS will present the FASD Basics designed to provide an introduction to Fetal Alcohol Spectrum Disorders. This webinar is designed for primary and behavioral health care providers, social workers, educators, and other professional who work with individuals with an FASD and their families."
Events
MOFAS FASD Matters Conference: FASD and Human Rights
November 13-14, 2014. Brooklyn Park, Minnesota. Registration is open for the annual FASD matters conference. This year's theme is FASD and Human Rights. We have exciting keynotes planned for the event.
Please send suggested items for the roundup (events, articles, research) to information@nofas.org

The content of the NOFAS Weekly Roundup does not necessarily reflect the official positions or views of NOFAS.

The NOFAS Weekly Roundup is edited by Andy Kachor.