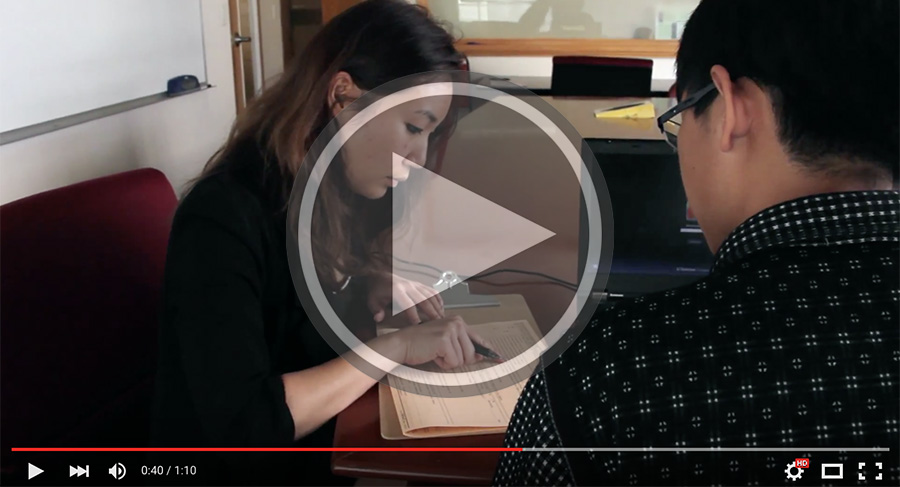 Save the Date: Let us prepare your tax returns for FREE on March 5th

MBDA Associate Director visits Fresno Business Center

SFMBDA team joins worldwide Impact Hub network, delivers services from Oakland, Berkeley Hubs

#ReinventCA with the Greenlining Institute

Meet our new staff: Sasha Selvin

Looking for a new home? 72 Townsend could be your dream home
Save the Date
Let us prepare your tax returns for FREE on
March 5
Tax season in in full swing. To help people who generally make $54,000 or less, persons with disabilities and limited English speaking taxpayers who need assistance in preparing their own tax returns, ASIAN Inc. is now providing FREE
tax returns preparation.
Board of Equalization Member Fiona Ma, CPA, will be working alongside ASIAN Inc. on March 5th to talk about the Federal EITC, Cal EITC, and San Francisco Working Family Credit. Our IRS-certified volunteers will also be providing tax counseling services. VITA services are by appointment only. Call (415) 928-5910 Ext. 3 to make an appointment today!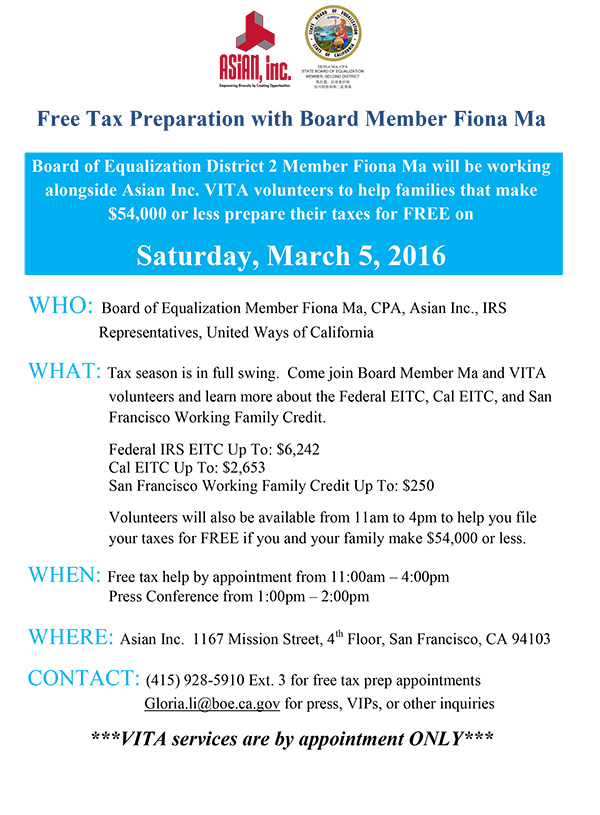 MBDA Associate Director visits Fresno MBC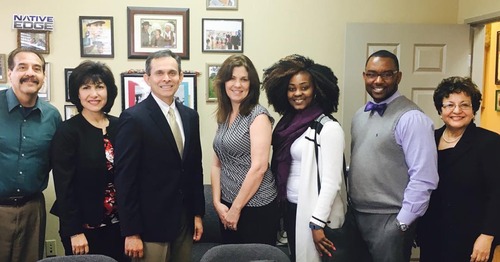 Efrain Gonzalez, MBDA Associate Director/Office of Business Development, and Fresno MBDA hosted a Roundtable Discussion CHSRA MOU with MBDA
– pictured are some of the participates on the Roundtable, also joining the discussion via conference call: Lamar Heystek, MBDA SF Director, Siew Yee Lee, San Jose Business Consultant; Anurag Pal, SF Business Consultant; Richard Camacho – GEMS Environmental; Jack Ybarra – owner of Transmetrics (letter comment); Hector Dominguez – CEO of Exaro Technologies; Michelle Picard; Siemens Director RL Business Governance & Risk Management; Alex Lopez – Siemens Business Financial Analyst.
Mr. Gonzalez, based out of the Washington DC office, visited the Fresno MBDA Business Center on February 17 & 18 to meet with staff and clients to discuss projects, plans and mutual opportunities to grow their businesses. In addition, Mr. Gonzalez visited with representatives for the California High Speed Rail Authorities – Office of Contracts & Compliance for an update on our signed MOU. Fresno staff and Mr. Gonzalez also toured
BITWISE Industries
– A downtown hub of digital education and technology serving the Central Valley. BitWise is a collaboration of businesses –
"The mothership of technological education, collaboration and innovation in Fresno."
Mr. Gonzalez mentioned he was impressed with the growth and potential of Fresno and its minority-owned businesses. We welcome all of MBDA to visit and enjoy the FRESNO experience!
Pictured LtoR: David Mendoza, Fresno MBDA Project Director; Mary Jo Avila – Owner of Avila Construction Company, Efrain Gonzalez, MBDA Associate Director; Virginia Villa – Owner of West Pacific Electric Company; Chasitie Neal, Fresno Metro Black Chamber –Business Diversity Coordinator; Tate Hill, President Fresno Metro Black Chamber/Member of Greenlining Coalition and Fresno Business Consultant Olga Martinez; Prasad Kolluru, Fresno Financial Consultant was taking the photo.
SFMBDA team joins worldwide Impact Hub network, delivers services from Oakland, Berkeley Hubs
The team at the San Francisco MBDA Business Center, operated by ASIAN, Inc., has joined Impact Hub, a worldwide network of business incubators and co-working spaces, enabling the team to access minority-owned firms east of the San Francisco-Oakland Bay Bridge more easily, and vice versa.

From Amsterdam to Johannesburg, Singapore to San Francisco, Impact Hub is a rapidly expanding, diverse global network of over 11,000+ members in 77+ locations. It offers SFMBDA a unique ecosystem of resources, inspiration, and collaboration opportunities to grow the positive impact of its work.

"Impact Hub Oakland and Impact Hub Berkeley are promising outposts for the evolving delivery of our business development services to high-impact minority-owned firms in the East Bay," said SFMBDA Director Lamar Heystek, born and raised in San Francisco but a long-time East Bay resident. "The Hubs are professional, well-appointed and conveniently accessible via public transit by our staff -- which is spread throughout three counties -- as well as our clients east of the San Francisco peninsula. We look forward to strengthening connections and forming new ones with minority businesses and partners in Alameda and Contra Costa counties."
Registration now open for Greenlining Economic Summit
The Greenlining Institute, a policy, research, organizing, and leadership institute working for racial and economic justice, is bringing together movers-and-shakers from business, government, and grassroots community groups at their annual Economic Summit.
This year, they will uplift solutions from the New Majority that are already building a new California – one in which the dream of a fair, equitable, and prosperous economy is real for all. With hard-hitting speakers, interactive panels and countless networking opportunities, attendees will engage with some of the most innovative ideas in the equity movement today.
Meet our new staff: Sasha Selvin
My name is Sasha Selvin, and I enjoy meeting new people and finding ways to help them have an uplifting experience. From a young age I have had the great desire to help people young and old. That motivation still inspires me today as I make my journey through adulthood.

As Senior Property Manager at ASIAN, Inc. in San Francisco, California, my first priority is to continue to provide reliable, efficient and accurate resident services. It is essential that our applicants and residents know that ASIAN, Inc. is a place that welcomes family and diversity.

San Francisco is considered to be one of America's most unaffordable cities. Anything I can do to assist in placing a roof over a family's heads is for me living the American dream.
See if ASIAN, Inc. can help qualify you to participate in the Mayor's Office of Housing's Below Market Rate lottery for a unit in this new San Francisco complex: click here

Like what you've just read? Our dedicated staff spends hours putting this monthly newsletter together. Please help defray the cost by making a donation today.

ASIAN, Inc. is a 501(c)(3) non-profit organization, federal tax ID #94-1753170. Your donation to ASIAN, Inc. and/or the MED Week Coordinating Committee is tax-deductible to the extent allowed by law. Please click below to donate: