In this issue:
Coaches help clients pursue asset building goals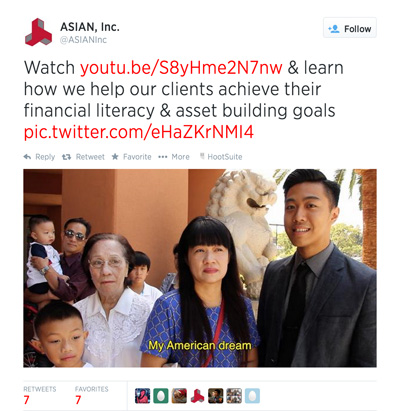 To San Jose resident Anthony Phan and his immigrant family, the American dream means attaining well-rounded education that opens doors to solid careers, stable housing and manageable financial obligations, allowing for a comfortable life and a brighter future for generations to come.
Our housing counselors and financial coaches speak at least six languages, from Spanish to Vietnamese, enabling them to unlock financial and housing services that have been beyond reach for large, underserved communities because of language barriers.
Click on the video above to meet some of our counselors and coaches, and understand what make ASIAN, Inc. different.
Minority Business Centers promoted at regional forum with Commerce Secretary Pritzker & Congresswoman Lee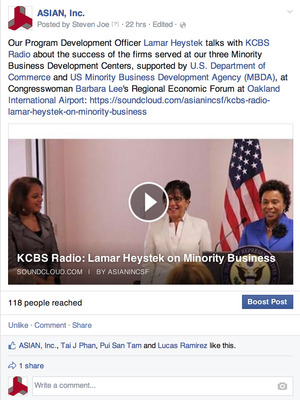 On August 11, Congresswoman Barbara Lee hosted a Regional Economic Development Forum featuring U.S. Secretary of Commerce Penny Pritzker. The forum was held at Oakland International Airport for a standing-room-only crowd of over 100+ business owners and regional stakeholders. ASIAN, Inc., on hand to connect with minority-owned firms and those vested in their success, was lauded for its stewardship of three Minority Business Development Agency (MBDA) centers.
"The Department of Commerce has tremendous resources in place in this region and around the country that allow us to partner with your businesses and entrepreneurs so they can compete and succeed," said Secretary Pritzker. MBDA National Director Alejandra Castillo moderated the afternoon discussion featuring, among others, Small Business Administration Regional Administrator Donna Davis; OPIC Director of Corporate Development, Alison Germak, Port of Oakland Director of Aviation Deborah Ale Flint, Alameda County Supervisor Keith Carson, Oakland Mayor Jean Quan, and Empire Engineering & Construction President Clifton Burch.
SF MBDA Center signs agreement with Lawrence Livermore Lab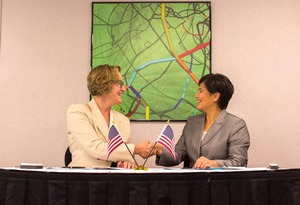 The San Francisco MBDA Center and the Lawrence Livermore National Laboratory (LLNL) signed a Strategic Partnership Agreement on August 12, enabling the Center to serve its minority business enterprises (MBE) more effectively in the clean energy, life sciences and biotechnology fields by introducing them to LLNL for the creation of mutually beneficial relationships.

This partnership will provide the SF MBDA Center's emerging MBE clients with access to the over 2,000 functional technologies that LLNL has licenses over, as well as access to LLNL resources such as one of the top three strongest computers in the world, which will provide tech-oriented MBEs the capacity to do extensive research that would otherwise be impossible. This partnership will also give MBEs the opportunity to access groundbreaking technological resources to overcome the barriers of the high fixed costs of research and development.

This partnership broadens the ever-growing range of MBEs that can be served by the strong network of MBDA Centers in San Francisco, San Jose, and Fresno, all operated by ASIAN, Inc.

For more coverage of this important milestone, read the LLNL press release here.
Put our GIS team to the test! Submit a free work request today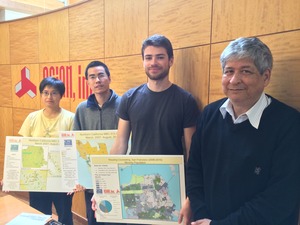 ASIAN, Inc.'s Geographic Information System (
GIS) team is up for the challenge! With your data or publicly available data sets, our GIS team can create maps to visualize, question, analyze, and interpret data to understand relationships, patterns, and trends. Accor
ding to GSI software provider Esri, "
GIS benefits organizations of all sizes and in almost every industry. There is a growing interest in and awareness of the economic and strategic value of GIS."

Our skilled team, consisting of (left to right) Sylvia Wun, Thomas Kwan, Conor Devoy and Stefan Karet, are ready to create maps and charts for a small business, financial institution or non-profit partner.

For more information on the challenge, please visit www.asianinc.org/GIS. To pitch your project, please e-mail asianinc.org@gmail.com with "GIS Challenge" as the subject.
Fresno client Ruiz Foods wins national manufacturing honor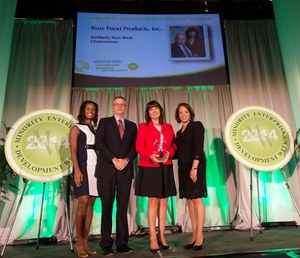 Congratulations to Ruiz Foods, maker of the "El Monterey" brand of prepared Mexican food and a proud client of the Fresno MBDA Center, for receiving the 2013-2014 Manufacturer of the Year Award at the national Minority Enterprise Development (MED) Week convening in Washington, DC. Chairwoman Kimberly Ruiz Beck (second from right) was bestowed the honor by MBDA Associate Director Kimberly Marcus, Deputy Secretary of Commerce Bruce Andrews and MBDA National Director Alejandra Castillo.
Ruiz Foods has been rapidly expanding their manufacturing operations across the nation, in South Carolina and Texas.
"As a mom of three boys, I am pleased our El Monterey brand offers a wide variety of Mexican foods that are perfect for families on the go," said Ruiz Beck on the company's website. "All are quick to prepare, convenient, as as my boys like to say, 'real food that tastes good.'"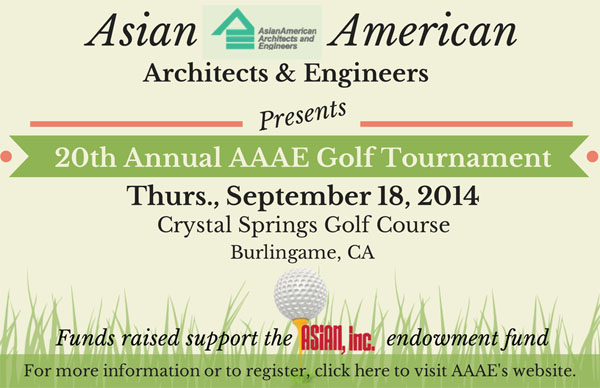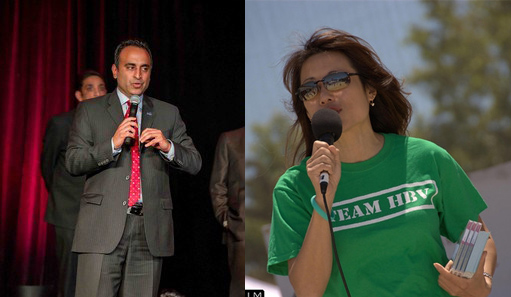 Join our MCs, San Jose City Councilmember Ash Kalra &
former Assembly Speaker Pro Tem Fiona Ma,
at our October 3 Gala!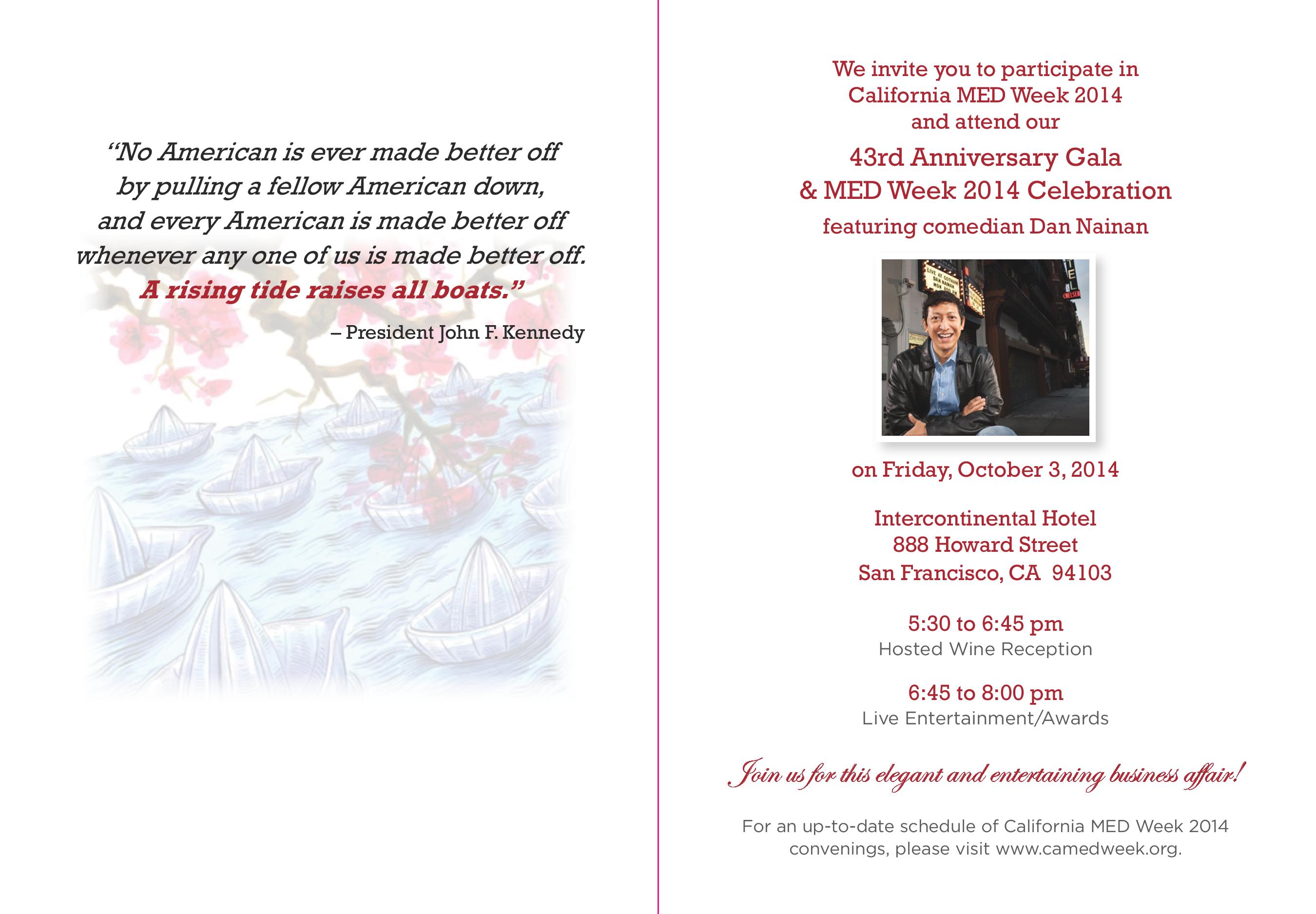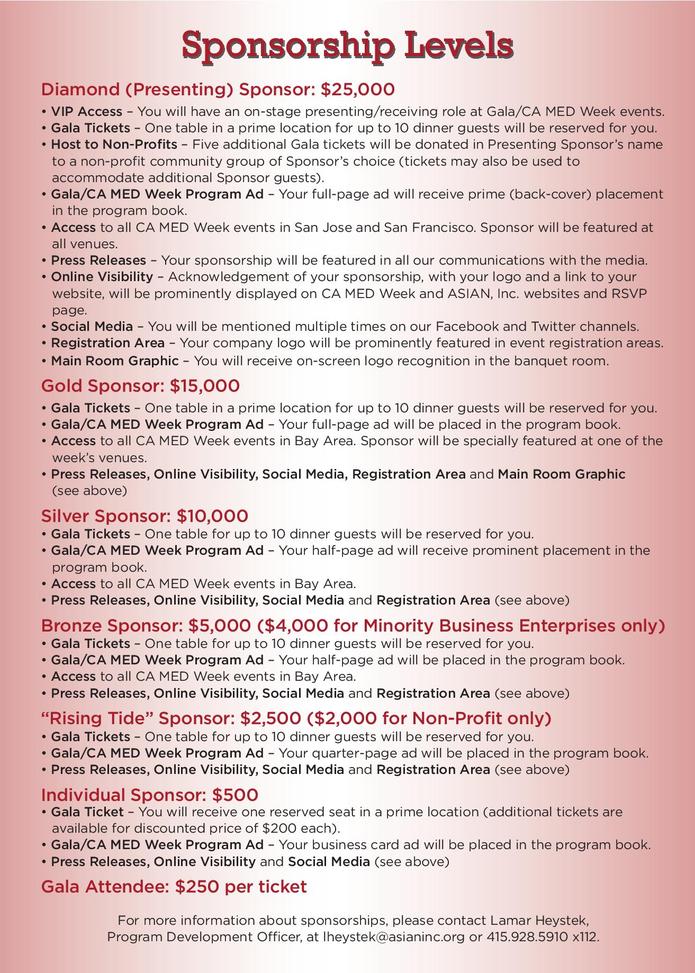 Like what you've read? Our dedicated staff spends hours putting this monthly newsletter together. Please help defray the cost by making a donation today!

ASIAN, Inc. is a 501(c)(3) organization, federal tax ID #94-1753170. Your donation to ASIAN, Inc. and/or the MED Week Coordinating Committee is tax-deductible to the extent allowed by law. Please click below to donate: