The Oakland Asian Cultural Center presents
Poets of Existence
In Celebration of International Women's Day
Deema K. Shehabi Persis Karim Shadab Zeest Hashmi
Friday, March 16, 2018
7-9pm
Coming from a multitude of experiences, these poets enrich our existence with the beauty of their words.
Please join us for an evening of poetry and music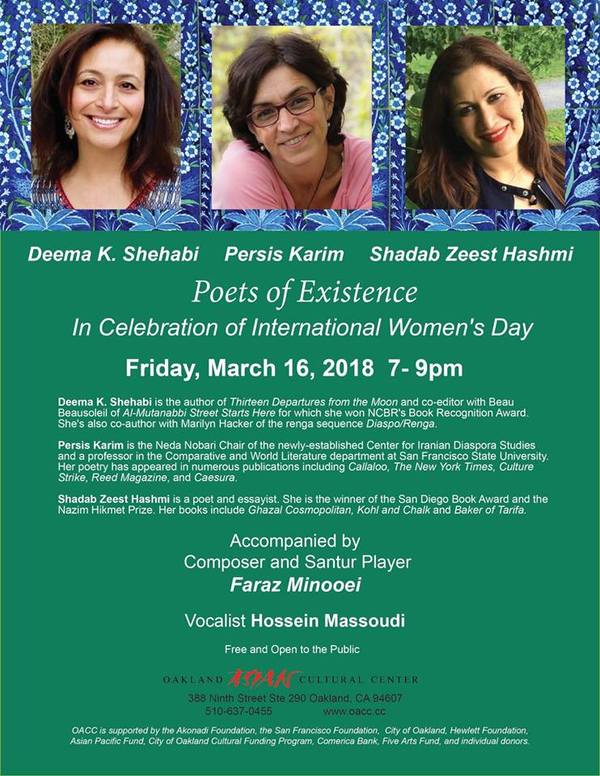 Deema K. Shehabi
is the author of
Thirteen Departures from the Moon
and co-editor with Beau Beausoleil of
Al-Mutanabbi Street Starts Here
for which she won NCBR's Book Recognition Award. She's also the co-author with Marilyn Hacker of the renga sequence
Diaspo/Renga
. Deema's two plays,
Light not Touched by Fire
and
A Handful of White Petals
, were performed by the Arabian Shakespeare's Company's New Works Festivals.
Persis Karim
is the Neda Nobari Chair of the newly-established Center for Iranian Diaspora Studies and a professor in the Comparative and World Literature department at San Francisco State University. She has written numerous articles on modern Iranian literature and Iranian diaspora literature for journals such as Iranian Studies, Comparative Studies of South Asia, Africa, and the Middle East, and MELUS: Multi-Ethnic Literatures of the United States.
Shadab Zeest Hashmi
is a poet and essayist. She is the winner of the San Diego Book Award and the Nazim Hikmet Prize. Her books include Ghazal Cosmopolitan, Kohl and Chalk and Baker of Tarifa. Her work has been translated into Spanish and Urdu, and has appeared in anthologies and journals worldwide. She has taught in the MFA program at San Diego State University as a writer-in-residence and has presented in Turkey, Spain, Pakistan, Mexico and the UK.
Accompanied by Musical Guests:

Faraz Minooei is a composer and santur player. As a full-time musician, he is a performer, composer, ethno-musicologist and teacher. He has performed with noted ensembles in the United States, among which was his collaboration in 2009 with Yo Yo Ma and Kayhan Kalhor in the Silk Road Ensemble (for the 50th anniversary of the Lincoln Center).
Hossein Massoudi is a vocalist. Steeped in the folkloric Kurdish vocal tradition of his native Iran, he integrates his love of Persian classical music with his Kurdish roots, resulting in a musicality which is rarely heard.
At the Oakland Asian Cultural Center
Free and Open to the Public

Finding Kukan - Feature Documentary
Presented by the Oakland Asian Cultural Center
Co-sponsored by
Center for Asian American Media (CAAM)
Chinese American Citizens Alliance - Oakland Lodge (CACA)
Followed by Q & A with Director & Producer, Robin Lung
Saturday, March 31, 2018
Doors open: 6:30pm / Film screens: 7:00pm / Q&A: 8:15-9pm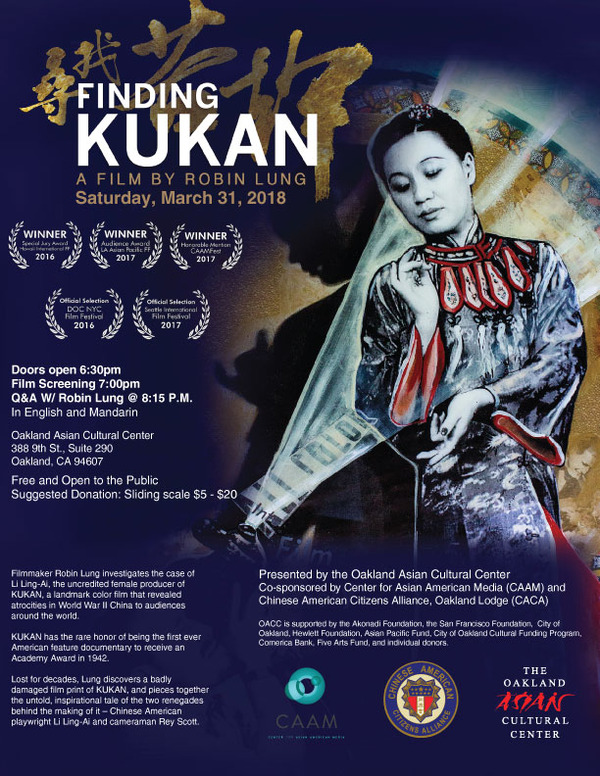 About the Film

Filmmaker Robin Lung investigates the case of Li Ling-Ai, the un-credited female producer of KUKAN, a landmark color film that revealed atrocities in World War II China to audiences around the world.

KUKAN has the rare honor of being the first ever American feature documentary to receive an Academy Award in 1942.

Lost for decades, Lung discovers a badly damaged film print of KUKAN, and pieces together the untold, inspirational tale of the two renegades behind the making of it – Chinese American playwright Li Ling-Ai and cameraman Rey Scott.
Through a dynamic mix of verite, archival, and re-enactment footage, Finding Kukan creates an unforgettable portrait of a female filmmaking pioneer, and sheds light on the long history of racial and gender discrimination behind the camera, which continues to reverberate in Hollywood today.

(75 Minutes, Feature Documentary, In English and Mandarin)

Suggested Donation: sliding scale $5 - $20

Current Exhibitions
'This Heirloom'

Graphic Collage Exhibition by Mara Ahmed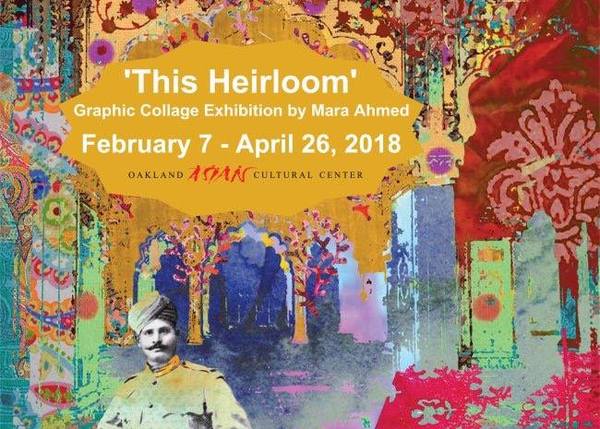 View a graphic collage exhibition rich in cultural symbolism and personal memory
(February 7-

April 26, 2018

)
Free and Open to the Public

Twenty Year Retrospective:
Anthony Brown and the Asian American Orchestra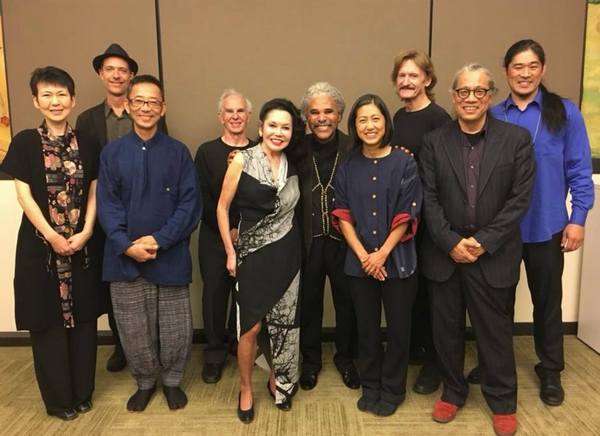 An Exhibition of Photography, Posters, and Memorabilia
(February 18 -
April 15, 2018
)

Free and Open to the Public


CALL FOR VOLUNTEERS

Volunteers play an important role in OACC's success, and we invite you to contribute your time and skills to helping us work towards vibrant, healthy, and just communities through arts and cultural programming. Currently we are at 17 volunteers, and are open to inviting more!

For more information, please visit our volunteer website at
http://oacc.cc/looking-to-volunteer/

ADDRESS
388 9th Street
Suite 290
Oakland, CA 94607

CONTACT
510-637-0455
info@oacc.cc

PUBLIC HOURS
Mon: 12-6pm
Tues: 12-6pm
Wed: 12-6pm
Thurs: 12-6pm
Fri: 12-6pm
Sat: 10am-5pm
Sun: CLOSED

DONATE
1. By Mail
Make your check payable to
'Oakland Asian Cultural Center'
2. Donate securely online: oacc.cc/support-oaccs-weekly-classes/

RENT OUR SPACE
- Large auditorium equipped with lighting, sound stage and dressing rooms
- A full-service kitchen for catering and culinary classes
- For more information contact:
rentals@oacc.cc

ONGONG CLASSES

Shaolin Kung Fu

Taiko Drumming

Qi Gong

Mongolian Dance for Youth

Go Mandarin Music

Chinese Folk Dance

Chinese Painting & Drawing

Chinese Guzheng (Zither)

Ikebana

Mongolian Dance, Language and Music for Youth