Let

ter From the Executive Director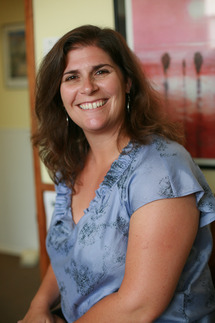 It is with great pleasure that I welcome you to the first of many "SBCHC Today" newsletters highlighting our supporters, key programs, upcoming events, and important issues that most impact the clients we serve.
The fall season represents a time of change and reflection. The South Bay Children's Health Center is in the process of reflecting the successes of our past while embracing future changes. We celebrated the career of Christina (Tina) Harris, our former Executive Director, at her retirement party last June. I had the pleasure of working closely with Tina for the 11 years that I have been with the organization, and I am honored and humbled to be following in her footsteps.
In September we welcomed two new members to our Executive Team and SBCHC family: Lisa Daggett-Cummings, our new Director of Development, and Marc Schenasi, our new Controller. Both Lisa and Marc come to SBCHC with a wealth of experience which will help us strengthen the agency to continue meeting the most pressing dental and mental health needs of young people in the South Bay.
We are excited to share the impact of our programs and services to the thousands of South Bay children and families who rely on them. Fostering strong families is at the core of who we are and with your help and support, families in the South Bay can continue counting on SBCHC for years to come. Thank you so much!
Christine Byrne, Executive Director
---
October is Domestic Violence Awareness Month
It is a time to recognize the signs and effects of domestic violence on children and families and how to support those impacted.
Domestic violence is a pattern of abusive behavior in any relationship that is used by one partner to gain or maintain power and control over another intimate partner. Domestic violence occurs in all age, racial, socio-economic, educational, occupational, and religious groups.
Researchers estimate that 3 to 10 million children in the United States are exposed to domestic violence each year. As a result, they are more likely to experience neglect or abuse, less likely to succeed at school, have poor problem-solving skills, are subject to higher incidence of emotional and behavioral problems, and more likely to tolerate violence in their adult relationships.(Child Welfare Information Gateway 2009).
Several interventions can help children exposed to domestic violence: Counseling services for the abused parent and child separately and together; A safe, stable and nurturing relationship with a caring adult to help overcome the stress associated with domestic violence; Letting the child talk or play out some of his/her feelings, and working with the child to regulate their emotions and behaviors; and the primary need of young children is for stability and security in at home and school.
The decision for a parent to leave an abusive relationship is complex and there are often realistic concerns and dangers that make it difficult to leave. What you can do to help someone in this situation is to be supportive, non-judgmental, and connect the family to local resources.
Local Resources:
---

SBCHC is offering you an opportunity to give back to the US soldiers who put their lives on the line for us. Bring all your candy to any one of the SBCHC offices by November 12th. For every bag of candy you donate, you will receive one raffle ticket for a surprise gift. All of the candy collected will be shipped to our troops. Please help us put smile on EVERY service member's face.
---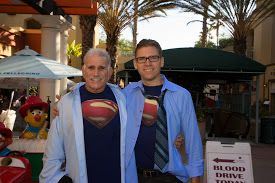 Instead of partying like "Rock Stars," the team at Redondo Oral Surgery partied like Super Heroes for a great cause! Dr. Barry Johnsin and Dr, Trent Westernoff held their annual "End of Summer Team Appreciation Party" this past August and it did double duty this year! In addition to guests enjoying great food, drinks, music and other activities, they were asked to fill a box of dental supplies, for SBCHC's Dental Clinic.
Some wonderful dental supplies and other needed items were donated by event guests, even a coveted treasure chest filled with toys!
Dr. Westernoff, Dr. Johsin and the staff at Redondo Beach Oral Surgery are a pillar of support for the South Bay Children's Health Center. Not only do they offer pro-bono services for uninsured patients in pain and needing emergency treatment; they bring like-minded professionals in the community together to have fun while giving back. The staff at SBCHC would like to thank Dr. Westernoff, Dr. Johnsin and everyone who participated in this great event.
---

Save the Date for our 2nd Annual Champions for Children 5K Walk/Run, which will be at the South Coast Botanic Garden on Saturday, May 30, 2015 at 8:30 Am. Contact us at (310) 316-1212 for more details and stay tuned for more information in future editions of SBCHC Today
---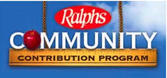 Join the Ralphs Community Contribution Program for SBCHC. It's easy and it's free!
---

Make your Amazon purchases through Amazon Smile and SBCHC will benefit each time you shop!
You will need an Amazon.com account.
Go directly to Smile.Amazon.com to sign up.
Search for South Bay Children's Health Center the first time and shop as usual.
---