Meet Victoria Kehoe, Executive Director, Distress Centre Durham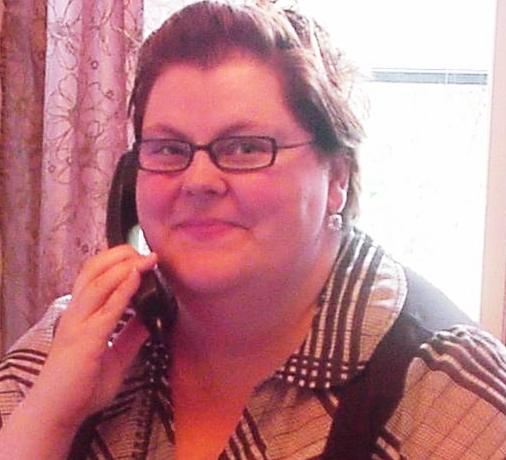 Victoria Kehoe has enjoyed every step of the decade-long climb
to the top of the distress line ladder. Passionate about teaching
and training adults, working with volunteers, facilitating knowledge, Victoria holds several certificates in these fields, including human services (aka social service worker), counselling techniques, volunteer management, and teaching adults.
Once she began volunteering in 1994 at the encouragement of classmate in college, Victoria realized that it was not counselling but distress line work that was her calling. Between 1994 and 1997, Victoria became a helpline volunteer, a volunteer trainer, won several volunteer awards including volunteer of the year, and by 1998, had been hired as the training coordinator for DC Durham. With expanded Trillium services in 2003, Victoria became the administrator of volunteer resources, then the director of program development, and in 2006, she was promoted to Executive Director of Distress Centre Durham.
Victoria believes that "the microcosm of a distress centre is the essence of what a community should be - a place without judgement, where people care about each other's feelings, and support each other toward a common goal."
As a smaller DC with only two phone lines in a region being one of the harder hit of the economic downturn, DC Durham wanted to find a way to become more visible, more accessible, and more flexible for the community at large. Victoria and her team responded by finding a way to support repeat callers by scheduling times for her volunteers to phone the frequent callers on a separate administration line and open the helplines clear for new callers, and callers in crisis. Also, Victoria is proud of the strides Distress Centre Durham has made in successfully increasing their visibility to support people feeling the effects of the economy "before things get to the point of absolute distress, despair or suicide."
In her personal life, Victoria is an avid and passionate reader of Canadian literature - Carol Shields being her favourite author, and lists politics as an interest. "I realize how important it is that we have a voice in government and the way our country is run. Especially as a woman, I never take for granted our right to vote as my great grandmother lived in a time where her opinion was not considered or valued."
Victoria is passionately interested in the décor, and entertainment of the 1930s era. She has a cherished collection of Orson Welles radio plays from the 30s and 40s and chose this period as inspiration for her bedroom design, complete with crystal beaded lamps, mirrored furniture, and painted a moody wall in "smoke stack grey".
back to the top
DCO's Welcomes New Board Members
Sheena Carpenter joins the board of Distress Centre's Ontario this year as Treasurer. Sheena is a graduate of the Honours Business Administration Program at Wilfrid Laurier University and has completed her Chartered Accountant designation. She has worked for Ernst & Young LLP in the audit field serving several government-regulated not-for-profit organizations. Currently she works in financial reporting at ATS Automation Tooling Systems in Cambridge.
Offering more than 15 years experience working directly in the field of Addictions, Concurrent Disorder and Mental Health, Gilles Brideau enjoys a successful career working at all levels of Addiction Treatment and brings expertise in areas such as crisis intervention, provincial networking, and community partnering. He is the current Bilingual Program Consultant at the Centre for Addiction and Mental Health in Windsor, Ontario.
Clinical Research Coordinator at St. Michael's Hospital and current Chair of the Ontario Suicide Prevention Network, Rahel Eynan joins the Distress Centres Ontario Board of Directors as the third community board member.
back to the top
CASP 2009 National Conference – Brandon, Manitoba
DCO Executive Director, Liz Fisk, visits with distress centres and partners groups across the province. It is a rewarding and enriching activity where Liz has the opportunity to learn about the unique culture and visions of each centre or partner group and often sees the opportunities to work together to support the needs of individuals in Ontario.
With an objective of connecting health and social service


professionals with researchers, decision-makers, survivors
and community people, the 2009 Canadian Association for Suicide Prevention (CASP) organizing committee had a tall
order to fill this October. Through three days of keynote addresses, community panels and intimate workshops they
hoped to help those present to explore promising strategies
and best practices in suicide prevention.

In an interesting session, Howard Chodos, the Director of the Mental Health Strategy initiative for the Mental Health Commission of Canada acknowledged that high quality mental health promotion is the foundation of suicide prevention. Thought Dr. David Butler-Jones, Canada's Chief Public Health Officer, was unable to attend due to his active role in the H1N1 pandemic issue, his replacement acknowledged the need to develop broad-based supports for high risk populations.
Phil Fontaine, former National Grand Chief of the Assembly of First Nations addressed the theme of building hope out of turmoil and tragedy by sharing his personal experiences with suicide in his close family and how the effects were long-lasting and profound. Judge Michael Sheehan from Quebec spoke eloquently about his volunteer experiences with the Quebec Suicide Prevention Centre and the need for effective suicide prevention strategies for students. Rex Roman, who will be addressing distress centres at the November networking day, posed several interesting questions regarding privacy, the needs of a person contemplating suicide and their families.
What has always been a hallmark of CASP sessions is the interaction between service providers and academics and survivors. Personal stories enrich all the discussion and provide a very real and personal connection. It was particularly interesting to learn about the rural Manitoba experience and to realize that the challenges they face mirror the situation in northern and rural Ontario. All centres are encouraged to consider sending a representative to Halifax in 2010 or Vancouver in 2011for the next CASP conferences.