Volunteering, Donations, Service Needs – what can Distress Centres expect in 2010
One month into 2010, most association member centres continue their look at the prospects for this year and beyond. Arguably, three of the most important areas of impact on the health and viability of distress line services are volunteering, donations or charitable giving, and the community's need for services. Though year-end polls of Canadians' intentions appear encouraging, our membership, as non-profit community agencies, may find reality more challenging.
Expecting increases in volunteer hours and donations
On the good news front, a poll conducted by Harris/Decima and released in late December 2009 by Investors Group, suggested non-profit groups can expect an increase in volunteer hours and larger donations in 2010.
Three-in-ten (29%) of the Canadians surveyed planned on increasing their volunteer efforts and donating more of their time to worthwhile causes in 2010. Coupled with the intentions of two-in-ten (19%) respondents to increase the size of their monetary donations this year, the prospects are encouraging.
Revelations from 2009
In 2009, Canadians on average contributed 13 hours a month to volunteer work and donated $1,041 to non-profit organizations. While financial contributions to charity were constrained by economic conditions last year (63 per cent said they were not able to give as much as they wanted), the average estimated annual donation still compared well with Canadians' estimated spending on holiday gifts - $607.00.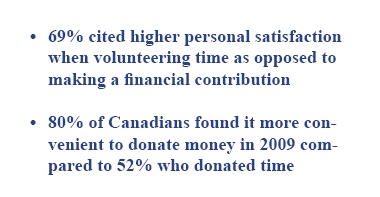 The Investors Group poll went on to confirm something we have learned in our distress line work – that for most Canadians, a cause that matters to them is stronger motivation to volunteer time or donate money than tax breaks or receiving personal recognition. Nine-in-ten (90%) survey respondents said the cause was a key factor in their decision, while 34% cited tax credits and 3% were motivated by the chance to receive public recognition.
Local initiatives are favoured by responding Canadians, with nine-in-ten (89%) indicating they usually volunteer locally and eight-in-ten (82%) saying they donate to local organizations and causes. And where timing was concerned only 7% said they made most of their charitable donations in December and just 3% said they volunteered mainly in the final month of the year.
Stats Canada reveals a drop in charitable giving
The optimism of the Haris/Decima poll is welcome after the release of Statistics Canada's figures citing an average 5% drop in charitable giving from 2007 to 2008.
Another year-end poll, MasterCard Canada's Charitable Giving Poll, indicated that one-fifth of Canadians surveyed for the MasterCard poll conceded that finances remain challenging for them and they will not be making charitable donations in 2010. Some respondents (18%) however, felt they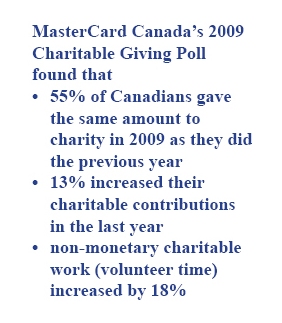 will increase their non-monetary contributions, especially their donation of volunteer time, with women (20%) being slightly more likely to volunteer than men (14%).
Is there room for legitimate optimism amongst non-profits when these predictions are balanced with community service needs?
Increasing Demand for Services
Hard Hit, a research report from the Social Planning Network of Ontario (SPNO) released in late 2009, highlighted an increasing demand for services and lost revenue from funding cuts driven by the economic downturn.
400+ Ontario agencies were surveyed and the results indicated that 60% had experienced mostly increases in service demand since September 2008. Three-quarters of these agencies attributed the increase in demand, at least in part, to the recession. Cuts in at least one funding source during 2009 were reported by half the organizations and 65% anticipated further funding cuts in 2010. The report stated that "this combination of increased demands and cuts in resources spells an impending crisis in communities across Ontario".
A wide range of programs are affected
The responding agencies provided examples including dramatic increases in food bank and meal program use, more demand on employment services and job training programs, increased use of bankruptcy and credit counselling services, and impacts on health services, mental health counselling, and suicide and crisis intervention programs.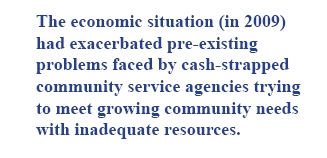 The research report stated that over half of survey respondents provided information on key programs that had experienced an increase in demand since September 2008. Among those agencies, 97% reported an increased number of people requesting services, 49% were engaged in more crisis management and had less time for preventative programming, and 72% found increased complexity in the needs of the people they serve.
Impact of Changing Budgets

Responses to changing budgetary constraints amongst the responders included maintaining the status quo and supporting increasing numbers of clients with either the same amount or reduced resources as in previous years to increased fundraising efforts or applying for funding from other sources.
Further reported responses included reallocating resources from other agency programs, putting those programs at increased risk and strain, reallocating or cutting administrative resources, increasing the number of volunteer hours, increasing unpaid management overtime, and using agency reserves to cover funding shortfalls.
"This is simply not enough" said Peter Clutterbuck, Senior Consultant with SPNO. "The coping strategies reported by agencies across the province are not sustainable."
Ben Earle, Manager of Social Research and Planning with Community Development Council Durham, noted, "We are at the point where organizations are not able to meet the needs in local communities. Half of agencies reporting on key programs experiencing increased service demands told us they were unable to respond."
Expecting Improvement in 2010?
Looking at the economic prospects for Ontario, the RBC Economics Research Outlook suggests "The upside of having been knocked down by a very tough recession is that things can only get better... Growth is expected to make a return to the province… yet, the pace of recovery is most likely to be restrained, at least in the early going, given the amount of restructuring that will continue to take place, especially in the hard-hit manufacturing sector."
It goes on to state "There is evidence that Ontario's economy has already begun to turn the corner… The earlier deterioration in the labour market appears to have stabilized, with the jobless rate no longer surging and even easing a little since mid-summer (although remaining historically high)."
The not-for-profit sector has learned that it takes significantly longer for it to feel the effects of economic recoveries than many other sectors. Hopefully, Ontario has in fact turned the corner towards recovery and our association membership can anticipate that the Canadians who plan on increasing their charitable donations and volunteer time will come through in 2010.
Sources:
Canadians plan to be more generous in 2010, Winnipeg, Dec. 21, 2009 /CNW?
http://www.newswire.ca/en/releases/archive/December2009/21/c4573.html?view=print
Positive Signs for Canadian Giving, Dec 22, 2009, Association for Fundraising Professionals
http://www.afpnet.org/Audiences/NewsReleaseDetail.cfm?itemnumber=4290
Hard Hit: Impact of the Economic Downturn on Non-profit Community Social Services in Ontario, October 2009, Social Planning Network of Ontario
http://www.spno.ca/images/stories/pdf/reports/hard-hit-impact-of-the-economic-recession-on-nonprofit-community-social-services-in-ontario.pdf
RBC Economics Research, Provincial Outlook, December 2009
http://www.rbc.com/economics/market/pdf/provfcst.pdf
Meet Linda Gerger, Executive Director of Distress Centre Peel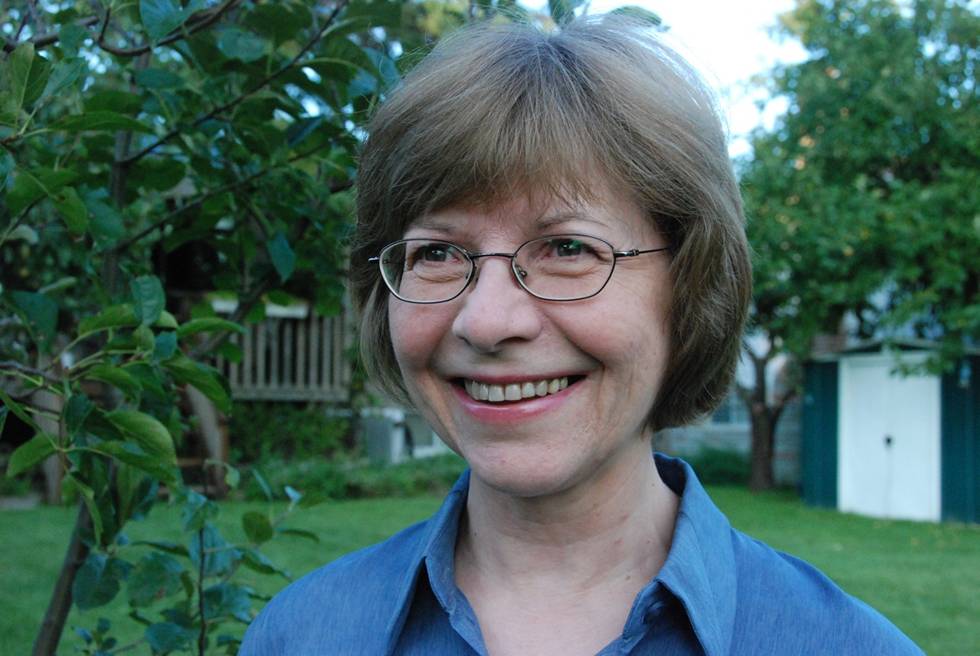 Thirty-five years ago, Linda Gerger began her work with the distress centre movement by volunteering for the Guelph Crisis Centre, where she worked with youth and seniors. She was evenutally hired as the Executive Director, where she stayed for five years, then moved onto Mississauga to take on the challenge of Executive Director of Distress Centre Peel.
Linda graduated from the University of Guelph with the goal of helping people. Her studies began in nutrition, family studies, sociology, and human development, earning her a Bachelor of Applied Science degree. Her education and professional experience helped Linda understand that "on a grass roots level, I can see that I can make a difference and respond to community need in a meaningful way."
Linda's time at Distress Centre Peel has been about collaboration, "partnering with like-minded organizations to support the community as a whole". Pairing with organizations like the Canadian Mental Health Association Peel Branch and Family Services of Peel, Linda's centre works to make the community better.
Two new programs developed as a result of these collaborations:

the

Peel Elder Abuse Support Program

and the

Touching Base Program

for people with mental illness.
V
olunteer retention and training are ongoing priorities at Linda's centre. Distress Centre Peel has taken steps to maintain a steady core of volunteers by initiating educational training in mental health, and motivating volunteers with challenging calls through Peel's new collaborative elder abuse and mental illness programs mentioned above.
Running a centre in the 6th largest region in Canada deserves a little personal time, and Linda likes to

rejuvenate

by taking advantage of her natural surroundings to go

camping, biking, and walking. She is a reader of non-fiction, biographies, and likes to learn about the world when she isn't spending time making cookies with her nieces and nephews, having family barbeques, or working with her hands crocheting scarves and Afghans.