BOP Schools: Curriculum and Community Enterprise
for Restoration Science

Welcome to BOP CCERS!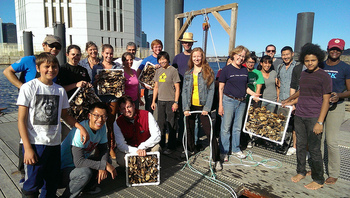 Welcome to the first issue of the partners' update for Billion Oyster Project Curriculum and Community Enterprise for Restoration Science (BOP CCERS)! The Update will be published quarterly, and is designed to keep all BOP CCERS partners informed about what their colleagues are working on.


What's BOP CCERS All About?

Integrating Science, Technology, Engineering and Math (STEM) Education to Improve the Health of the New York Harbor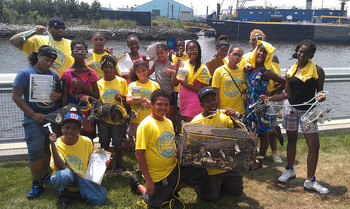 New York City's middle school students are the main beneficiaries of the Billion Oyster Project's Curriculum and Community Enterprise for Restoration Science (BOP CCERS), a project funded by a three-year grant from the National Science Foundation (NSF). This is a multidisciplinary program that is working towards the goal of restoring one billion oysters to New York Harbor, and is expanding curricula and STEM learning opportunities for students throughout the New York City public school system.

The collaborative effort to integrate BOP CCERS into 40+ new middle schools throughout the city will allow innovative, hands-on STEM teaching methods to become commonplace in New York City schools. It will also, we anticipate, provide a model and inspiration for similar efforts throughout the nation.

BOP CCERS is led by Lauren Birney of Pace University and Samuel Janis of the New York Harbor Foundation's Billion Oyster Project. The project also incorporates the input of leaders from several world-class institutions, including partners at Columbia University's Lamont-Doherty Earth Observatory, the University of Maryland's Center for Environmental Science, the New York Academy of Sciences, the New York City Department of Education, the New York Harbor School, the River Project, Good Shepherd Services, Gaylen Moore Evaluation Services, SmartStart Research Evaluation, and others.

Summer STEM Symposium: all Smiles and Salty Folk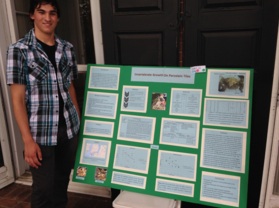 On Friday, June 19th, BOP CCERS held the inaugural BOP STEM Symposium on Governors Island. This event brought middle school students together from all over the city to learn about restoring oysters for the health of the harbor, present their own science research projects, and experience a musical about a group of oyster friends committed to cleaning NY Harbor. The Symposium also gave project partners an opportunity to, in some cases for the first time, meet some of the middle school students and teachers who are participating in the BOP CCERS program this school year. To read more about the first Symposium,
click here
.
The New York Academy of Sciences and Good Shepherd Services Bring STEM Mentors to Students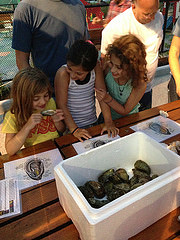 Begun in Fall 2010, the New York Academy of Sciences Afterschool STEM Mentoring program recruits graduate and postdoctoral students from universities New York City, Newark, and Upstate New York to volunteer to mentor one afternoon a week in underserved 4th through 8th grade afterschool classrooms at organizations like the YMCA, Boys and Girls Clubs, and Good Shepherd Services. Mentors can choose to teach a variety of curriculum ranging from genetics to space science and can receive an Academy Fellow Teaching Credential for completing a semester of teaching and training. With BOP CCERS, the Academy's existing STEM mentoring program was tailored exclusively around BOP's marine science, stewardship, and oyster restoration curriculum. Good Shepherd Services was selected as the exclusive pilot site for the new curriculum and mentoring. The program runs during both summer camp and afterschool sessions. Currently, eight NYAS mentors are paired with four GSS sites and have implemented more than a dozen sessions over the past six months. The full BOP STEM mentoring curriculum is available here.

Wet Lab on the Hudson
The River Project opens its living wet lab to Fellows and middle school students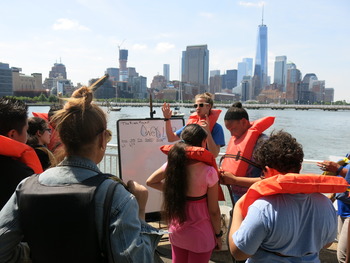 The River Project, a marine science field station located on Pier 40 in Manhattan, is a key partner in the BOP CCERS project. This spring, The River Project completed construction of a full-scale oyster estuary exhibit and accompanying educational programs focusing on oyster restoration. BOP Fellows and their students were invited for field trips and learning experiences that include a closer look at oyster ecosystems, oyster anatomy, and in-depth water quality testing. Read about The Island School's recent field trip to The River Project's wet lab here.

Inaugural Fellowship Enters 2nd Year with BOP CCERS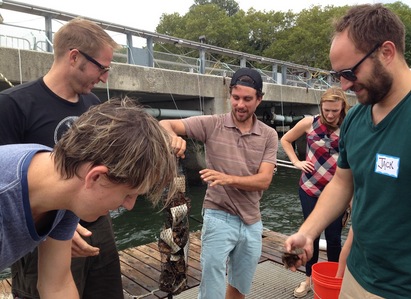 The BOP CCERS Fellows are one of the central pillars of a National Science Foundation funded educational research project. The project aims to improve STEM education in public schools by linking teaching and learning to ecosystem restoration and engaging students in hands-on environmental field science during their regular school day. The first cohort of BOP Fellows have entered their second year of the BOP Fellowship term - read more about it here.

Become a BOP Fellow

The official announcement is out! Join the second BOP CCERS cohort and be a part of this extraordinary effort in education for restoration... and restoration for education. Go here to apply and learn more.
Community Engagement & Citizen Science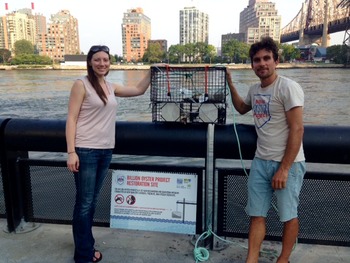 Community Engagement and Citizen Science is an important facet of the BOP CCERS model. The BOP Restoration Research program is designed for schools, organizations, and individual citizen scientists who want to be "hands-on" in monitoring and restoring the New York Harbor Estuary. We caught up with Lindsey, one of our BOP Restoration Researchers, in an interview about the program here.

A Day in the Life of the Hudson River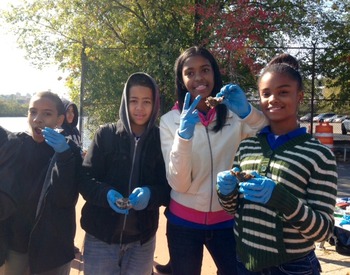 On October 20, 2015, students BOP Fellows Obed Fulcar and Lui Yi led their students in a fun-filled day of sampling, water quality testing, and oyster monitoring a their class restoration station at Sherman Creek Waterfront Park as part of
A Day in the Life of the Hudson River.
This annual, statewide event gathers students of all ages, from elementary school to college students, to collect scientific data from dozens of locations along roughly 160 miles of the Hudson River. To learn more about the field trip at Sherman Creek Park,
click here.
Student Perspectives
Pearls of knowledge offered by The River Project's oyster-themed field trips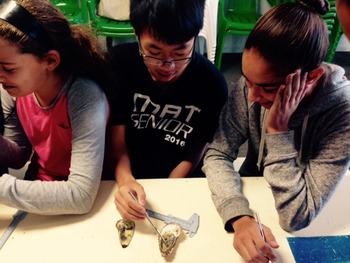 Students from PS 126 recap what they learn at a typical field trip to The River Project. To read more, click here.

BOP + BioBus
BOP teams up with BioBus and Math for America to bring oyster restoration education to educators city-wide!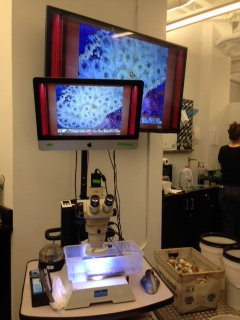 Occasionally, BOP CCERS partners with research and education entities to bring oyster restoration knowledge and awareness to teachers that are not otherwise involved in the project. BOP has partnered with BioBus to spread the reach of the project to educators in the Math for America Fellowship. Learn more here!
Fellow Profiles
Meet the 2014 BOP Teacher Training Fellows! These 20 outstanding NYC DoE middle school educators teach at Title 1 designated schools and are committed to restoration field science, STEM education, and project-based learning through oyster restoration in New York Harbor. Over the 2 year Fellowship, these teachers participate in monthly colloquium educational development meetings at Pace University, annual STEM symposia on Governor's Island, hands-on field training days, and curriculum writing with scientists.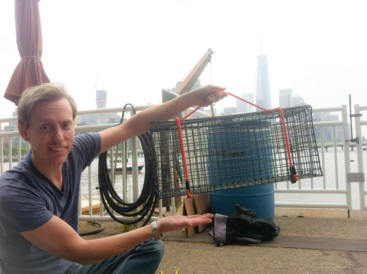 Andy Ross of Hunter's Point CMS: "Our goal is to help students become responsible and avid citizen scientists, fully aware of their impact on the world around them, while honing their STEM skills..."
Go here to meet Andy.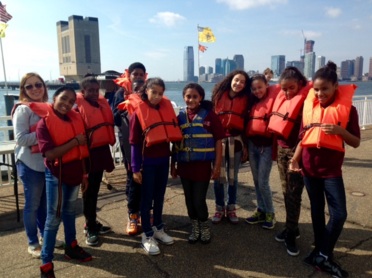 Christina Filep of The Island School: "We went in June 2015 to visit the River Project Wet Lab, and the students saw, touched, felt the creatures that live in the water below...Students were so excited to have hands-on activities, and use tools. They really wanted to get to the water and pull up samples and do more ...research about what they could find."
Meet Christina here!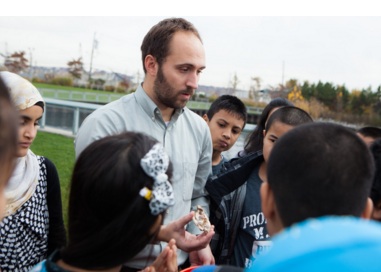 Jack Wasylyk of MS 88: "The effect of this project on our students has been immediate. Kids who lived within a mile of the water had never spent any time there, and their curiosity immediately awakened at the sight of the waterfront..."
Meet Jack here!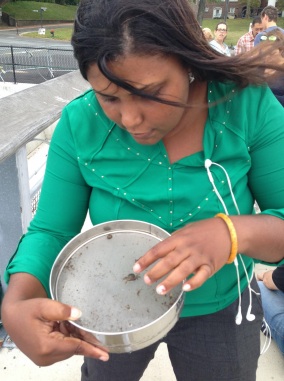 Sherlyne Gilles of Mott Hall IV: "Not only will my students gain exposure to a multitude of materials slightly beyond the scope of their curriculum; but also, they will have the hands-on inquiry approach of using real scientific equipment, to collect...empirical data, and to become digitally literate.
Meet Sherlyne here!