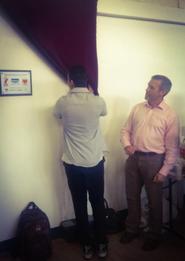 The Managing Director of Wickes; Simon King popped into the Selby Centre last week to celebrate the hard work of young volunteers.
Young people as part of the VIY (Volunteer It Yourself) have been working on a number of building projects at the centre, including the refurbishment of the Gym which has since become the Selby Boxing Gym.
Thanks to paint and materials donated from Wickes, the young people were able to learn a range of skills and gain knowledge to make them ready for the workplace as well as giving back to the community.
"There is something magical when you come through the gates of the Selby Centre, it is an amazing place and Wickes are happy to help". Said Simon.
Simon unveiled a plaque in a celebration ceremony last week.