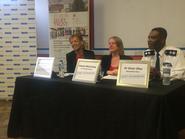 Following the BBC Documentary 'The Met' which heavily featured Haringey, we were asked by the Haringey Borough Commander to host a debate with the community.
The event took place on June 22nd with the Borough Commander Dr Victor Olisa and our Chair Dr Elizabeth Henry, the debate was chaired by Enfield and Haringey GLA Assembly Member Joanne McCartney, who also chairs the London wide police and crime committee for the GLA.
A number of questions were asked by the audience, including how to engage more young people, especially from BME backgrounds into the Police; the complaints of BME officers in the Met Police and how the Mayors' Office is held to account.
This event is part of a programme of community engagement events running monthly. Previous events have included the hustings of Parliamentary candidates in Tottenham and Regeneration of Tottenham.