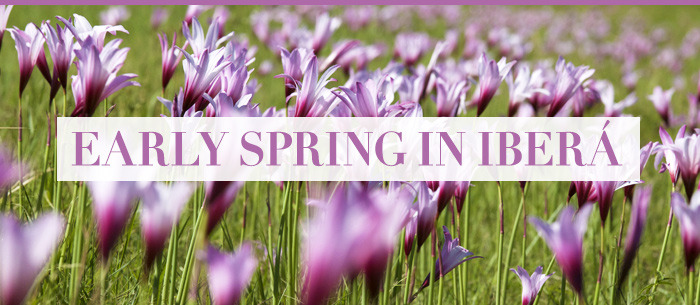 Dear Friends,

Here in Iberá, the mild winter temperatures have brought us an early spring, causing the pink flowers of the Lapacho trees to explode into bloom by August. The vivacity of these tropical flowers is matched by the park's fauna, which in many cases is expanding and growing at rates not seen in years.

Esteros de Iberá is a vast wilderness area in northern Argentina, covered by wetlands, small forests, and extensive grasslands where The Conservation Land Trust (part of Tompkins Conservation) has acquired, restored, and is in the process of donating 370,000 acres to create Iberá National Park. Unfortunately, this area suffered one of the worst defaunation processes in northern Argentina, which instigated Douglas and Kristine Tompkins's decision to initiate the largest rewilding program in the Americas here in Iberá. Since 2007, we have been restoring the populations of giant anteaters, pampas deer, collared peccaries, tapirs, and green-winged macaws, as well as initiating the first breeding program for the reintroduction of jaguars.


At the CLT aviary, the macaws learn to feed on native fruits as well as other skills necessary for their reintegration to nature. After their release into the park, the macaws are monitored by project staff to ensure their long-term survival.
Photo: Hernan Povedano
This winter has brought exciting advancements to our restoration initiatives. The arrival of Tania, our newest female jaguar to the Jaguar Breeding Center, completes our breeding stock with four specimens (two males and two females). This female jaguar has a special story, having lost a leg in the zoo where she was born and kept. Her arrival to the Breeding Center will allow her to live in better conditions than she experienced in the zoo (now she lives in a 4,000 square foot pen!) and, ideally, she will have her own offspring. Despite her handicap, Tania has already managed to hunt her first capybara, released into her large pen. We have hopes that she will soon become a great mother.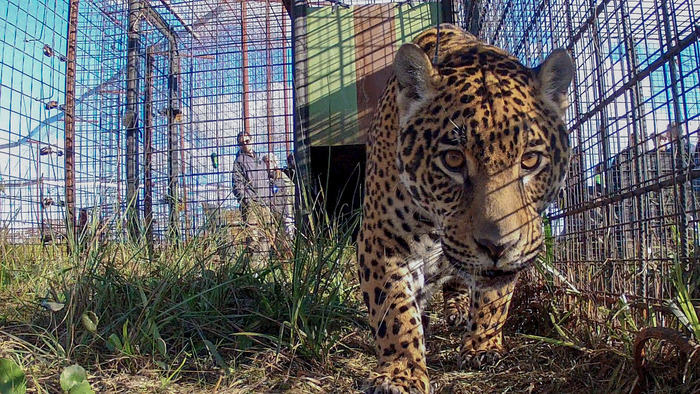 Tania, the newest jaguar to the Breeding Center, enters her new 4,000 square foot pen in the Iberá wetlands.
Photo: Rafa Abuin
In these winter months we have also been able to verify the birth of new anteaters and pampas deer. In the small forests of northern Iberá we see how the captive born green-winged macaws fly a little further every day, learning to eat the native fruits that one day will disperse to generate new and better forests in the region. However, the star of this season is undoubtedly Arandú, the first baby anteater born free in the wild in Iberá in more than half a century. Arandú is the son of Nena, one of the first tapirs that were released by Tompkins Conservation in Iberá. The tapir is the largest terrestrial mammal in South America, and is a key species that is now, once again present in the ecosystem. Both Nena and her son are extremely tame, allowing the visitors of Rincon del Socorro Reserve to see them frequently, as they often visit the area near the lodge.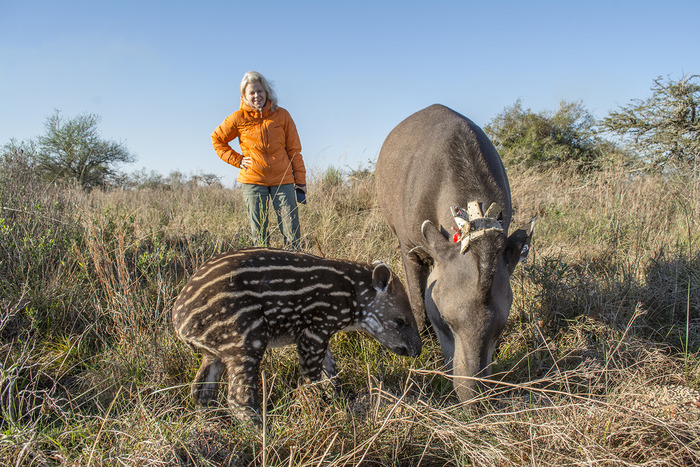 Kris Tompkins observes Arandù and his mother Nena, Iberá Park, June 2017. Photo: Rafa Abuin
With the arrival of spring, the CLT team in Iberá is preparing for one of the most important moments of the year: the donation of the second block of CLT owned properties to the Argentine government in order to continue expanding Iberá National Park. This donation will mark a new step in the process toward the ecological restoration of the region, ensuring this large wilderness area is preserved in perpetuity, enjoyed by Argentines as well as the rest of the world, and generates benefits for the communities that live around it. Meanwhile in Chile, our colleagues continue the ambitious task of preparing for parks donations in the coming months. We look forward to sharing their announcements in the next newsletter.

Best,

Ignacio Jiménez

Director of Conservation
The Conservation Land Trust Argentina
Rincón del Socorro, Iberá
---
We Are Hiring! Program Outreach Coordinator for Tompkins Conservation

Based in the Bay Area, the Program Outreach Coordinator will work with a small team to manage global outreach for Tompkins Conservation. This position will support Tompkins Conservation's fundraising and communications, with periodic domestic and international travel possibilities. Since the role requires coordination with our teams in Chile and Argentina, we are looking for someone proficient in Spanish with excellent skills within decentralized teams. This is an ideal position for an extroverted, dynamic, creative self-starter eager to make strategic connections in international conservation. Read more here.

The First Wild Tapir is Born in Iberá: CLT Widlife Team Welcomes Arandú

The newborn has been determined to be male and the son of Nena, a female that joined the tapir population founder group in Iberá from the Indigenous Wildlife Station of Salta this past March. With the arrival of this calf, there are now seven tapirs (2 males and 4 adult females, plus the small male) living in Rincón del Socorro, a natural reserve owned by CLT that will be donated to the Argentinian state in order to form part of Iberá National Park. Read more here.

Staff Spotlight: Alicia Delgado, Wildlife Biologist at Iberá National Park

Alicia Delgado was born in 1979 in Mercedes, near Iberá, and grew up on her family ranch. Since childhood she was influenced by her father who encouraged her curiosity about nature. These experiences sparked her interest in the natural world and prompted her to study Conservation Biology in Córdoba, where Alicia was attracted to applied work rather than to pure research. After finishing university studies she returned to Corrientes and soon had the opportunity to start working on an ambitious project that was just beginning—reintroducing the extirpated wildlife in Iberá. She knew she had found her place. Read more here.

Plan Your Trip: Tompkins Conservation's Award-Winning Ecolodges

At Tompkins Conservation we maintain that there is a way for humans and the rest of the natural world to flourish and succeed together. Our goal is not to stimulate tourist activity for its own sake, rather to help visitors appreciate wilderness and wildlife, and therefore support conservation efforts, and to help local communities to see conservation as a productive use of landscape that will help support vibrant regional economies. If you haven't yet visited one of our world-class ecolodges, please visit tompkinsconservation.org/ecolodges to start planning your trip. We look forward to welcoming you to our favorite part of the world.
---

---
Get social with us: