Our Mission

Creating national parks in South America that save and restore wildlands and wildlife, inspire care for the natural world, and generate healthy economic opportunities for local communities.






Hello Friends,

I'm writing to confirm some news you have likely already heard about! Two days ago, I stood alongside the President of Chile, Michelle Bachelet and key Ministers to sign a protocol agreement outlining our shared commitment to create 11 million acres of new national parklands here in Chile.

The Tompkins Conservation organizations have committed to donate over one million acres, including Patagonia Park and Pumalín Park with all of their respective public access infrastructure, to Chile's national park system. In accepting the gift, the Chilean government pledged to commit an additional 10 million acres of new parklands to the package, which includes upgrading some existing reserves to national park status. In total the agreement will create five new national parks and expand three existing parks, adding an area more than three times the size of Yosemite and Yellowstone National Parks combined to Chile's national park system.

It is fitting that this ceremony took place at Pumalín, the very place Doug arrived 25 years ago with an idea for large-scale conservation. Doug's absence was painful for all of us—the visionary who authored this audacious idea was not there. The wild idea we all worked toward for a very long time! As you can imagine, the entire TC team (many of whom were there), were deeply moved as they watched their decades of hard work come to fruition.

With the leadership of the Chilean government, and the commitment and support of all of you, we have taken a giant leap closer to fulfilling our vision for what we've named, "The Route of Parks," a series of 17 national parks from Hornopirén to the Beagle Channel, destined to become one of the most iconic routes for adventure travel in the world. This ribbon of parklands will safeguard outstanding beauty, offer permanently secure habitat to wildlife including the endangered huemul, and bring new economic activity to the region.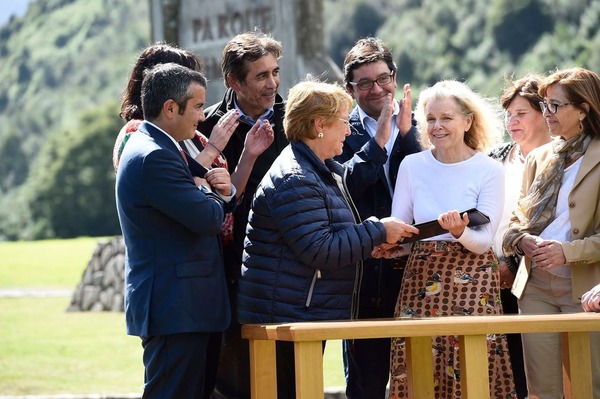 Chilean President Michelle Bachelet and Tompkins Conservation Leader Kris Tompkins at the protocol signing. Pumalín Park, March 15th, 2017. Photo: Linde Waidhofer

As relieved as I was to sign this protocol with President Bachelet, we still have a lot of steps to cover before it's all finalized—after all, it would be unimaginable that the creation of so many new parks and so much new territory could not be complicated and serious work! As for our own parks, we consider Pumalín Park to be nearly finished. Patagonia Park is headed toward completion, but as you know, we still have things that need to be done. We have planned all along that this would be likely, and the government agreement accommodates this.

While we're happy to see two of our principal parks become part of the national park system, we realize that their care and well being require that we not walk away from these landscapes we love and have worked to protect. As part of our commitment to helping elevate the culture of conservation across society, we have pledged to help create a new Chilean foundation dedicated to supporting national parks much like the National Park Foundation in the US.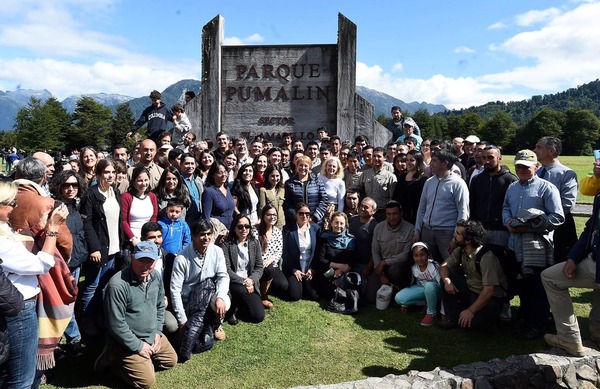 An accomplishment of this size is always a group effort. We thank you all from the bottom of our hearts!
Photo: Government of Chile

I am proud that Tompkins Conservation is part of a growing movement for national park creation and rewilding. In the last few months we have seen new national parks announced in Argentina, China, Mongolia, and other countries. We have seen fellow park philanthropist Greg Carr honored for his rewilding efforts at Gorongosa National Park in Mozambique. We celebrate all of these victories.

As I said to President Bachelet two days ago: it is one thing to have a big idea but to realize them you need willing partners, people who have shared ideas and determination—and this we have in each of you. Thank you. Wherever you were on Wednesday, know that you were represented in every good way also here in Chile.