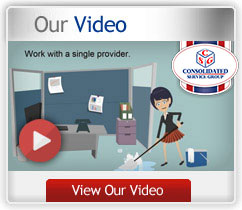 WHAT'S NEW AT CSG?
This last quarter has been very busy for us here at CSG working to provide a complete range of commercial building maintenance services for our clients. Through this Quarterly Project Update, we would like to share with you some of our most notable projects that we completed during this quarter for our customers.

CSG is a fully insured, commercial facility service provider offering both interior and exterior commercial building services to properties throughout the state of Florida. Our clients have the convenience of working with a single provider for all their commercial property needs. How can we help you?
---
MAD CREATIVE FABRICATION SEALCOAT & LINE STRIPE PROJECT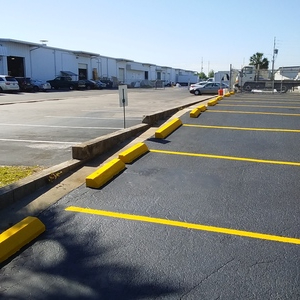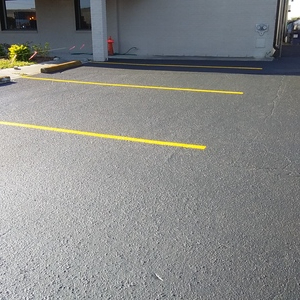 Team CSG completed another sealcoat and line stripe project at MAD Creative. Your parking lot is the "Welcome Mat" to your property. It provides both image and functionality to your business or institution. Your parking lot represents capital investment that must be maintained. Sealcoating helps protect asphalt from the harmful effects of the weather as well as petroleum based products like gasoline and oil, while proper line striping directs traffic safely and efficiently. A good quality sealcoating will protect the asphalt from all these damaging factors while providing curb appeal. We are pleased to have yet another happy customer.
---
BLANDING BLVD BAPTIST CHURCH - SEALCOATING & LINE STRIPING PROJECT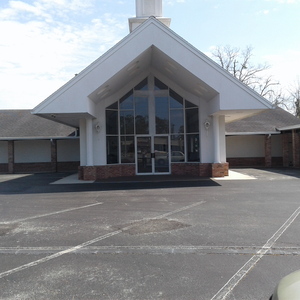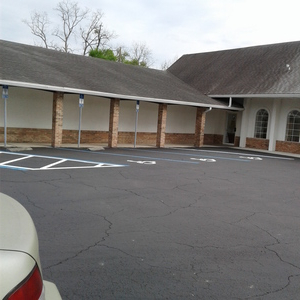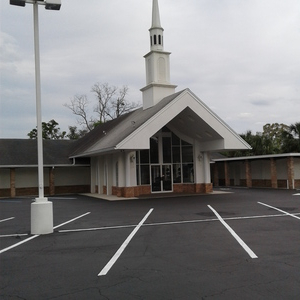 Sealcoating restores original black color to asphalt and enhances the overall appearance of your parking lot. It is the best and most cost-efficient way to avoid expensive repairs due to pavement failures. Arrows, crosswalks, stenciling, and other markings combine with parking stalls to create an efficient parking lot and roadway for your property. Our CSG Team seal coated and line Striped the church parking lot. What a difference in the overall appearance!

---
WALMART NEIGHBORHOOD MARKET APOPKA - SWEEPING PROJECT



Team CSG completed the one time Sweeping and construction cleanup at the brand new Wal Mart Neighborhood Market in Apopka for the grand opening. Parking lots should be swept weekly, year around to remove dirt and trash. Removing this trash not only keeps your facility more attractive to visitors, but it also prevents the garbage from clogging your parking lot drains – causing standing water and polluting the streams , lakes and ocean. Whether your parking lot needs a one-time cleanup or service on a regular monthly schedule. Team CSG can provide sweeping services as well as complete facility services too.
---
GMH BAYMEADOWS - FENCE REPAIR PROJECT



No project is too small for team CSG we are here to deliver and provide excellent customer service for our property managers.A dry rotted or damaged fence can be unattractive and can become a safety issue. Another service we offer is pressure washing which will restore the longevity of the fence. We also provide the option of tearing down old fence and installing a brand-new fence.Let us at team CSG be your one stop provider for all your exterior needs,
---
CYPRESS POINT CLEARWATER - PAINTING PROJECT




Team CSG was recently asked to paint the interior of the onsite Post Office at Cypress Point Shopping Center in Clearwater Fl. by our customer Ramco Gershenson. The Post Office has very specific color codes, the trim, cut out and long clean contrasting lines are all very critical and paramount to the uniform presentation that the Post Office requires at all of their offices across the country. The project was a complete success and all parties were delighted with the bright new appearance of their office.

---
CURLEW LAKES PALM HARBOR - COLUMN REPAIR PROJECT



After damage was sustained to a store front column at the newly renovated Curlew Shopping Center in Palm Harbor managed by our customer Golden Tree Investments CSG was called in to make the repairs and repaint the column. The paint is a very particular metallic paint also very difficult to color match, repaint and obtain an desirable consistency in appearance with the rest of the previously painted column. It was quite the challenge but through due diligence and the use of our skilled painting techs we were able to be successful in completion of this project task.