Notes - Dec. 20, 2013
Image at the top of page:
Saint Wenceslas (Svatý Václave)
Bohemia circa 1420
---
CD's for the Christmas Season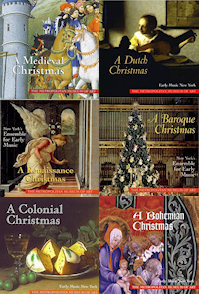 Early Music New York offers selections for the Christmas Season on the Ex Cathedra label.
---
EM/NY Artists

Voices:
Eric Brenner – alto
Patrick Fennig – alto
Brennan Hall –alto
Michael Denos – tenor
Todd Frizzell – tenor
Riley Soter – tenor
Joe Chappel – bass
Thomas McCargar – baritone
Peter Walker – bass baritone & bagpipes

Instruments:
Dongmyung Ahn – rebec & vielle
Wayne Hankin – bagpipes, recorders & flutes
Jason Priset – lutes, guitar & theorbo


---
Venues
Cathedral of St. John the Divine -
Amsterdam Avenue at 112th Street


Adjacent to the Columbia University campus, the Cathedral is easily reached by public transportation: Buses M4, M11, M104; Subway #1 to 110th Street & Broadway. Parking is available in nearby garages on 112th and 114th Streets.

_____________
First Church of Christ, Scientist -
Central Park West at 68th Street


Near Lincoln Center, the First Church of Christ, Scientist faces Central Park at 68th St. and is reached via the M72, M10 and Columbus Ave. M7 & M11 bus lines; subways B & C to 72nd at Central Park West (70th St. exit) & #1 to 66th at Broadway. Parking garages are available along W. 68th and W. 66th Streets.
For information regarding disability access 212-280-0330.
---
Become a Friend of Early Music

Only with your extraordinary support, do we continue our mission - fostering historically informed performances of early music in New York City - despite severe Federal, State and City cut backs. We are grateful for your tax deductible contribution that can be made by calling us directly at 212-749-6600 or on line via our Events & Tickets page at


EarlyMusicNY.org
---
Your Comments

Join our mailing list, request information, or send us a comment at


EarlyMusicNY.org
Medieval/Renaissance Chamber Ensemble

GOOD KING WENCESLAS
A Bohemian ChristmasSunday, December 22 at 2:00 PM SOLD OUT
Wednesday, December 25 at 2:00 PM

†Wednesday, December 25 at 7:30 PM
Cathedral Church of St. John the Divine

Recorded by EM/NY in association with the Metropolitan Museum of Art, the repertoire on the CD "A Bohemian Christmas" serves as a point of departure for this year's holiday program. Cathedral Artist in Residence, Early Music New York will celebrate another joyous holiday season, bringing in its thirty-ninth New Year to traditionally sold-out performances in the month of December.

St. Wenceslas (Václave), prince and martyr (ca. 907-929), is the patron saint of the Czech lands, Bohemia and Moravia. Whereas the theme of the familiar English Christmas carol "Good King Wenceslas" has no historical basis, the famous Czech song Svatý Václave ("St. Wenceslas"), probably originating from the beginning of the 14th century, is an invocation of this beloved saint.

"This early music band's Christmas concerts
are always among the season's great treats ... a lively lineup of works performed by period instrument players and an excellent male vocal ensemble."
The New York Times


Continuing the Series - Spring 2014

Baroque Chamber Orchestra

EAST OF THE ELBE
Telemann's Volksmusik
Saturday, March 15, 2014 at 7:30 PMFirst Church of Christ, Scientist

Frederick Renz conducts Georg Philipp Telemann suites and concerti influenced by the folk music of Eastern Europe. In 1704 Telemann received an invitation to become Kapellmeister for the court of Count Erdmann II of Promnitz at Żary, in Poland. This new position allowed him to hear and study Polish and Moravian folk music, which fascinated and inspired him. Also on the program - Johann Sebastian Bach's "Polonaise" for flute & orchestra.


17th-century Chamber Ensemble

VOX SONAT
Echoes o'er the AlpsSaturday, May 3, 2014 at 7:30 PMFirst Church of Christ, Scientist

In 1588, a collection of Italian madrigals was published with English words entitled "Musica Transalpina" to satisfy a new taste and voracious appetite of England's elite. This title could just as easily, or perhaps, more fittingly, be applied to the prodigious practice of Italian composer/musicians being called to foreign courts in Austria, Germany, Poland, England and Sweden.


Frederick Renz handpicks virtuoso singer soloists, engages its principal strings and continuo (lute, guitar, harp accompaniment) to recreate evocative 17th-century echoes from across the Alps.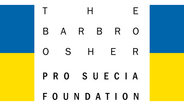 Partial funding for this performance provided by

The Barbro Osher Pro Suecia Foundation
for more information visit
EarlyMusicNY.org
---
TICKETS:

Choose any number of tickets to all THREE program titles at

$35

per ticket.
Reserve single tickets at

$40

each.

†Dec. 25, 2PM matinee at

$50

each. Students $20 at the door (the day of).

---
Early Music New York's subscription season is made possible in part with public funds from
New York City Department of Cultural Affairs,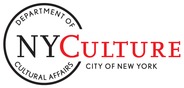 New York State Council on the Arts

with the support of
Governor Andrew Cuomo

and the
New York State Legislature,

and the generosity of

EMF's Friends of Early Music.