Notes - March 2, 2017
The Swedish Mozart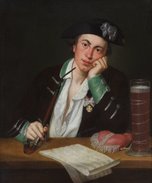 German by birth,
Joseph Martin Kraus
(1756-1792) is often referred to as the 'Swedish Mozart' both on the grounds of his undoubted musical genius and his employment at the brilliant court of Gustav III in Stockholm. Kraus's career as a composer was relatively brief - little more than fifteen years - but his mature works have a complexity and expressive intensity quite unique. His death in 1792, like that of Mozart's the previous year, can be accounted as one of the eighteenth century's musical tragedies.
The incidental music for Johan Henrik Kellgren's tragedy
Olympie
(the princess Olympie being torn between a marriage of state and true love) consists of a powerful
Sturm und Drang
* overture, an off-stage march when Olympie's husband to be arrives amid pomp and circumstance, four entr'actes and a funereal epilogue.
_______________________

Early Music New York is indebted to its Advisory Council member, Professor Bertil van Boer, Musicology, Department of Music, Western Washington University for graciously providing his new edition of Kraus's
Olympie
.
_______________________

*
Sturm und Drang
, literally 'storm and drive', ('storm and urge', though conventionally translated as 'storm and stress') is a proto-Romantic movement in German literature and music that took place from the later 18
th
-century, in which individual subjectivity and extremes of emotion were given free expression in reaction to the perceived constraints of rationalism imposed by the Enlightenment and associated aesthetic movements.
Le Mozart Noir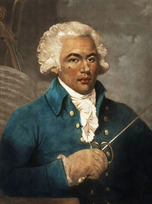 Chevalier de Saint-Georges
(1745–1799), a musician, athlete, swordsman, and soldier was among the most fascinating figures during the years at the end of France's old regime and during its age of revolution at the close of the eighteenth century. His compositions are unlike most French music of the time, being more akin to early Mozart in its rhythmic vigor and tunefulness.
One of the most celebrated individuals in Paris, Saint-Georges had various nicknames; one was 'Le Mozart Noir,' (The Black Mozart). On concert posters advertising both Mozart's music and that of Saint-Georges, the two often received equal billing.
Saint-Georges is known today as one of the major early contributors of African descent in the tradition of European classical music. He gained fame as a violinist, conductor, and composer; some of Europe's top composers created violin works with Saint-Georges as the soloist in mind; and he led the premieres of some of Franz Joseph Haydn's greatest symphonies.
Wolfgang das Wunderkind
Galimathias musicum is Wolfgang Amadeus Mozart's curious title for a light hearted quodlibet (medley) - an early chamber orchestra work penned by a precocious Wunderkind.

Galimathias: 18th-century, au courant term of obscure derivation describing a confused, unintelligible affair; thus loosely translated....
'Musical Gobbledygook' certainly exemplifies Wolfgang's youthful precociousness, nonetheless soundly evincing more genius than mere gibberish!

SPRING 2017
¯¯¯¯¯¯¯¯¯¯¯¯¯¯¯¯¯
MOZART MONIKER:
Wolfgang's Namesakes


First Church of Christ, Scientist
Central Park West at 68th Street

Saturday, March 4th at 7:30 pm
Welcoming spring,
Frederick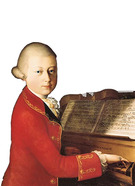 Renz

conducts the

EM/NY

orchestra with classical symphonic works by young

Wolfgang Amadeus Mozart

and his namesakes of other European nations:

Samuel Wesley

- 'the English Mozart,'

Joseph Martin Kraus

- 'the Swedish Mozart,'

Chevalier de St. Georges

- 'Le Mozart Noir' and

Gioachino

Rossini

- 'the Italian Mozart.'
EM/NY Orchestra:
Violin: Daniel Lee - concertmaster
Dongmyung Ahn, Nicholas DiEugenio, Chloe Fedor
Peter Kupfer, Edson Scheid, Vita Wallace
Viola: Rachel Evans, Kate Goddard
Violoncello: Ezra Seltzer, Benjamin Wolff
Violone: David Chapman
Horn: Alexandra Cook, Sara Cyrus
Oboe: Julie Brye, Caroline Giassi
Bassoon: Ben Matus

¯¯
¯¯¯¯¯¯
¯¯¯
¯¯¯
¯¯¯
¯¯¯
¯¯¯
¯¯¯
¯¯¯
¯¯¯
¯

BACH BROTHERHOOD:
Sebastian's Peers


First Church of Christ, Scientist
Central Park West at 68th Street

Saturday, May 6th at 7:30 pm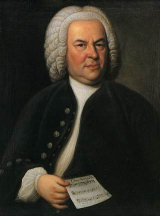 EM/NY
's baroque chamber orchestra performs works by
Johann Sebastian Bach
and his celebrated counterparts:
Georg Friedrich Händel
,
Georg Philipp Telemann
,
Johann Friedrich Fasch
and
Christoph Graupner
in ouvertures and concerti grossi for this high baroque,
Tafelmusik
feast to close the season.
RESERVED SEATING TICKETS ON SALE NOW:
Single reserved seat tickets at

$40

each.
Student Rush $20 half hour prior to concert.
Door sales - cash, check or credit card welcome.

Venue -

First Church of Christ, Scientist

–
Central Park West at
68th St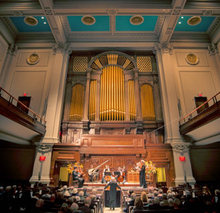 Near Lincoln Center, the First Church of Christ, Scientist faces Central Park at 68
th
St. and is reached via the M72, M10 and Columbus Ave. M7 & M11 bus lines; subways B & C to 72
nd
at Central Park West (70
th
St. exit) & #1 to 66
th
at Broadway. Parking garages are available along W. 68
th
and W. 66
th
Streets. For information regarding disability access call 212-280-0330.

For a listing of restaurants near West 68
th
Street in Lincoln Square,
click here.
Early Music New York's subscription season is made possible in part with public funds from the
New York City Department of Cultural Affairs

in partnership with the City Council,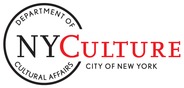 New York State Council on the Arts

with the support of Governor Andrew Cuomo

the New York State Legislature,

and the generosity of

EMF's Friends of Early Music.
Become a Friend of Early Music

Only with your extraordinary support, do we continue our mission - fostering historically informed performances of early music in New York City - despite severe Federal, State and City cut backs. We are grateful for your tax deductible contribution that can be made by calling us directly at 212-749-6600 or on line via our Events & Tickets page at
EarlyMusicNY.org
Your Comments


Early Music New York® is a registered trademark of the Early Music Foundation.