Notes - March 7, 2018

---
EM/NY & Frederick Renz Featured on "Renaissance Fare"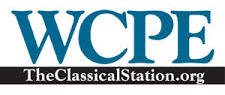 Renaissance Fare
is a one-hour program hosted by George Douglas that airs monthly on WCPE – The Classical Station, broadcast from central North Carolina.
On Monday, March 12 at 7 p.m. (EDT),
Frederick Renz and Early Music New York will be the featured artists.
Mr. Douglas interviewed Maestro Renz specifically for this program, which will be re-broadcast Sunday, March 18 at 5 p.m.
Renaissance Fare
can be streamed only during the actual broadcast – it is not archived by the station. So you have two opportunities to hear the interview – March 12 at 7 p.m., and March 18 at 5 p.m. Click
here
to access the WCPE "Listen Now" page.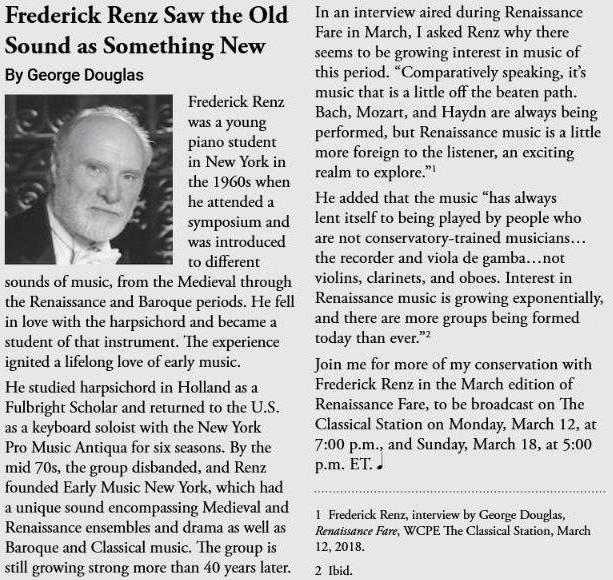 From the Spring 2018 issue of WCPE's program guide, "Quarter Notes"
---

Travel Broadens the Repertoire
In the Renaissance era, the newest of the new in music originated in northern Europe – Flanders and Holland especially (as you will recall from the first two concerts of our season, BarokOrkest and Burgundian Christmas). The music – and in many cases the musicians – traveled south, including to Italy on the other side of the Alps.

By the early 17th century, however, Italy was the place to be for the latest in musical innovation. It wasn't long before a reverse migration took place, as Italian composers and their music, from Venice and points south, conquered Vienna and other capitals of northern Europe.

Monteverdi Echoes will juxtapose works by Italian masters with those of composers in the north who absorbed and integrated the southern influence, especially in regard to program music. Two centuries before Tchaikovsky's 1812 Overture, and two and a half before Saint-Saëns's Carnival of the Animals, Biber, in his Battalia, and Farina, in his Capriccio stravagante, forged new paths in musical pictorialism.


---
Venue -

First Church of Christ, Scientist

–
Central Park West at
68th Street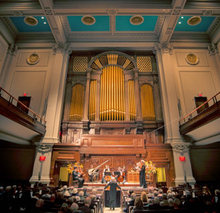 Near Lincoln Center, the First Church of Christ, Scientist faces Central Park at 68th St. and is reached via the M72, M10 and Columbus Ave. M7 & M11 bus lines; subways C to 72nd at Central Park West (70th St. exit) & #1 to 66th at Broadway. Parking garages are available along W. 68th and W. 66th Streets. For information regarding disability access call 212-280-0330.

For a listing of restaurants near West 68
th
Street in Lincoln Square,
click here.


---

Your Comments
Join our mailing list, request information, or send us a comment at
EarlyMusicNY.org
---
SPRING 2018

¯¯¯
¯¯¯
¯¯¯
¯¯
¯
¯
¯
¯
¯¯¯

Last Concert of the Season!

MONTEVERDI ECHOES
Venice to Vienna


Saturday, May 5th at 7:30 pm


First Church of Christ, Scientist

Central Park West at 68th Street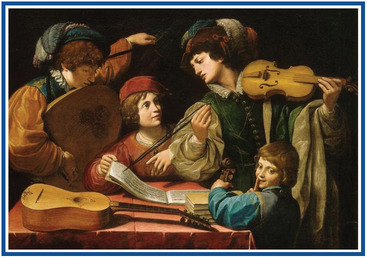 The 'new' Italian style of
Claudio Monteverdi
and his contemporaries, blossoming at the turn of the 17th century, quickly made its way across the Alps, as Italians were engaged by Austrian and German courts. In addition to Monteverdi, composers will include
Heinrich Ignaz von Biber
,
whose
Battalia
has been an audience favorite for almost 350 years, and
Carlo Farina
, whose
Capriccio stravagante
features a veritable carnival of the animals.
---

RESERVED SEATING TICKETS ON SALE NOW:

Single reserved seat tickets are

$40

each.
Students $20 half hour prior to performance at the door.

Call the Box Office:
212-280-0330
Use Secure Website:
EarlyMusicNY.org
---
Early Music New York's subscription season is made
possible in part with public funds from the
New York City Department of Cultural Affairs

in partnership with the City Council,



New York State Council on the Arts

with the support of Governor Andrew Cuomo,

the New York State Legislature

and the generosity of

EMF's Friends of Early Music.
---
Become a Friend of Early Music
Only with your extraordinary support do we continue our mission - fostering historically informed performances of early music in New York City - despite severe federal, state and city cutbacks. We are grateful for your tax deductible contribution that can be made by calling us directly at
212-280-0330
or online via our Events & Tickets page at
EarlyMusicNY.org
---
Call For Volunteers

Throughout the season, we sometimes find ourselves in need of extra help. As a volunteer, you might be taking tickets, seating audience members or selling CDs, among other duties. In exchange, you get to hear the concert for free. If you are able to volunteer, please call
212-280-0330
or email us through our contact page at
EarlyMusicNY.org
---
Safe Senders List

To ensure you continue to receive our Emails, please add our addresses to your Email "Safe Senders" list. Instructions can be found here.
---

Early Music New York® is a registered trademark of the Early Music Foundation.