Central Park West at 68th St.
Maestro Renz programs pivotal early baroque works by
Claudio Monteverdi
along with his Neapolitan & Spanish counterparts,
Gaspar Sanz
,
Cristoforo Caresana
and others – festive instrumental canzonas, expressive madrigals and dramatic monody, both mundane & moralistic – with EM/NY's choice ensemble of mixed voices, strings and the
tromboni
of "Dark Horse Consort," early brass ensemble.
For more information visit EarlyMusicNY.org
__________________________________________________________
Classical Chamber Orchestra
London's Musical Bridge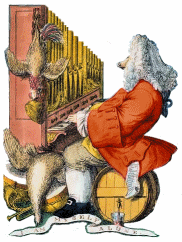 The Enlightened English

Saturday, May 4 at 8 PM

First Church of Christ, Scientist
Central Park West at 68th St.

EARLY MUSIC NEW YORK's Orchestra of Original Instruments performs repertoire of England's 18th-century greats side by side with imported German counterparts – suites of John Avison & George Frederick Handel; select overtures by William Boyce & John Christian Bach; sinfonias by Thomas Arne & noted astronomer / discoverer of the planet Uranus, Frederick William Herschel.